Like GearBrain on Facebook
Apple's HomeKit smart home platform is about to receive its biggest update yet, thanks to new software updates for the iPhone, Apple TV and HomePod. New features will make your smart devices — from security cameras to connected lights — more intuitive in they way they work in your home, and with you.
Announced during the company's first online-only keynote on June 22, the updates bring much-needed unity to Apple's smart home efforts, which until now have felt some way behind those of Amazon and Google. These are still admittedly small steps compared to the market leaders, but the updates show how Apple can neatly offer smart home services across its many device categories in a unified and cohesive way.
Although none of Apple's new smart home features are unique, they work with any compatible device; in other words, Apple can use its own intelligence to add features like facial recognition to security cameras that don't offer it out of the box.
Adaptive lighting and more
First, there is a new adaptive lighting system. Any smart light with color, brightness and temperature control, and which is compatible with HomeKit, can be used with Apple's new Adaptive Lighting system. This automatically adjusts the brightens, color and temperature of all of your lights throughout the day, helping you wake up in the morning, concentrate during the day, then relax in the evenings.
Secondly, when adding a new HomeKit device to your system, the Home app now automatically suggests a range of automations, such as daily Adaptive Lighting or automatic opening of the garage door when a family member arrives home, to get you started right away. This is great news for smart home newcomers, who can let HomeKit configure some automations for them, with almost no effort.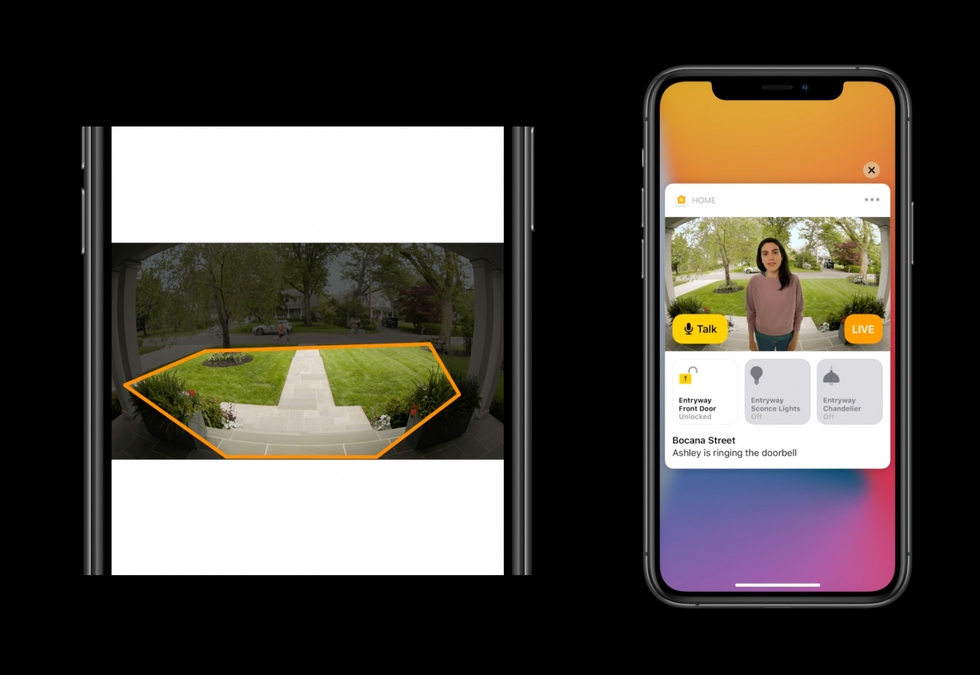 HomeKit to get activity zones and facial recognitionApple
Also new is how the Home app can prioritize smart home devices it thinks require your attention at a specific moment in time. For example, unlocked doors and lights left switched on when they are usually off are shown prominently at the top of the Home app.

Facial recognition comes to HomeKit
Looking at smart home security cameras and video doorbells, HomeKit applies Apple's own facial recognition technology to HomeKit-compatible cameras. When someone rings your video doorbell, HomeKit looks at their face and, if you have already tagged them as a friend or family member in the Photos app of your Mac, iPhone or iPad, HomeKit recognized them. Siri then announces who is at the door, via the HomePod smart speaker.
Additionally, an alert saying who's there, and showing a live video stream, appears in the corner of whatever you are watching on the Apple TV. You can also ask Siri to show a live feed of any HomeKit camera or video doorbell, either as a small picture-in-picture display on Apple TV, or full-screen.
Apple also announced how you can define 'activity zones' with any HomeKit-compatible security cameras and video doorbells. That way, the devices will only alert you when movement is detected in the user-defined area of the camera's view. As with facial recognition, it doesn't matter if the camera can do this out of the box, as HomeKit is taking the video feed then analyzing it using Apple's own technology.
These new features form a welcome update to the smart home from Apple — but users will have to wait a few months to enjoy all of them. The tools will require iOS 14 and tvOS 14, which were announced today but won't be available to consumers until July as a public beta. Some features highlighted there include what had been rumored earlier this year — being able to use your iPhone as a digital car key, for example, and the ability to them share that access with someone else through iMessage.
The official versions of the software won't be released until the fall of 2020. People will need to decide on their own whether to install early beta software or not, especially when crucial devices like smart home door locks are connected to these beta releases.
Check out The GearBrain, our smart home compatibility checker to see the other compatible products that work with Apple HomeKit system.
LIFX A19 Mini Wi-Fi Smart Led Light Bulb (Latest Generation), Dimmable, Warm White, No Hub Required, Works with Amazon Alexa, Apple HomeKit, Google Assistant and Microsoft Cortana
Like GearBrain on Facebook