Like GearBrain on Facebook
Runners, like swimmers, have unique challenges when trying to find headphones they can use while working out. The fast motion — even semi-fast — that comes with running can quickly jolt headphones out of the head. The $99.99 Jabra Elite Active 45e headphones are designed to stay put for just this use, with larger over-the-ear clips that ensure these just won't budget. That, plus the IP67 rating which allows outside noise in, makes these a durable pair of wireless headphones for outdoor exercise.
Read More: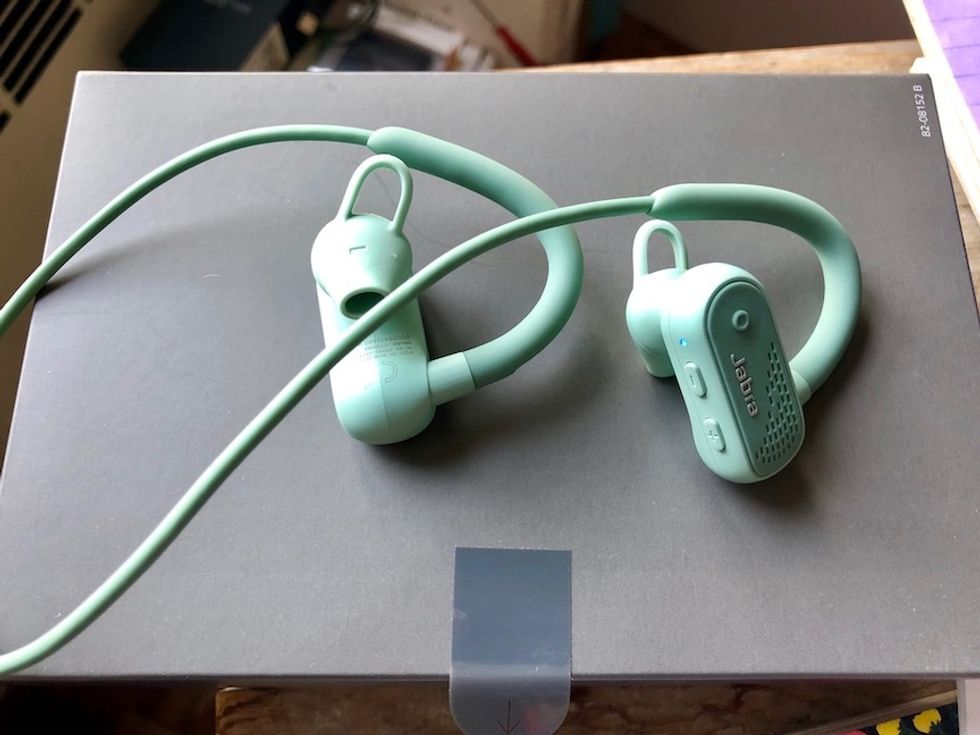 The earphones attach together along a neck loop, which ensures you won't lose one should they fall out of the earGearBrain
Jabra are wireless, with a neck loop

The perks of wireless headphones are more than just about removing the wires between the buds and the connection to a phone. There's the ability to control phone calls, music playlists and even a smart assistant through just the buds alone. Your smartphone can stay in a pocket, in a bag, or in an arm band if you're working out, and not be touched. That's freedom.
The Jabra Elite 45e are not buds though, but a headset with the earphone portion looping around the neck. That's helpful in that if they fall out, you're not searching on the ground for these headphones. They're still on your shoulders.
All the controls are on the buds
You can operate everything you need from the buds along. On one side is a single button which mutes the microphone and also activates the voice assistant. On the other bud is the button that powers up the headset, plays and pauses music, answers and ends call, and bring up the Bluetooth connection. There are also two volume buttons on this side which also push a track forward and back if you hold them.
These work well, most of the time. I had a few problems picking up the Bluetooth connection while they were in my ears, and would have to take them out to connect with Bluetooth and then reposition them.
Also the buttons are on the buds are small. Some wireless headphones have controls on the neck portion, the Jabra do not and it takes using them a few times to get comfortable with pushing something you can't see.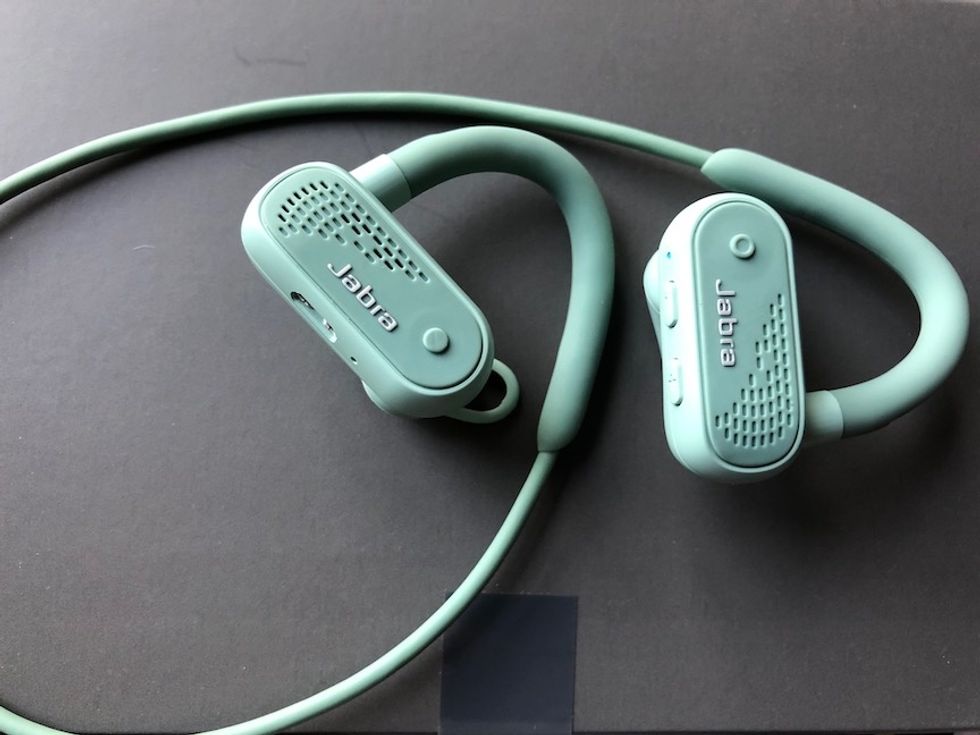 All the controls are on the earbuds including Bluetooth, power and volumeGearBrain
Fit is one size

There aren't different fittings for the buds with the Jabra Active Elite which you can get with some wireless headphones. And these are quite large. Having the extra loop that folds over the ear, then, is crucial — I never got these to sit comfortably in my ear.
These earphones are also big and heavier than a pair of Beats I've used, and certainly the regular iPhone EarPods and I often felt conspicuous wearing them. I tested the aqua color, which may have been a reason, but covering my entire ear was less an asset in my opinion for regular use.
Hearing sound around you is the best feature
While the overall sound is good, it wasn't better than my regular iPhone EarPods. What was excellent was the IP67 rating which allowed outside sound to filter through.
As running is often a solitary activity, being able to note what's going on around you is key. I know people who wear one earbud in leaving one open so they can have ambient music playing around them as they walk, but still hear things like traffic noise. It's an inelegant but fine solution.
When exercising, though, most of us want to be fully immersed in music — it's motivating, and can help us power through that next rep, next mile, next minute. In a gym, surrounded by people, not hearing the world around you is fine. On a track outside, doing a morning run during the winter when it's still dark is a different situation. No one wants to be surprised by someone coming from behind. Putting aside the irritation at finding yourself lapped, it's disconcerting and worrying.
The Jabra Active Elite 45e headphones filters through horns, traffic sounds, cars, conversations. You can hear; that's important.
As for symphony quality? No you're not getting that. These headphones provide decent sound and if that's what you're looking for, this isn't the headset to buy. If you're looking for something that gets the music pumping in your ears while trying to push yourself another mile, but keeps you aware of what's happening around you, these are great.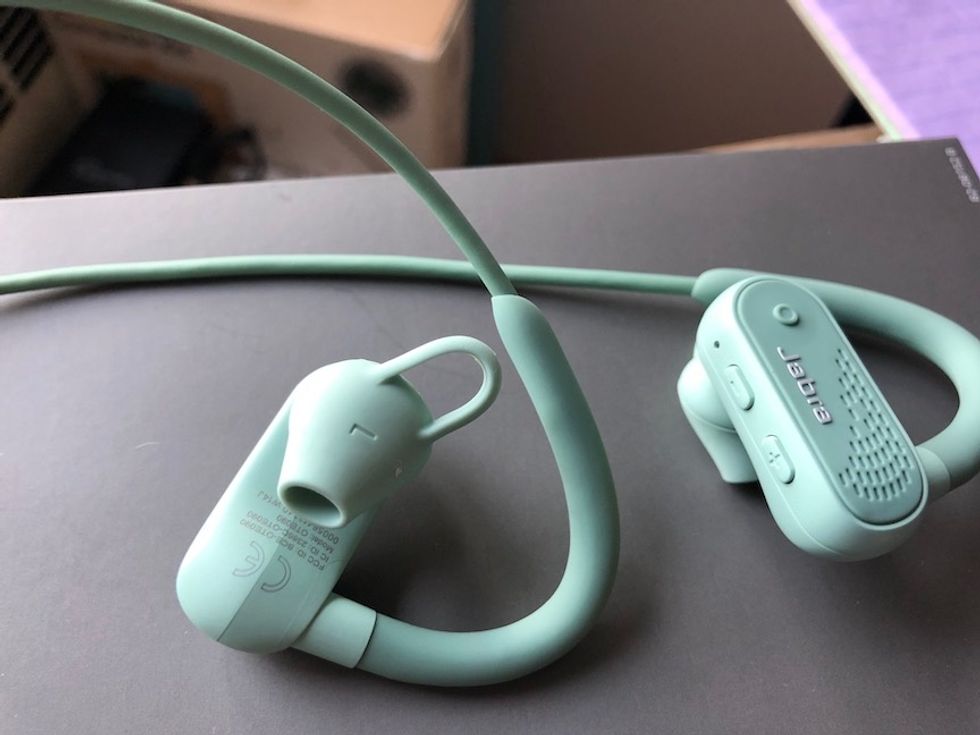 The Jabra Active Elite 45e earphones do not come with extra fit sizes for the earbud portionGearBrain
Battery life and extras

The headphones provide a decent nine hours — that's likely more than you're going to need in a day of exercising, even if you're commuting by bike to and from work. They recharge in two hours, so you can plug them in at work if need be, but you can also get a full hour in just 15 minutes.
The headphones are also waterproof in fresh water, up to one meter, for 30 minutes. In short? Don't take them surfing or deep sea diving. But if you accidentally drop them in a puddle, you're going to be fine.
That's ultimately what these headphones are — fine. They're a solid option for those who want to hear music, podcasts or whatever content they enjoy listening to while working out and ensure their earbuds won't slip. The price is certainly in the range of what you should expect to pay for wireless headphones and it's nice to have the extra loop around the neck in case they do fall.
The best feature is the fact you can hear around you as you're wearing them. For some people, who need to work out alone, or when it's still dark outside, this makes the Jabra Elite Active 45e alone worth considering.
Pros:
IP67 rating to hear what's around you
Good fit for runners
Price
Cons:
Big
No additional ear buds in the box for better fit
Sound is fine, but not ideal for audiophiles
Like GearBrain on Facebook