Like GearBrain on Facebook
Anyone who uses earphones — almost everyone with a smartphone — know how irritating a long wire running from your head to your device can be. Wireless earphones seem to remove that issue. Suddenly you're untethered. Apple users are familiar with the AirPods, which launched along with the iPhone 7. But recently I decided to try the $220 Jabra Elite Sport wireless earbuds, two sleek, minimalist buds, contoured to fit your ear, with just four buttons to run all its features.
Twist and go

Inside the Jabra Elite Sport box are three different rubber inserts and tips to help them fit your specific ear size and shape. I chose the smallest without the wing tip, and they were super easy to fit in — just insert, twist and tuck.
To set them up, download the Jabra Service app, and pair the earbuds to your phone. Press and hold the button with an unfilled circle on your right ear to turn on and off or to answer calls. On the left year, tap the plus (+) and minus (-) buttons to increase or decrease volume. Hold the button if you want to skip songs. That's all the details you really need to remember.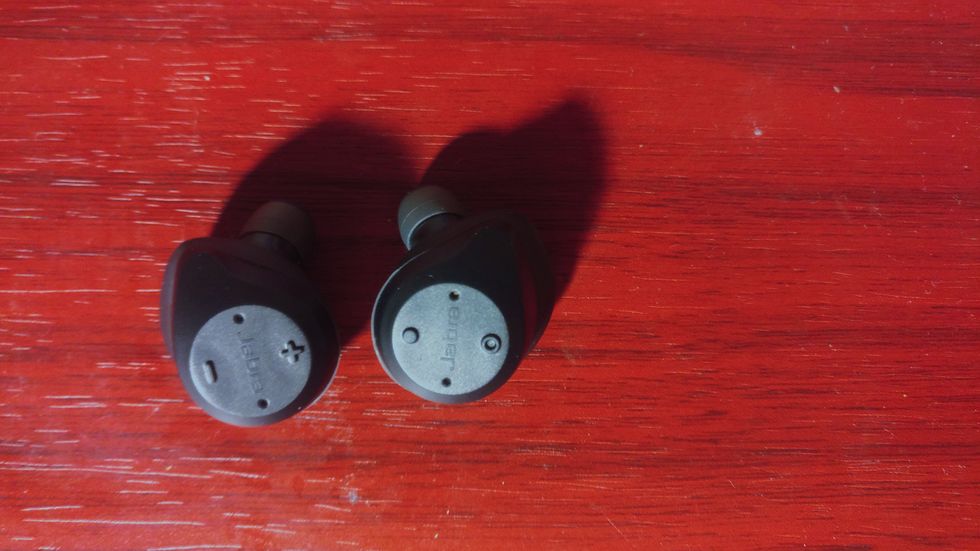 GearBrain
Fitness gear
If you workout a lot, and want to use the Jabra Elite Sport wireless earbuds to stay fit, you can also download the Jabra Sports app. This tracks your heart rate and workouts. You'll press the dot button on the right ear bud to connect to the app.
The Sports app itself needs a bit of work, often stop in the middle of my workouts without warning. I also found it didn't have a lot of exercise options — or maybe rowing machines are too peculiar for standard workout apps. Everything else worked well. Just keep in mind that the earphones must fit snug in your ear in order to track your heart rate.
Music player

If you take out one of your Jabra Elite Sport earbuds — or both — music will automatically stop playing. I found that pretty convenient. Additionally, both earbuds come with a hear-through feature that allows you to hear any outside noise. This aspect is perfect for people walking around at night, or anyone who needs to be aware of their surroundings. (That's everyone.) I did, however, find the feature a bit annoying because you end up being able to hear yourself in the earbuds.
The Jabra Elite Spors earbuds include bass-enriched speakers with a 20Hz to 20kHz frequency range, a microphone frequency range of 100Hz to 10kHz, microphone sensitivity of -38 dBV/Pa and a speaker frequency range of 20Hz-20kHz. As for the sound I personally experienced? It depended on how good the Bluetooth connected with my smartphone. I was satisfied with the sound from songs I played, although sometimes the audio will skipped.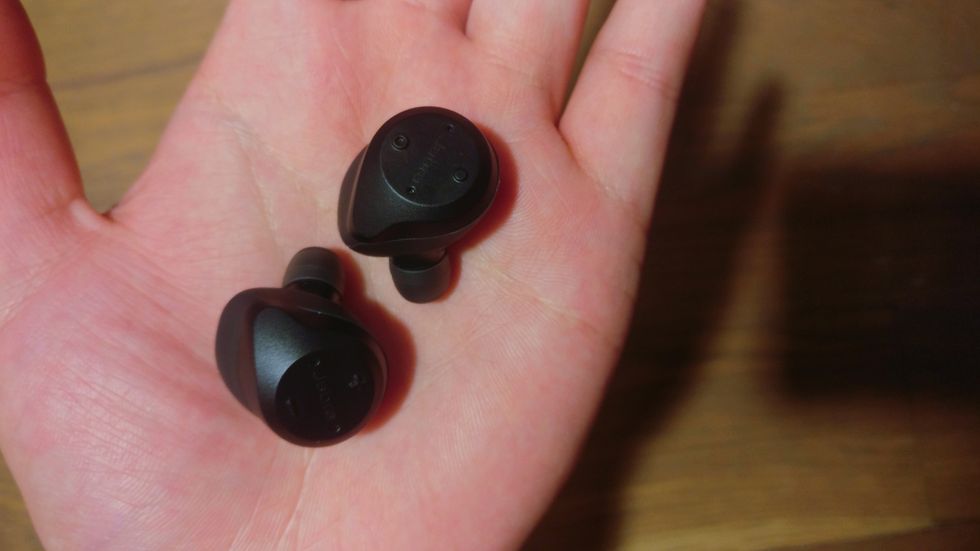 GearBrain
The earbuds have around 4.5 hours of playtime by themselves — however, the portable charging case they come with gives you additional power which amounts to around 13.5 hours of playback. So if you use your earphones a lot, you'll probably have to charge them every night.
Buy or not buy
Jabra Elite Sport earbuds are also waterproof and provide you a three-year warranty for sweat damage — I was drawn most to this as I am an avid gym goer who sweats equally as hard. But if you're not into working out, these earbuds will definitely still benefit you — I've even used them in the shower. I admit that they did get uncomfortable after a while, but that might just be because I have small ears.
Cons:
Faulty workout tracking
A bit big for smaller ears
Bad connectivity at times
Pros:
Hear through technology
Heart rate monitoring
Good battery life
What You Need To Know About Smart Speaker Assistants www.youtube.com
Like GearBrain on Facebook