Like GearBrain on Facebook
While earbuds are great for working out and commuting, headphones are your office friend. They typically block out noise more efficiently, and are often a visual signal: I'm working, let me concentrate.
While a significant number of people are working from home, that set-up often includes family members and roommates. Today a good pair of headphones are helpful. Jabra sent us their newest pair, the Elite 45h. We recently reviewed their earbuds cousin, the Elite Active 45e, which we thought were great for runners. So here is our review of the headphones, which we used instead for more office and entertainment pursuits.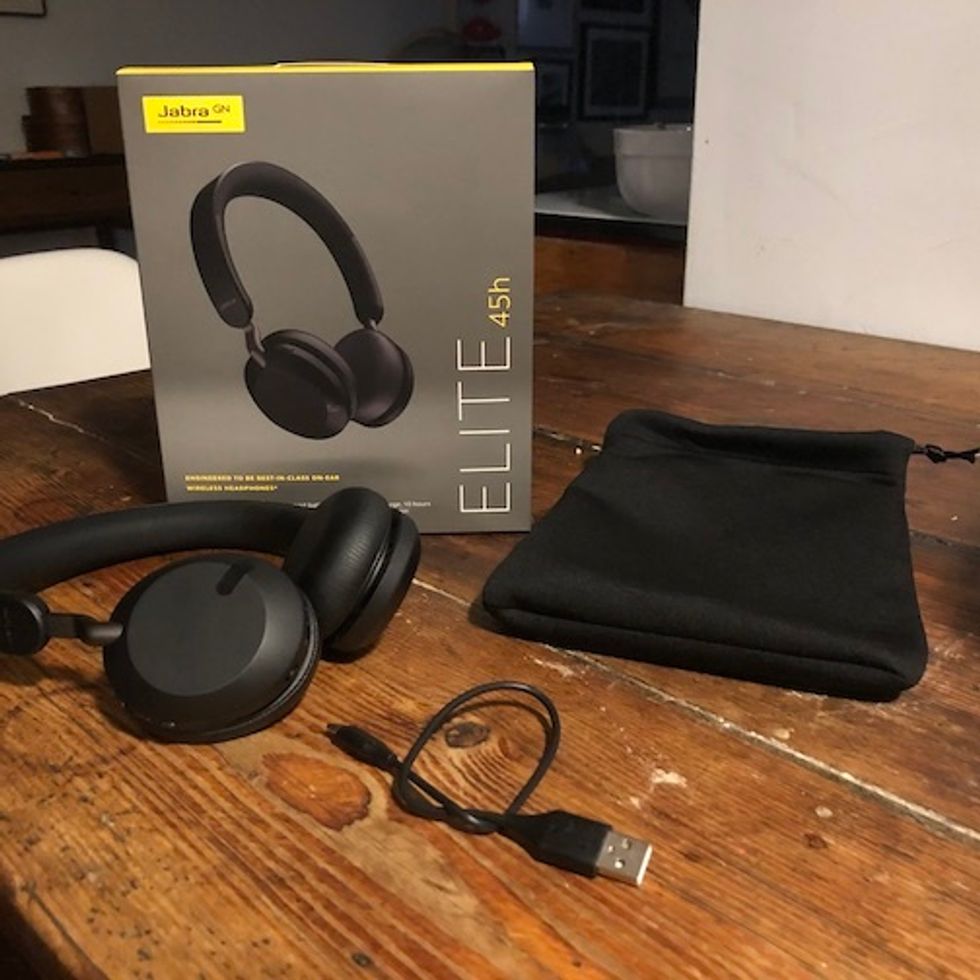 The Jabra Elite 45h wireless headphones also come with a charging cord and carrying bagJabra
Unboxing the Jabra Elite 45h

Jabra is a solid name in earphones and headphones, making devices that are well-priced and functional. Inside the box of the Jabra Elite 45h you get the headphones, a lightweight carrying bag and a charging cable. A USB end is not included, which you will need for charging.
The headphones themselves are small, and I almost thought they were designed for children. The ends are covered with a thick memory foam cushion, and they extend outward a bit for a better fit depending on your head size. They do sit firmly against the ears, and honestly they're really comfortable even after wearing them for hours. There were a few times I honestly forget I had them on my head.
We did wish they were able to be folded into a more compact size for storing and traveling. The bag that's included also isn't very protective and we could see the foam ear pads damaged very quickly from pens or other objects, or the headphones themselves bent.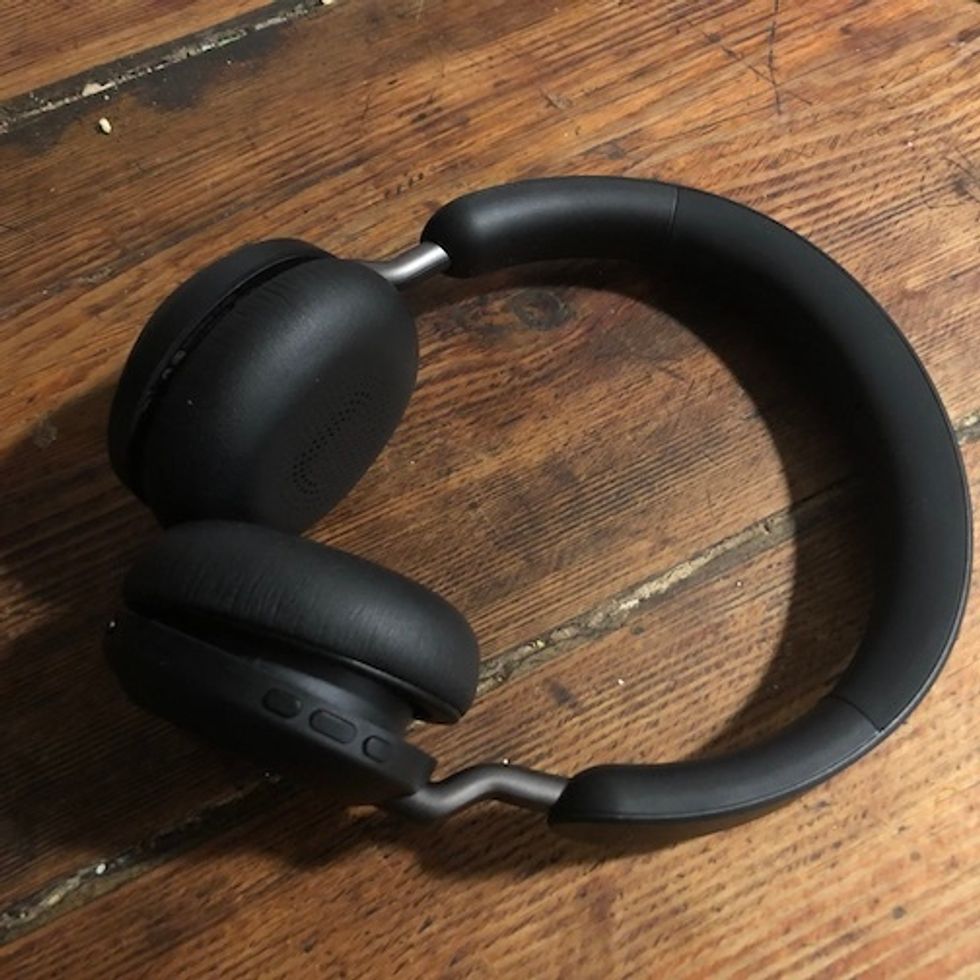 Controls for the Jabra Elite 45h wireless headphones are on the right earpadJabra
Using the headphones

Because they're wireless you don't need a cord snaking from them to your laptop, smartphone or your own device. Controls are on the right side of the headphones, including the power button towards the bottom, which besides turning them on and off, also turns on Bluetooth, allowing you to pair wirelessly.
The volume up and down buttons are further up on the ear portion, and in the center is a pause and play button. Simple to find with your thumb, and easy to use.
On one full charge, they last to to 50 hours of continuous use, and there's also fast charging which gives you a small boost if you're running low. We used them connected to a laptop and also a smartphone — in both cases connecting was simple. And one very nice element: The Jabra Elite 45h stay linked to two different devices at the same time. That means you can flip between working, and listening to video on a laptop or tablet, and then pick up a call from your smartphone. That's a nice feature.
There are two microphones built into the headphones which picks up ambient sound around you, but also let you hear the person speaking fairly well, although we found the sound quality a little thin. But you can actually choose to hear your own voice as you speak — not all headphones and earbuds allow you to do this — which is a feature I actually appreciate. Called Sidetone, the feature even has a slider that lets you choose how loud your voice sounds to you.
You can get tips and assistance within the headset, either through a voice or a tone, or none at all — and pick these through the app.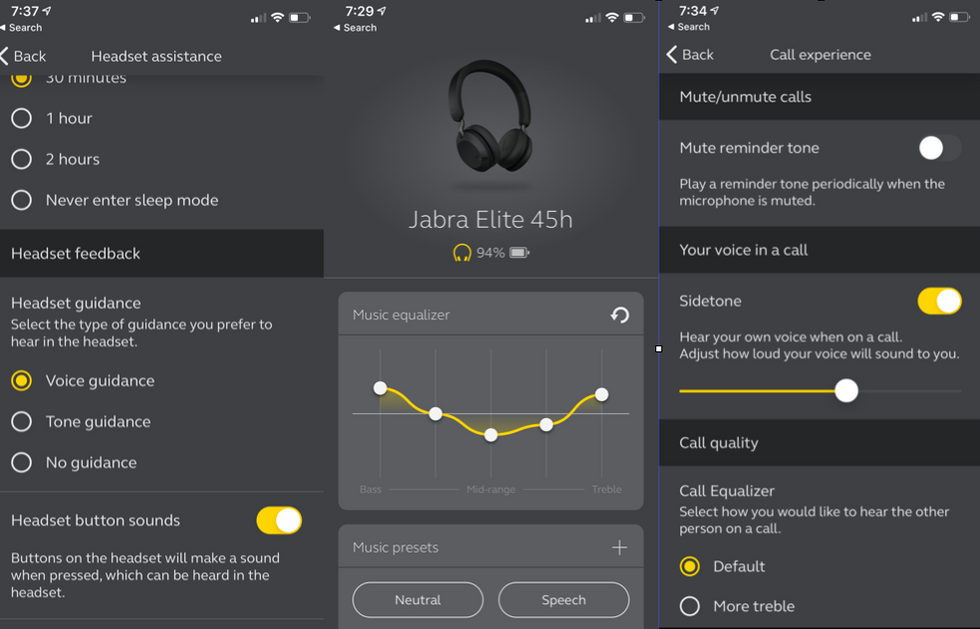 You can customize your sound, and add features in the Jabra appJabra
Sound quality

Headphones have one main job: to let you listen to something, and on this front the Jabra's worked fine. They weren't the most crystal of sound, but they did the job. Sound was bit muffled, tone a little flat.
Jabra does allow you to pair the Jabra Elite 45h headphones to the Jabra app, and from there create a sound profile to help customize certain tones and pitches to your own hearing. That's a nice touch, and something we've seen in other headphones including some Skullcandy headphones. The custom sound feature, called MySound, takes about two minutes to complete, and we did notice a some rounder tones while listening to music.
The app also lets you select certain presets for speech, energize, smoother tones and also a way to boost treble and bass. And you can also use the app to spy how much charge is left on your headphones.
We did experience a bit of drop out with the Jabra Elite 45h headphones, likely a connection issue over Bluetooth. It didn't happen often, probably once every couple of hours, and only when I watched video, not while listening to music or podcasts.

What did work — all of the time — is the Jabra's ability to prevent sound bleed from the headphones. That's not something we write about it, but earbuds and headphones alike can leak sound, pushing ambient noise out which can be heard by someone sitting near you, whether that's an office or a home office. There's passive noise cancellation built into the headphones and also wind noise protection.
The Jabra Elite 45h were excellent at keeping the sound locked into the headphones. The heavy cushioning may have helped with that on the ears, and we were impressed.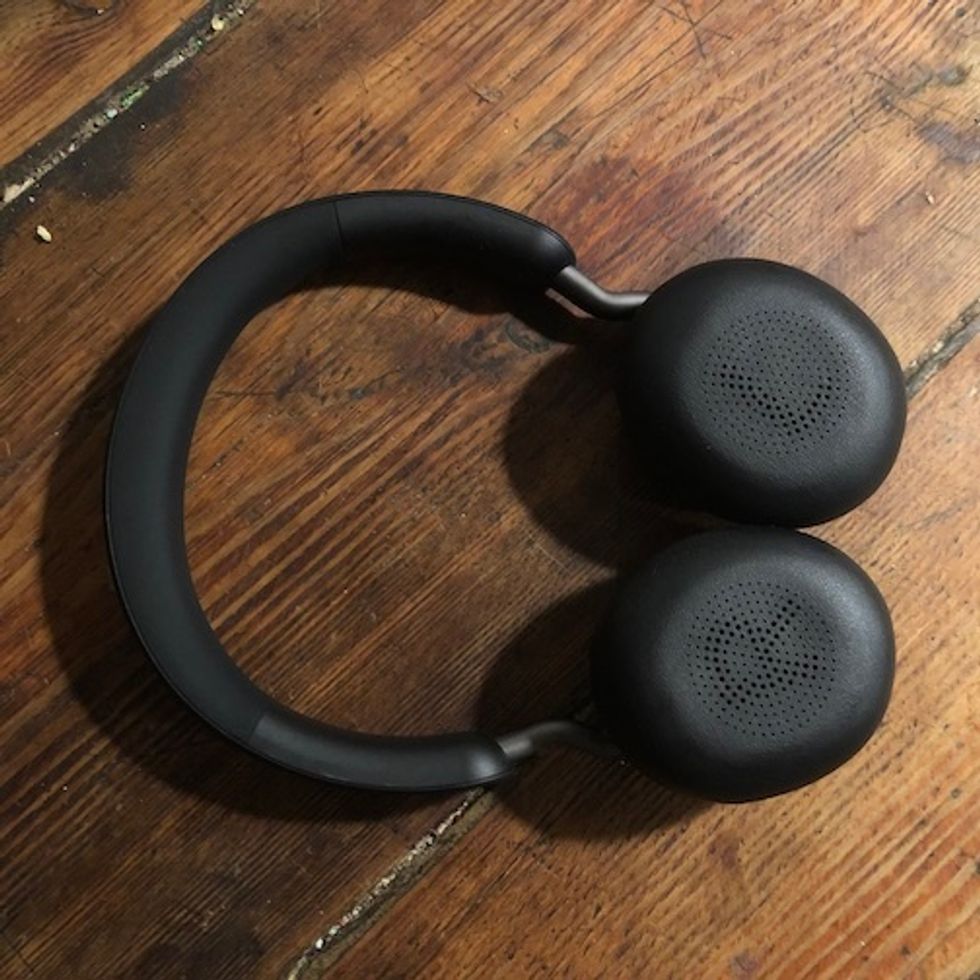 The Jabra Elite 45h wireless headphones come in four colors, including blackJabra
Price

The Jabra Elite 45h are very respectable $99.99, a great budget price for a pretty nice pair of headphones. You can pick these up in four different colors, black with copper details, navy with silver details, titanium black and black.
Worth buying?

The Jabra Elite 45h are a solid option for those looking for workable headphones. They're comfortable, allow you to customize the sound to your hearing, and can work across two devices simultaneously. We thought the sound quality was good as well, although there were a few occasions where we had some drop out while listening and watching video, and phone calls sounded a bit wispy.
We do think they could benefit from a better carrying case, and we wish we could fold them into a more compact size, particularly for traveling. Since few of us are traveling right now, though, that's not a giant concern.
As a budget option, though, the Jabra Elite 45h are a standout — good headphones, with customizable features, sound quality that held up for music, podcasts and video, and comfortable to boot. Anyone in the market for headphones that don't break the bank, would do well with these new additions to the Jabra line.
Pros:
Customize sound to your hearing with MySound
Extremely comfortable
Price
Cons:
Some Bluetooth audio drop
Not compact
Sound quality on calls was thin
From Your Site Articles
Related Articles Around the Web
Like GearBrain on Facebook