Like GearBrain on Facebook
Wireless earbuds are swiftly turning into the standard way we listen to music and make calls from our smartwatch or phone. Tucked into our ear, they're the summer vacation of headphones: with the wires gone there's a freedom we didn't know we craved. Jabra's latest are sleekly designed, fit well, and are easy to use. The company makes a wide variety of earphones and earbuds — we've tried a number of them.
The Jabra Elite Active 75t are really a step above previous Jabra earbuds we've tested in the past. They connect to any virtual assistant on your phone: Siri, Alexa or Google Assistant, can handle calls and music — and priced fairly for their features. We liked nearly everything about them — save on one key area.
Getting the Jabra Elite Active 75t Earbuds to work
We opened the box, and plugged the earbuds into their case, getting both fully charged. We left them overnight — that's probably not necessary, but certainly by the morning we were good to go. You can tell because the light on the actual earbuds are a bright solid green. They also held their charge well. I found I could go two days without needed to charge the case again — and I wore them constantly.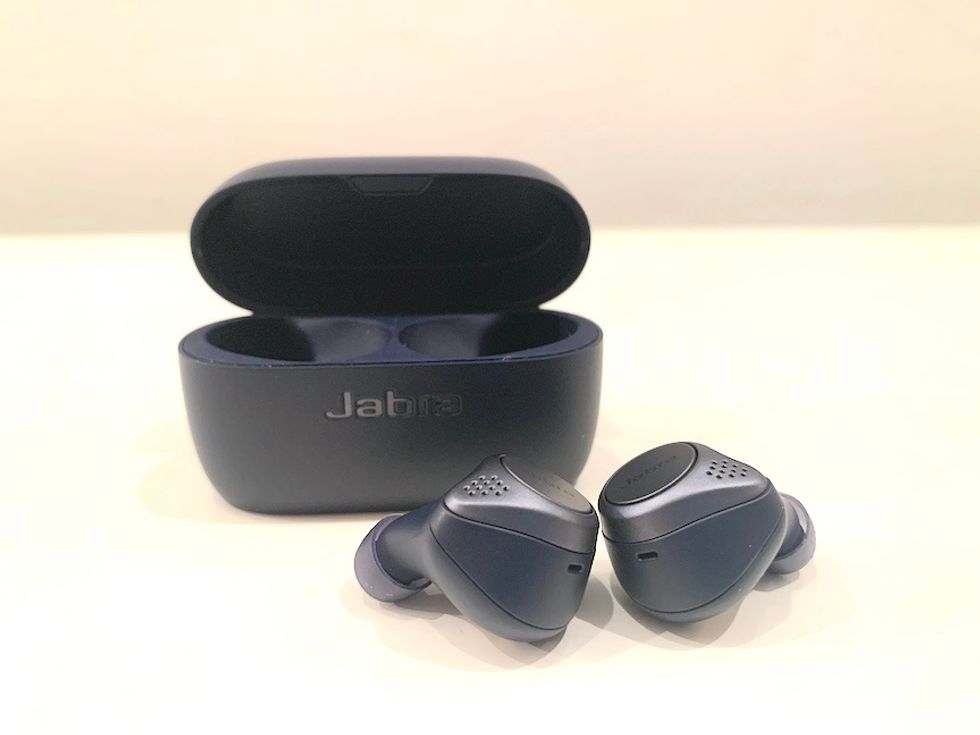 Jabra Elite Active 75t Earbuds connect to voice assistants including Siri, Google Assistant and AlexaGearBrain
Next, you need to download the Jabra Sound+ app. From there, with Bluetooth enabled on your smartphone, you'll want to click "Find my Jabra." If you happen to have another pair, there's an option for that too, "Pair new Jabra."

Once they're connected, you may need to update the operating system. (We certainly did.) Make sure your earbuds are close to your smartphone, and you'll see their light change to a rapid, blinking blue.
In the app, you'll be able to track your earbuds if they're lost, through Find My Jabra, set sound quality for different environments, like a commuter train, and most crucially adjust the different sound levels including bass and treble to create a sound more to your liking. We've seen this kind of personalization before with Skullcandy. It's a nice feature, and we did set some presets for music.
Fit
When it comes to wireless earbuds, the fit is everything. Especially when the set has the word, 'Active' in its name. The Jabra Elite Active 75t Earbuds felt really good in my ear, and they stayed in very well. If I dropped something and bent to pick it up, they felt fine and stayed in place. I've found the Apple Airpods Pro can occasionally fall out (even more now, then when I initially started using them.) Both sets have differently-sized silicone ends that you can try to better fit your ear. And that definitely helped with the Jabra set.
I found they were so comfortable I would forget that I was wearing them. The wired ones, actually, fall out much more. These were solid.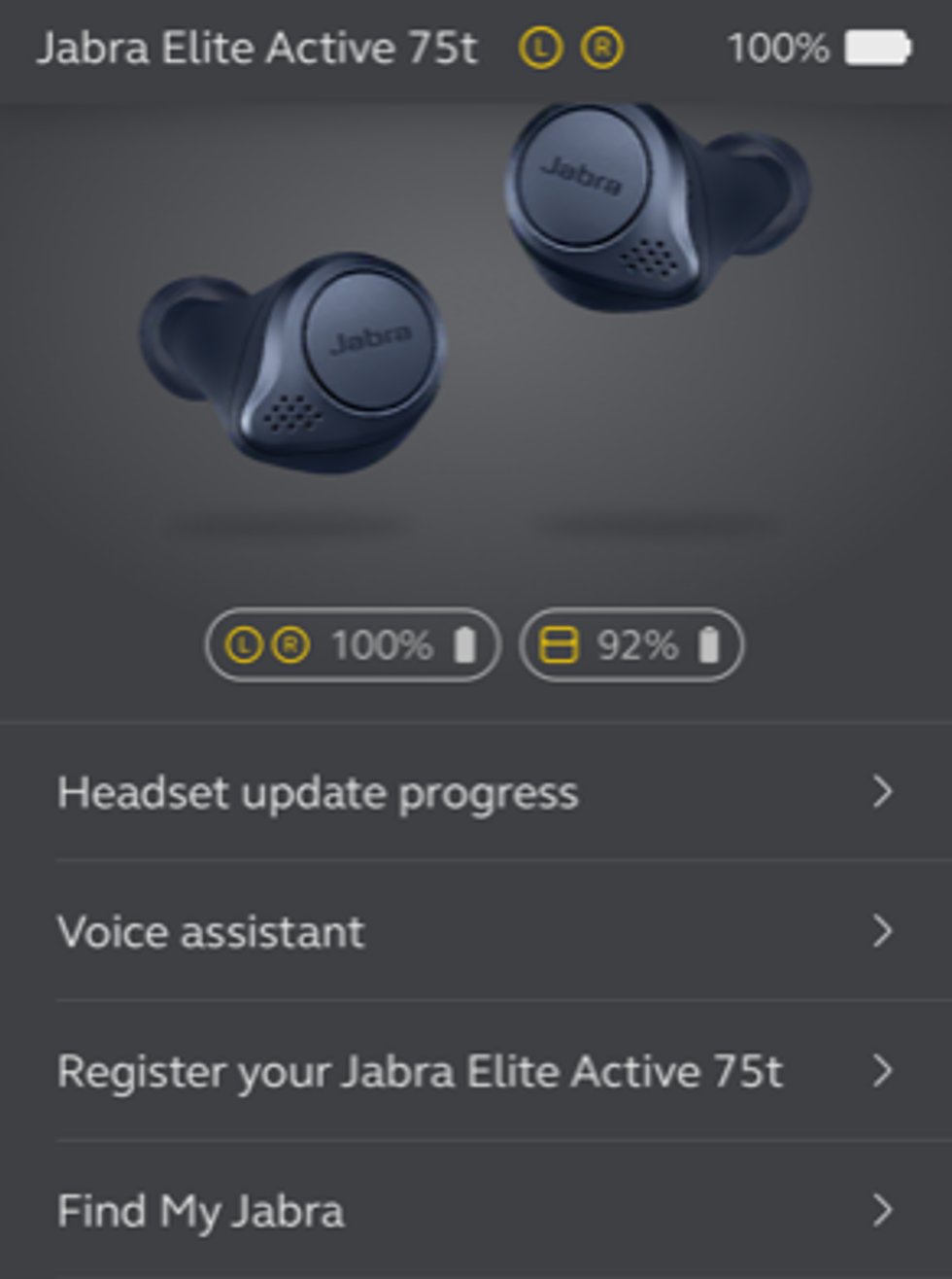 You can see battery life and other details in the Jabra appGearBrain
Design

Here the Jabra Elite Active 75t Earbuds won. I liked the smaller size, and that they almost disappeared in my ear when I wore them. That's because they seem to go more into the ear when you wear them, and unless you're looking right at the ears, you almost don't notice them.
They also live in a carrying case, which to me is always a plus and a minus. It's great the case can recharge them, but it's inconvenient — another worrying device you have to track and not lose. Having something this small, too, makes that even worse. I always feel it's just a matter of time before they slip from my pocket.
Sound
In terms of noise cancelling, the Jabra Elite Active 75t Earbuds were great. I even found them better at noise cancelling than most headphones I've tried. They also picked up Siri (I'm an Apple user) very fast when I called the voice assistant up for search. You can also link to Alexa and Google Assistant as well.
But when it came to music playback, I hit my hiccup — they just sounded tinny. I played with the settings on the app, trying to find a happy medium where the sound came back more full, and I couldn't. It's hard not to compare the earbuds to Apple Airpods since honestly they mirror each other in many ways. And in this area, Apple's earbuds just won easily.
The Jabra Elite Active 75t Earbuds just didn't produce great quality. I could hear the music, but it sounded more like the kind you get from inexpensive earbuds. And that was a disappointment.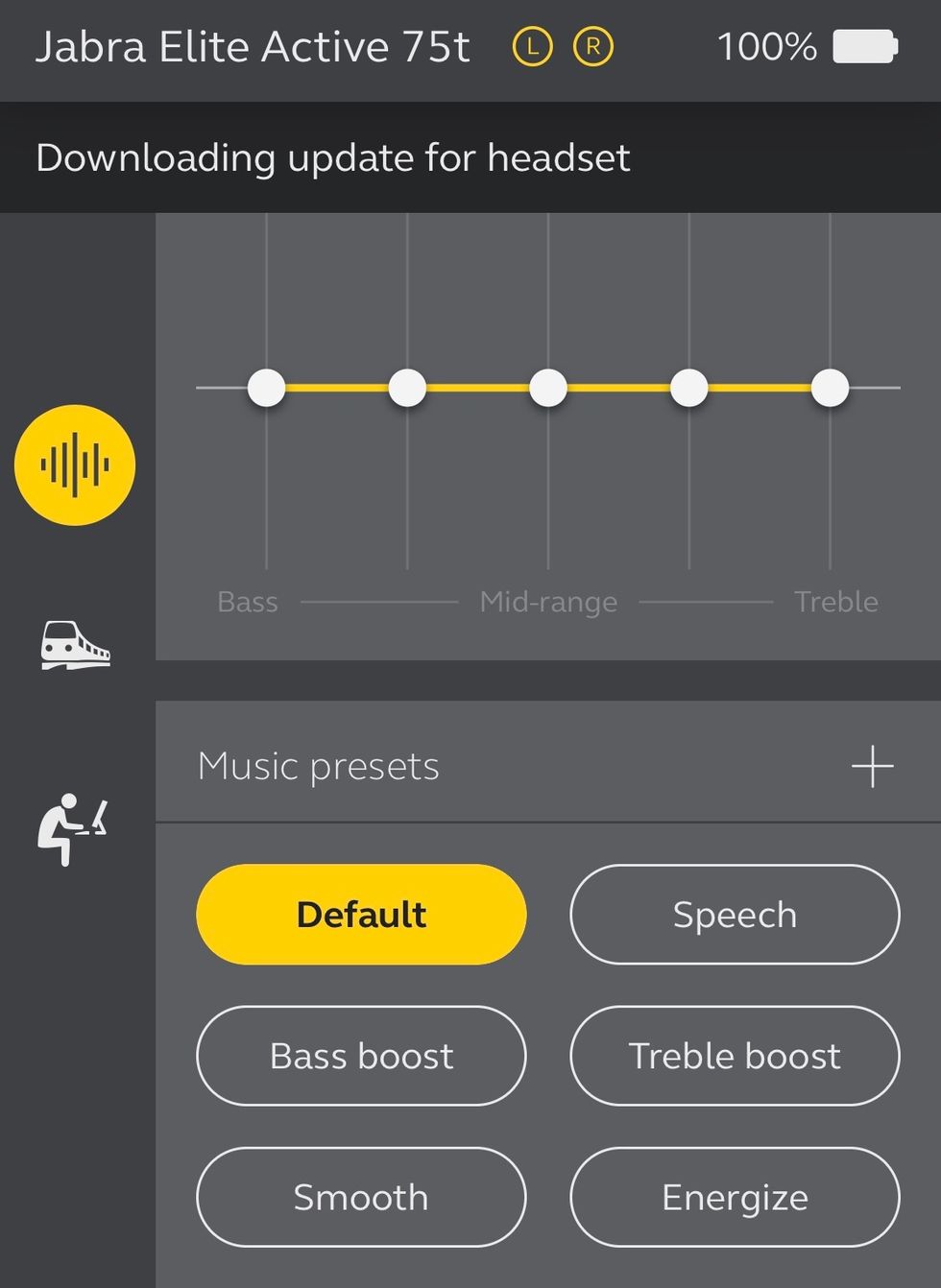 You can adjust sound quality in the Jabra appGearBrain
Phone calls

In terms of calls, the sound quality was excellent. I did find that the earbuds didn't immediately connect to a call, even if I was already using them to listen to music, for example. I could see the call coming in, and answer it on my phone, but I would then see the speaker option switch back to the phone from the earbuds. To use the Jabra set, I then needed to select the earbuds option on the phone to move the call back to the earbuds. That was not ideal.
Price
The Jabra Elite Active 75t Earbuds are priced at $199 and currently come in three colors: copper black, navy and titanium black. Three additional colors are coming this spring including mint, grey and sienna.
Jabra Elite 75t Earbuds – Alexa Built-In, True Wireless Earbuds with Charging Case, Titanium Black – Bluetooth Earbuds with a More Comfortable, Secure Fit, Long Battery Life and Great Sound Quality
Worth buying?
The Jabra Elite Active 75t Earbuds are a solid buy. They're small, well-designed, have a great fit, can pick up calls, connect to voice assistants and have an app that lets you personalize the way you want to listen to music. The sound quality is certainly not perfect. But if you're looking for a pair of earbuds that can pull double-duty: handle calls on your phone or smartwatch, let you access your smart assistant, and also stay firmly in place for your morning run, these are the ones to buy. You just might be sacrificing some peaks and valleys in terms of music playback.
Pros:
Stayed in place and were comfortable
Connected quickly
Price
Cons:
Music sound quality
Doesn't automatically connect to call
Additional colors aren't yet available
Like GearBrain on Facebook