British carmaker Jaguar Land Rover has revealed a concept vehicle which it says is what the future of autonomous driving could look like, from as early as 2021.
JLR is the latest of several automakers to show their cards when it comes to the future of transportation. Called Project Vector, the vehicle is just a concept for now (you'll note it still has a steering wheel), but it is hoped the car could hit the road for testing in 2021.
Read More:
Little is known about the vehicle for now, other than how it looks, and that it is four meters long. It is electric, with a battery built into the floor, but JLR won't comment on the range or any other performance details.
Like other examples of autonomous concepts, the Project Vector has an interior which can be swapped out depending on the vehicle's purpose. It could feature a handful of seats for a private family to get around, or be replaced with a larger-capacity layout for public ride-sharing. The latter would turn the vehicle into a small on-demand bus, instead of a privately owned autonomous vehicle.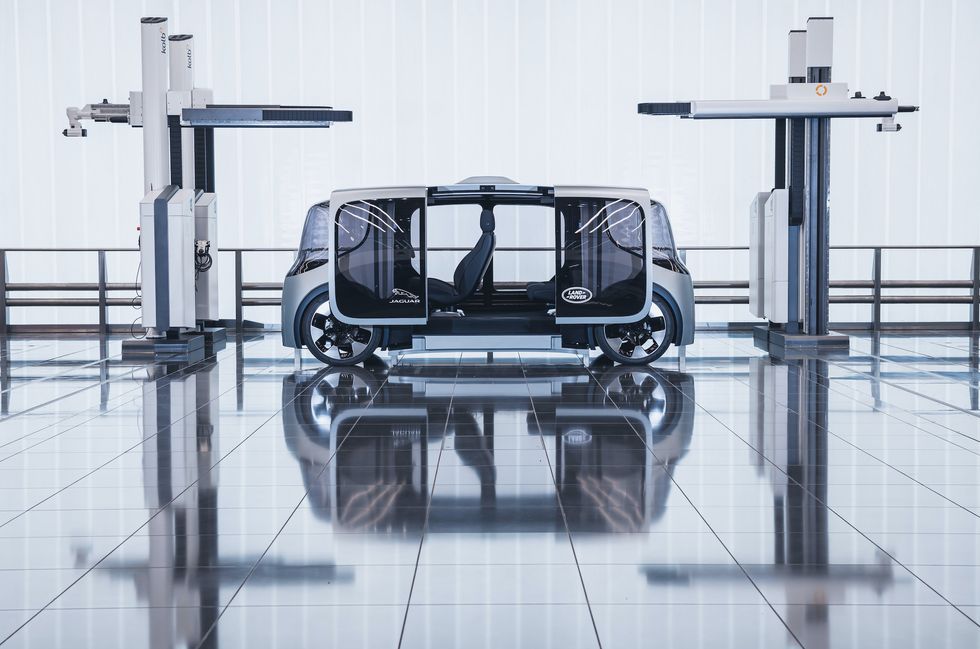 The interior layout can be reconfigured for different usesJaguar Land Rover
Instead of merely being a visual concept with no defined future use case, JLR plans to work with local authorities in Coventry, England to create an autonomous mobility service. JLR is working on Project Vector alongside the University of Warwick and its parent company, India-based Tata Motor. Together they have formed a joint venture called the National Automotive Innovation Centre.

Although its current cars don't feature driver assistance systems as advanced as Tesla Autopilot, JLR is already invested in the autonomous future. The company struck a deal to sell 20,000 of its electric I-Pace cars to Waymo for use in its self-driving taxi service, which is currently being trialled in Phoenix, Arizona. Waymo still uses Chrysler Pacifica minivans for now, but the plan is to offer the I-Pace as a more luxurious option for customers.

Earlier this year, GM's Cruise division revealed its own plans for an autonomous ride-sharing vehicle, which it hopes to offer to the public later this decade.