Cruise, the driverless car subsidiary from General Motors, has revealed its first fully autonomous vehicles intended for public use, the Origin.
More of a self-driving minivan than a driverless car, the vehicle is intended to go into production as it currently looks — meaning this is not a far-flung concept, but a realistic look at what Cruise wants to make available to the public in the near future.
Read More:
Roughly the size of a conventional minivan, the electric Origin has a row of three seats at either end of the cabin, facing each other and offering the six passengers plenty of space to stretch out. A screen sits above each row showing the vehicle's route, and how many minutes until each passenger will be dropped off from their ride.
Roav Viva by Anker, Alexa-Enabled 2-Port USB Car Charger in-Car Navigation, Compatible with Android and iOS Smart Devices
There are no conventional vehicle controls at all, and nowhere for a safety driver to sit; the Cruise Origin is completely driverless.
Aimed at being part of a fleet of driverless ride-share vehicles, the Origin uses a modular design to help keep costs down. Everything from its sensors and computers, to each piece of the interior, can be taken off and replaced with a newer, upgraded version.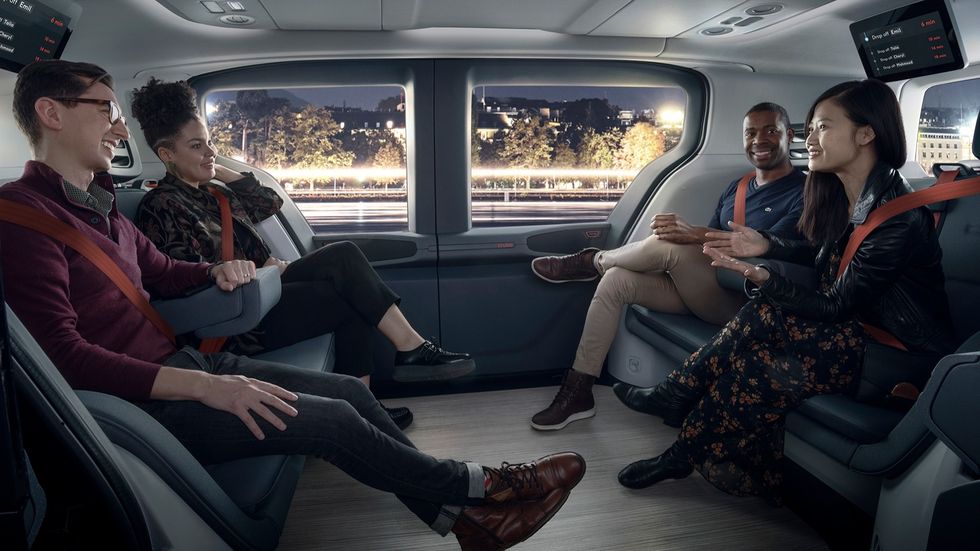 The interior has space for six passengers, but no driverCruise
This cost-conscious approach is something we haven't seen from other autonomous car companies, like Waymo, which currently uses a fleet of expensively-modified Chrysler Pacifica minivans and Jaguar I-Pace electric cars for its own autonomous taxi service.

Cruise, which is also partly owned by Honda and Japan's SoftBank Vision Fund, believes its approach to start from a blank canvas and build a modular vehicle that is easy to repair and upgrade, makes most sense.
Dan Ammann, chief executive of Cruise, said: "At this very moment, we're running fleets of our third-generation vehicles on the roads of San Francisco, operating a ride-share service that any Cruise employee can use, 24/7. Last year alone, we accumulated nearly a million miles as we autonomously drove nearly every road in San Francisco."
These third-generation cars are not the same vehicles as the Origin, and still have a safety driver behind the wheel to comply with local law.
Ammann also explained how Cruise's test vehicles are "learning about how people drive, how to maneuver in unusual circumstances, and how to react to situations that seem impossible to predict."
Describing the vehicle's intelligence as "superhuman," the CEO also claimed the technology is already smart enough to drive itself "across the entire country without incident," although the company is yet to prove this.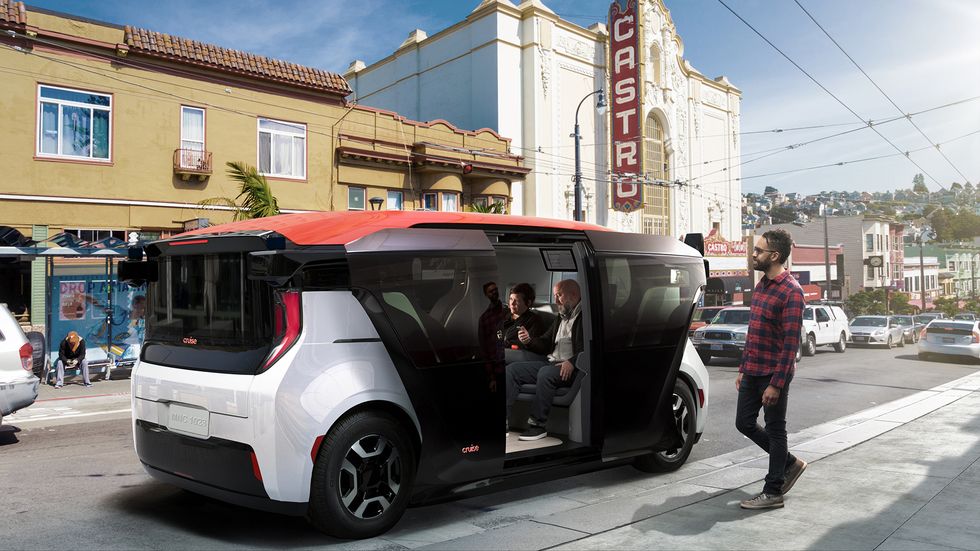 Cruise claims users could save $5,000 compared to owning a car Cruise
Because a vehicle like the Origin would be in constant use, instead of being parked for the majority of its life like a conventional car, Cruise believes the average San Francisco household using an Origin vehicle for themselves, or as part of a ride-sharing service, could save $5,000 per year.

Despite these bold claims, Cruise is yet to operate the vehicles in a fully-driverless state on public streets. GM has submitted a petition to the National Highway Traffic Safety Administration, which is required to operate a fully driverless vehicle in public, but it hasn't yet been granted permission to do so. Only a limited number of permits are awarded each year.
Cruise is also yet to say anything about the range of the Origin, or what size its battery is and how quickly it can be charged. The company says its vehicle uses radar, lidar and cameras, but hasn't gone into detail about the exact hardware it is using, and how that might differ to its rivals.
The company is also yet to say when the Origin will go into production, or how many it intends to produce. Having missed an earlier deadline to reveal the vehicle in 2019, GM and Cruise are understandably keeping their cards closer to their chest this time around.
Pioneer AVH-2400NEX 7" Touchscreen Double Din Android Auto and Apple CarPlay In-Dash DVD/CD Bluetooth Car Stereo Receiver