Like GearBrain on Facebook
Since the iPad arrived over a decade ago, Apple has been on a mission to convince consumers that it is a computer. Support for mice, keyboards and even gamepads was added; Apple's own Magic Keyboard gave the iPad an integrated trackpad; iPadOS is now better than ever at multitasking.
But the iPad still isn't quite capable of replacing a laptop, at least for the majority of users who do more than simple web browsing and media consumption.
Read More:
Now though, Kensington is taking a different approach. What if the iPad could be a desktop computer instead of a laptop replacement? Instead of taking on the MacBook Air like Apple's own Magic Keyboard for iPad does, the StudioDock hopes to turn the tablet into a miniature iMac.
Does it succeed? Read on to find out.
Kensington StudioDock review: Hardware and design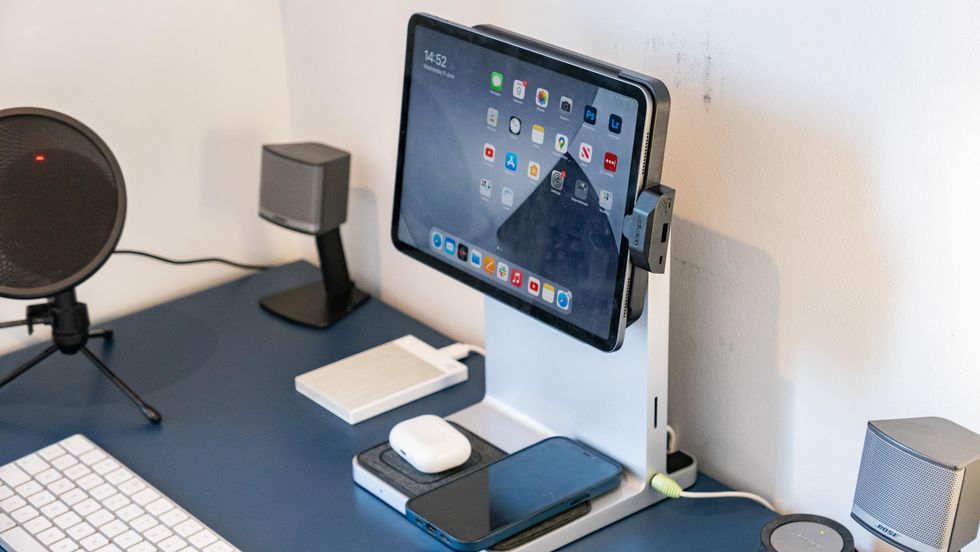 The StudioDock is priced from $380 to $400GearBrain
As iPad accessories go, the Kensington StudioDock is a hefty thing. It comes in a huge box, is heavy to the point of not being portable, and takes up slightly more desk real estate than the foot of an iMac.

That isn't to say the dock will take up your entire desk. It still occupies far less space than a laptop, and while it isn't height-adjustable, it raises your iPad up to a far more comfortable height than any portfolio-style stand ever could. This is your iPad posing as a desktop, not a laptop.
The aluminum body looks and feels premium, and so too does the fabric covering a pair of Qi wireless charges on top of the foot. The left side is designed for AirPods and the right for a smartphone, but in reality both can charge any Qi device. The one on the right is more powerful, however, so will refill phone batteries more quickly.
I found the charge pad was a little temperamental with my iPhone 12 Pro, and I had to position the phone just so for charging to commence. Lights in front of each charge pad turn blue to indicate charging and flash red to show when things aren't lined up properly, which is useful.
The iPad is held in place with magnets and a USB-C connection, and the mount can be tilted up and down. Interestingly, it can be rotated so far around that I can see the dock being used on a hotel reception desk, with the iPad spun around so customers can sign the screen to check in or make a payment.
There is no height adjustment, but the iPad can be rotated 90 degrees between portrait and landscape. The movement here gives the StudioDock a premium feel to match the steep price tag. A cut-out on the rear of the dock means the iPad's camera can still be used, but this is likely to be facing the wall behind your desk anyway.
Kensington StudioDock review: Ports and functionality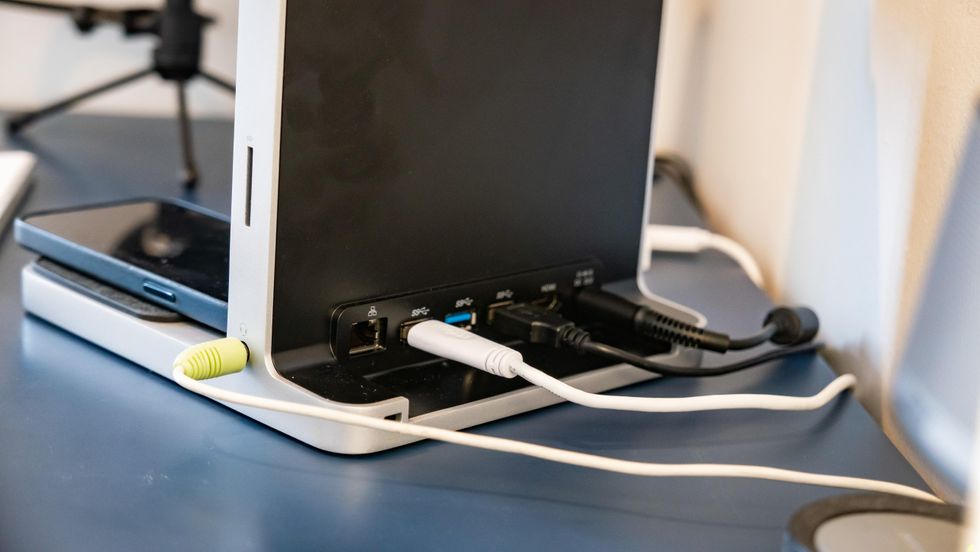 The dock includes three USB-A ports, HDMI, Ethernet, SD card and USB-CGearBrain
Turn the StudioDock around and you are greeted by a lot of ports — many more than the new M1 iMac, even. On the side there's a 3.5mm headphone jack and an SD card slot, and on the back there are three USB-A ports, gigabit Ethernet, HDMI and a socket for the included power adapter. There's also a pair of Kensington locks for anchoring the dock to your office desk.

Finally, the left edge houses a USB-C port for attaching external storage or charging something like a pair of headphones, camera or portable battery pack.
With all ports and wireless pads occupied, the StudioDock can charge up seven devices at once, using a single wall outlet. Kensington also sells an Apple Watch charger that attaches to the side of the dock, up by the side of the iPad, taking that figure to eight.
Instead of charging every USB device in your entire home, the dock can also be used for importing or exporting media from SD cards and other forms of portable storage, and of course the HDMI port means your iPad can drive a monitor or television.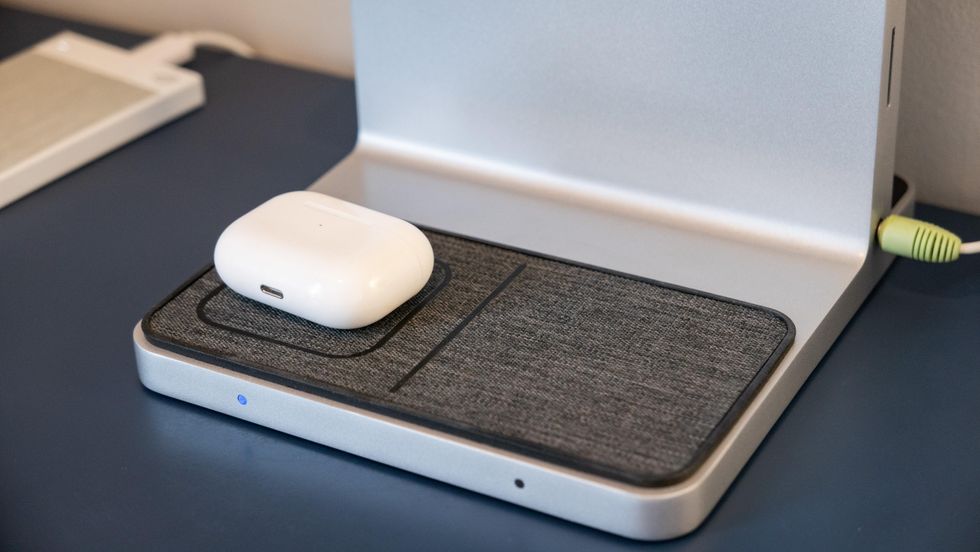 A paid of Qi wireless charging pads can power AirPods and a smartphoneGearBrain
Apple limits this to screen mirroring for now, so you can't create a dual-screen setup with this dock. Instead, you can view the iPad's interface on a bigger screen. We can also see buyers viewing content on an external display, then using the iPad and an Apple Pencil to edit whatever it is they are looking at.

And it all works really well. The contents of an SD card appear instantly in the iPad's Files app; so too do the files held on a portable hard drive attached to a USB-A port. This breadth of connectivity makes me wish Apple had kept at least an SD card slot on its recent MacBooks and the new iMac.
Kensington StudioDock review: Price and value
Kensington sells a StudioDock for each of the two sizes of iPad Pro, with the 11-inch priced at $380 and the 12.9-inch model at $400. The former also fits the 2020 iPad Air, but due to it being fractionally wider, the latest 2021 variant of the 12.9-inch iPac Pro, complete with its desktop-class M1 chip, does not fit any model of StudioDock. Hopefully Kensington can work on a fix for this soon.
I have been using the 11-inch model with my 2018 iPad Pro and have thoroughly enjoyed the experience. It has turned my iPad into a computer in a way laptop-style keyboard cases fail to achieve. Simply elevating my iPad to a more comfortable height has turned it into a useful desktop, or a second display for my Mac Mini; and with Apple's SideCar enabled, the iPad in its new, elevated position becomes a part of my Mac desktop experience.
The StudioDock is certainly an expensive accessory, but I think one that is well priced compared to Apple's own Magic Keyboard for iPad, which costs a similar amount yet lacks all of the Kensington's connectivity options.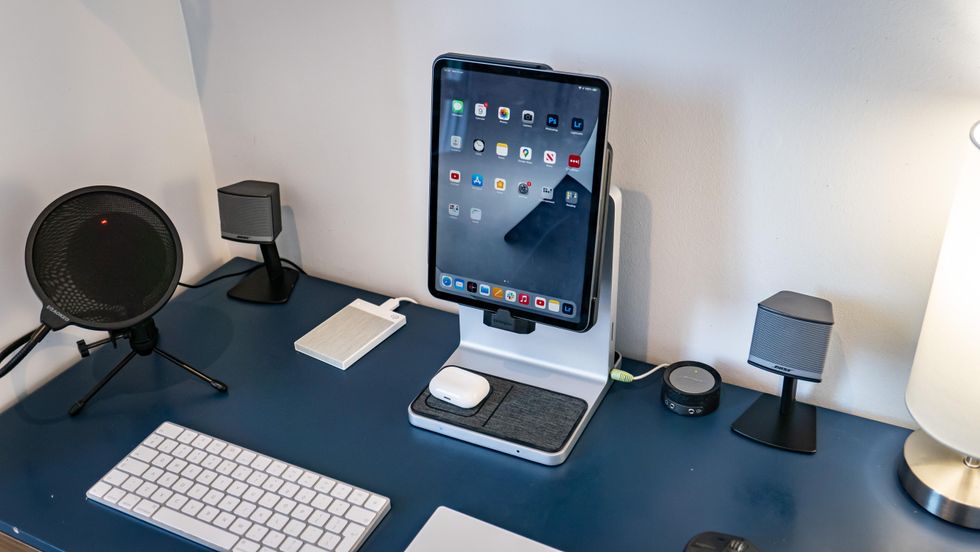 The iPad can be rotated between portrait and landscapeGearBrain
Kensington StudioDock review: Verdict

I liked the look of the StudioDock the moment Kensington announced it, and on unboxing the accessory I wasn't disappointed. This is a very well-made product that has clearly been engineered to a high standard. Its movement feels premium and the connectivity options are enough to embarrass any of Apple's current consumer desktops.
Having an SD card slot right where I need it is hugely convenient, and the trio of USB-A ports (plus USB-C) remind me just how useful the iPad Pro has become, especially with regard to its compatibility with third-party USB accessories and storage.
I have spent hours at a time using a docked iPad Pro, complete with Bluetooth keyboard, mouse and trackpad, as my only computer; and the extra power of the M1-equipped 2021 iPad Pro would make this an even more attractive option.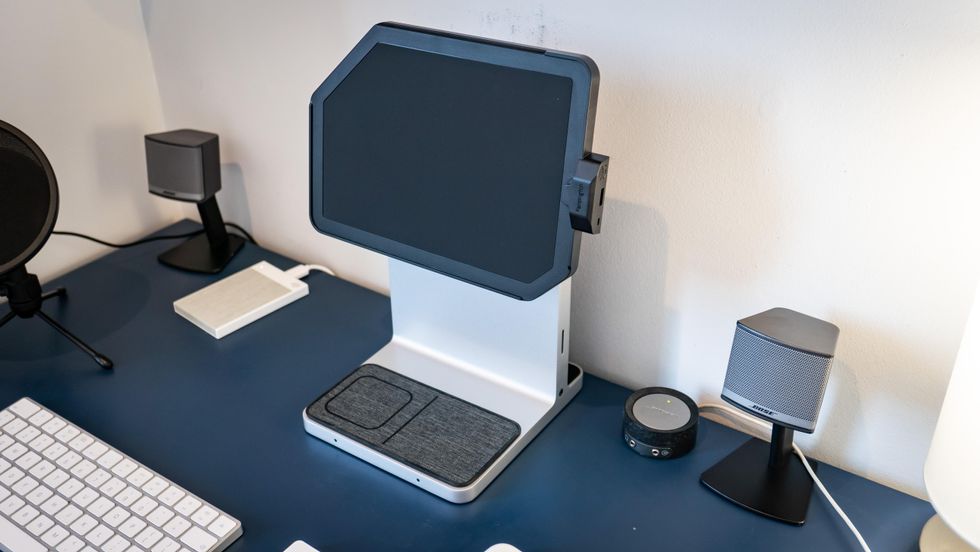 Kensington StudioDock for iPadGearBrain
But I do wonder if I could live exclusively with this setup. Perhaps consumers who use an iPad as their primary computer – I know a handful who do – would see the StudioDock as a worthwhile alternative to buying a laptop and monitor, or a desktop PC or iMac. It is certainly good value in that regard.

I can also see the StudioDock being useful when I'm on deadline and have to work as productively as possible, with no distractions. For simple, minimalist desktop computing, I think an iPad and a StudioDock makes a lot of sense.
Pros:
Wide range of connectivity options
Premium design
Dual wireless charging pads and USB-C
Cons:
High price
Not compatible with 2021 iPad Pro 12.9-inch
Won't fit into everyone's workflow.
Kensington iPad Docking Station - StudioDock for 11" iPad Pro and iPad Air (K34031WW)
From Your Site Articles
Related Articles Around the Web
Like GearBrain on Facebook