The end of certainly the most unusual CES in history has come, and with it GearBrain's picks for the favorite things we saw from arguably the biggest tech show on earth. While we didn't wander the Convention Center from Las Vegas, nor stand in 45 minute lines for a coffee, we did weave through virtual booths, caught up with start-ups and established companies alike to uncover the new technology and most fascinating trends that will impact you this coming year.

Here then are the 15 devices and services, gadgets and gear, that you'll try or certainly know about in 2021, and which earned our Best of CES 2021 Awards.
Mercedes Hyperscreen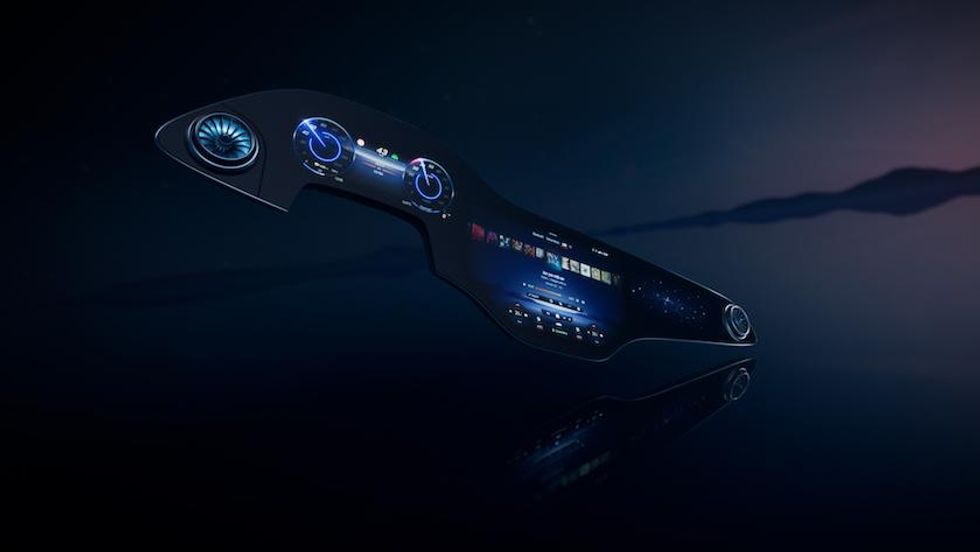 The upcoming Mercedes Hyperscreen will debut on the 2021 EQS electric sedanMercedes
The next-generation car infotainment system, at least according to Mercedes, is called the Hyperscreen. Measuring 56 inches across, the curved display houses three OLED touch screens and features 12 actuators to provide haptic feedback to every touch.

To debut on the upcoming EQS electric sedan in late 2021, the Hyperscreen is made of glass and scratch-resistant aluminum silicate, and promises to be glare-free and easy to clean.
There is also an embedded fingerprint reader for added security, and Mercedes says the screen lacks the multiple layers of menus that have been the downfall of other all-touch infotainment systems. Power comes from an eight-core CPU with 24GB of RAM.
Sony RA5000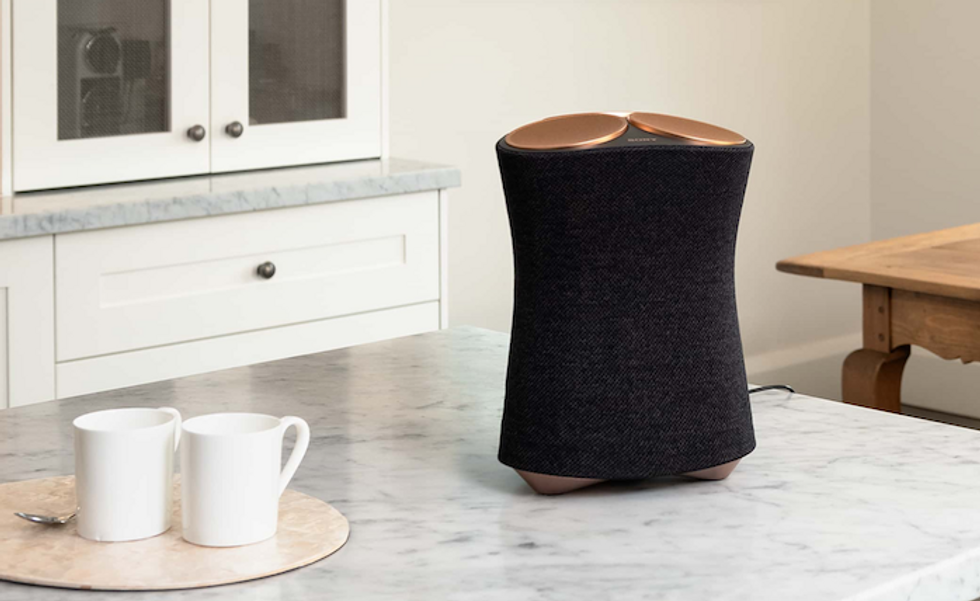 The Sony RA5000 is the first speaker to use Sony's new 360 Reality AudioSony
The RA5000 (and smaller RA3000) are the first speakers to use Sony's new 360 Reality Audio sound format. This means the speakers create truly room-filling sound that is ambient in nature, appearing to come from all directions instead of directly from the speaker itself. Anyone familiar with the directional sound of many smart speakers will see the appeal here.

Sony says the speakers are smart enough to upgrade regular stereo sound into 360 Reality Audio, and the RA5000 – which features three upwards-firing speakers and an active subwoofer – can also handle Hi-Res Audio. The speakers also support Google Chromecast, Google Assistant and Amazon Alexa, plus options for Spotify, Wi-Fi and Bluetooth streaming.
Kensington StudioDock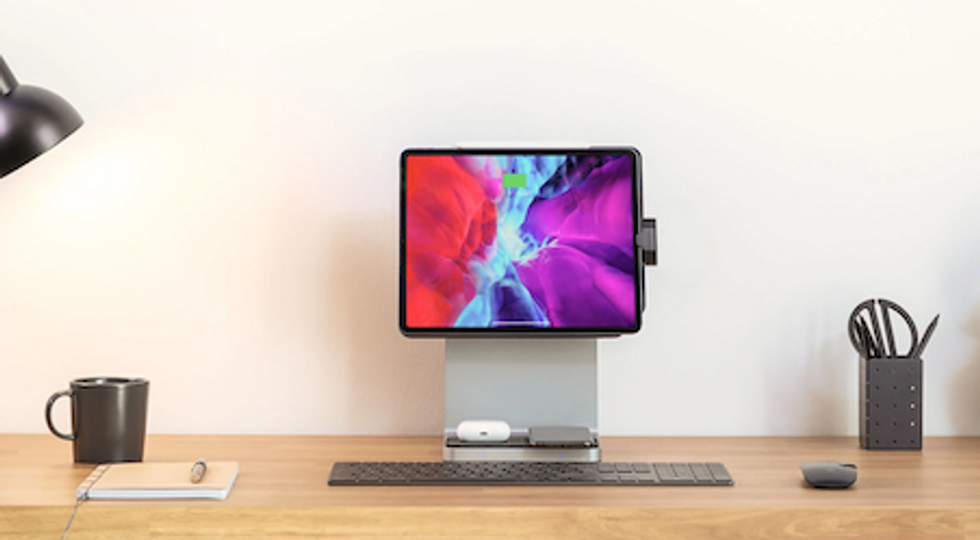 The Kensington StudioDock can turn your iPad into a second displayKensington
Many iPad accessories claim to turn the tablet into a laptop replacement — but few have attempted to transform it into a desktop computer. This is where the Kensington StudioDock comes in, with its elevated magnetic mount, dual wireless charging pads for your iPhone and AirPods, and a wide range of connections.

There's USB-C, a convenient SD card slot, Gigabit Ethernet, a headphone jack, HDMI 2.0 and no fewer than three USB-A ports for connecting all manner of computer peripherals. We can see this dock turning your iPad into a second display, but also making the Apple tablet work as a desktop computer all of its own.
Google Stadia on LG televisions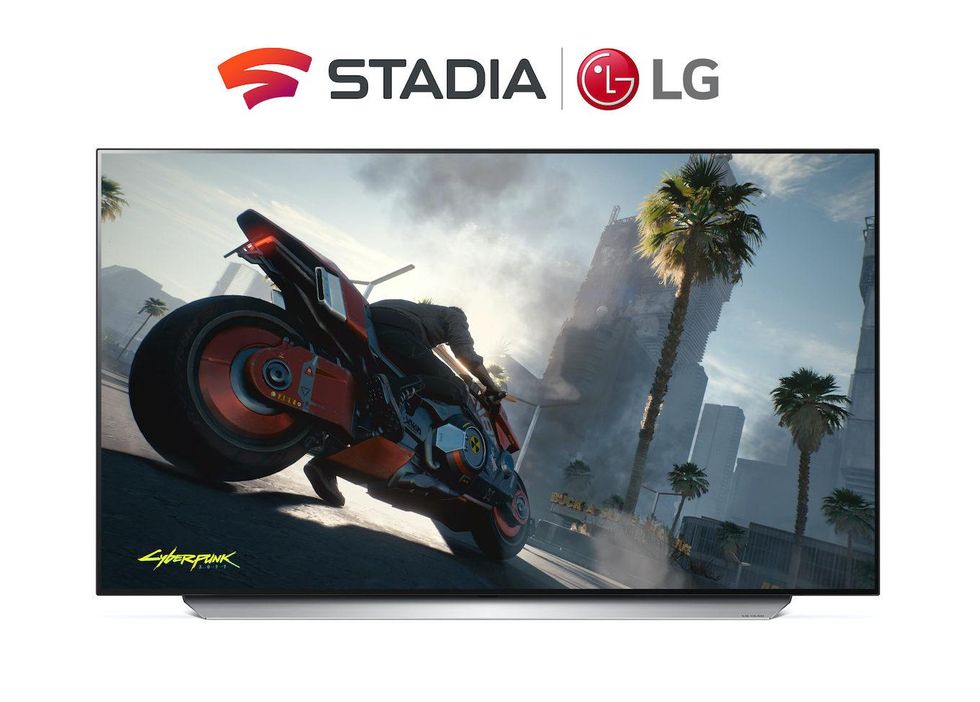 This year Stadia will natively appear on LG TVsGoogle + LG
Google Stadia can currently only be played on televisions by connecting a Chromecast Ultra streaming dongle. But this will change in 2021, thanks to a deal with LG that will see Stadia appear natively on its televisions. Stadia will work on all of LG's new NanoCell, OLED and QNED televisions; it will also work on some 2020 models, too, and any that run LG's WebOS 6.0 operating system. We think this is a great move for Stadia, as it brings the cloud gaming service into more homes and with zero upfront cost. We hope to see Stadia appear on more TVs from other manufacturers – and potentially other TV-connected devices like streaming boxes – soon.

Sony Vision S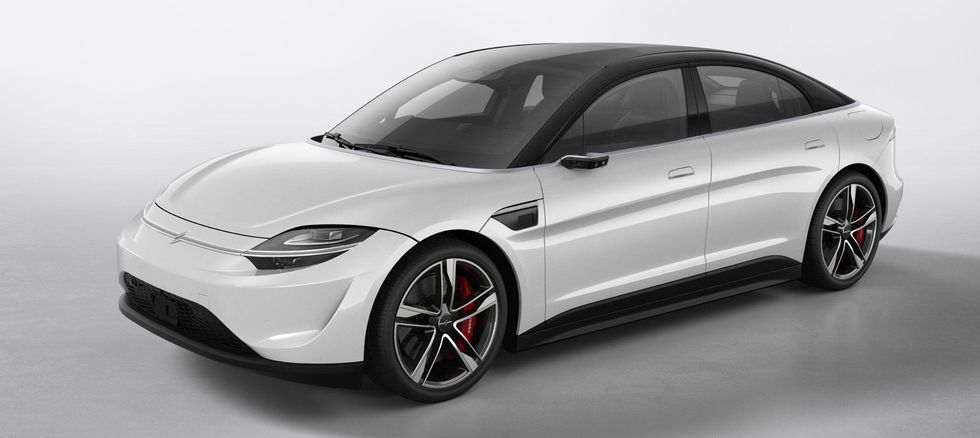 Sony Vision S is already being tested on public roads in Austria.Sony
Sony surprised everyone at CES 2020 a year ago with the announcement of its own car, called the Vision S. Clearly a concept vehicle, many thought this was a CES showpiece unlikely to ever appear on dealer forecourts.

But we were wrong. Sony used CES 2021 to update us on the Vision S, and how it is already being tested on public roads in Austria. Sony is working on the car with vehicle-builder Magna Steyr, Bosch and Nvidia.
Although production plans are still unclear, the car is wearing license plates and the sort of camouflage wrap manufacturers use to disguise upcoming vehicles. The electric car also features an all-new infotainment system built by Sony, plus solid-state lidar sensors for autonomous driving.
Much has been said about Apple making its own car, but we are equally excited about the prospect of Sony, a technology company through-and-through, shaking up the century-old auto industry.
myQ Pet Portal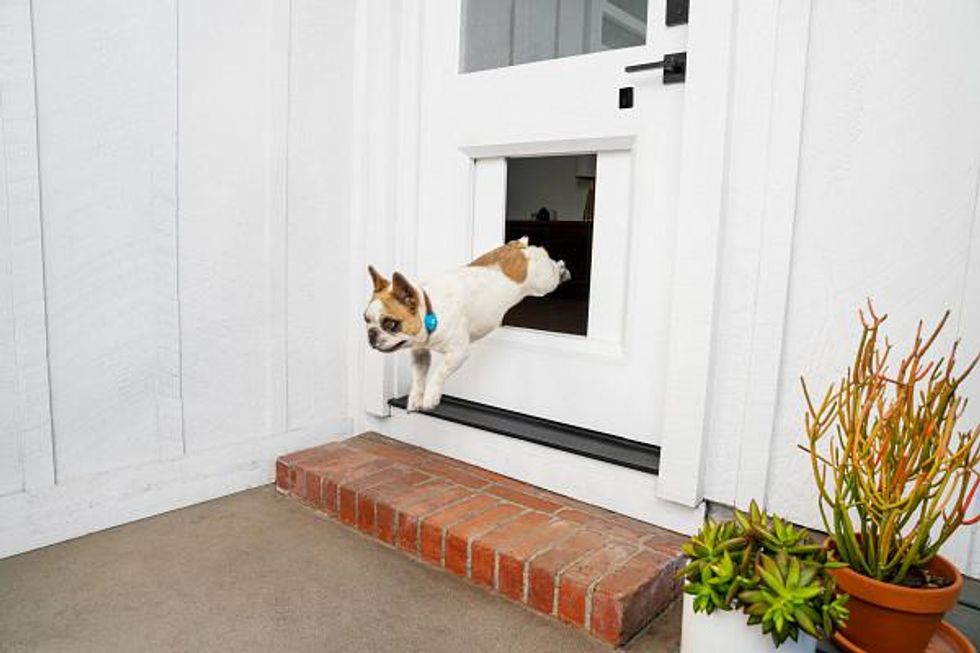 Puppies have a sliding pet door, with their collar as the key myQ
Putting aside the price ($3,000 — ouch) and the fact that the new myQ Pet Portal has a bit of a "Star Trek" sliding door feel, we took note this year of this new pet device because its ability to uniquely fingerprint your dog, and create a safe way for them to enter and exit your home when you're not there. A tag worn around your dog opens the door each time the pet approaches — but slides quickly shut before your cat, not tagged, can get out. A door that can only unlock via a sensor means squirrels and raccoons can't get in either.

Yes, it's a pricey investment, but the design also keeps the door fairly well camouflaged, meaning passerbys are unlikely to notes its existence. With the number of new dogs recently adopted in the past year, and people likely to start returning to an office environment at some point, the Pet Portal is a product that will eventually fit, we expect, a strong need.
BenjiLock Sport Lock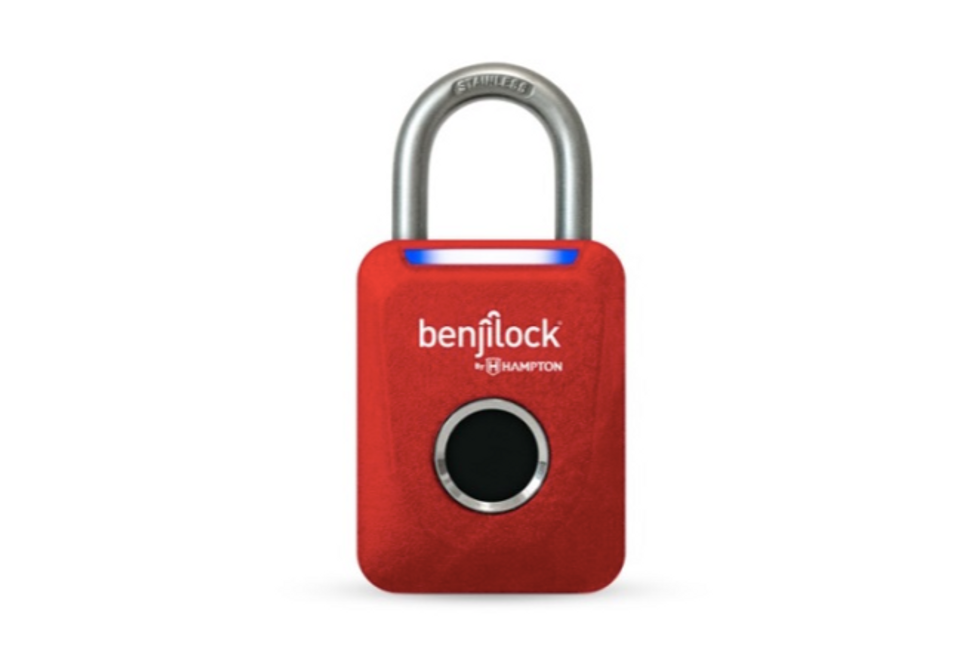 BenjiLock by Hampton brings biometric controls to your front door and gym locker BenjiLock
This fingerprint-only lock shows just how committed to biometric technology a company can go, a padlock that open with just a touch — and only a touch. There isn't a backup key or code. But there is a way to store 10 different fingerprints, and the lock, which does recharge on USB, can work about 1500 times before needing a re-juice. We like the way the new device from Benjilock looks, we like the price (just $29.99) but mostly we like to see how we can start to depend on biometric technology in more facets of our life.

Alexa Show Mode from Lenovo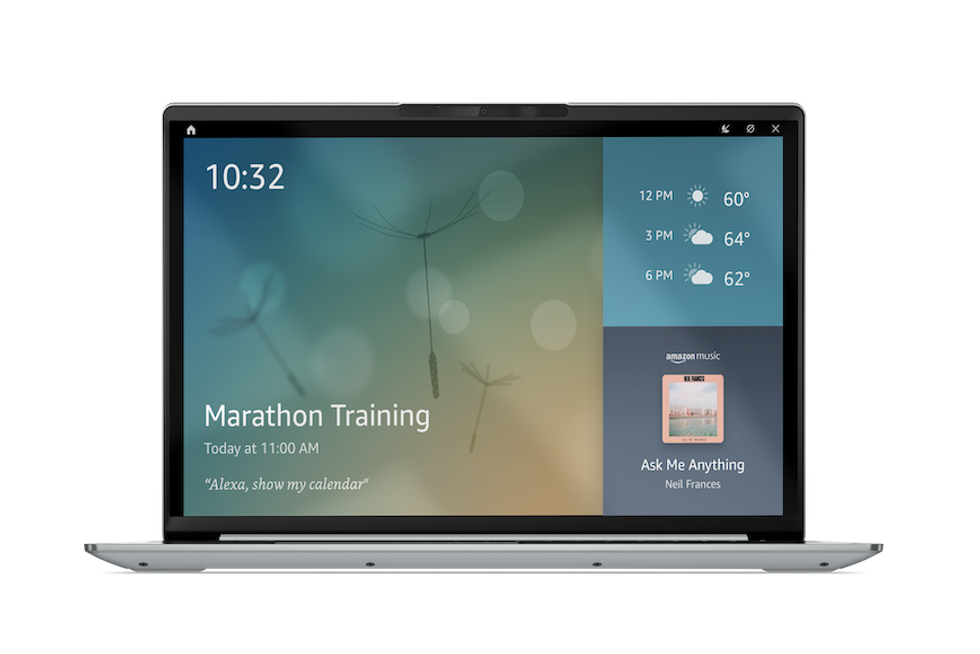 Flip a Lenovo PC into an Alexa Show Mode by just asking out loud Lenovo
Lenovo has been tapping into the voice assistant world for some time, giving us tablets and clocks and more that work with Amazon Alexa and often Google Assistant. But this latest launch, is a way to just bring Alexa forth from their PCs is a bit of a shift. Alexa Show Mode means Alexa users, or those who are eager to step their toe into the voice space, can without having to spend more money on a secondary tablet or speaker. It's one less device, as well, to store on a tabletop or your bookshelf and more in line with what a voice assistant should be — something you can tap into just by asking.

Hex Home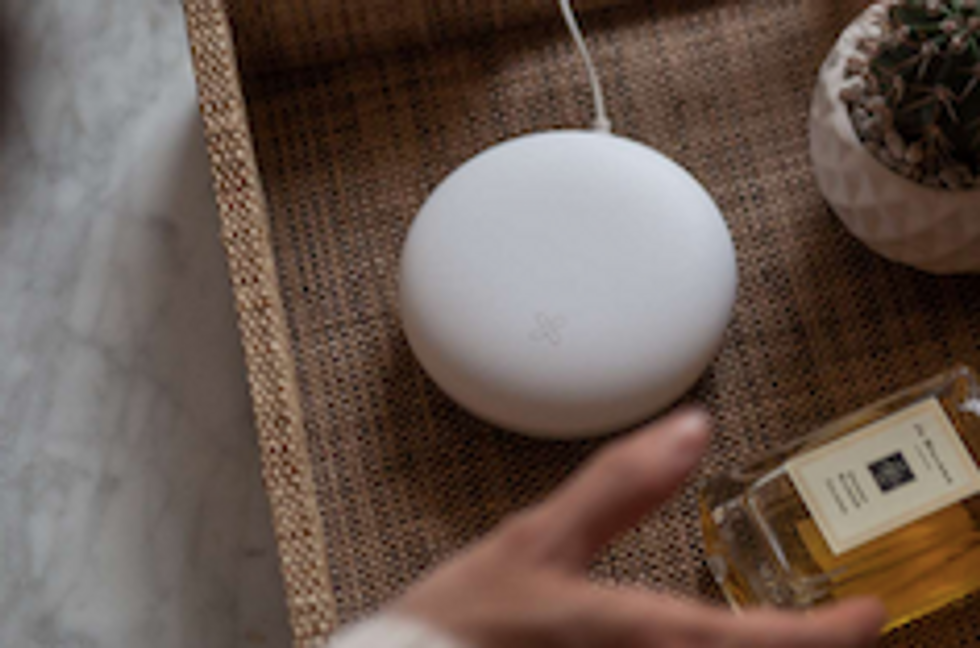 Hex Home is a security system that runs on wavesHex Home
The upcoming Hex system is a way to think about home security, but without a camera in place. The device looks much like a speaker, but instead of listening for sound, it's reading waves — actually Wi-Fi that is bounced between pods. As people move through the waves, they create breaks and shifts, these disruptions are read by the Hex system and through the app to determine whether these are normal alerts of activity — your child playing in the hallway — or something that requires attention.

There are 10 different sensitivity levels — even one for pets — and two pods plus the main module can cover up to 1,500 square feet. Security cameras are great, but they're certainly something people think about particularly around privacy in their home. We like the direction Hex is considering, a way to know what's happening in the home, without having something looking in if that's not your preference.
Harman ExPs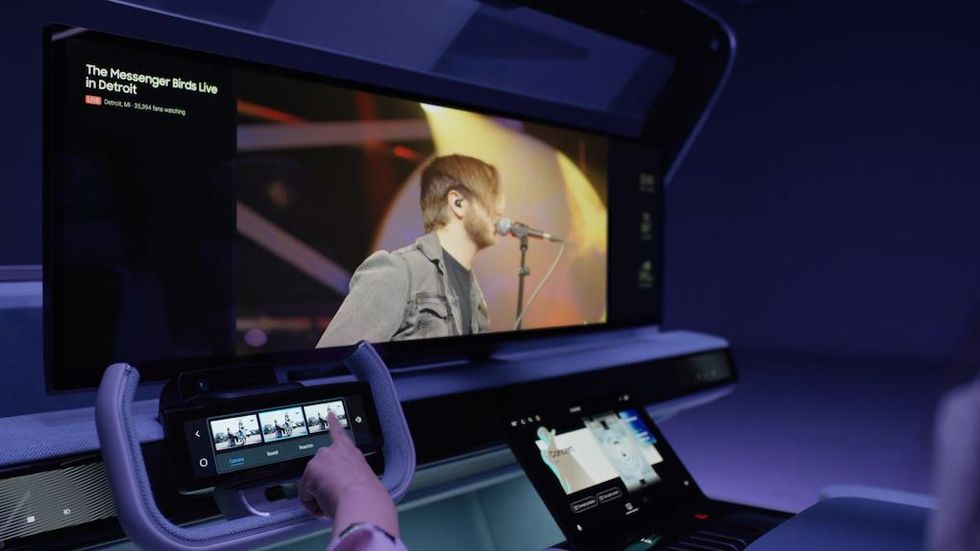 Harman gave us a window into how we may use our cars very soonHarman
Are we at the point where our cars are driving us to meetings, to the grocery store or on a date? Not at all. But Harman is imagining what that time could look like from inside our vehicle, and even the stepping stones to get there. Its new ExPs are some of the best examples of how the car will shift from something you drive, to a place where you live. From steering wheels that retract, dashboard screens that move forward and headrests that pivot, people can launch video games, edit videos and even interact live with a favorite band, sending them applause right from the driver's seat. Sure, these new features are prototypes — but they highlight the direction we all know we're going, where the car is just a space on wheels, and the possibilities of what we do inside, endless.

Honor Band 6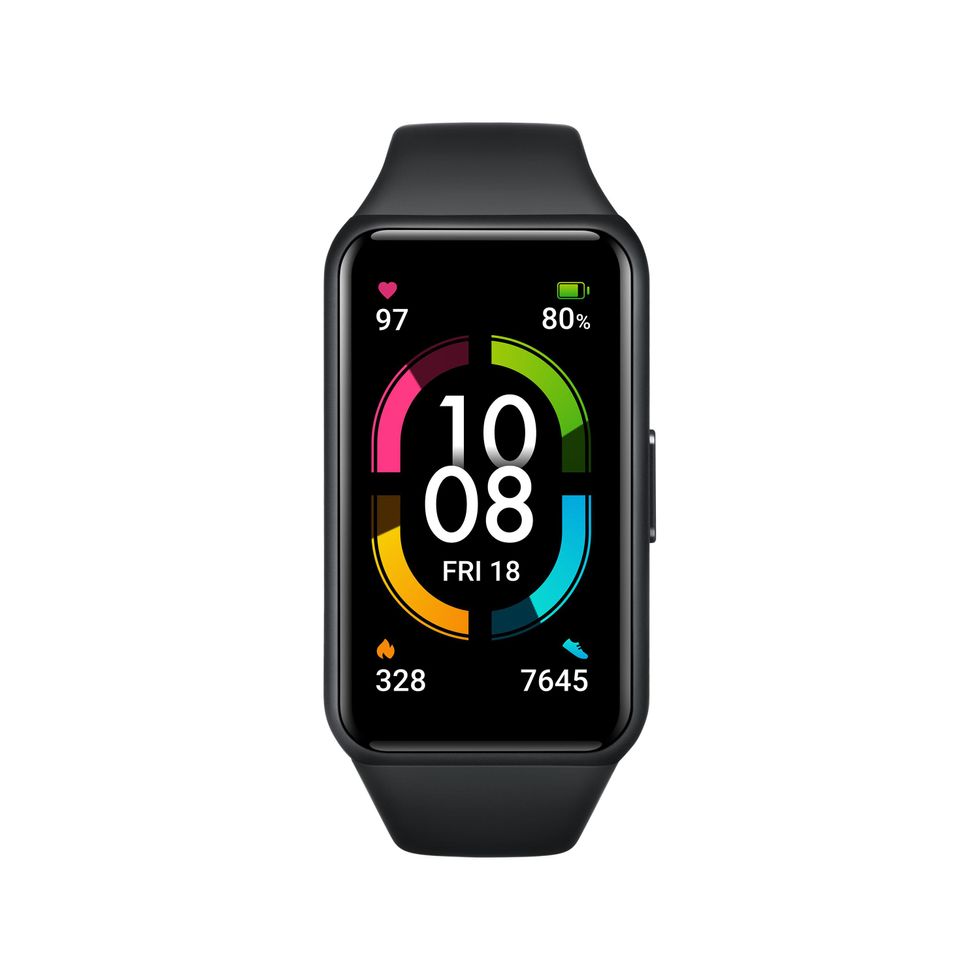 The Honor Band 6 is a smartwatch that's priced below $45Honor
One of the barriers of entry to the fitness tracker/smartwatch market is cost. Many good and reliable devices start around $150 and can get as high as over $1,000. Honor's new device, Honor Band 6 will make entry to this market a very easy decision. Their new fitness tracker/smartwatch has a 1.47 AMOLED color touchscreen and is equipped with accurate heart rate monitoring with TruSeen 4.0 technology, blood oxygen monitoring, and supports 10 workout modes. It also has a 14-day battery life and is 5ATM water resistance which is good for swimmers. Honor Band 6 will be available on the global markets soon at a price below $45.

Pioneer TS-WX010A Compact Powered Subwoofer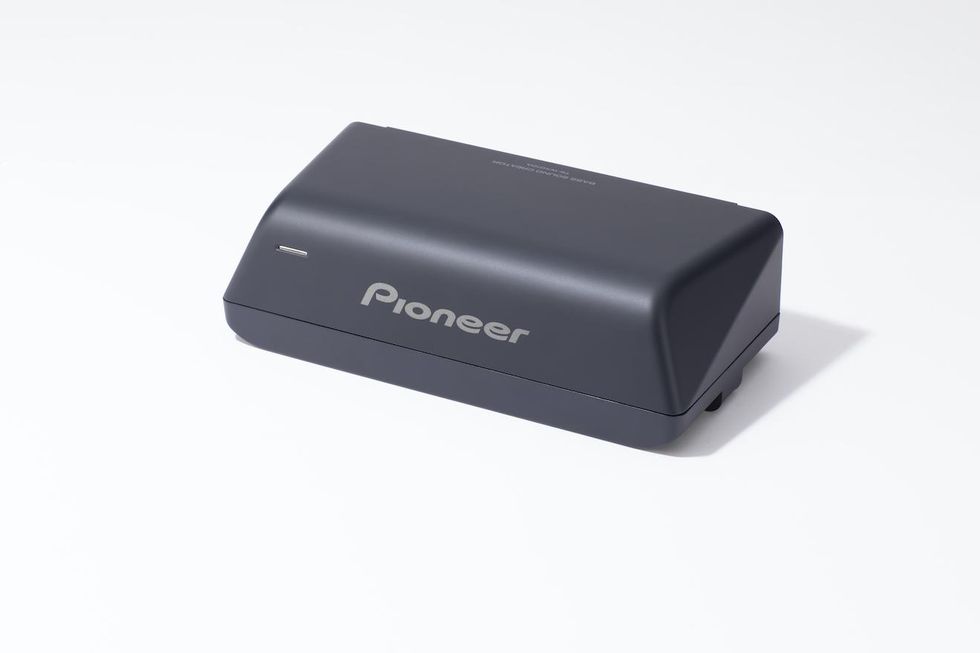 Pioneer's new subwoofer will super blast the audio in your electric carPioneer
If thinking of buying an electric vehicle this year, note upgrading the audio in the car presents challenges. Many electric or hybrid vehicles don't have good subwoofers because of the size, weight and high power consumption of these devices. Thus, the listening experience is not what you would expect in a vehicle which costs over $70,000. Pioneer has a solution and it's their new TS-WX010A compact powered subwoofer. This high electrical efficiency micro subwoofer is small and can be installed inside the passenger compartment of most vehicles to provide bass reinforcement to enhance both the output and overall sound quality in your vehicle. It's suggested price is $280 and will be available January 2021.

HealthyU by HD Medical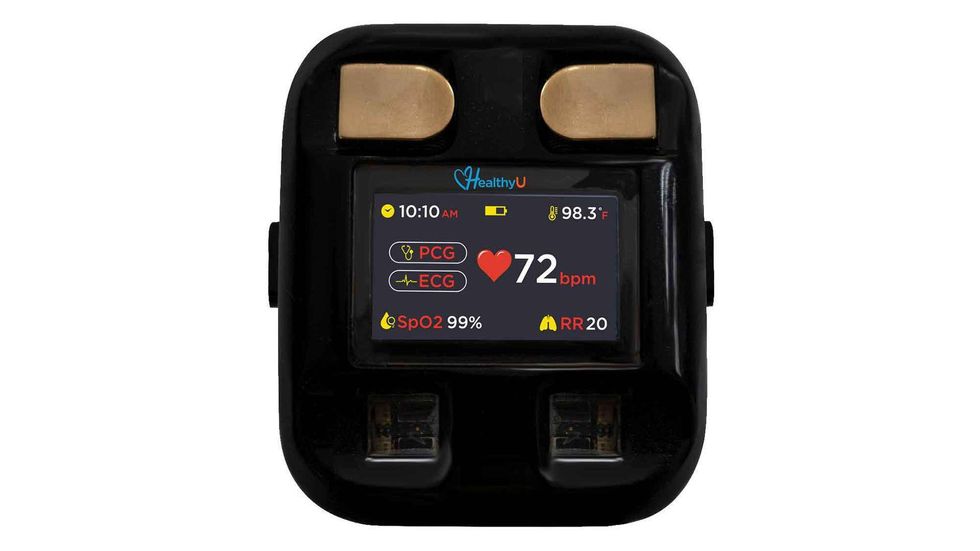 HealthyU is a remote cardiac monitor for doctors and patientsHealthyU
With the rise of telemedicine, HD Medical has a new smart device for cardiac patients and doctors. It's called HealthyU and it's the one of the first all-in-one remote patient monitor for cardiac patients and their doctors. This smart device is the first at-home cardiac device to do 7-lead ECG, heart sounds and more in one product. (Note: patients normally have to be tied up to 7+ devices for a doctor to get this type of reading. And Apple Watch only provides 1 lead ECG.). HealthyU can connect with your doctor via any video conferencing tool or telemedicine support and provide real time ECG reading at the highest level and other vitals critical for cardiac care. HealthyU will be available in Q1 to clinical partners for research and corporate wellness programs, as well as tele-health pilot programs under the IRB protocol in accordance with FDA regulations.

Kohler Touchless Bathroom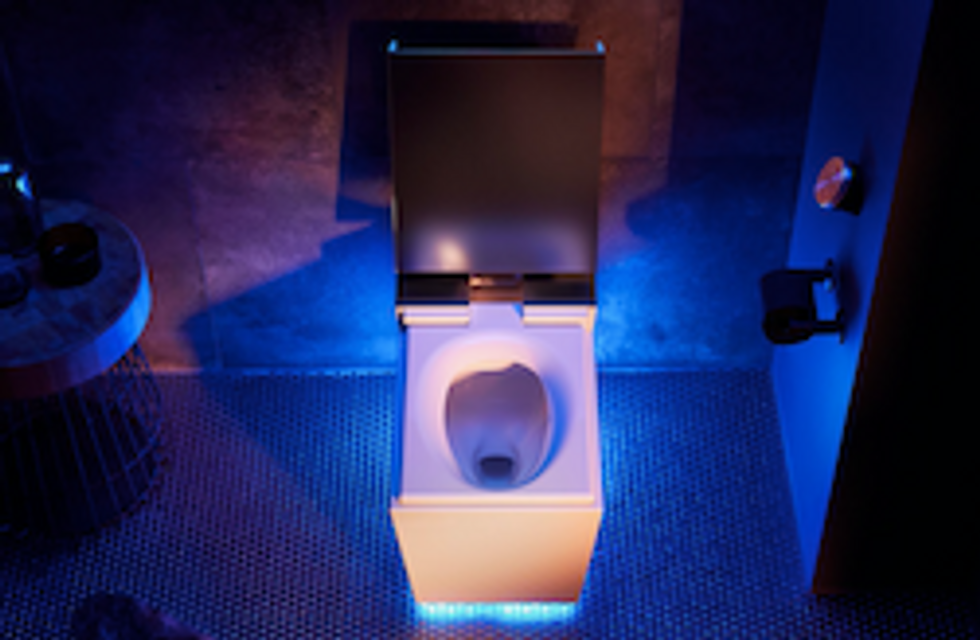 Kohler is bringing touchless technology to people at any price rangeKohler
Today touchless devices are popular due to the Covid pandemic and it's obvious many manufacturers are listening. At CES this year, there were several manufacturers showcasing touchless faucets and appliances, but many were very expensive and required professional installation. Kohler showcased several new kitchen and bath devices for today's smart home, but what caught our eye was their touchless bathroom solutions at different price points and installation options. Whether you are looking for a simple DIY smart faucet solution for the bathroom to a professionally installed toilet, Numi 2.0 which works with Amazon Alexa, Kohler and their Kohler Konnect technology platform offer solutions to help you turn your bathroom into a safe and clean setting in your smart home at a price point that fits your wallet.

Ecofriendly Shift for Smart Devices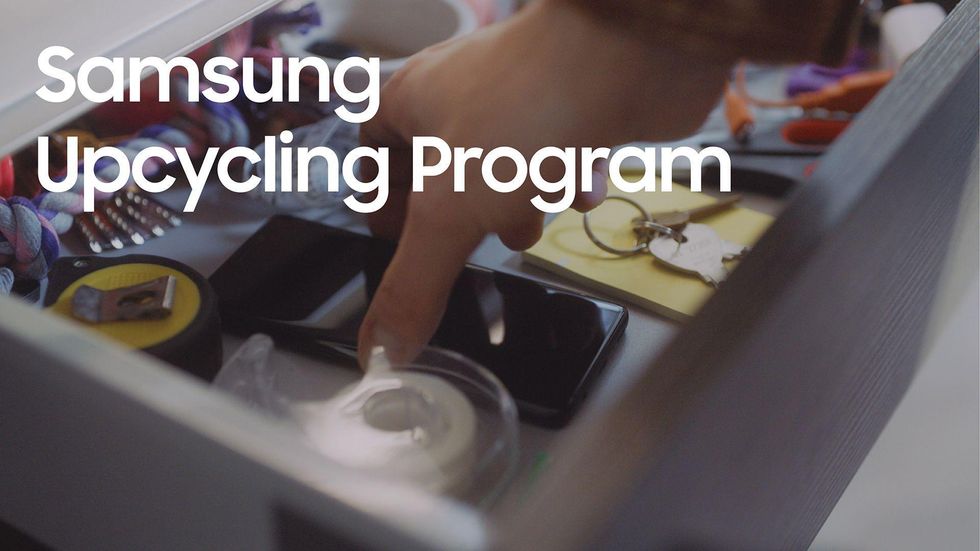 Samsung, LG, P&G and others are focused more on recycling, upcycling and sustainabilitySamsung
At CES, one of the big trends this year was centered around protecting the environment. Many manufacturers are addressing sustainability by manufacturing smart products or developing new ways to use old devices to help improve the environment. For instance, Samsung is assisting owners of Samsung smartphones to use their old phones as home security sensors or baby monitors. LG is selling smart washing machines that can help save water and energy at the same time while still cleaning your clothes. P&G is also focused on ways to promote more responsible water consumption through its connected bathroom products. We want to award all these companies for their devotion to this important initiative to help save our planet.

Check out The GearBrain, our smart home compatibility checker to see other compatible products that work with Google Assistant, Apple HomeKit, Samsung SmartThings and Amazon Alexa enabled devices.
Introduction of The GearBrain, The First Compatibility Find Engine for Smart Devices www.youtube.com