Like GearBrain on Facebook
As millions of people begin working from home to prevent the spread of the coronavirus, it's worth a reminder that Apple's Sidecar app turns your iPad into a useful second computer display.
Instead of taking up precious space with a large second monitor borrowed from the office, all iPads running iPadOS 13 can act as a second display for all Macs running macOS Catalina (10.15) or later. Unfortunately, Sidecar isn't available for Windows. The iPad and iPad Mini devices that can support this feature include:
12.9-inch iPad Pro
11-inch iPad Pro
10.5-inch iPad Pro
9.7-inch iPad Pro
iPad (7th generation)
iPad (6th generation)
iPad (5th generation)
iPad mini (5th generation)
iPad mini 4
iPad Air (3rd generation)
iPad Air 2
Read More:
The iPad and Mac can be connected wirelessly through your Wi-Fi network, or by connecting them with the iPad's USB charge cable. The tablet can then be used to mirror what is already on your Mac's display, or act as a second monitor.
Just as with regular external displays, you can choose to have the Mac or iPad as the main screen with the menu bar and application dock, or shift these over to the iPad.
To get started, follow these instructions:
Ensure your iPad is running at least iPadOS 13 or newer, and that your Mac has macOS Catalina 10.15 or newer
Make sure both devices are connected to the same Wi-Fi network
Click on the AirPlay icon (a square with a triangle pointing upwards) in the Mac menu bar
Click on the name of the iPad you want to connect to
If you are using this setup all day, you'll want to use the iPad's charger, or connect it to one of the Mac's USB ports.
At this point, your Mac display might be blank for a moment, and when it returns it might be at the wrong resolution (this happened to me with a Mac Mini). To fix this, open the Settings app on your Mac, click on Displays and change the resolution back to how you had it before. None of this will affect what's shown on your iPad.
This is also where you can adjust the arrangement of the displays. Ideally, you'll want to drag the blue icons so their arrangement matches how your Mac and iPad are sat next to each other, so it's easy to move your mouse from one to the other. Dragging the white line moves the Mac menu bar from one screen to the other. The resolution of your iPad cannot be adjusted.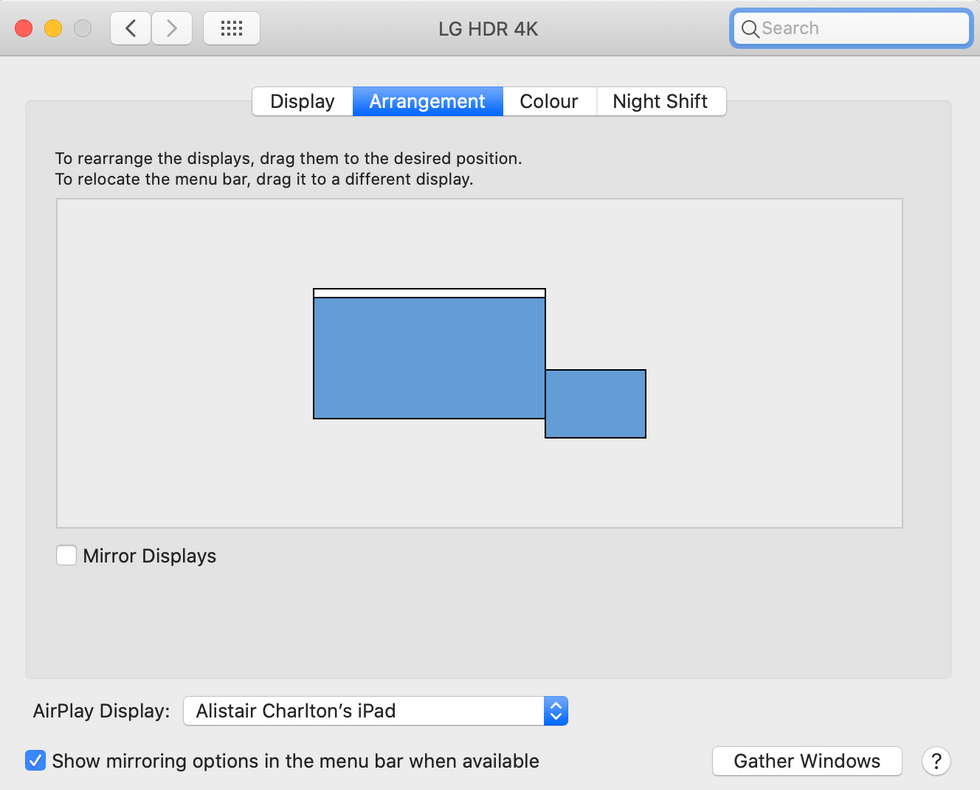 Drag the blue boxes to mimic how the displays are arrangedGearBrain
Next, from the Mac's Settings app click on Sidebar to adjust where the iPad's new menu bar is located. Here you can also enable a double-tap gesture for the Apple Pencil.

Now you are all set up, you can drag a window from your Mac to the iPad display. This could be a web browser with live TV playing, for example, or the Spotify app, your email client, or Tweetdeck.
You can also quickly move windows from one device to the other by clicking and holding on the green minimize button in the top-left corner of application windows. A new option to move the window to the iPad appears. Click that, and the window moves (and automatically resizes).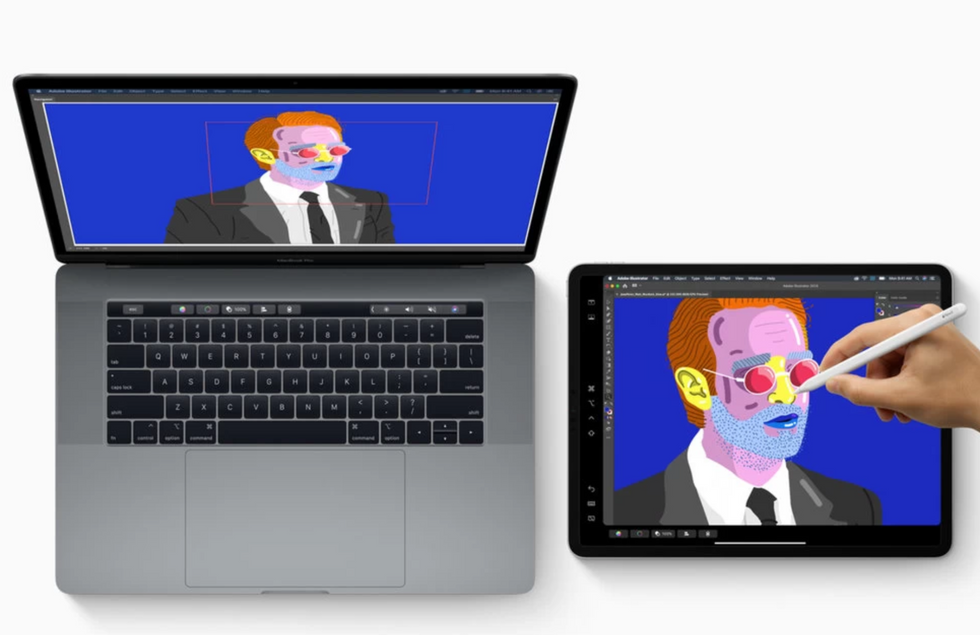 Sidecar can be used with the Apple Pencil tooApple
The iPad's new menu bar, which only appears when Sidecar is enabled, gives a quick way to access common Mac keyboard controls, like Shift and Control, by tapping at the iPad or using an Apple Stylus. If your MacBook Pro has a Touch Bar, a virtual version can be added to your iPad's display too.

Finally, your iPad's multi-touch gestures continue to work as normal, so you can pinch-zoom and cut and paste with the iPadOS three-finger gestures.
For those now working from home and potentially on a small, make-shift desk, the iPad display can provide some vital extra screen space, even if it is just somewhere to put your to-do list or calendar.
New Apple iPad (10.2-Inch, Wi-Fi, 32GB) - Space Gray (Latest Model)
From Your Site Articles
Related Articles Around the Web
Like GearBrain on Facebook