Like GearBrain on Facebook
Pros: easy installation, multiple ways to lock and unlock, multiple finishes available, re-key technology for extra security
Cons: need app open to lock and unlock, charge extra for remote access
Our smart home reviewer recently wrote an article about how he got locked out of his house using a Kevo smart lock. (Article was How Kevo Locked Me And My Wife Out of Our Home in case interested in reading it.) We also did a piece about having a backup plan if you buy a smart lock. The reason? New connected devices might not always work correctly, or problems could arise requiring an alternative plan to get into your home. (That article was Smart Locks Get Smart About Making a Backup Plan.)
Prior to these two events, we heard a lot of good things about Kwikset's Second Generation Smart Lock. Even though this connected device definitely locked out our reviewer, we knew there had been iOS issues with the lock, and believed we owed it to our readers and Kwikset to take another look at the Second Generation Kevo Smart Lock.
Kwikset sent us its Second Generation Kevo Smart Lock, which you can touch to open and close the lock. We unboxed the connected device and found the smart lock along with a set of keys and a smart key tool. The tool confused us at first. But we quickly discovered the smart key tool is vital to how you secure the new smart lock.
Like most connected devices that come with a manufacturer supplied password, smart locks come with a set of keys. Kevo recommends you make a new set of keys. You use the smart key tool to change the eKey so your smart locks are more secure. Think of this like changing the manufacturer password on your router once you sign in with the manufacturer's generic password. By doing this, you now have your own personal set of keys, tied to your personal password, to get into your house. One more step in securing your home too.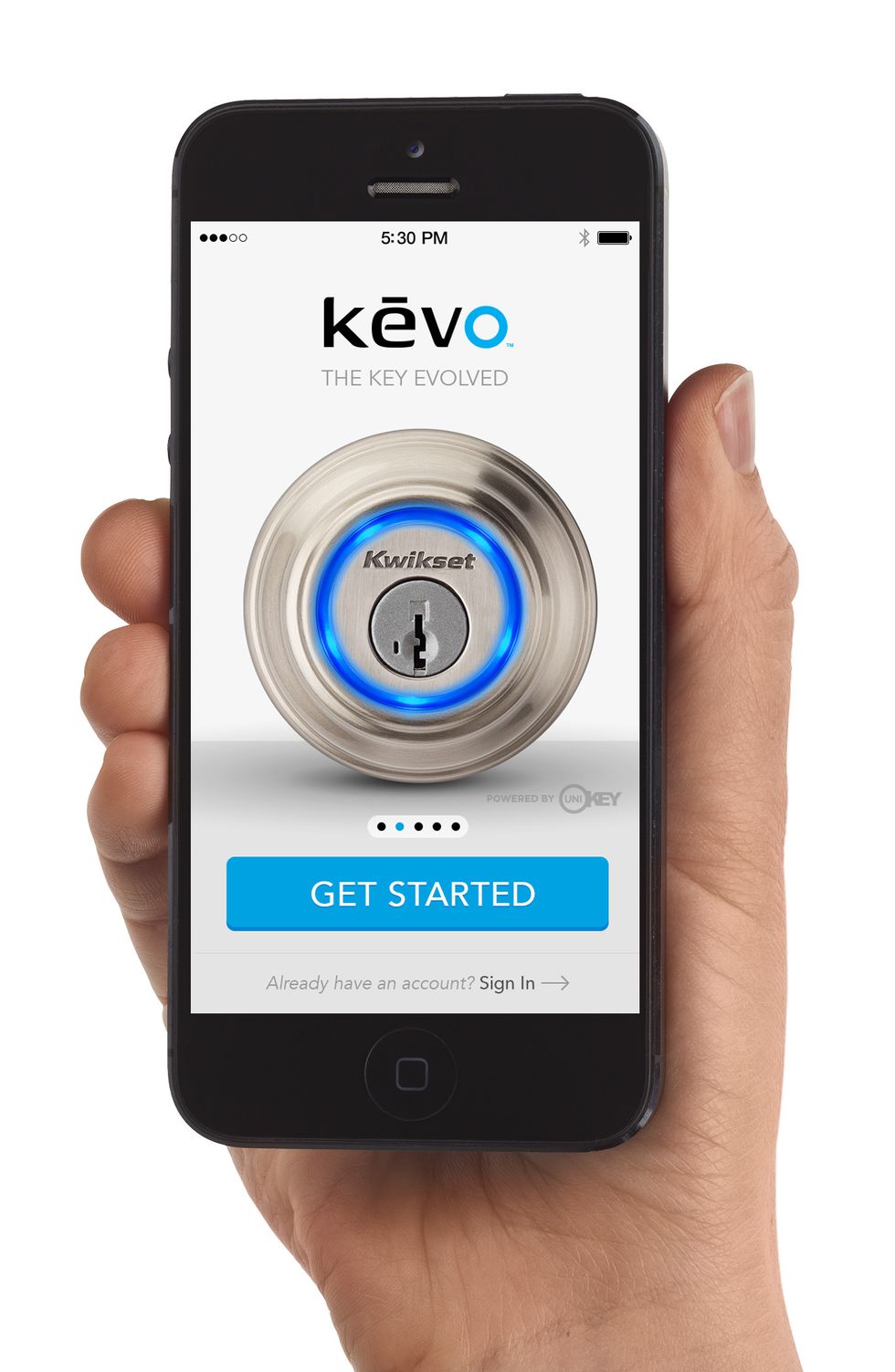 Kevo app
Once I got all the parts out of the box, I found Kevo's installation to be simple: It was just like changing a standard lock on your door but this one is a smart lock. For our test, and luckily for me, I was just replacing an existing lock on my backdoor. There was no need to cut holes for the locks since I was using existing holes. If I had to cut holes into the door, that would not have been a problem. Kevo supplies you with the necessary measurements you need to line up the holes to cut on the door.

I recommend once you get all the parts out—and before you begin to install the lock—download the Kevo app. There are both Android and iOS versions. (I used the iOS version to re-test how it paired.) One of the main reasons I recommend downloading the app first is because installation instructions are on the app. I found this to be extremely helpful, especially if you need a lot of hand holding during the installation process. I just followed the instructions which came with visuals and was able to put the smart lock on my door in no time. (For more details on how to install Kevo smart lock, check out GearBrain's How To Install Kevo Smart Lock.)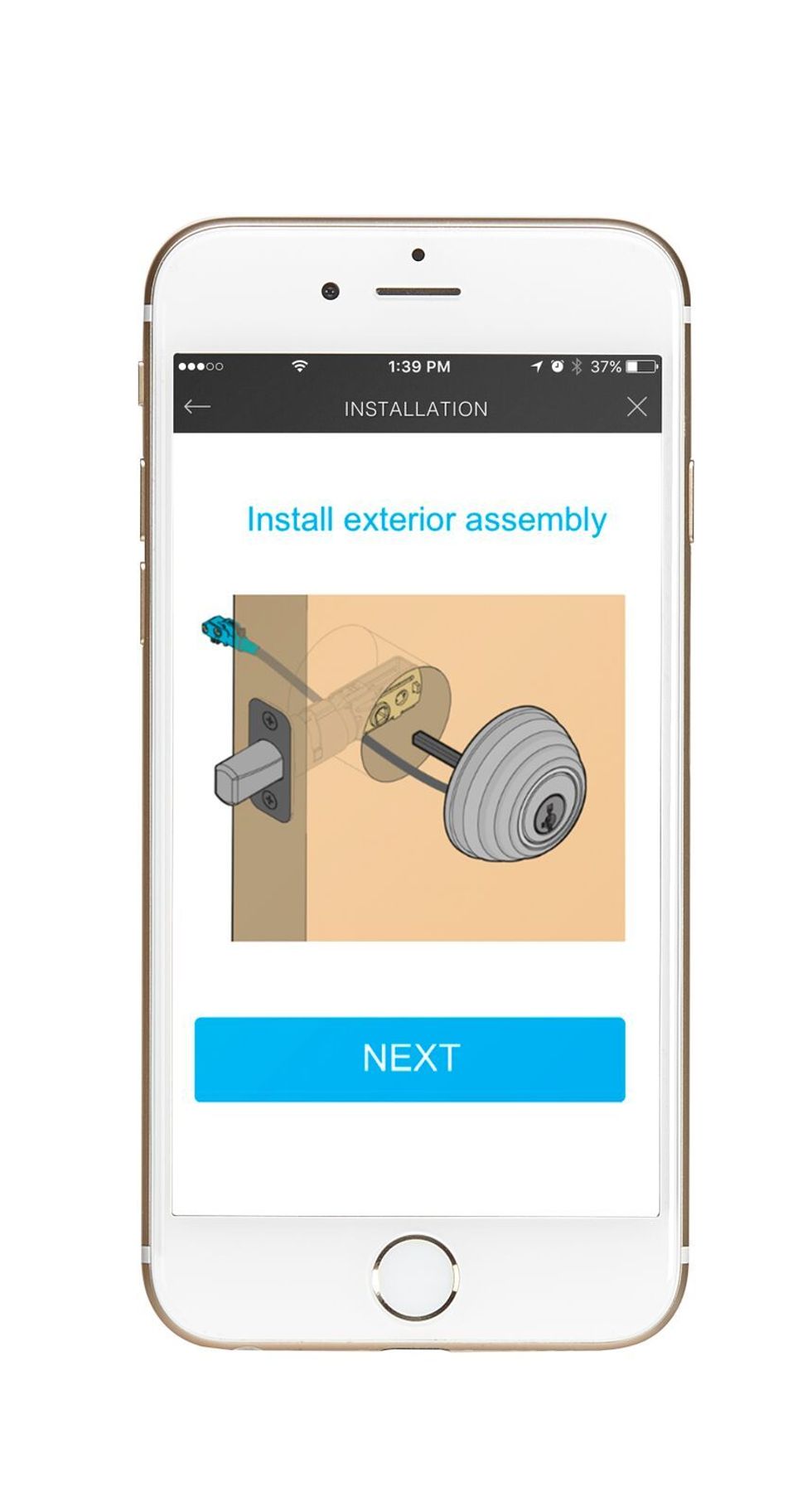 Installation made easy by Kevo
The Kevo App

The Kevo app is essential to your setup and operation of the smart lock. The app is available in English and Spanish languages, and also allows you to print instructions in a PDF if you don't want to use your phone during the installation process. I choose the interactive app which illustrates every step of the installation process, the tools you need and dimensions.
You'll use the app to pair your lock with your phone, which takes about 10 minutes, and also to send eKeys to friends and family, lock and unlock your doors, and keep track of your entries and exits.
Key Findings
There were a couple of issues we found with the lock that we want to share. First, when installing the lock, we had some difficulties connecting the wiring from the front piece of the lock to the back piece. Be aware of this and have patience. You will be able to plug in the wires—but you might have to spend some time.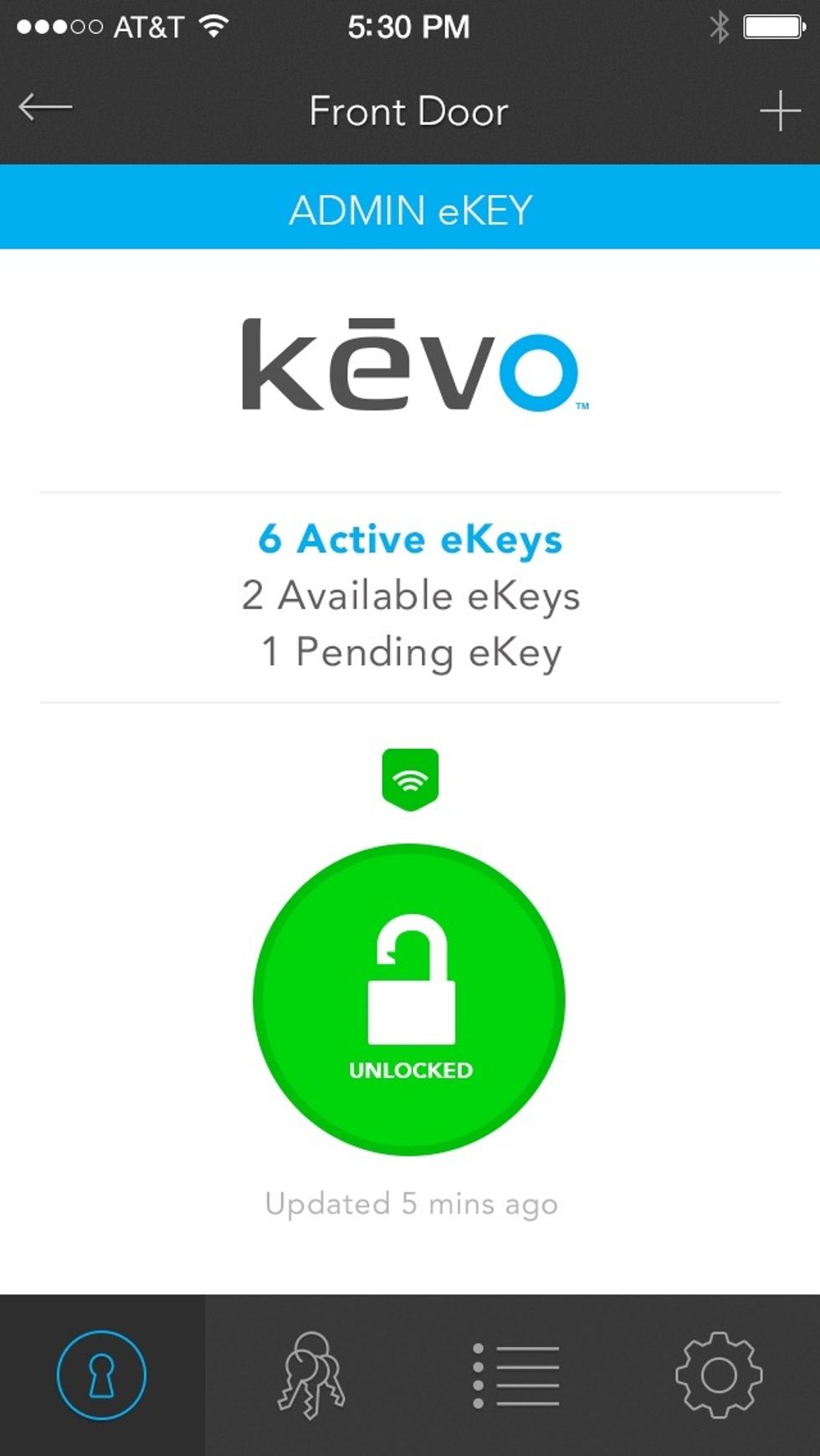 Second, all smart locks offer the ability to remotely lock and unlock your smart lock. But there can be additional charges that come with this capability. For Kevo, you can only lock and unlock Kevo if you are within range (via Bluetooth) and the Kevo app is open on our smartphone. You can also send a friend an eKey—but they will also need to download the Kevo app and make sure the app is open when they unlock the door. Kevo offers Kevo Plus, an additional service that monitors your door lock status, provides remote locking and unlocking, and also a Bluetooth Gateway (which connects to your router). There are no monthly or annual fees for this service, but there is a one time upfront cost of $99.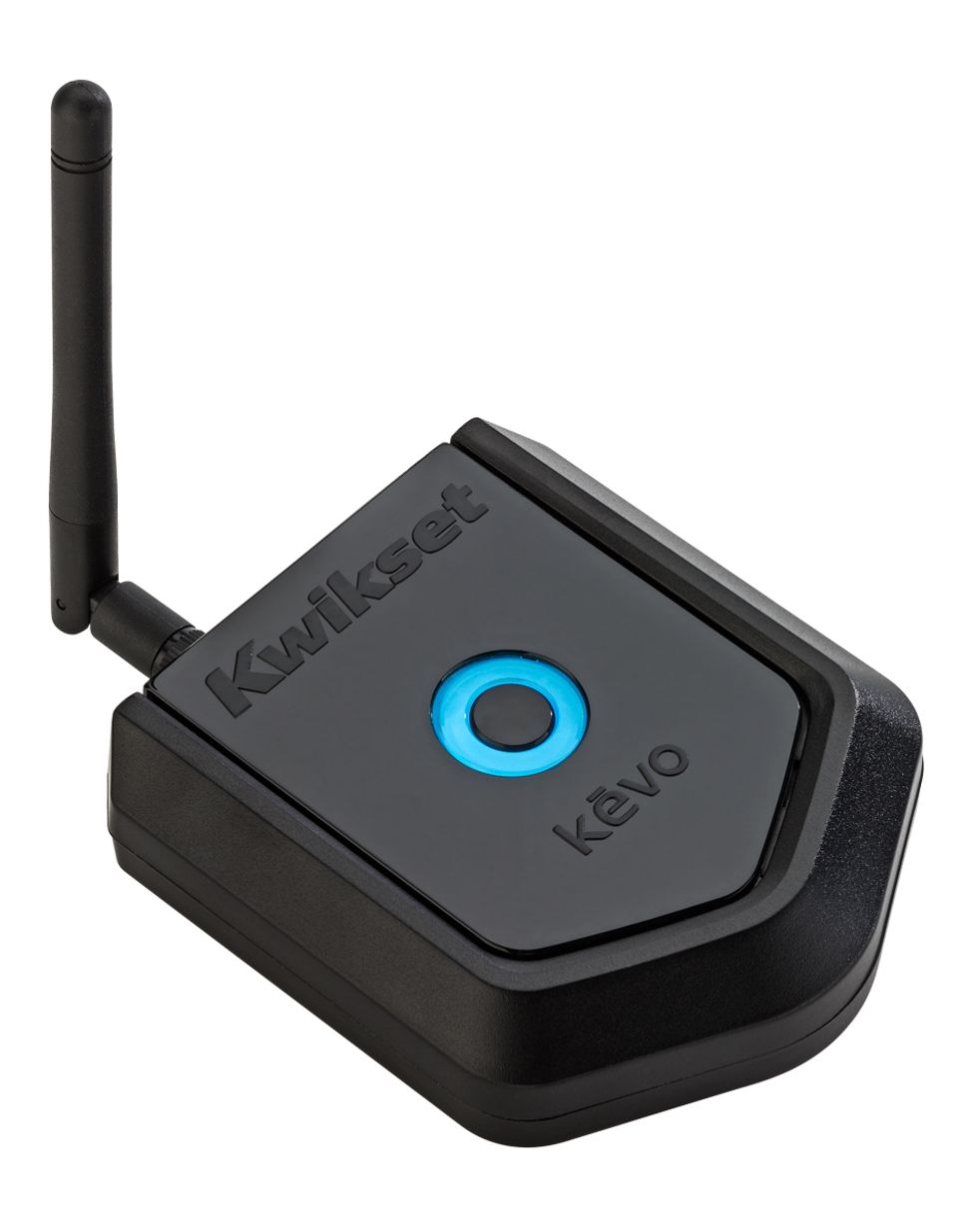 Kevo Plus Bluetooth Gateway
Finally, GearBrain has come up with a very simple way to assist consumers in finding the right smart lock for their new smart home. (i.e. 5 Smart Questions To Ask Before Buying a Smart Lock) Here are our answers to the five questions based on our test of Kevo:

Who makes the Kevo smart lock? Kevo is manufactured by Kwikset, a leading residential lock manufacturer with over 60 years of making homeowners feel safe. They have a lot of experience in making high quality standard door locks and have been able to make the transition over to the smart home market. They have a number of patented SmartKey deadbolts, keyless entry combination locks, connected home technology and one of the first-to-market smart locks. They also offer a wide variety of styles and finishes.
Installation: How easy is it to install the lock? We found the installation to be extremely easy especially if you follow the instructions on the Kevo app. Also, the locks are deadbolts.
What wireless technology operates the smart lock? Kevo works with Bluetooth and can connect via Wi-Fi using a Bluetooth extender if you purchase Kevo Plus. Kevo also connects to Nest and Honeywell thermostats, SkyBell and Ring Video door bells and Android Wear (Moto smartwatch).
How does the lock open? The locks opens three ways: via the app, key or by touch if your smartphone is on you and the app is open. You can open the lock remotely only if you purchase Kevo Plus.
How do remote eKeys work? Kevo provides you with six eKeys when you purchase your Kevo lock. You can purchase more eKeys if needed, or you can buy Kevo Plus for $100 to get unlimited remote access as well as monitoring capabilities.
Summary

Kevo's Second Generation Smart Lock performed better this time around. We believe the iOS issues around the lock have clearly been resolved, and Kevo does meet a lot of the qualities we look for in a smart lock (i.e. easy installation, lock made by an experienced lock manufacturer, multiple ways to lock and unlock).
The second generation Kevo smart locks have a $229 MSRP and can be purchased on Amazon, The Home Depot, Best Buy and Buildit.com. If you add in the $99 for Kevo Plus, the lock will be around $329 which is in the range of a good smart lock ($250 to $350 for a smart lock with unlimited remote access.) If you are looking at building a smart home and in the market for a good smart lock using either Wi-Fi or Bluetooth wireless protocols, Kevo should be one of the locks you give a good look. Also, always remember no matter what smart lock you do buy, you should read Smart Locks Get Smart About Making a Backup Plan. No one ever wants to get lock out of their smart home.
If you need help installing a smart lock, you can visit HomeAdvisor.com to find a trusted local professional to help you.
Like GearBrain on Facebook