Like GearBrain on Facebook
Reagle is a smart lock designed just for Apple customers, a deadbolt that connects to Apple HomeKit and can also be controlled remotely through an iPhone. We tested the Bluetooth-enable smart lock, installing it in a working door, to see how easy it paired with Apple's network.
What is the Reagle Smart Deadbolt Lock
The Reagle Smart Lock works with Apple HomeKit, which means you can control it through an Apple TV, HomePod or iPad, but also through an iPhone, and yes, also an Android smartphone. This is a smart lock that's very easy to install, and should take no more than 15 minutes. All you need is a screwdriver, and the lock should fit into doors that are 1-3/8" to 2" thick (35mm to 51mm).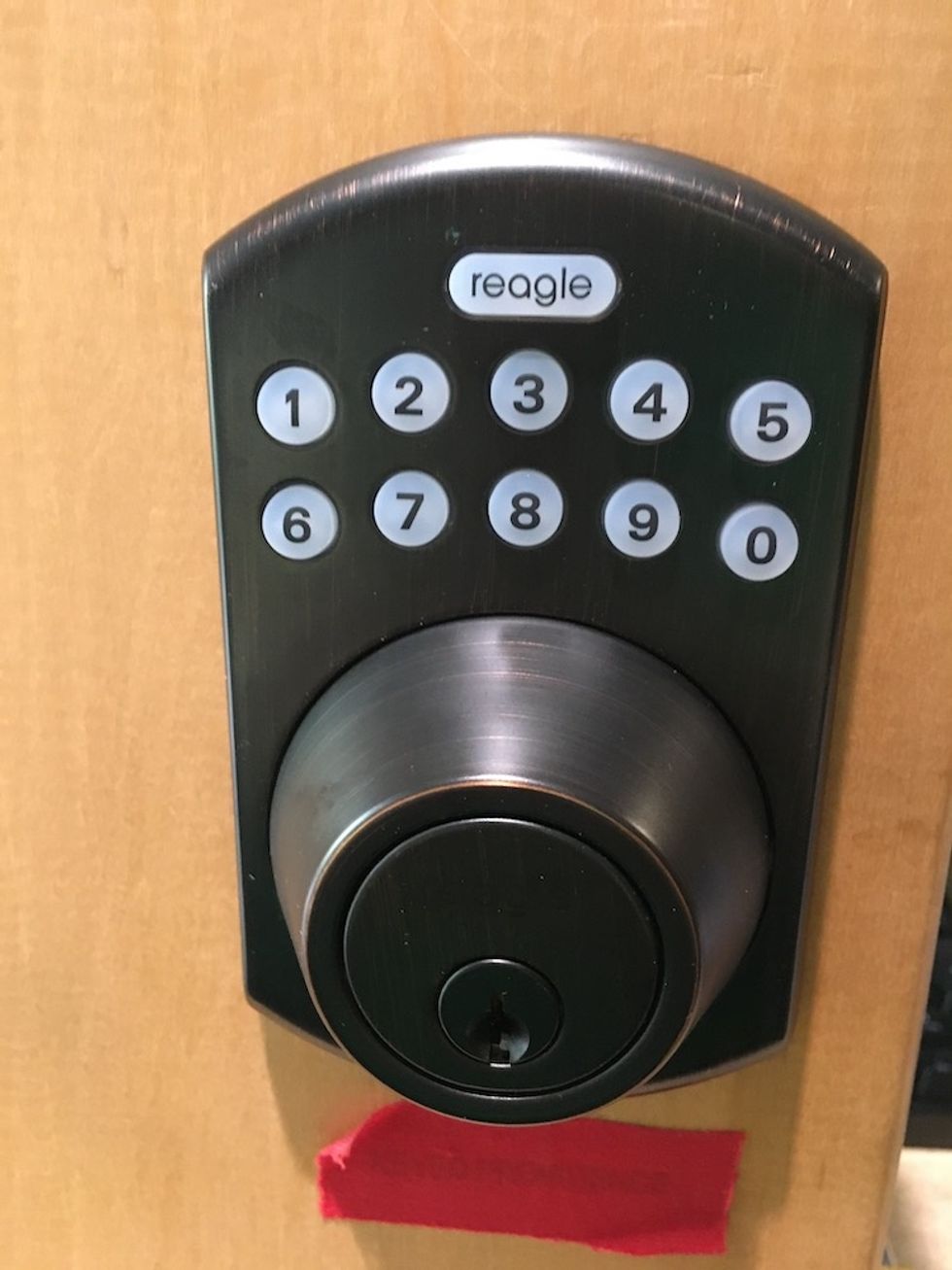 Reagle Smart Lock with backlit keypad.GearBrain
Because the smart lock works with Apple HomeKit, you can share management of the lock, and create customized access rights for friends using the Reagle app. If you own a space that you use as an Airbnb or rental property, you can also provide temporary access rights using customized codes using the app.
In the app, you can control notifications, check the status of your lock, such as when the door was opened and closed, and also get alerts when batteries are running low. You can also control the lock with Siri — but only if you have an iPhone. The Reagle Smart Lock won't work with any other voice assistant.
Besides using codes or your smartphone (via Bluetooth) to control the lock, Reagle also comes with physical keys, which are always good to have as a backup in case you lose your phone or the battery dies. The smart lock also has a built-in illuminated keypad for you to easily see the keys at night as you enter your security code.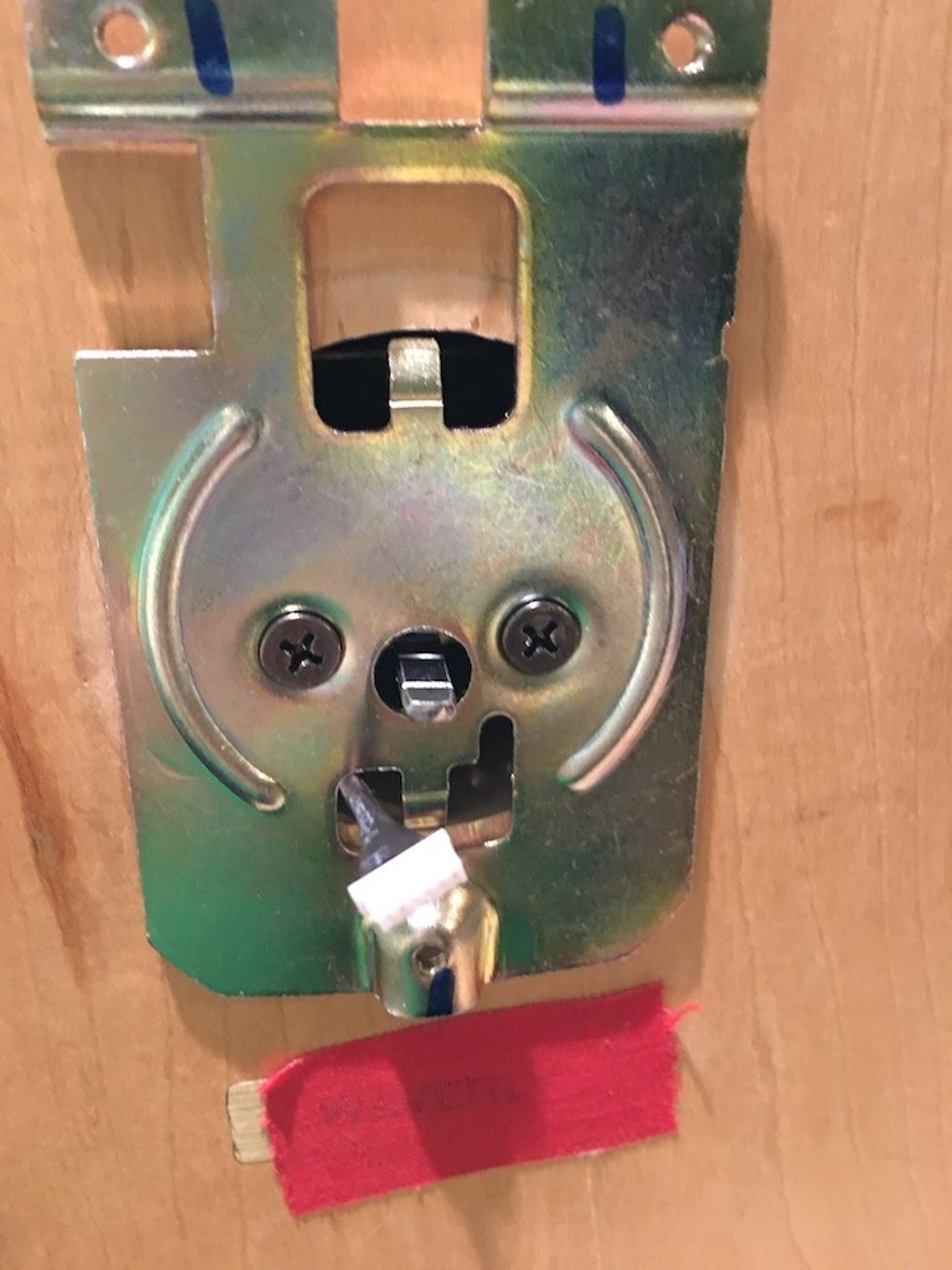 Reagle smart lock connects like other smart locks but installation can be a little challenging.GearBrain
When you unbox Reagle, you will find the smart lock with a deadbolt latch inside, two backup keys, four AA Alkaline batteries and an installation guide.
Reagle looks rather small from its exterior (3.2" x 5.1") while the backside, which is the actual inside of the lock, looks like most standard smart locks (2.9" x7.5".) The lock will fits doors with a thickness between 1 3/8" to 2" and a backset of 2 3/8" or 2 3/4" and If you're replacing an existing single cylinder deadbolt lock, all you'll need is a screwdriver. But if you're installing the lock on to a new door, use the included installation guide to help you drill the correct sized holes.
Features

Besides using Siri to control your smart lock by voice, and being part of Apple HomeKit ecosystem, the Reagle app also notifies you if someone enters the wrong password too often. In addition, if someone does enter the wrong code repeatedly, the Reagle lock will temporarily disable itself until the issue is resolved in the app.
Reagle can also be controlled remotely through a gateway or module, which is a way smart lock makers allow owners to access these devices through their home Wi-Fi. Reagle's is called the Reagle Gateway, and it functions very similarly to the way the August Connect, a smart Wi-Fi bridge, connects with the August smart locks. You plug the Gateway in to an outlet no more than 20 feet from the Reagle smart lock, and then pair through the Reagle app, which will let you know if you have a good connection or not. Once you're connected to the Gateway, you can use the Reagle app to remotely control your lock from anywhere.
Installation
We found the setup and installation of this smart to be very simple, especially compared to other smart locks we've tested. But we do recommend that you follow the installation guide, which is printed and inside the box, or can be found in the app. Installation should only take a few minutes, unless you need to drill holes. The trickiest part to installing the lock was when we needed to secure the plate on the backside of the lock. The front cylinder of the lock is not attached to the exterior casing, which means you will need to hold the lock in place to get the screws aligned before screwing them in. And — just as the instructions say — don't use an electric drill. It could easily strip the screws if you are not careful.
Performance
When you first connect you lock, be on the lookout for a firmware update, which we needed and it took a bit of time. But once that was done, the Reagle smart lock worked as advertised. The backlit keypad made entering the code easy in the dark, notifications worked, and we integrated the lock with our Apple HomeKit app quickly.
In terms of mechanics, while the front side of the lock is very sturdy and well-built, we felt the back cover was rather cheap. While we understand that the front of the lock has to handle outdoor weather, and the inside of the lock is more protected and therefore doesn't need to be as robust, we were concerned that plastic pieces could get damaged easily if people banged into it as they walked around or near the door. Just something to think about.

Smart Home Integrations
We tested the Reagle Gateway with the Apple HomeKit app and other compatible devices, and easily unlocked the door remotely, and received notifications when the door was unlocked. Even connecting to the Apple HomeKit app was simple: the code needed to pair the lock with the app is on the inside casing on its back. Just follow the instructions in the app about how to pair your lock with HomeKit app which, for us, only took a few minutes.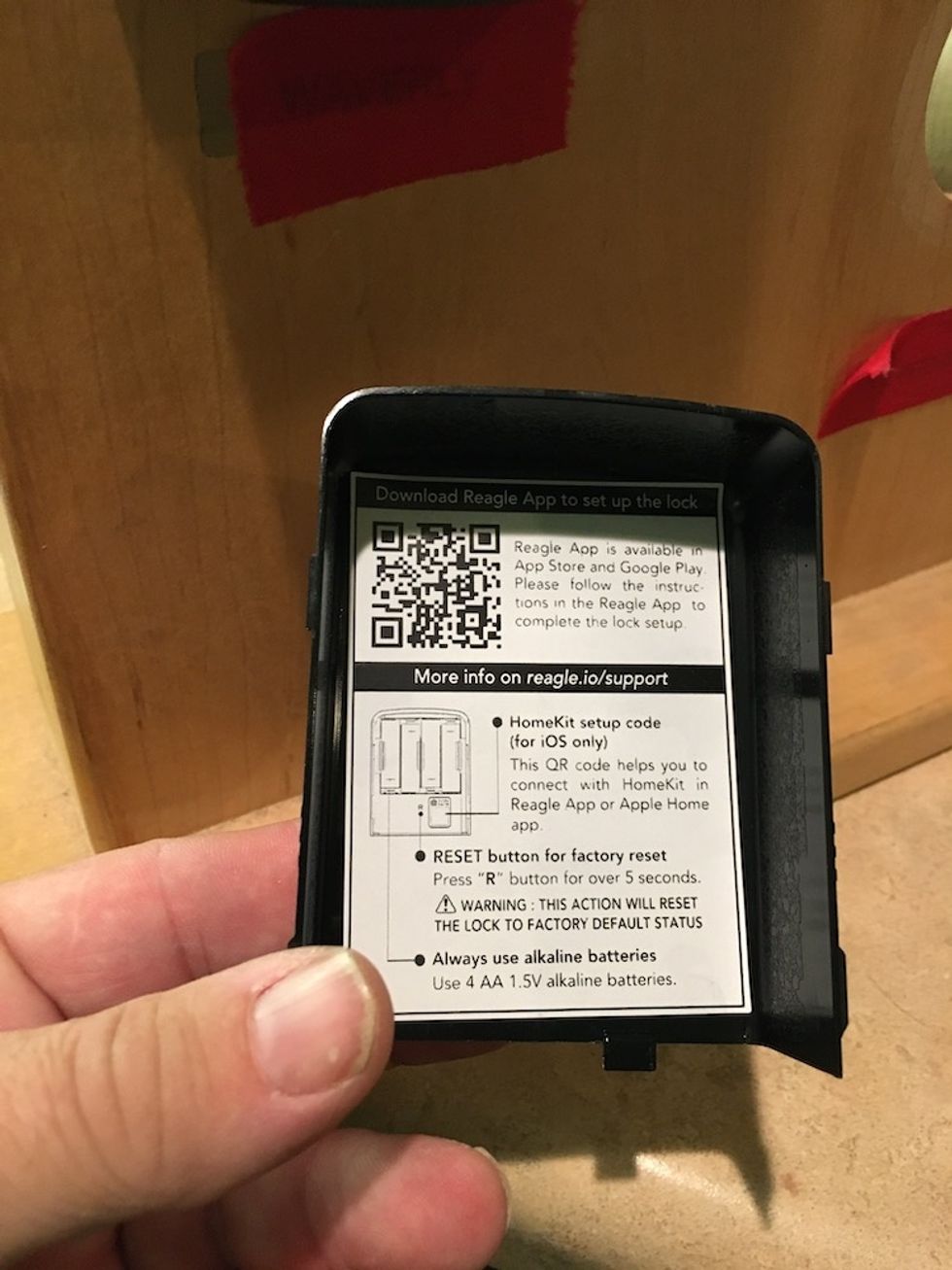 Inside back cover are instructions on resetting your Reagle smart lock.-GearBrain
One thing to keep in mind, you need a Reagle Gateway for each Reagle smart lock — you can't link two locks to one Gateway. But if you really want to make use of all the best features, like remote locking, you're going to want to have a Gateway, which is also crucial if you want to integrate with other smart devices, like Samsung SmartThings or smart home security systems like Vivint or Simplisafe. For now, though, keep in mind that you can only use HomeKit as the ecosystem to integrate this smart lock, and only Siri for voice control.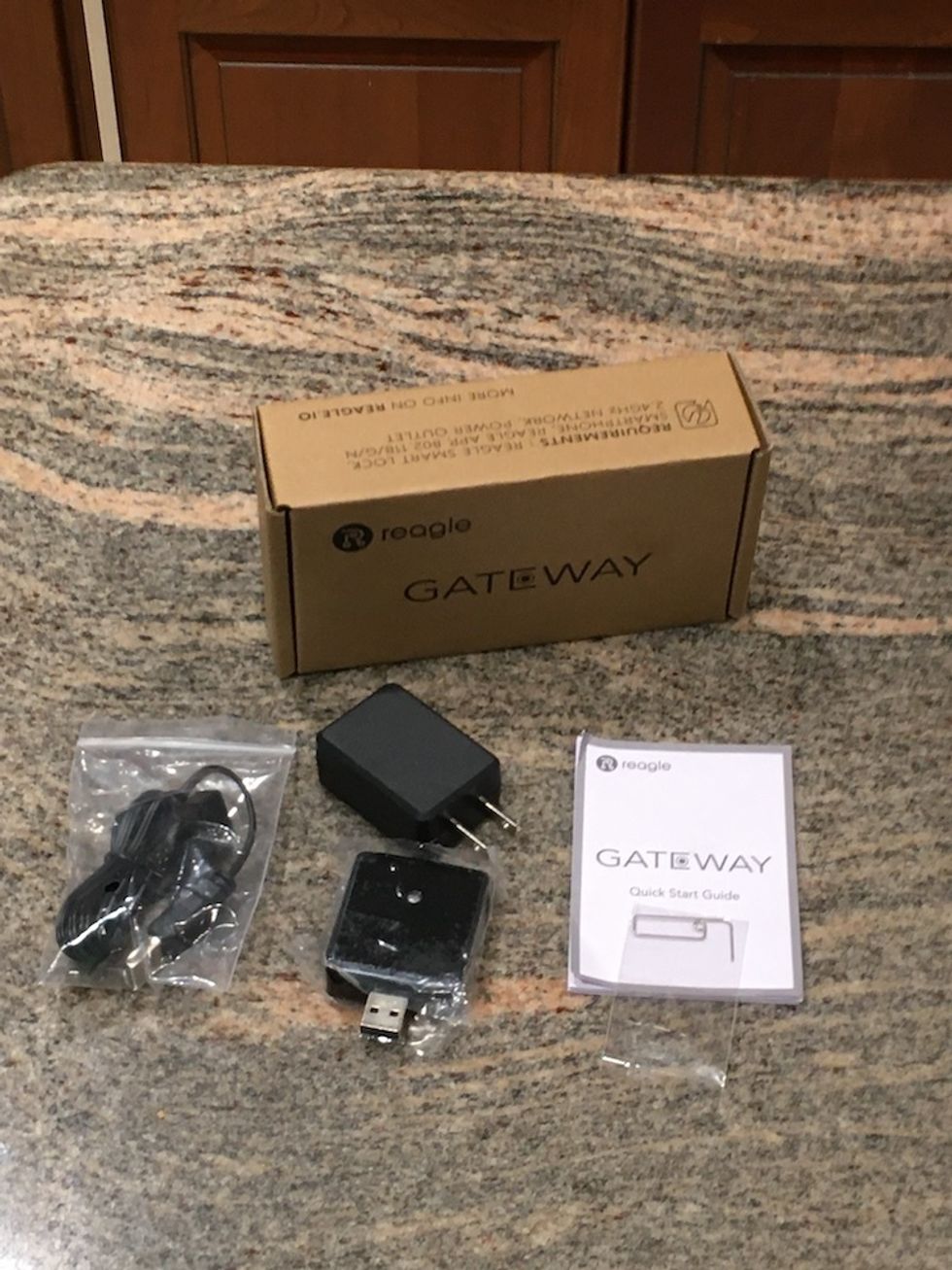 Reagle Gateway acts similar to how August Connect works with August smart locks and doorbells.GearBraiin
Cost

The Reagle Smart Lock costs $189 and is only sold on Amazon. The lock retails for $189, but is currently on sale for only $169, so take a look and see if you can find a similar deal. The lock comes in two finishes, Dark Bronze or Satin Nickel. The Reagle Gateway costs $59 and is also only available on Amazon. You can purchase both the Reagle Smart Lock and Gateway on Amazon for $228. Is this a good price? The cost of the lock and the gateway is in line with other major brands like Yale and Schlage which also offer Apple HomeKit compatible smart locks with Bluetooth connectivity and remote access via home Wi-Fi. For example, the Yale Assure Lock SL that works with Apple HomeKit costs $189 on Amazon and its HomeKit module costs $55 separately. If you were to buy the Yale lock with Bluetooth module, the total cost is less than $237.
Summary
The Reagle Smart Lock is a good, reliable smart lock. The keys are backlit, making it easy to see in the dark, and with the Gateway, you can both lock and unlock your door from anywhere, and use Siri if you have an iPhone or the Apple HomeKit app.
The quality of the lock is mixed, though. While the front part is sound and sturdy, the back casing felt less so as it's covered in plastic. It also doesn't look very nice, and since this sits on the inside of your home, you may not like its appearance, nor is it a good look for buyers.
We did like how Reagle uses the Gateway to add more connectivity to the smart lock. We remember when August Home came out with August Connect, its Wi-Fi bridge, which allowed for remote access and integrated the lock with other smart home devices and systems, like those for home security and also smart video doorbells.
The cost of the Reagle Gateway is also right on par with what the August Connect costs ($59 on Amazon). But the company only integrates with Apple HomeKit, and we would like to see more smart home integrations from Reagle via the Gateway. It would be great if the lock was able to work on Z-Wave and Zigbee wireless protocols, for example, like many of the leading smart home security systems, like Vivint, ADT and abode. The company mentioned they are working on these integrations, which is a good step.

Overall, if you are someone who uses Apple devices, and is also building a smart home on the Apple HomeKit platform, the Reagle Smart Lock is worth considering. But if you're using devices, and particularly smart home security systems, that don't work with Apple HomeKit, this is not the smart lock for you today.
Pros:
Price
Simple to install
Easy to pair with Apple HomeKit
Cons:
Back of the lock is made of plastic, and looks flimsy
Only works with Apple HomeKit, and not with other smart home systems
Need a separate Reagle Gateway for each smart lock
From Your Site Articles
Related Articles Around the Web
Like GearBrain on Facebook