Like GearBrain on Facebook
Level Home is known for its smart locks, including the first invisible smart lock called Level Bolt, which we recently tested. The lock attaches to an existing deadbolt, turning an ordinary lock into a smart lock. The newest lock from Level Home merges the technology of its Level Bolt with the exterior casing of a smart lock. Called the Level Touch, we were recently sent a unit to test on a real home and here is what we found in our testing.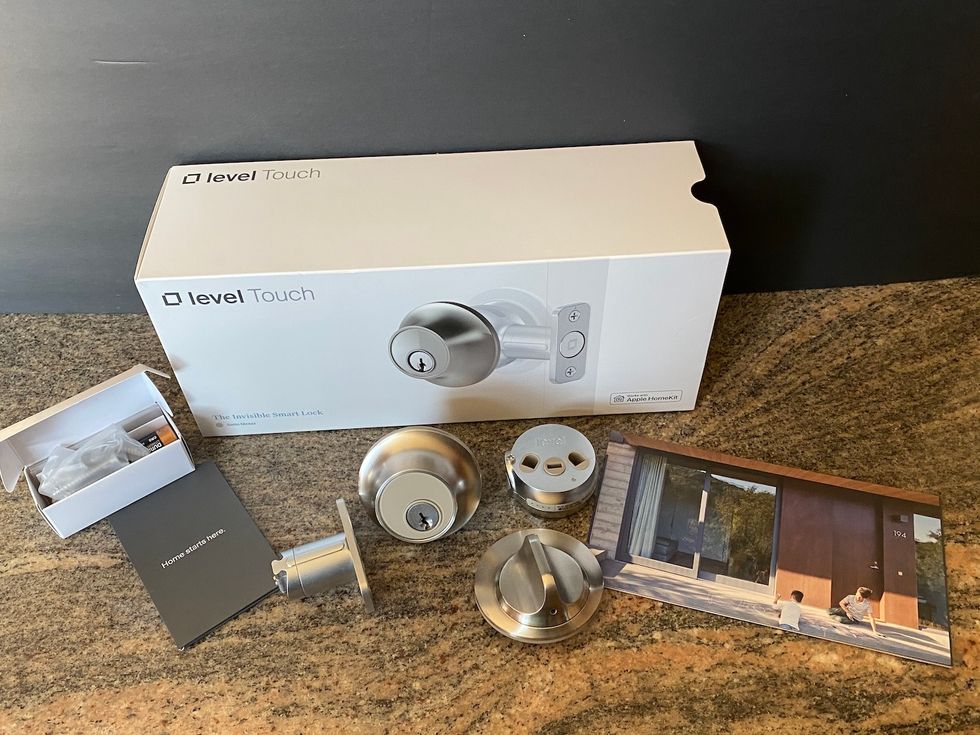 Inside Level Touch Box.GearBrain
What is Level Touch Smart Lock?

Level Touch Smart Lock is a smart lock unlike any we've seen in the past. Made by Level Home, the lock doesn't have a cord or cable to connect to a lock nor is it big or bulky. Instead, this is a deadbolt lock with a solid design, that fits standard exterior doors which meet ANSI specifications. You can lock and unlock the device through multiple ways from using the Level Home iOS and Android app to your fingers via touch control. There are also physical keys, a good back up plan in case your smartphone battery dies.
Level Touch smart lock is compatible with Apple HomeKit, which means if your smart lock is paired with an Apple TV, HomePod or an iPad (running iOS 10 or later), you have remote access. But we think the most unique way you can lock and unlock your Level Touch is with a keycard — you get two — which can be programmed to work with your lock through the Level Home app. This can be very helpful for Airbnb or vacation rental owners.
The mobile app not only lets you set up your lock and keycard, but can also set notifications, turn off or on the auto lock and unlock features, manage touch control, sound, boost the range (which can impact the battery life) and keep track of your lock's activity.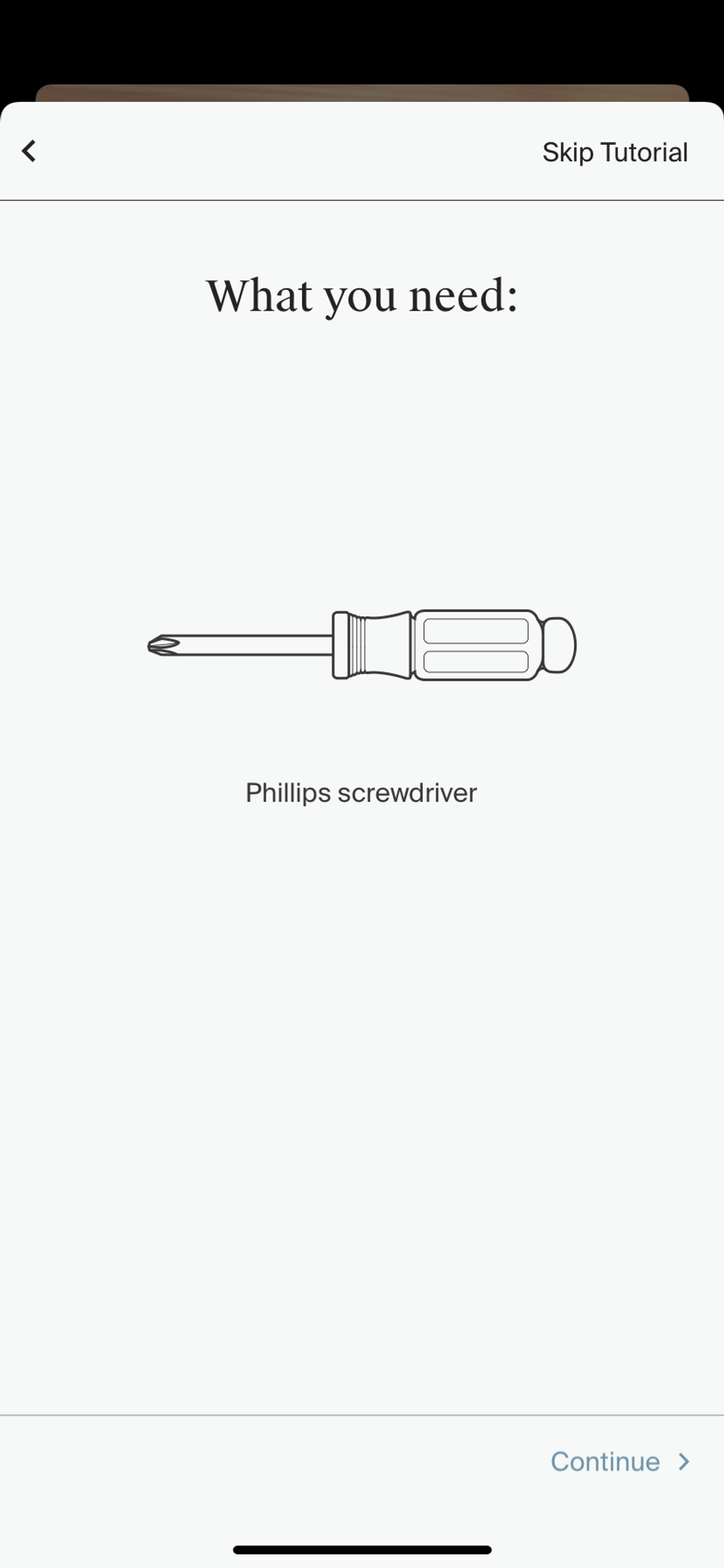 The only tool you will need to install your Level Touch smart lock is a screwdriver.GearBrain
Setup of your Level Touch

Installing your Level Touch smart lock is extremely simple and fast. This smart lock doesn't come with a cable to connect the front and back of the lock. Instead, you install a few components into the door and secure them. We recommend following the easy setup process in the app, which should take a novice smart lock owner only 10 to 15 minutes to install on a compatible door.
A few points to keep in mind when installing your Level Touch Smart Lock:
First, the only tools you are going to need are a Philips screwdriver and your smartphone running iOS or Android.
Next, before inserting the Level Touch deadbolt unit inside the door hole, make sure you know where the little screw is on the Level Lock. You need to align this screw on the Level Bolt with the screw hole on the deadbolt unit inside the door hole.
Level Touch works on Bluetooth 4.0 signal. If you have a dual band router and plan to use remote access via HomePod, Apple TV or iPad, make sure you use 2.4 GHz connection. The lock will connect to your Apple device via Bluetooth connection. (Note 5 GHz connection will not work.)
No Cords To Connect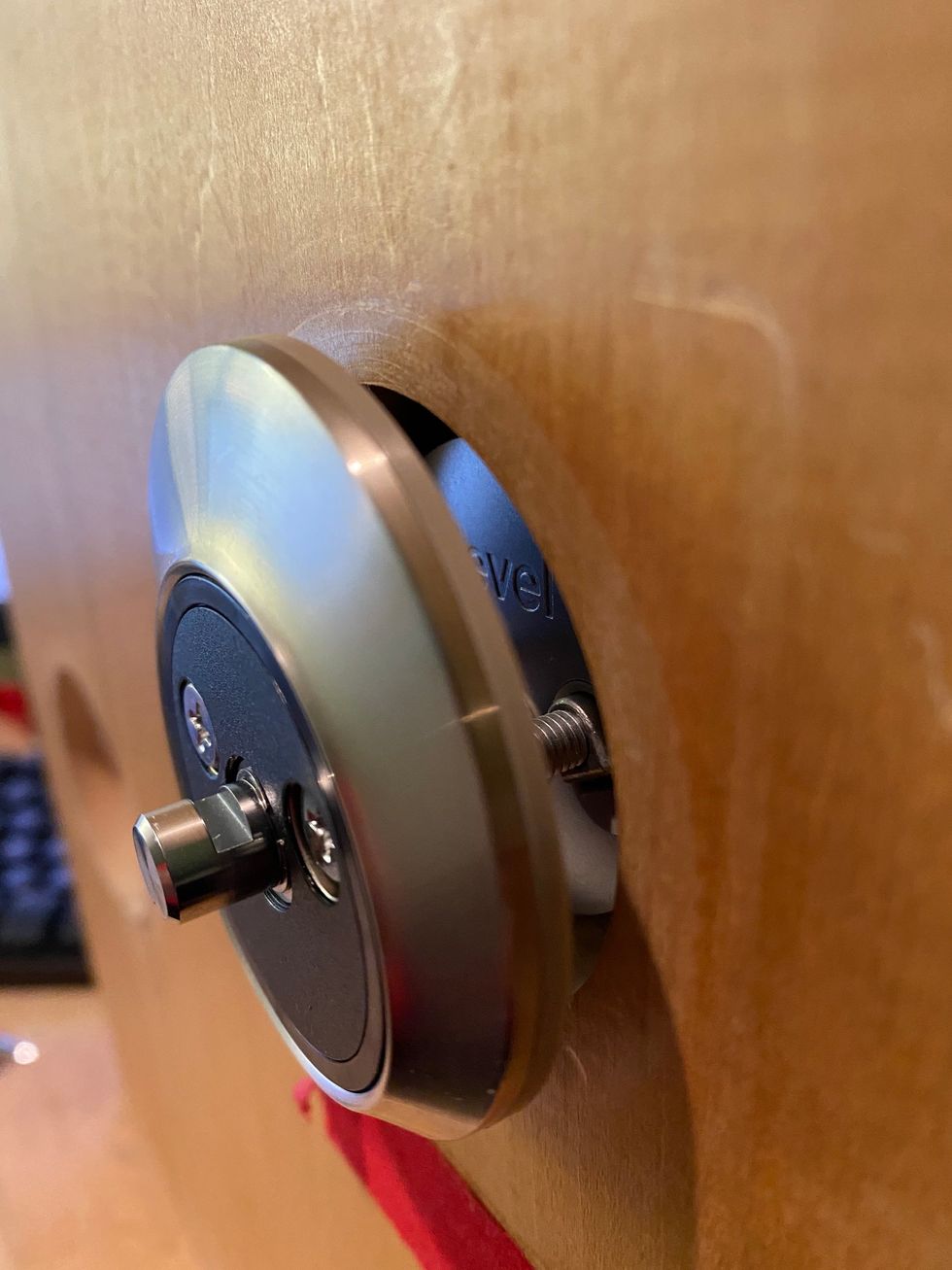 Level Touch does not have any cords for you to connect when installing.
GearBrain
Level Touch smart lock is easy to install and all you need is a screwdriver.
Level Bolt Inside Level Touch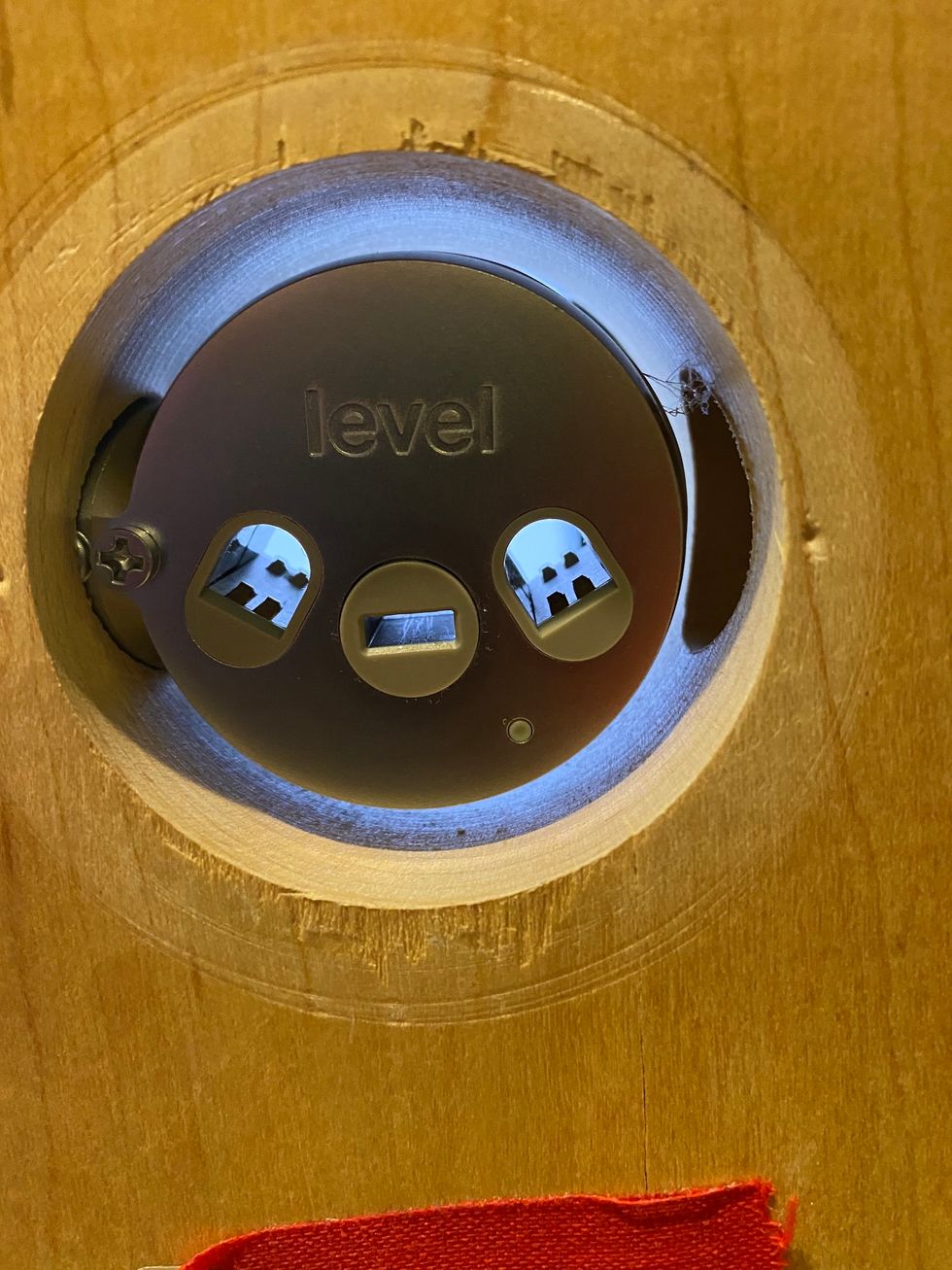 Level Bolt is inserted inside your door to provide the smart to control your Level Touch
GearBrain
Level Bolt is the brains of Level Touch. It goes inside your door and provides the controls you need.
Performance
Our tests of the Level Touch was done in a real home, on someone's front door where there was a good — but not great — Wi-Fi connection. The Level Touch performed well when we used touch control and also tested the keycard access. We also found the connectivity good via remote access while using an AppleTV and the HomeKit app. But note if you want to have some voice control for Level Lock, you will need to have it connected to the same Wi-Fi network as your iPad, Apple TV or HomePod.
The Level Touch works on Bluetooth wireless signal. Whether you are using Apple HomeKit or the Level Home app, you will need to be within 20 to 30 feet of the lock, although we did find after 20 feet the connection was spotty and didn't work all the time.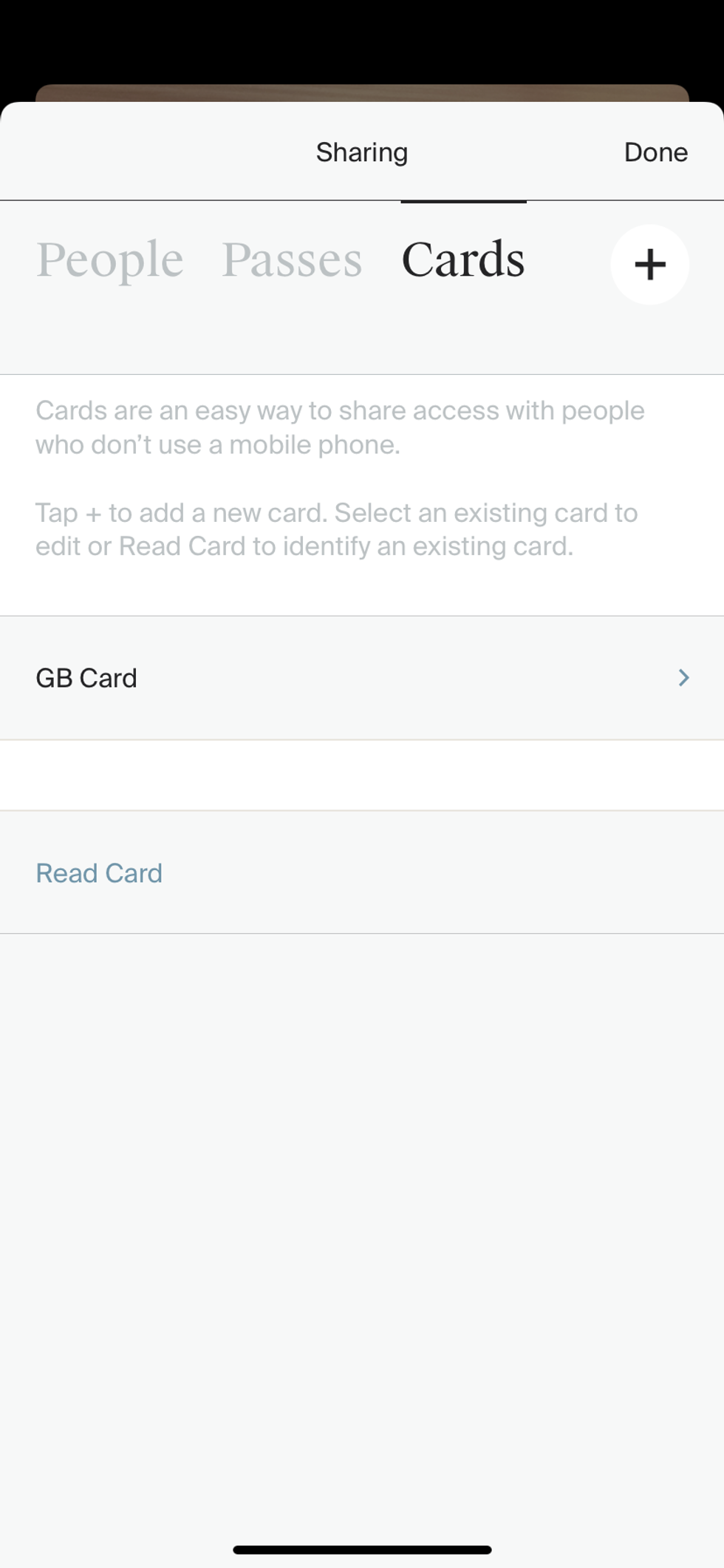 Setup passes and keycards for guest in Level Home app.GearBrain
Smart Home Integrations

The Level Touch smart lock has limited smart home integrations. If your smart home is an Apple HomeKit house, you will likely feel comfortable using the Level Touch. There are many automations you can setup through the HomeKit app, including voice commands through Siri. Note that if you have an Android device, you can still use Siri, but there will limited automations.
If you are an Amazon Alexa house, you can now use voice commands with Level Touch and any other Level lock. The company announced last year their Amazon Alexa certification. When we first tested Level Touch, this integration was not in place. Today it is and it's easy to setup up using Alexa app.
Although the Level Touch works across Amazon Alexa and Apple HomeKit enabled devices, there are limited other smart home connections. For example, the lock won't work with any smart home security systems which means your Level Touch can't lock when you arm a home security system. The lock does integrate with Ring Video Doorbell Pro and Pro 2 but no other video doorbells. This means if you want to be able to unlock your door when speaking to someone from your video doorbell app, you can't use Level Touch unless paired with Ring Video Doorbell Pro and Pro 2. These Ring video doorbells have Amazon Sidewalk integrations which allows them to work with the Level Touch. The company is working on integrating their locks with the rest of Ring devices, including their Ring Alarm Pro DIY Home Secuirity system. More to come on this in the coming weeks.
However, if you have a rental property or Airbnb, this smart lock is a very solid choice and a great solution to provide your guests. It comes with keycards for access as well as passes you can share and monitor with the Level Home app.
Unboxing Level Touch Smart Door Lock in less than 10 Seconds www.youtube.com
Cost
The Level Touch is not inexpensive, clocking in at the top of the range for smart locks. Priced at $329, the smart lock and comes in four finishes, Satin Nickel, Satin Chrome, Polished Brass and Matte Black. You can buy Level Touch on the company's website, Amazon, Best Buy and Build.com. If a Ring owner, you can buy Level Touch on Ring's site too.
Summary

Level Touch it is the first smart lock we have tested that includes a keycard. It's also one of the easiest smart locks to install when compared to the others we've tested. The Level Touch did remind us initially of the Kwikset Kevo smart lock we tested years ago, which also came with touch control and worked on a Bluetooth connection. But Level Touch has a lot more technology built inside its lock and setup was much easier, especially when compared with Kevo's setup.
Level Touch is a well-built, well-designed smart lock, that's also expensive and is limited in its smart home integrations. But we really like the fact this smart lock doesn't have wires to connect, which makes it a solid choice for novice smart lock owners.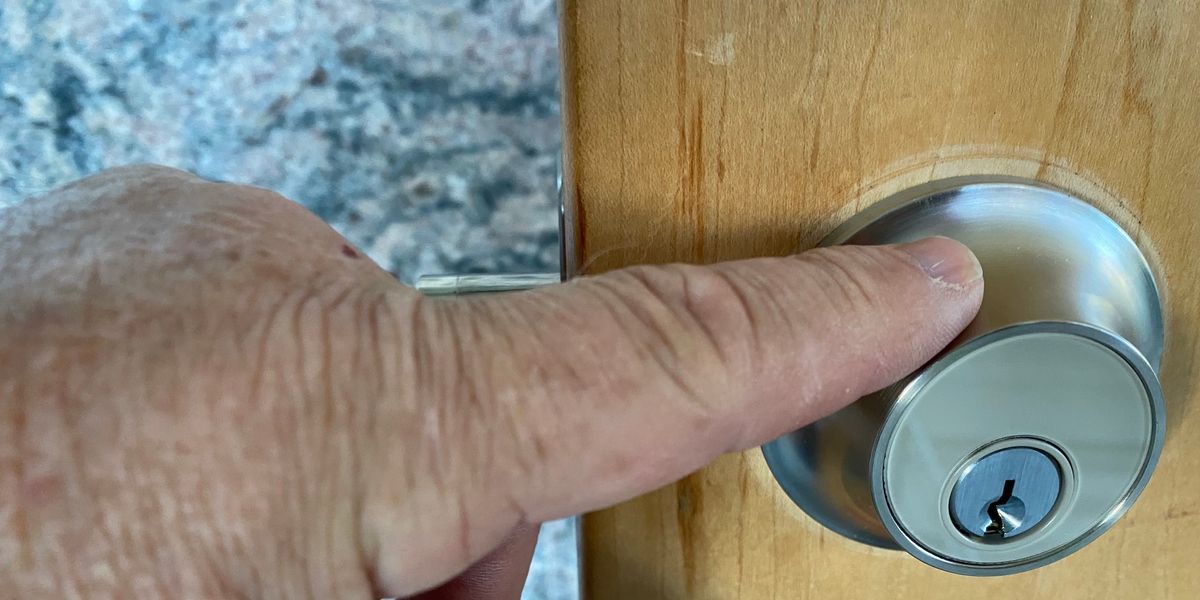 A finger can easily unlock Level Touch Smart LockGearBrain
Who should buy this smart lock? If you have a smart home built on Apple HomeKit ecosystem, Level Touch is a good smart lock to consider. However, if you want a smart lock to work with your home security system that's not compatible with Apple HomeKit, one that can lock your door when the system is armed, we don't recommend the Level Touch.

Still, if you have a rental or Airbnb property, Level Touch is a good option. Besides helping you monitor the lock's activity, you can provide your guests with passes and also keycards, two of which come with the lock. You can also pick up extras, with a 4-pack priced at just $20.

Level Home, new to the smart lock market, is moving in a direction we like. Although there are few integrations and color finishes to choose from today, we look forward to seeing more ways the company and its locks will connect with other devices and systems in the future, to help secure your home.
Pros:
Easy to setup, well-designed and well-built
Multiple ways to control your smart lock
Technology built for inside your door
Cons:
Price
Lack of smart home integrations
Few finishes to choose
Level Lock Smart Lock - Touch Edition, Keyless Entry Using Touch, a Key Card, or Smartphone. Bluetooth Enabled, Works with Apple HomeKit - Satin Nickel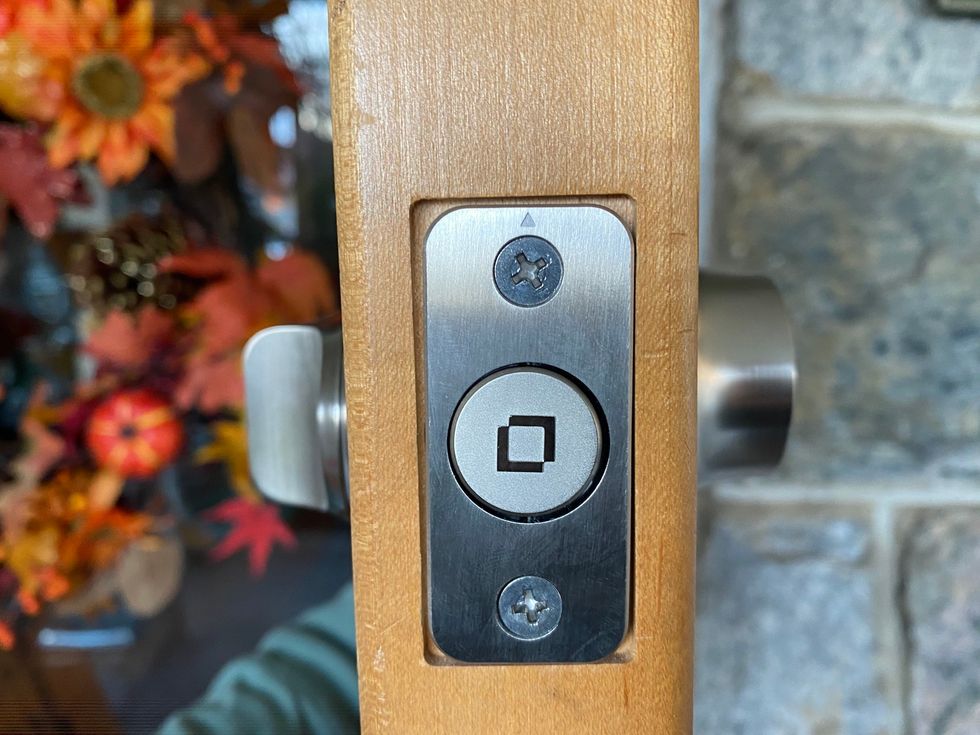 Side view of level touch smart lockGearBrain
Check out The GearBrain, our smart home compatibility find engine to find smart locks and other compatible products that work with Apple HomeKit enabled devices.
How to Find Products in The GearBrain, Our Compatibility Find Engine for Smart Devices www.youtube.com
Like GearBrain on Facebook