Kyocera DuraForce Ultra 5G UW is a recent launch, a smartphone on the Verizon 5G network, that is designed to be handle much more than phone calls, text messages, games or play videos — all of which it can do.
Kyocera sent us a device to test and we spent some time trying the phone to see how it fared in a number of ways. Here's what we found.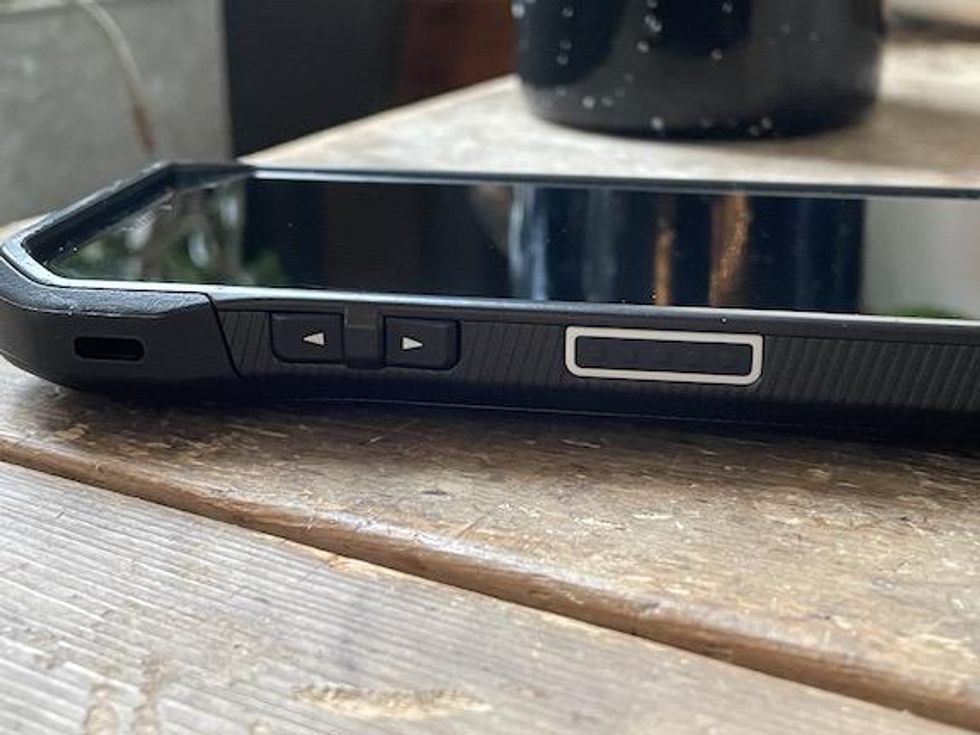 The Kyocera is a thick device, designed to handle rough handlingLauren Barack/GearBrain
Design

This is not a slim, elegant device — and it's not designed that way. Someone is purchasing the DuraForce Ultra 5G because they want a tough smartphone, one that can handle scrapes, drops and elements even like rain, and not just a smartphone in general. The screen is covered in Kyocera's own Sapphire Shield glass and it did handle well when we dropped it on the ground inside — and outside as well.
There's a headphone jack and also a microSD card slot. There's also a cover for the USB power cord slot that feels a bit questionable. I definitely had the sense this could break off, and while I understand it's there to allow the phone to stay as protected and rugged as possible, that piece alone didn't feel as strong as it could be.
Buttons along the outside are slim, meaning they're fairly flush against the sides. You have buttons for power, along with a programmable camera key on the right, and there's another button — orange on the top — that you can program as well. Programming means you can assign a feature to these buttons so that they fast track opening that option like the camera if you'd like. And on the left are volume buttons, along with a push to talk key which connects people quickly with contacts.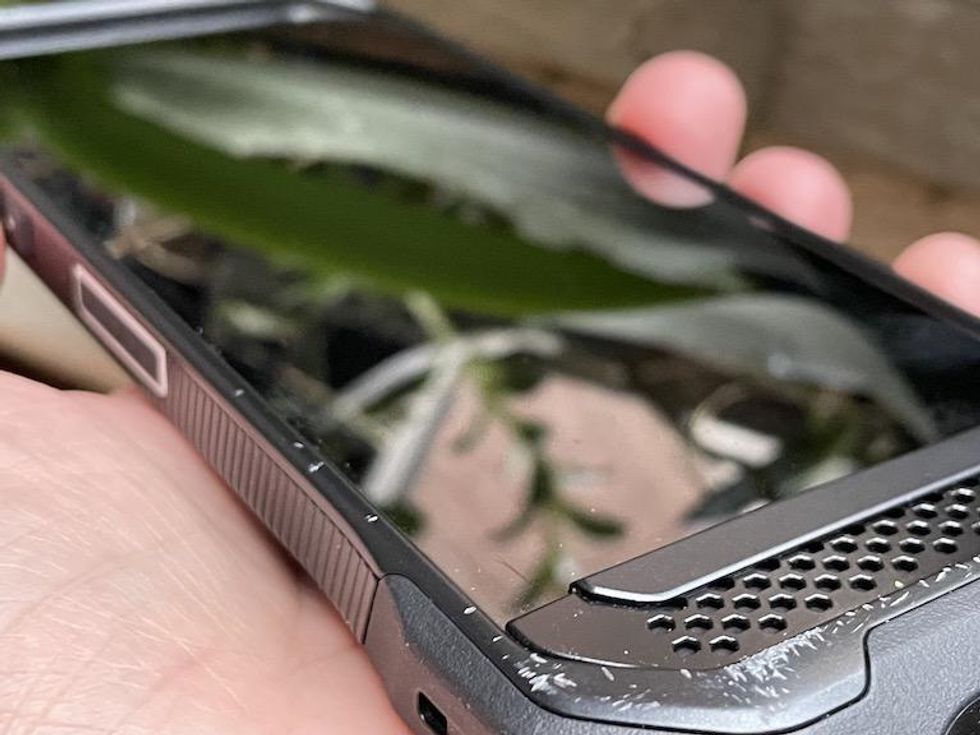 The surrounding case on Kyocera DuraForce Ultra 5G UW was scratched — but not the screen.Lauren Barack/GearBrain
Durability

The phone is designed to be drop proof onto concrete from 1.5 meters, just under 5 feet. I dropped the phone outside and inside and I found the phone handled itself well, meaning I could drop the phone mid-call without a problem, and I never even saw a scratch develop on that Sapphire Screen.
The headphone jack cover, though, would pop open often when the phone landed which wouldn't be ideal if it was landing in a puddle or water. And the outside rubber case certainly took some nicks. Something to think about.
Sound quality
Sound quality on calls was fair. I didn't have any issues hearing people, but the sound wasn't as full as certainly it could be. Voices sounded thin albeit the volume was loud and full.
I found the same thinness while listening to music over the dual front speakers on the phone or videos. You're likely not buying this phone for that purpose — but at $900 I would have liked a better speaker set up.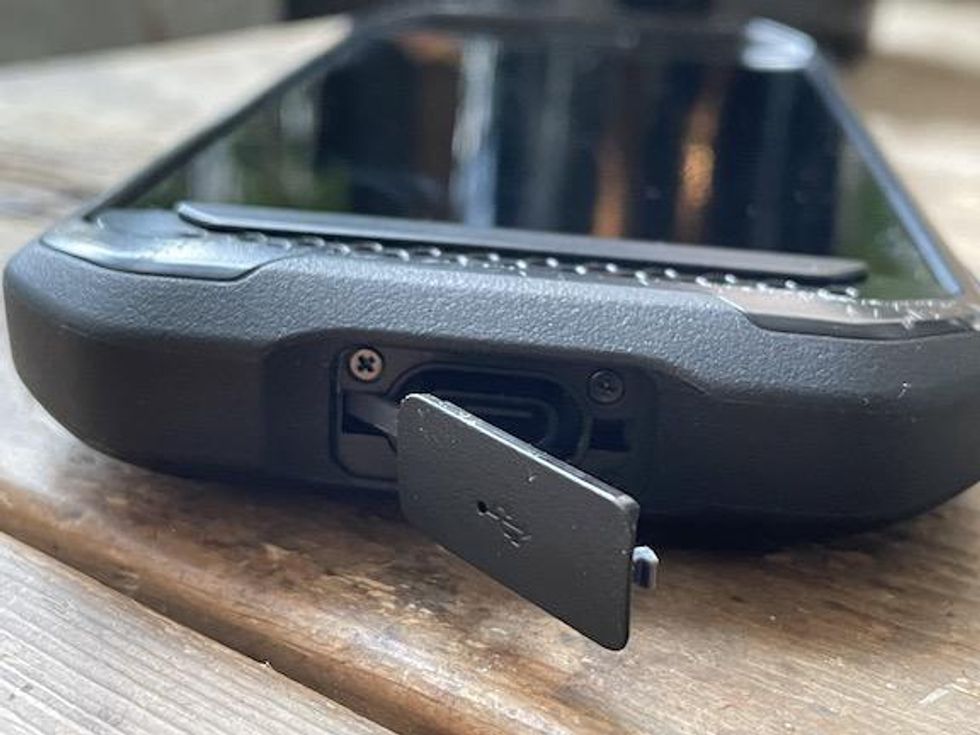 There are outside covers that lock over the ports on the phoneLauren Barack/GearBrain
Push to Talk

Push to Talk is another feature that's built into the Kyocera DuraForce, and it's excellent for a number of reasons, safety and ease of use being one. If you're using this outdoors in the rain, or a work site with heavy gloves or in the cold, you can push the button tap a contact and get connected quickly. The feature only works with others who have that feature as well. The call can be ended if you press the "End" key.
The safety element of Push to Talk should not be underplayed here, because it allows someone to make a call with a few quick clicks. That's of course an ability that can be done with voice assistants as well, asking Siri or Google Assistant to place a call too. (And yes, you can use Google Assistant with the phone too.)
What's inside
The new Kyocera DuraForce Ultra 5G UW runs on Android 10, which was a bit disappointing as we are now up to Android 11 — so not having that update felt off on a $900 phone.
You're also of course getting a 5G device, which is great, and while not everyone has the same access to 5G depending on where they live, having that 5G option is growing more important.
The 4500 mAh battery life is okay, although I did find that the phone did not last as long as the company promised — which was 13 days on standby. I could not get that range from the device we tested and even with light usage would see the battery drain down into the teens over a few days. At 15 percent I was warned that the phone could lose power, which is appreciated. But that fast drain wasn't fantastic.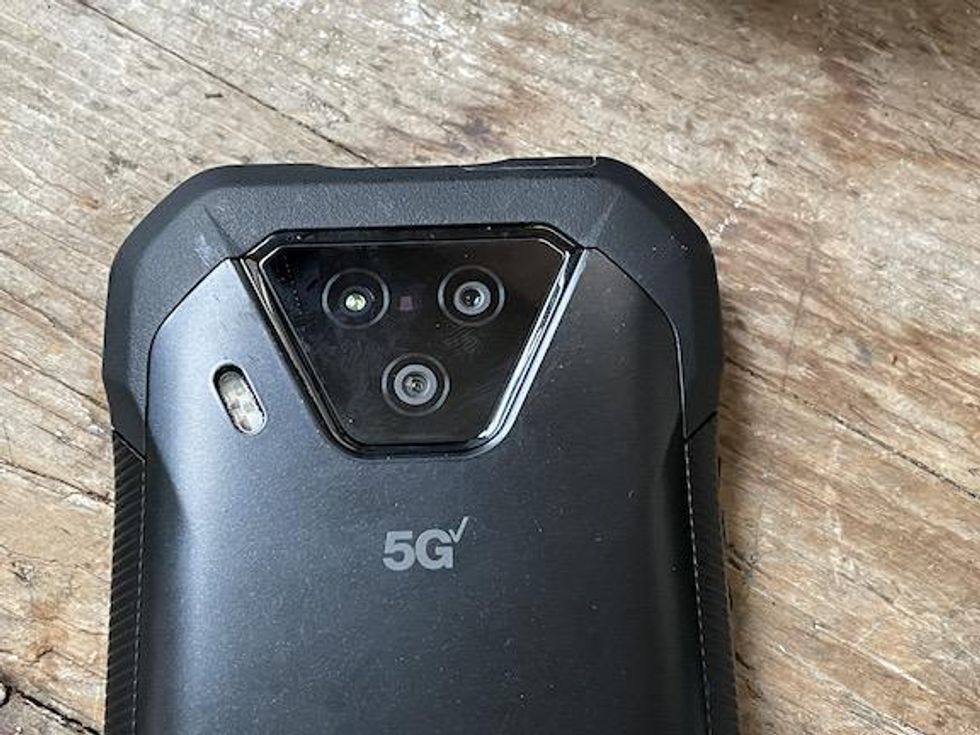 Two cameras on the back include a 16MP wide-angle and an 8MP selfieLauren Barack/GearBrain
Cameras

The phone comes with three cameras: a 24MP night vision camera and a 16MP wide-angle on the back, plus an 8 MP selfie camera which support facial recognition and AR as well.
The camera quality was solid. I found images were bright, and there are the usual options, including portrait, and you can switch to wide-angle as well, thanks to that 16MP on the back.
Price
Kyocera DuraForce Ultra 5G UW is priced at $899.99 with Verizon, or $37.49 a month for 24 months. There's also a $35 activation fee.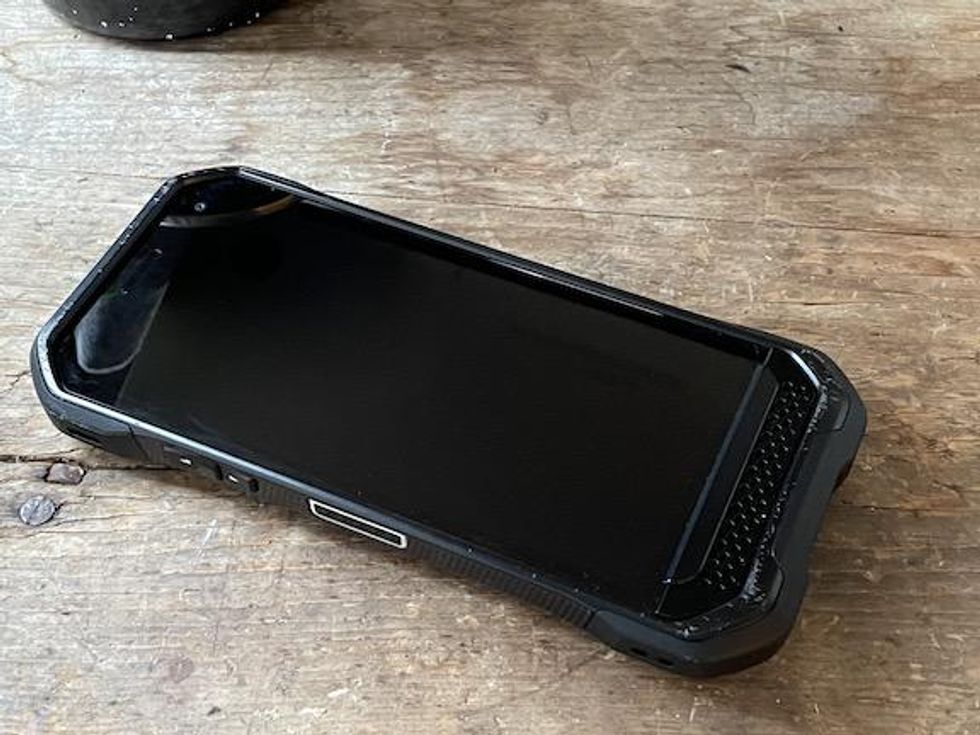 You'll pay $900 for the Kyocera DuraForce Ultra 5G UWLauren Barack/GearBrain
Worth buying

The Kyocera DuraForce Ultra 5G UW is a solid rugged device, one that can handle being dropped, a lot. I thought the cameras did a solid job as well. We had some concerns — especially for a device at this price. I found the sound quality on the two front speakers to be very thin, and I wish we had Android 11 on the device. I also wish the battery had lasted longer.
Ultimately, the Kyocera DuraForce Ultra 5G UW is a fine phone, one that's extremely durable and hits all the buttons you need in a smartphone — while also working on 5G. But it's probably best for someone who needs a very rugged device, one that can be assured to keep working under some rough conditions.
Pros:
Talk to Speak feature
Very tough
Camera
Cons:
Price
Battery life
Sound quality