Like GearBrain on Facebook
GE's new smart home line of bulbs are making the smart home experience elementary, including turning a light bulb into a Bluetooth speaker. Getting music to play takes seconds — it's honestly the easiest smart home set up you'll ever experience.
Read More:
GE launched its new line of five bulbs this week with a light bulb that can detect motion, one that changes color, one that turns on when it gets dark, and one that doubles as a flashlight. The fifth is the GE A21 Speaker LED bulb, which pulls double duty as both a LED light bulb — and a Bluetooth speaker. This isn't the first bulb to pull double duty nor is it the first device with a speaker baked in as an extra, but GE's bulbs can link up together without a hub, to create a surround sound experience.
GearBrain: Playing music from the GE LED+ Speaker Bulb with an iPhone X youtu.be
Getting the new LED speaker bulb to work is honestly like screwing in a light bulb:

Open the box, and pull out the A21 Speaker LED bulb. You'll notice it's extremely heavy — more weighty than a typical light bulb because, yes, it has a speaker inside.
Set aside the controller — we'll get to that in a minute.
Screw the light bulb into any standard lamp or fixture.
Turn on the light through the lamp or fixture. The light is equivalent to a 60-watt bulb.
Open a smartphone and connect the Bluetooth to the smartphone. At this point you'll hear the light bulb sound a chime and say, "Pairing."
When the light bulb is connected it will say, "Connected," which took about 20 seconds.
To play music, open your music app, like Apple Music, Spotify or Tidal and start playing. You'll be asked where you want to stream sound to, and you should select the GE A21 Speaker Bulb.
Once the music starts, you'll find that your smartphone can act as a controller, with the volume buttons on your phone raising and lowering the sound on your bulb.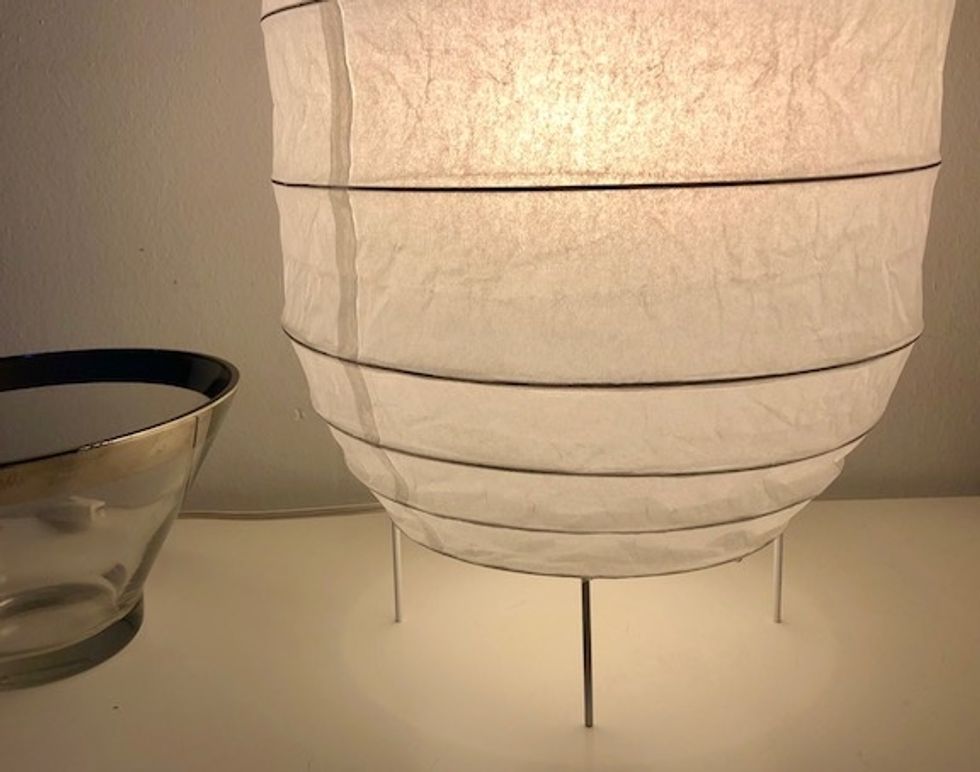 The light from the GE LED+ Speaker bulb is equivalent to a 60-watt bulb, very pleasing and warm GearBrain
Controller

The controller that comes with the bulb expands how you can use both the speaker and light features. While your smartphone is an excellent way to increase and decrease volume and change songs, the controller can turn the light on , off, and dim the brightness of the bulb as well. You can also play, stop, fast forward, and reverse the order of the music you're playing. And yes, there is a volume button too.
When making a call through your smartphone, the music will stop playing, and you'll be asked if you want to make the call come through the bulb. Even if you select the GE A21 as your speaker, sound from your end nor the other other end of your call won't play this way. (Which we found a bit disappointing.)
Opening the camera app also stalled the music, but once that app is closed, the music starts up again. What is nice is that if your phone goes to sleep, music continues to play.
Sound
If you don't expect a Sonos experience you'll be pleasantly surprised. For a smart light bulb this little speaker plays clear sound that filled a small room. You can link up to ten bulbs together to create a surround sound experience — and you won't need a hub either. They should connect automatically, although we didn't try this, and GE says to have each bulb within 25 feet of each other.
I, however, was able to get the light bulb to start playing from my iPhone X when I was at least 30 feet away — and with some fairly thick plaster walls between us — so the bulb has a very decent range.
The new GE A21 Speaker LED is on sale now at Target for $39.99 which we know, yes, is far more expensive than a traditional light bulb. But having music coming from a lamp is nice addition — and one less speaker you need to have on your console, shelf or table.
Like GearBrain on Facebook