Displays are big investments — not really about price, but about space. We want our TVs to be large, but smart home displays (which, by the way, can act as TVs) tend to be tucked on desks, living room credenzas, bedroom side tables and kitchen counters. These are spaces we use frequently. Having them cluttered is hardly ideal. Enter the Lenovo 7-inch Smart Display, a step down — in size only — from Lenovo's larger 10-inch and 8-inch displays, and costs just $99.
That price — under $100 — is key, because you get a robust smart home display that works as a Google Home device, but is far (far) less expensive than its cousins like the $229 Nest Hub Max. Lenovo is also making a display that mirrors the new $129.99 8-inch Echo Show, which means Google Assistant users now have a display sized like Amazon Alexa's counterpart, but for less.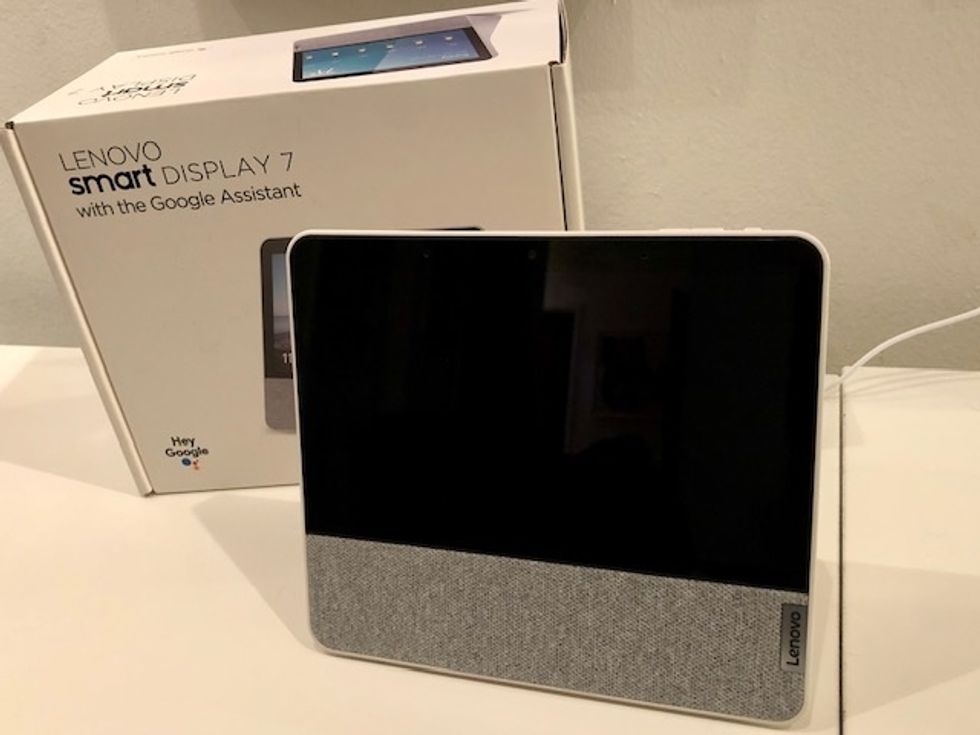 The Lenovo Smart Display 7 with Google Assistant has fabric covering the lower speakerGearBrain
How the display works

You're going to launch the Lenovo 7-inch Smart Display exactly as all other Google Home and Nest Home devices: you want to either download the Google Home app and sign up, or open the app if you already have Google Home products.
Adding the new display took minutes. Google Home found the display, added it to your Wi-Fi and downloaded an update. We were given, as we normally are with Google Home devices, options to add Voice Match, add personalized results on the screen like our calendar, and even sign in to entertainment subscriptions from Spotify to Hulu, Pandora to Starz. We were even offered a 90-day free subscription to SiriusXM. (Something to keep in mind.)
Difference between Lenovo's 7-inch, 8-inch and 10-inch displays

The display works like it's larger cousins. Swipe up to bring up settings and controls, like those that adjust brightness, to the left you can news details. You can also choose what you want the display to show from photos to a clock.
You can use Google Duo, Google's video calling service, with the display — and by swiping up, you can enable 'Do not disturb' mode which lets you block those calls. There's also a physical cover for the camera screen and an actual switch which mutes the microphone on the top and back of the speaker, for those who want to make sure what's happening in their room is private when they want.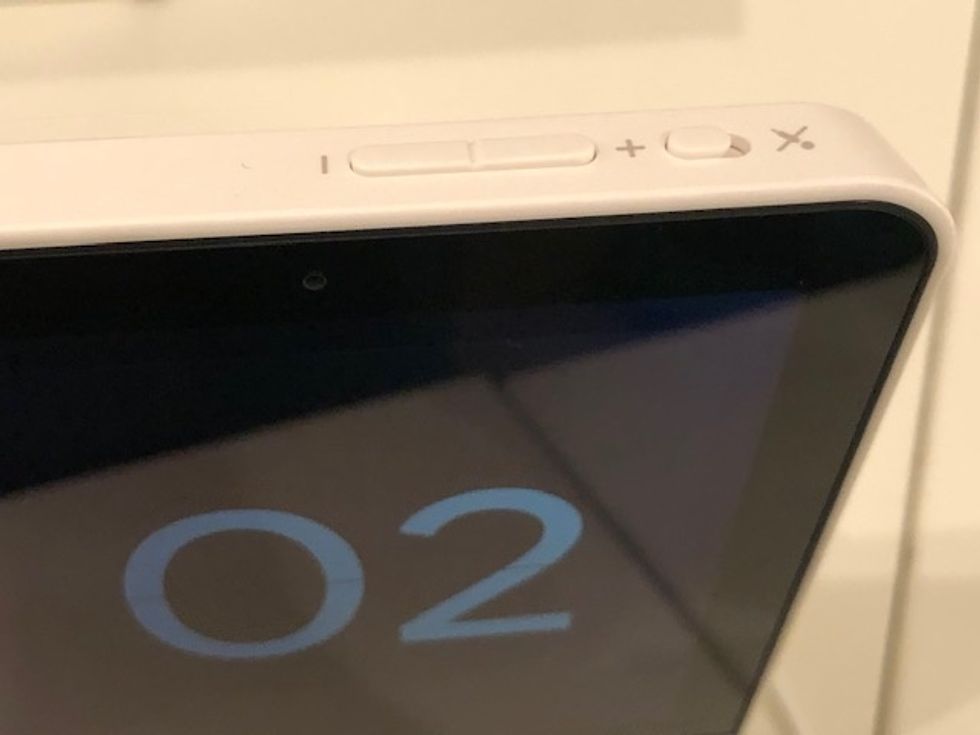 The mute button on the top of the Lenovo 7-inch Smart DisplayGearBrain
But the look is a bit different, with the bottom covered with fabric over the speaker, as opposed to the plastic cover on the 8-inch and 10-inch models, with the speaker on the left. The 8-inch model also has a white plastic back, while the10-inch has a veneer on the back that looks like wood.

That fabric is nice — but you're less likely to put this in a kitchen. Butter flying from a mixer or oil spattering from a stove is not going to interact nicely with a fabric-covered device that you can't toss in a washing machine.
You also can't flip the display from portrait to landscape as you can with the 10-inch model. The 7-inch model only works in landscape — and that's very much in keeping with the look of a TV screen. With the size smaller now, needing to flip the display vertically is less necessary.
Price
You'll spend $99 for the new 7-inch Lenovo Smart Home display.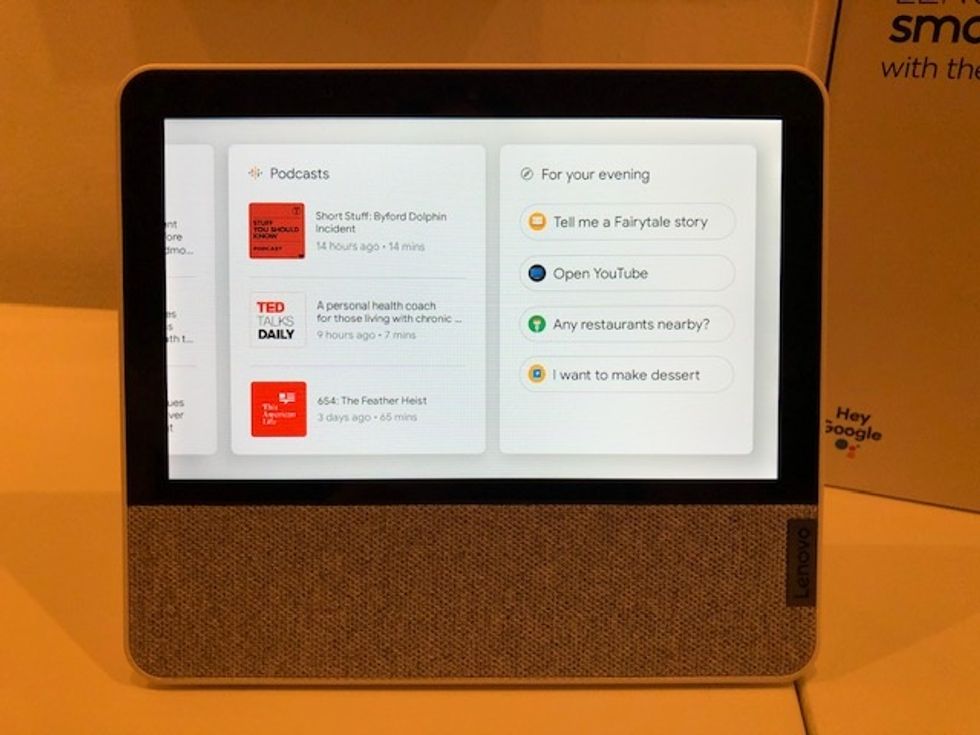 You can check news, watch TV subscription services and get personal details on the Lenovo 7-inch Smart DisplayGearBrain
Bottom line

We liked the Lenovo 7-inch Smart Display for its size and look. It's a nice size for a living room or bedroom. It's even a bit warmer looking, because of the fabric covering, then the Lenovo Smart Clock, another Google Assistant device.
It's a perfect small TV as well, with the ability to link to the video services Hulu, CBS, HBO Now, Starz and Viki. Plus, the display works like any other Google Home device, linking to personal Google accounts, able to rotate through personal photos, and get video calls as well.

Worth noting? We did find the sound a bit flat, no matter the volume. There was a little bit of tinny undercurrent, and that may be because you've got two 5W stereo speakers in the 7-inch model, as opposed to 10W full range speakers plus tweeters in both the 8-inch and 10-inch models. No one is going to buy the Lenovo Smart Display and think they're getting concert-level sound. But it's a step down in sound quality. And it's also just $99.
For those looking for their first smart speaker, the 7-inch Lenovo Smart Display is a solid choice. It's small, it's well-designed, easily well-priced and a great entry into the smart home space.
Pros:
Well-designed with a nice, gray fabric covering
Includes all the features of the larger-sized smart home displays
Price is very affordable
Cons:
Sound is lower quality than its larger-sized cousins
Can only be used in landscape mode
Fabric covering may make it harder to clean
Check out The GearBrain, our
smart home compatibility checker
to see the other compatible products that work with
Google Assistant enabled devices.
Unboxing in less than 10 seconds Lenovo Smart Display 7 with Google Assistant www.youtube.com