Like GearBrain on Facebook
We may not have much use for landline telephones these days, but as our homes fill up with web-connected smart speakers and displays, they're starting to become a convenient, hands-free alternative to the smartphone.
If you own just one - a new Nest Mini on your desk, say - then you might still reach for your phone to make a call. But if you follow Google's lead and fill your home with its speakers and displays, wall-mounting Nest Minis in every room, installing a Nest Hub Max in the kitchen, and sitting a Home Hub by the bed, then the Google Assistant quickly becomes a way of making hands-free calls from anywhere, regardless of where your phone might be.
Read More:
This is just one cog in the machine Google calls 'ambient computing', and has the potential to let you make a call wherever you are in the home. Just say "Hey Google, call [name]" and you'll be connected by whichever speaker or display is nearest.

What's more, if you enable Voice Match, Google Assistant will call the right person, no matter who in the home asks. That way, when you and your partner ask the Assistant to 'call Dad' it will dial the right number, because it recognizes the voice of who is asking.
Making phone calls is limited to Google/Nest Home users in the US, UK and Canada for now, and calling only works if the Google Assistant's language is set to English US, English UK Canadian English, or Canadian French. Calls to almost all landline and mobile numbers in your country are free.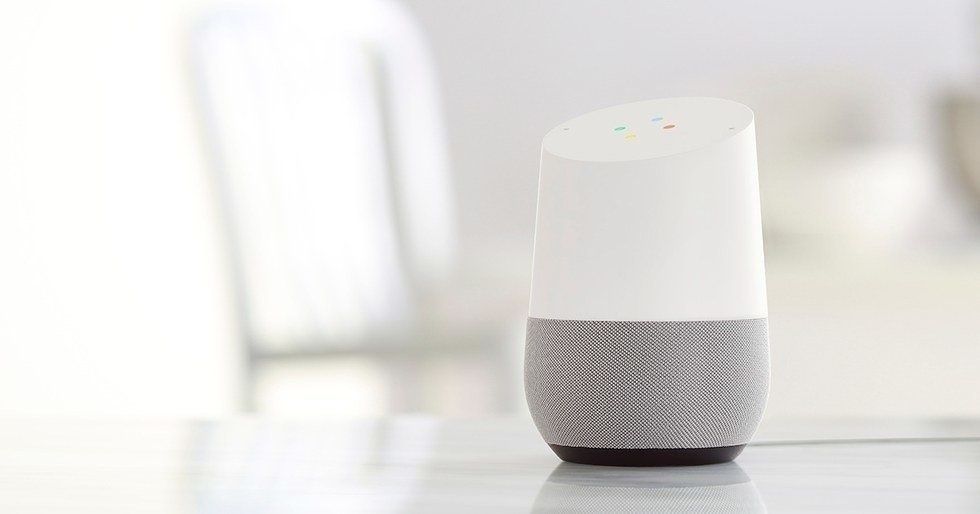 Google speakers and displays can make free phone calls Google
Sounds great, but there are a few hurdles you need to leap over to get this all working. Here's how to get started:

First, make sure your Google Home app is up to date and is running firmware version 1.39154941 or higher. Here's how to check what version you have .
You then need to make sure the Google app on your phone is also up to date, and version 7.17 or later. To check which version you have, open the app then tap More -> Settings -> About.
If you want to call a local business, or wish to say the number in full, you can get started right away with no further setup required. Just say: "Hey/Okay Google, call [number]" or "Hey/Okay Google, call [local business name]."
You can also do this after asking about a local business. For example, you can ask Google where the nearest Italian restaurant is, then have the Assistant call them. This all works on Google and Nest branded smart speakers and displays. Of course, if you know a contact's number, you can call them by saying the number.
For calling contacts by giving only their name, more setup is required. You need to turn on a setting in the Google Home app called personal results. This will sync up your Google Home speakers and displays with the contacts list attached to your Google account. To do this:
Open the Google Home app
Tap on the account icon in the lower-right corner
Tap on 'More Settings' about half way down the page
Tap on 'Devices' then pick which device you want to make calls from
For each speaker or display you wish to use, check 'Personal results' is toggled on
How to show your number when you make a call
By default, anyone you call via Google Assistant will see "Private" or "Anonymous" on their phone display. If that's what you want, then there's no need to make any changes. But if you prefer your contacts to know you're calling, it's time to jump back into the Google Home app, and follow these instructions:
Tap the account icon in the lower-right corner
Tap on More Settings -> Services -> Video & Voice calls -> Mobile calling
Under 'your own number' tap Edit -> Add or change phone number
Enter your mobile number and tap Add
Google will then text you a code to check you have access to that number. Enter the code in the Google Home app and tap Verify. Once complete, this change can take up to 10 minutes to activate. After this, your mobile number will appear when you call a contact using the Google Assistant on your smart speakers and displays.
To hide your number again, follow the above instructions then under 'Your own number' tap Edit -> Use unlisted number.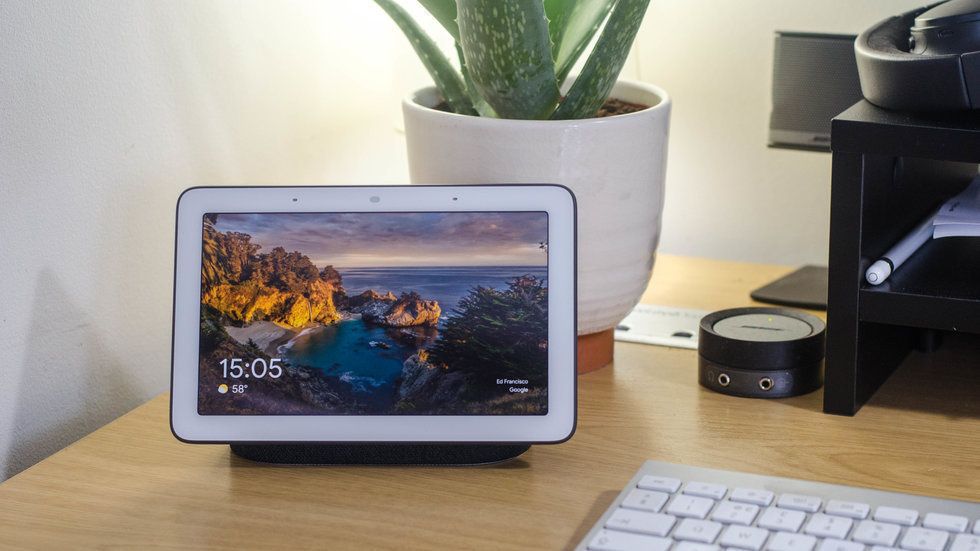 The Home Hub and larger Nest Hub Max make calls too GearBrain
What if you have a Google Fi or Google Voice number?

If you are in the US and a user of Google Fi or Google Voice, you can use the number assigned to that for making calls with your Google or Nest smart display and smart speaker. To do this, open the Google Home app once again and follow these instructions:
Tap on the account icon in the lower-right corner
Tap on Settings -> Services -> Voice and Video calls -> Mobile calling.
Select the service you use, then follow the app's instructions
How to let multiple people make voice calls on your Google/Nest device
As we mentioned earlier, multiple people can ask the Google Assistant to make a call on a single Google or Nest device. It is smart enough to recognize who is asking, then call the right person based on their contacts list. To make this work, each person wishing to make calls needs to set up Voice Match by doing the following:
Open the Google Home app
Tap on the home icon
Tap on one of your smart displays or smart speakers
Tap on the settings icon (a cog)
Tap on Voice Match, then the + icon
You will need to do this for every device you wish to make phone calls with. Also, please remember that if Voice Match is not set up with any device, then anyone using the Assistant to make calls will have access to the contacts list belonging to whoever first set up the device.
Finally, you can now make a call by saying: "Hey/Okay Google, call [contact's name]".
The Assistant will then make the call, unless you have multiple numbers for that contact, or if you have multiple contacts with the same first name. Google Assistant will ask you to confirm these specifics before placing the call.
To end the call, either wait for the other person to hang up, or say one of the following:
Hey Google, disconnect
Hey Google, end call
Hey Google, hang up
Google Home users can tap the top of the speaker to end a call, Home Mini users can tap either of the volume buttons to hang up, and users of the Google Home Hub or Nest Hub Max can tap the red on-screen icon.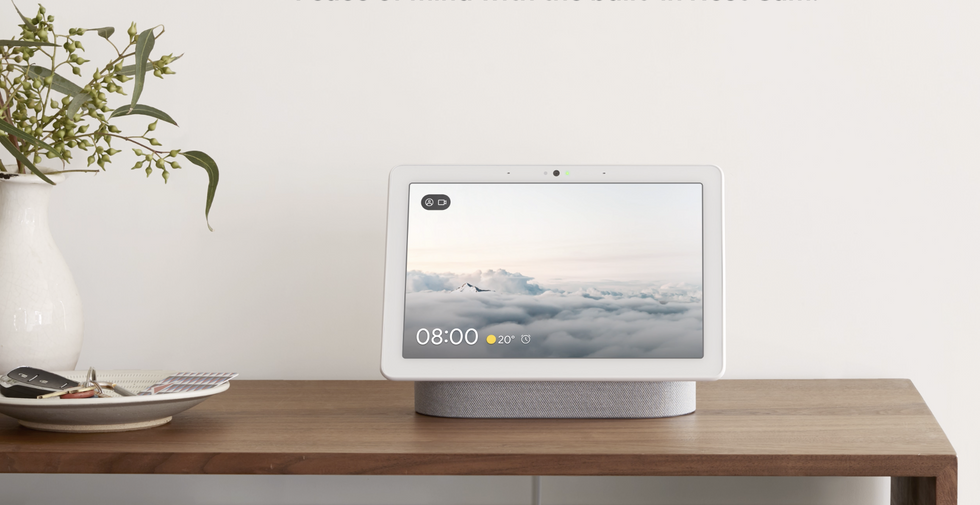 The Nest Hub and its camera can be used for Google Duo video calls Google
What if you have no contacts saved with Google?

iPhone users may not have many (or any) contacts saved with Google, so won't be able to call them by asking the Assistant. To fix this, your contacts can be backed up from iPhone to Google Drive, and after this they'll appear across all Google services, like Gmail, Contacts, and via your Google and Nest smart devices.
Google has instructions on how to do that here .
How to deal with a phone tree
If you call a company using Google Assistant and encounter an automated phone tree asking you to press certain numbers to progress, say: "Hey/Okay Google, press [number]" in place of using a keypad.
Can people call my Google Home?
No, at least not for now. Google says: "We're starting with outgoing calls, and we don't have additional details to share regarding inbound calls."
However, you can receive (and make) calls on your Google and Nest speakers and displays with Google Duo, if you have an account and register it to the device you want to use. This function is available on the Nest Hub smart displays in every country they're sold, but only in the US and in English on Google and Nest smart speakers, for now.
With Duo set up you can call, and receive calls from, other users of the Duo app.
To set this up:
Open the Google Home app
Tap on the device you want to use
Tap the settings cog icon in the top corner
Under the 'More' tab, tap Duo calling
Follow the in-app instructions
Once set up, you can make Duo calls by saying: "Hey/Okay Google, call [contact name] on Duo". That way, the Assistant knows to call using your Duo account, and this opens the door to making video calls too. Just say: "Hey/Okay Google, video call [contact name] on Duo."
For now, only the Nest Hub Max has a camera, so that's the only Google Nest smart home device you can use for two-way video chatting.
When receiving a Google Duo call, say: "Okay/Hey Google, answer the call/decline the call" or tap the screen to take or reject the call.
Can Google Assistant make emergency calls?
With Google's upcoming Nest smart home alarm functions, you will be able to use the voice assistant to call 911 if the microphone of a smart speaker or display hears a nearby smoke alarm. Using the new Nest Aware system, the Home app will alert you and allow you to call 911 - but, importantly, if you are away from home the call will connect you to a call center close to your home address.
This is important because if you call 911 while in another state, you might get connected to a local call center which cannot dispatch to where you live. When calling through a Google Home app alert, you'll be connected to a call center which can dispatch to your home, whether you are nearby or far away.
Google also says the system will let you call 911 if your phone is out of reach. The company states: "If you happen to be home [when a smoke alarm is heard] and can't get to your phone right away, say, 'Okay Google, call 911' to any Google Nest or Home speaker or display covered by your Nest Aware subscription."
Check out The GearBrain, our smart home compatibility checker to see the other compatible products that work with Google Home and Home Mini and other Google Assistant enabled devices.
Like GearBrain on Facebook