Like GearBrain on Facebook
Can a tablet every entirely replace a laptop? I spent a couple of years doing just that with an iPad as my travel device. Until I finally broke down, missing the real estate of a full laptop keyboard and screen. But tablets today are far more robust, and that includes the Lenovo Yoga Smart Tab, a solid Google Assistant device that also has a dedicated YouTube screen you can flip to whenever you choose. Is it the second screen of your dreams? Here's our review.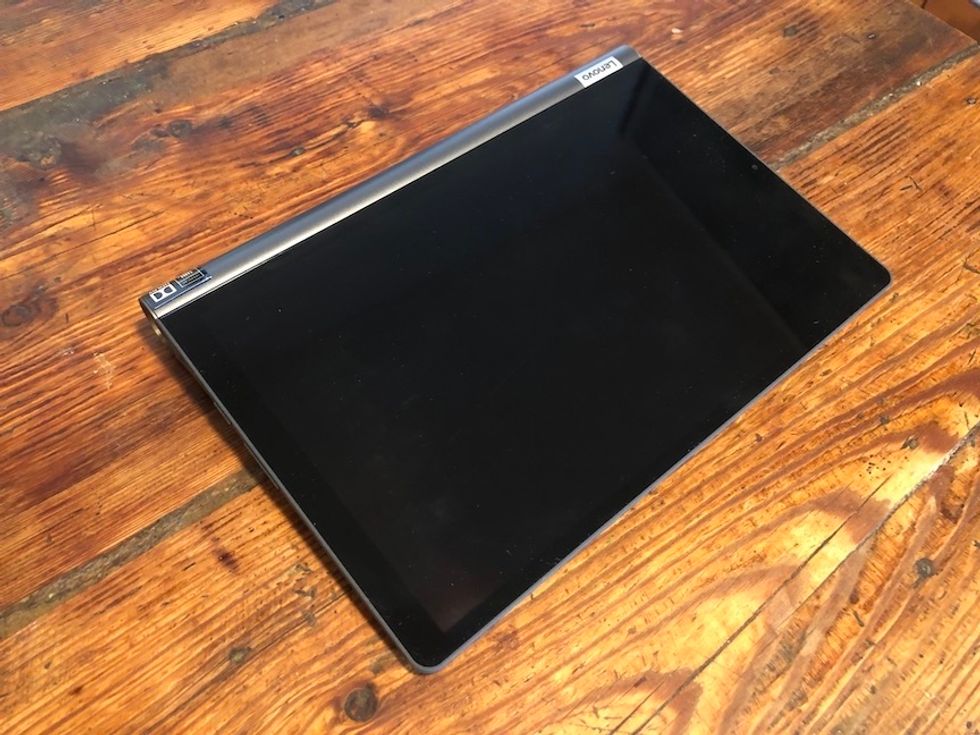 Lenovo Yoga Smart TabGearBrain
What is the Lenovo Yoga Smart Tab

This is a 10.1-inch tablet with a haptic touchscreen display. JBL speakers are built in with Dolby Atmos along with far-field microphones, which are cleverly placed on either side of the device. These help the screen pick up your voice even if you're standing far away. You can also tailor the sound to you through the Atmos app which is pre-installed on the Smart Tab.
Google Assistant is built inside which means to bring up the voice assistant all you have to do is just say, "Hey Google."

The device has three ports, a USB-C, an audio jack, a microSD card slot on the Wi-Fi model or a a microSD card slot and a Nano-SIM card slot on the LTE model. That's the version we had, and those are tucked away on the back, under the kickstand.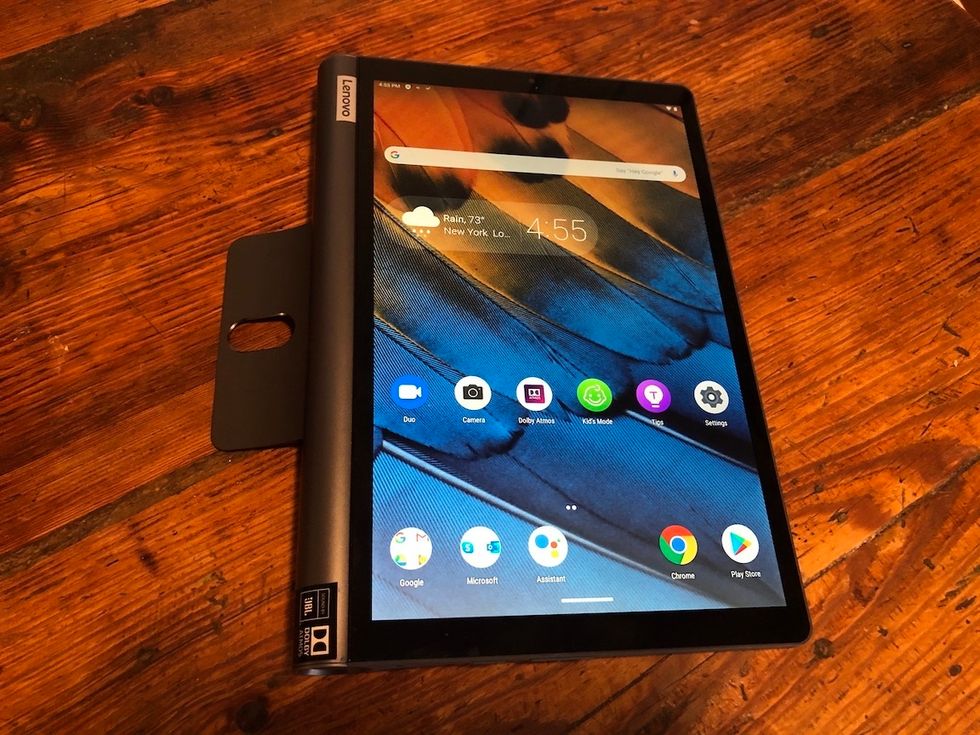 The kickstand on the Lenovo Yoga Smart Tab allows the tablet to sit up, tilt and even be hung on a wall.GearBrain
Design

The design of the Yoga Smart Tab stood out to me — a tablet with a rounded core on the edge that made the device feel like a book in my hand. But you have some options on how to position the Smart Tab as well.
The back has a great feature — a kickstand. And it works just as you'd think, a back piece that pops out via a button that can let you seat the tablet upright on a surface, tilt, and because there's a hole in the middle of the stand, it can be opened enough to hang on a wall. You can also have the stand remain flush against the back so you can hold the tablet in your hand. I found the kickstand a bit hard to move. That's great for keeping the Smart Tab in place, but just know you will need to push a little harder than you think to move that piece up and down.
You also have a front and rear camera — and yep, the Yoga Smart Tab support Google Duo. The front camera is 5MP and the back, 8MP with an auto focus, which is great for those Duo calls.
YouTube
This is an excellent device for anyone who spends time on YouTube, because of the clear tab that ports you to YouTube. The site of course is owned by Google, so it's not a surprise that this is a feature that's part of the Smart Tab. But it's a well-designed one in that you can just open YouTube, watch a few videos and even the news, and then button that up to move on to other tasks.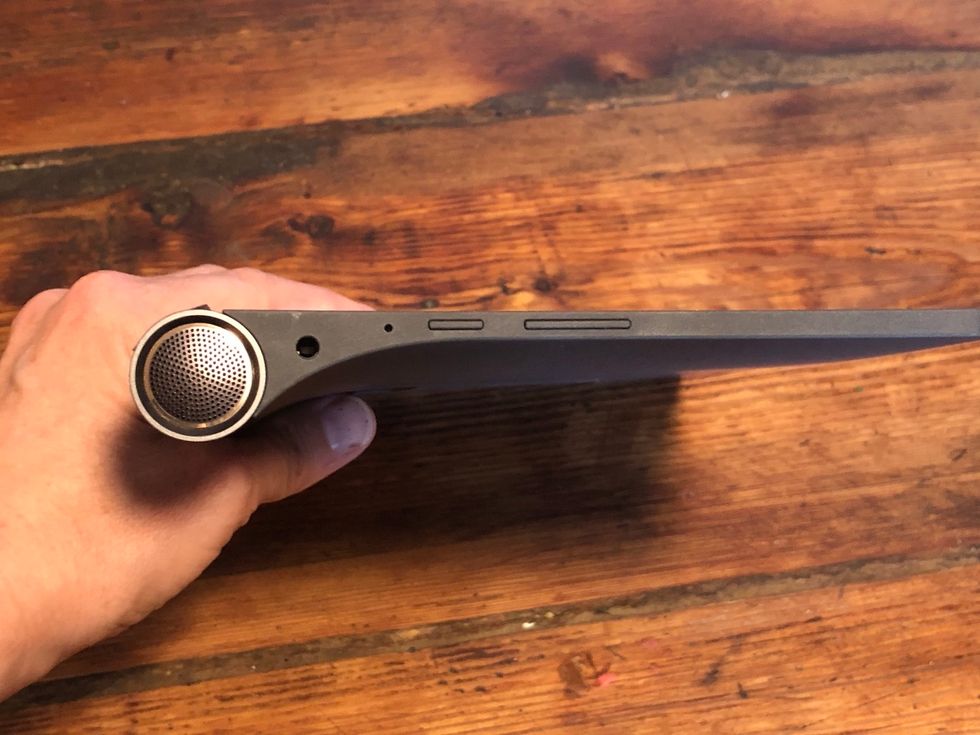 The Lenovo Yoga Smart Tab has two Dolby Atmos speakers, one on each sideGearBrain
How it worked

Certainly a second screen is a luxury and the Lenovo Smart Tab did just that — give me one more place where I could watch news, check email, and yes, operate devices through Google Assistant. As much as I can run parallel screens on my MacBook Air, flipping back and forth between the screens is a draw back — I like the idea of having one device for one set of tools, another for something else. It's why I tend to use my iPhone for email, even while working on my laptop.
You can set up Ambient Mode on the Yoga Smart Tab through your Google account, which brings up your schedule, controls for your smart devices and even how much charge is left on your device. It's a neat feature for Google products. I also loved the haptic touch on the tablet — the feedback is something that helps me move more quickly, that little extra that says, 'Yes, I read your input.'

The battery life was fine. The 7,000mAh battery kept the device alive and running for about a day or two depending on how much you're using it, playing videos on YouTube for example is going to do some wear and tear. But this isn't a tablet you can't forget to charge.
A tablet that doubles as a camera is a nice perk, and the two cameras are a decent size at 5 MP and 8 MP. For comparison the iPhone 11 Pro has three 12 MP cameras. But the Lenovo Smart Tab is almost a fifth of the price, starting at $199, so you're not getting top of the line cameras, but you're getting cameras that work well.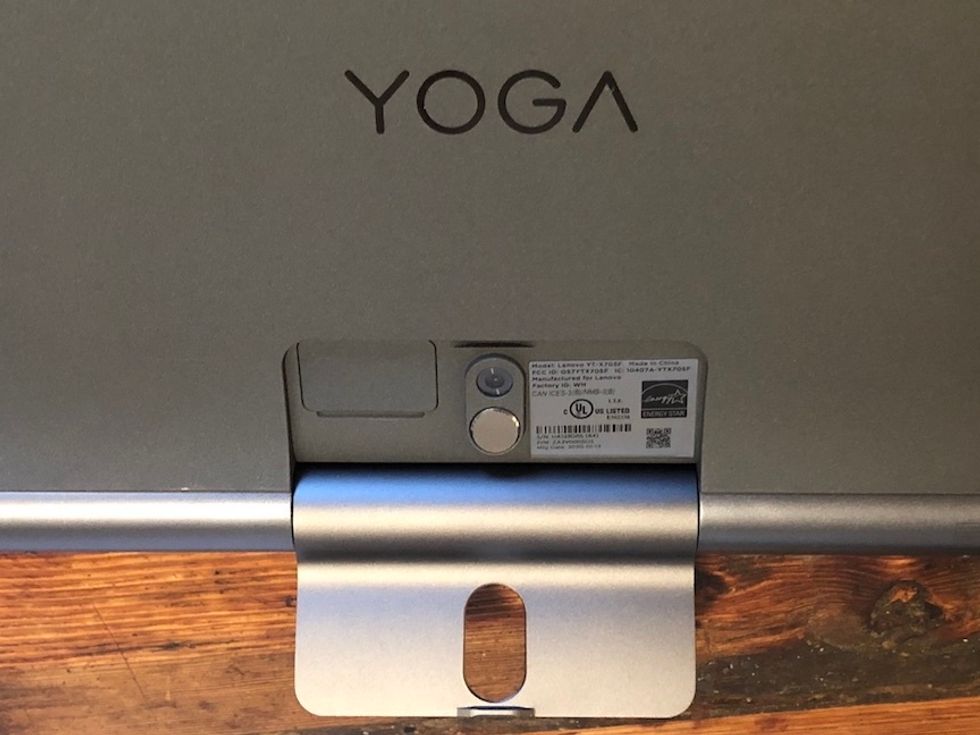 A rear camera sits behind the Lenovo Yoga Smart Tab, near the kickstandGearBrain
Smart Home

The Lenovo Yoga Smart Tab is a solid Google Assistant device, able to pull up the smart AI to operate your Google Home devices, and connect to those products that can be controlled by Google Assistant as well. Basically, you can think of this as your central control center for Google devices — and that's an excellent reason alone to pick this up.
Price
The Lenovo Yoga Smart Tab starts at $199.
Summary
The Yoga Smart Tab is a solid tablet, but it's firmly in the Google Assistant space. To best enjoy the device, you're going to want to be a Google user, to take advantage of the features from Ambient Mode to Google Duo.
That's why in short, I found it more a Google Home product, less a general workhorse of a tablet. For $199, though, this is a fantastic price for a tablet that also doubles as a Google Home display. Add to that the fact that you can run video calls (which is practically a necessity today in this Covid-19 world), operate your G-Suite life, and also have an instant screen for YouTube and for a Google Home hub, the Lenovo Yoga Smart Tab is worth considering.
Pros:
Price
Excellent Google Home hub
Can bring up YouTube easily through featured tab
Cons:
Battery life could be longer
Best for someone firmly in the G-Suite world
Back kickstand is a bit tough to move
Like GearBrain on Facebook