Like GearBrain on Facebook
A big challenge today when redesigning your home's entryway is figuring out how to integrate high-end designs with smart devices. It's hard to find the look you want with the technology you need for your smart home. For the smart door lock category, this is an important mission that needs to be addressed as the market grows. Today, two companies, Level Home Inc and Rocky Mountain Hardware are forming a collaboration to solve this challenge by combining high-end designs with innovative technology to secure your smart home's entryways.

Level Home Inc. has formed a partnership with Rocky Mountain Hardware which integrates the Level Bolt, into select Rocky Mountain Hardware collections. The partnership combines Level's invisible smart door lock technology with Rocky Mountain Hardware's premium door hardware to create an entirely new category of entryway experiences that offers advanced smart conveniences with a stunning, old-world artisan design.
This new line of products gives homeowners the freedom to design a beautiful smart home entryway with cutting-edge technology. Level Bolt can be integrated into a diverse selection of Rocky Mountain Hardware collections including Arched, Rectangle, Curved, Stepped, Edge, Metro, Mack, and Ellis, among others.
"We've long believed that true smart home products should thoughtfully balance design and technology, without any compromises," said John Martin, CEO and co-founder, Level. "Our invisible smart lock technology allows homeowners to maintain the aesthetic of their homes. We're thrilled to unveil our new collection with Rocky Mountain Hardware and offer even more ways for users to customize their homes with premium hardware and advanced technology."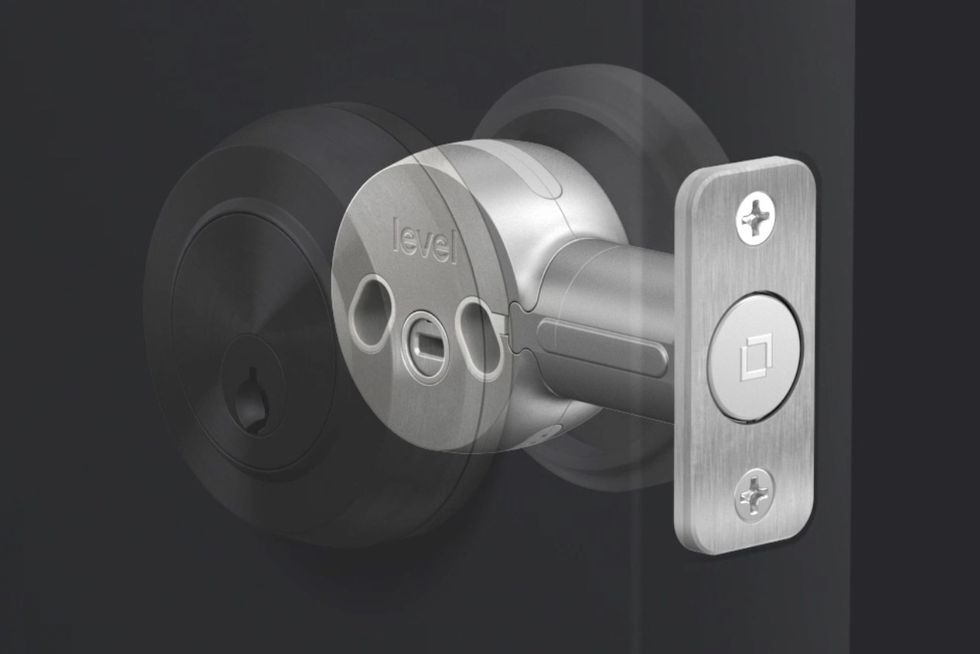 The Level Bolt invisibly makes your door smarter Level Home
Highlights of the Level Bolt and Rocky Mountain Hardware collections include:
Smart home without the eyesore - with Level Bolt tucked thoughtfully inside the door, you can give friends and family the convenience of using their phone or standard keys to enter the home, while keeping the home's style and aesthetics intact with Rocky Mountain Hardware.
State of the art connectivity - Level Bolt works with iOS and Android and Amazon, Ring and Apple Home Kit, keeping you, your family, and loved ones connected and secure.
Quality craftsmanship - Level Bolt offers a new level of precision not found on any other smart lock. The lock uses a patent-pending, 6-stage, stainless steel gearbox that's both powerful enough to withstand the toughest conditions and efficient enough to deliver over a year's worth of battery life from a single CR2 battery.
"Level is the partner we found whose technology integrates seamlessly within our hardware and really allows the product to shine," said Christian Nickum, Rocky Mountain Hardware's president. "We are thrilled to further expand our smart lock offerings with this invisible deadbolt lock that not only complements our hardware but also creates a functional entry system for everyday use."
Rocky Mountain Hardware marks Level's second partnership with a premium architectural hardware company. In 2020, Level announced a partnership with OMNIA Industries, a preeminent manufacturer of premium door hardware. Now, Level offers the widest assortment of smart locks available.
The Rocky Mountain Hardware powered by Level Bolt will be sold on Rocky Mountain Hardware's site
GearBrain has tested Level Lock's products on real homes over the past few years. Level Bolt was our first Level Home smart door lock and we found it to be innovative and easy to install. Turning a dumb lock into a smart lock by inserting new guts into your deadbolt lock was smart. (See our review here.). Level Home's partnership with Rocky Mountain Hardware is another smart move and interior designers as well as smart homeowners will benefit greatly from these new premium-looking smart entryway devices.
GearBrain will be adding these new smart locks onto The GearBrain, our compatibility find engine for smart devices in the coming days. Feel free to use The GearBrain to find the best Rocky Mountain Hardware powered by Level Bolt smart lock which is compatible with your existing smart devices and has the look you want for the entryway of your smart home.
The GearBrain, First Compatibility Find Engine for Smart Devices www.youtube.com
Level Bolt, The Invisible Smart Lock. Bluetooth Deadbolt, Keyless Entry, Smartphone Access, Works with Alexa, Ring and Apple HomeKit
Like GearBrain on Facebook