Like GearBrain on Facebook
As we have previously said on GearBrain, renters can install a wide range of smart home devices — and often without checking with their landlord first. Lights like those by Philips Hue and LIFX are easily fitted and removed, and smart plugs make a wide range of appliances smarter without any DIY requirements whatsoever.
With smart locks, however, the situation is different. Some smart locks — those which require you to change the deadbolt or install a numerical keypad outside — are unlikely to get the go-ahead from your landlord. Unless you can convince them that a professionally-fitted lock will enhance security (perhaps after a neighbor's lock was compromised), then they will likely say no, as too much needs changing and there's the possibility of you locking them out of their own property.
Read More:
However, there are some smart locks that use the door's existing deadbolt, fit in a couple of minutes with just a screwdriver (or even no tools at all), are completely removable and reversible — and, importantly, can function exactly the same as before, so your landlord can still enter with their own key.
So, while property owners get a better deal as there is a wide range of locks designed for them, there are still options available to renters. Here are some options worth considering:
Friday Smart Lock - $199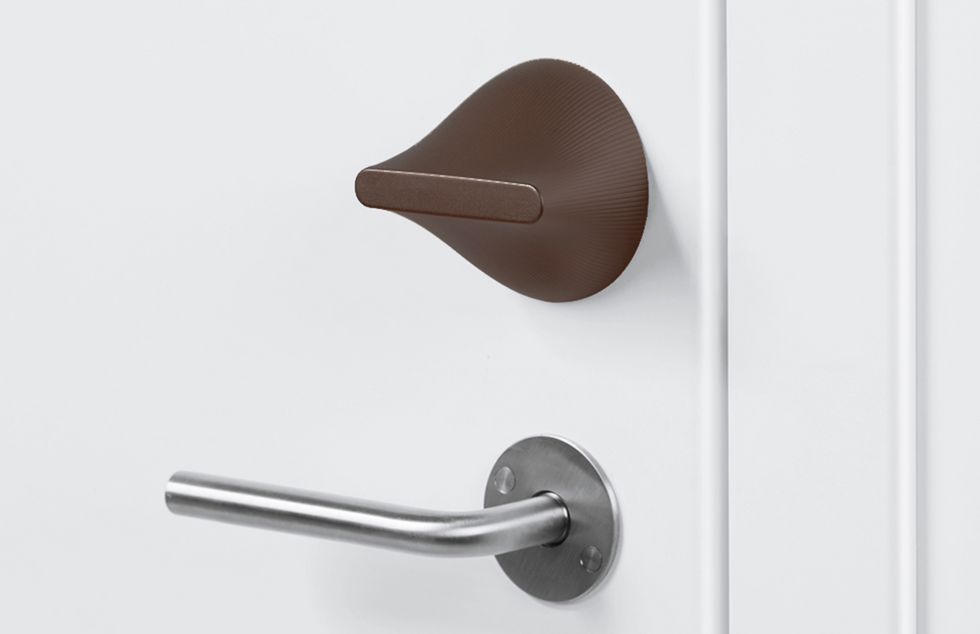 The Smart Lock by Friday Home is claimed to be the world's smallestFriday Home
No longer the property of Friday Labs, the Friday Smart Lock is now produced by Friday Home. The lock fits to your existing deadbolt in just a few minutes, which means the door can still be opened from the outside with the original key.

The Friday's sleek design is much more pleasing to the eye than the chunky August, and its latch cover can be swapped out for a range of seven alternatives with different colors and finishes designed to match your decor. the lock is powered by a compact rechargeable battery that is unique to the lock and a main reason why it is more compact than most. However, this does mean your lock won't work automatically for a few hours while the battery is charged. It will however always work with the key, of course.
There is no support for Amazon Alexa, Google Assistant, IFTTT or Samsung SmartThings, however it can be controlled by Siri and Apple's HomeKit system, or via Bluetooth with the Friday app.

The app is nicely designed and makes it easy to know who has passed through the door, and when. You can configure the app to alert you when your children get home from school, for example, or when the repairman (who you can give temporary access to) has left.
Fitting the Friday will require your landlord's permission (as with all smart locks, realistically). But given they can still access the property with their key, the deadbolt remains the same as before, and the device can be removed when you leave, they might well grant you permission to install it.
Friday Home Smart Lock Complete - Keyless Entry for Everyday Convenience - Grant or Revoke Access with Your Android or iPhone Smartphone App - Free WiFi, Stylish, Designed by BIG - Satin Nickel Finish
August Smart Lock Pro - $165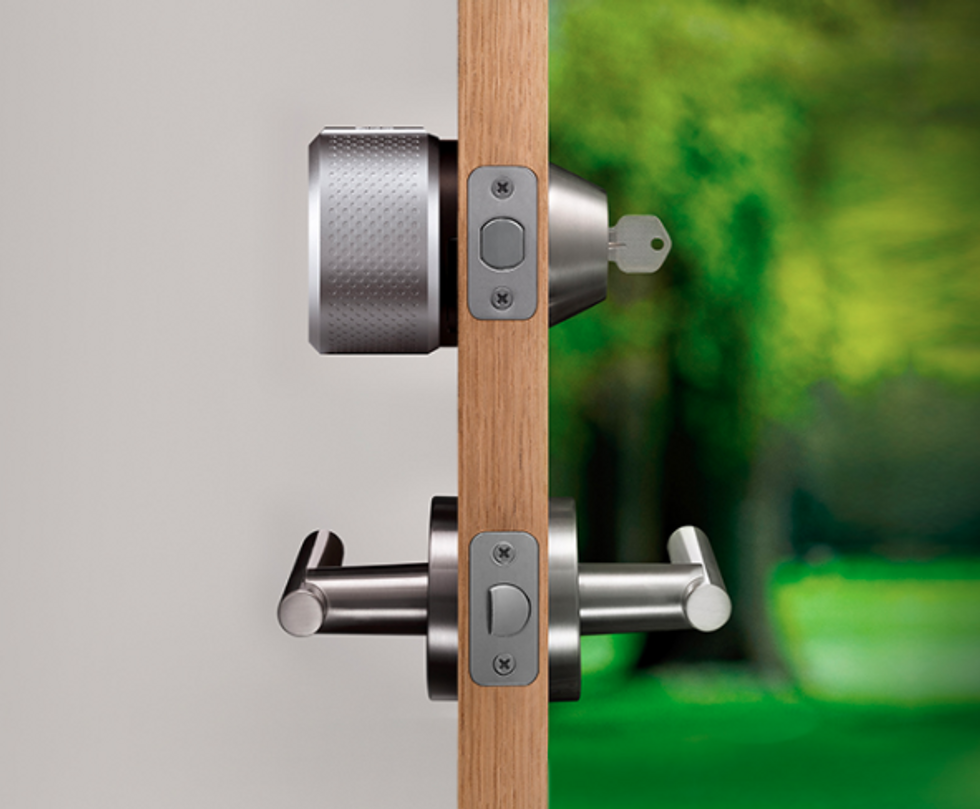 The August is a chunky lock, but is full of features and retains your original deadbolt and keyAugust
August is one of the bigger names in smart locks, and it just so happens that the firm's third-generation Smart Lock Pro+ Connect can be fitted to locks without changing the deadbolt or using different keys.
You have to remove the latch from the inside of your door with a screwdriver, then fit the August's mounting plate and the motorized mechanism itself, but this is all completely reversible and the original keys can still be used to gain entry.
Once installed, the lock will open when you walk up to it with your Bluetooth-connected phone in your pocket. The lock can also be connected to your Wi-Fi network via the included August Connect, which lets you control the lock from anywhere in the world.
For an extra $50, the latest model of Smart Lock Pro can be bought with a sensor which you attach to the door frame; there, it can tell the lock if your door is open or closed, which you can check from the app or by asking Amazon Alexa, Siri or Google Assistant.

Available in silver or dar gray, the lock is powered by four AA batteries —and because you can still use your original key, getting back in when the batteries have died isn't an issue.
You can use the August app to grant temporary access to other people, such as the cleaner, a handyman or other members of the household.
Kwikset Kevo Connect - $149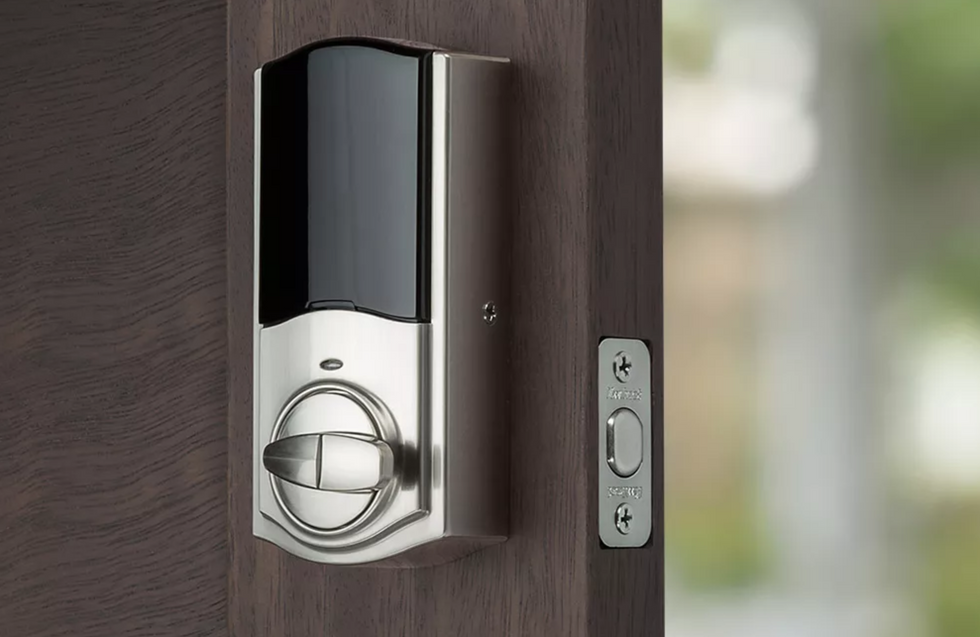 The Kevo smart door lock uses your existing deadboltKwikset
Kwikset sells a number or different smart locks, but we have chosen the Kevo Connect for this renter-friendly article as it works without removing your existing deadlock or any external components.

This means you can continue using the same key, and crucially it means your landlord or letting agent can gain access to the property with their existing key.
Although you can use the old key, the real point of the Kevo Connect is to gain entry with your smartphone. Like most other smart locks this works using digital keys within the phone app. These digital keys can be sent to other people, like family members, roommates and the cleaner or dog walker, and the app lets you monitor the comings and goings of everyone who has access.
The lock is opened and closed with a tap of the Kevo phone app, and the system is compatible with Honeywell smart thermostats, video doorbells by Ring and Skybell, and Alexa, which you can ask to lock the door with a voice command. The optional Kevo Plus system lets you control the lock remotely when away from the home.
Only deadbolts with a thumb latch mounted separately from the handle are compatible with this lock.
Kwikset 99140-102 Convert Z-Wave Plus Lock with Home Connect, Satin Nickel
Nuki (UK and Europe only) - From £199 ($258)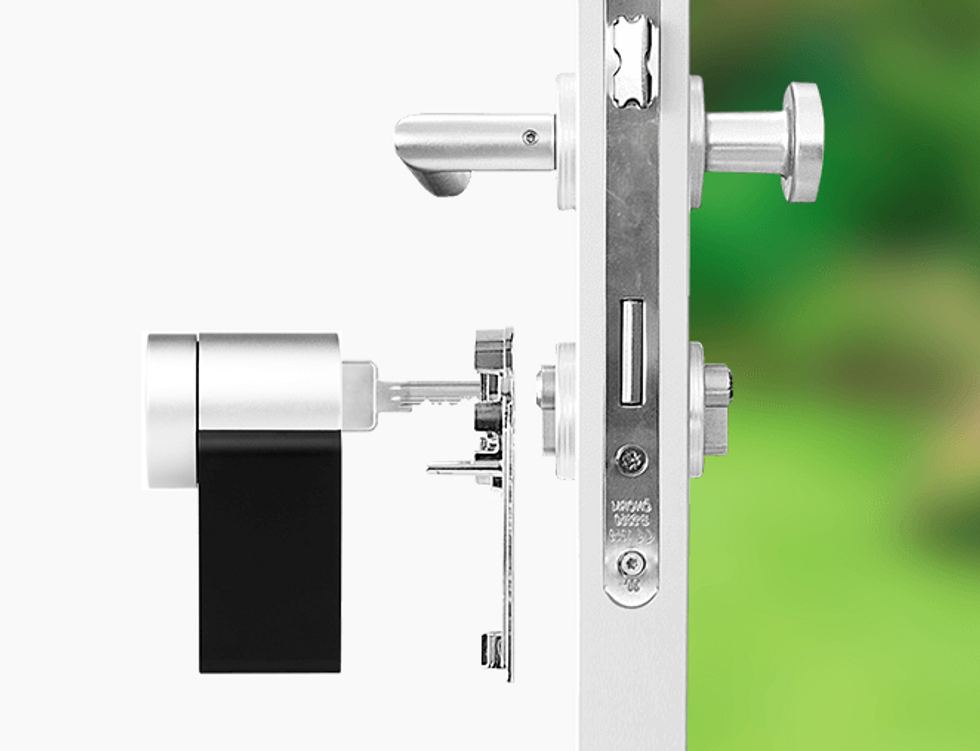 This low-tech smart lock fits over your key and existing mechanismNuki
Only available in Europe for now, the Nuki Smart Lock 2.0 goes a step further than the August and Friday, in that it requires no modifications at all. Instead, the Nuki fits over your existing internal lock (with the key in place) and turns the key to let you in. It is compatible with European profile cylinders, Swiss round cylinder, knob cylinders and UK oval cylinder locks.
It's a rather low-tech solution, but one which means you don't have to use any tools at all. However, the Nuki is stuck to the door with a peel-off adhesive strip, so removing this when you come to move out might take some effort and leave residue behind. Thankfully a bit of white spirit or rubbing alcohol should see to that.
You can check the status of the lock remotely via the smartphone app, and there is Google Assistant, Alexa and Apple HomeKit support for locking or unlocking the door with your voice. There's also a scheduling feature so you can have the door lock itself at a set time every night. The Nuki is powered by four AA batteries, but you will need to make sure your lock has an external key override function; otherwise, when the battery runs out you won't be able to open the lock with a key from the outside.
The new Nuki Smart lock 2.0 also comes with a sensor to attach to your door frame, which lets you know the status of the door (in other words, if it is open or closed) as well as the status of the lock (locked or unlocked). Additional accessories include a fob and keypad to unlock the door without a phone.
Conclusion

As you can see, it is theoretically possible to install a smart lock on the door of a renter property, but with several caveats. First, you will need to get your landlord's permission and explain to them how devices like the August and Friday still work with their key. Then you need to explain how these locks do not affect the deadbolt (so do not change the physical security of the door) and that fitting such a lock is completely reversible.
While the Nuki offers an even simpler installation process, the need for an external key override function could rule out your lock, and removing the device after it has been stuck to the door could be more difficult than unscrewing the August or Friday.
Ultimately, whether you can install a smart lock in a rented property will come down to the thoughts of your landlord and property agent.
And don't forget to check out The GearBrain to see what other smart locks and connected devices work with Google Home or Amazon Alexa enabled device.
Like GearBrain on Facebook