Like GearBrain on Facebook
Smart door locks, from companies like Yale, August, Schlage and others, replace or take control of your main door's deadbolt. As such, they can be used on a wide range of front and back doors, faithfully rotating and unlocking the deadbolt as you arrive home, then locking it again when you tap a phone app, or ask Alexa to lock the door.
But there's another type of lock, called the lever lock. These tend to appear on side doors leading to patios and backyards, or are found on lockable interior doors, such as those leading to the garage, or to a self-contained guest annex. You might also find a lever lock on your garden shed.
Read More:
Slowly, lock companies have begun creating smart solutions for lever locks too. These are now available from industry veterans like Yale, as well as newer tech firms like Lockly.

By adding one of these locks to your home, you can keep tabs on when the door is opened and closed, and have the lock open as you approach the internal garage door, for example, or have the shed unlocked by speaking to Alexa instead of searching for the old key.
Some also function using an integrated keypad and fingerprint reader, and have no physical key at all. Most smart lever locks are available in a range of finishes to match your door and the rest of your home.
If you are interested in installing a smart lever lock in your home, here are some options to consider.
Yale Assure Lever Lock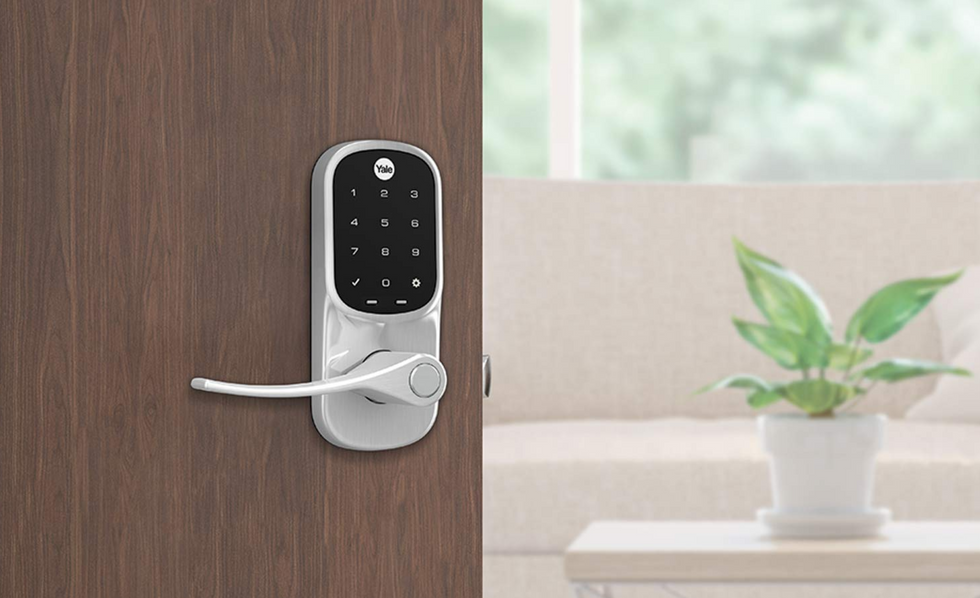 The Assure Lever Lock by YaleYale
GearBrain recently reviewed the Yale Assure Lever Lock. Designed to fit a door with a single hole and no deadbolt lock, the Assure Lever Lock can be bought with either a touch screen or a numerical keypad, and has integrated August tech to allow full smart home functionality.

This means that, if you have the August Connect Wifi bridge, the lock will work with Alexa, Apple HomeKit and Google Assistant.
When hooked up to the August Connect bridge, the Yale lever lock is also compatible with Honeywell Total Connect, IFTTT, Nest, Xfinity Home, Wink, the Z-Wave Alliance, and more.
Lockly Secure Pro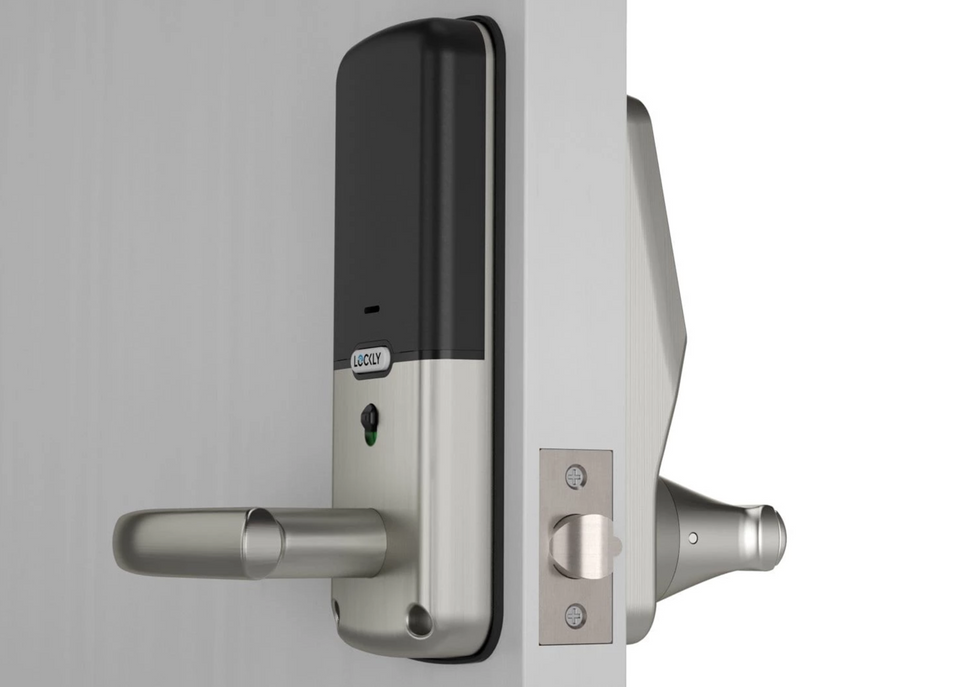 The Secure Pro can be opened with a code, fingerprint, or phoneLockly
Available as either a bolt or latch lock, the Lockly Secure Pro can be locked and unlocked via a smartphone, or by using the lock's integrated numerical keypad or fingerprint reader. Up to 99 fingerprints can be added to the lock's memory.

You can also control the lock and check up on its stats (in other words, whether it is locked or not) by speaking to Amazon Alexa or Google Assistant.
Lockly offers the Secure Pro in three different finishes, called Satin Nickel, Venetian Bronze and Matte Black. You can use the app to monitor when the door is used (and by who), and create access codes for friends, family members and tenants to use. There is also the old fashion way to open the lock by using the physical key which comes with the Secure Pro lock.
Kwikset 912 with Lever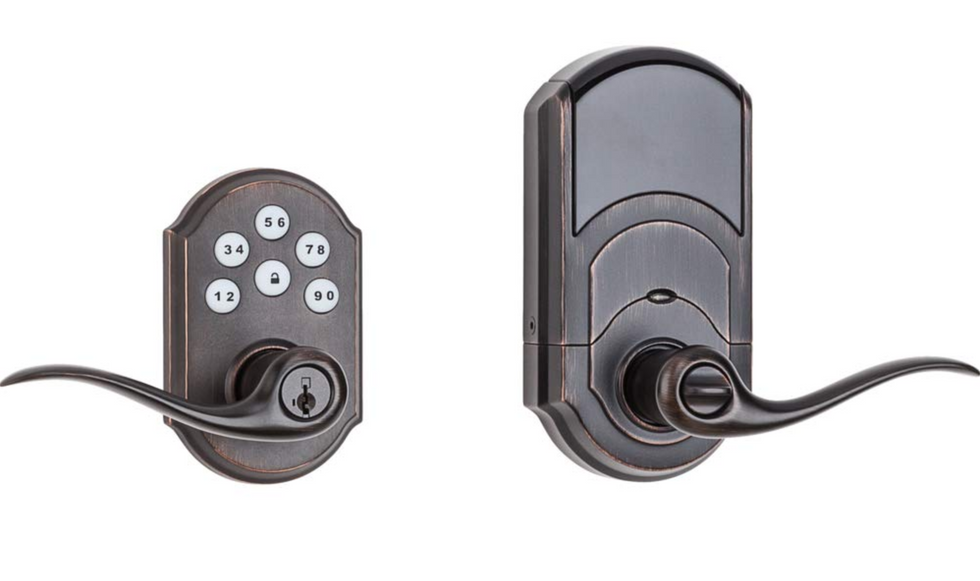 The 912 can be unlocked with a phone, PIN or keyKwikset
This option from Kwikset has Z-Wave technology for connecting to a smart home home (granting it Alexa support), or it can be unlocked using the integrated keypad, or with a regular key.

The lock is available in polished brass, venetian bronze and satin nickel. With a smart home hub like those from Wink and SmartThings, the lock can be locking by saying, "Alexa, lock the door" to your smart speaker, display or phone.
YRHAND NX1 Door Lock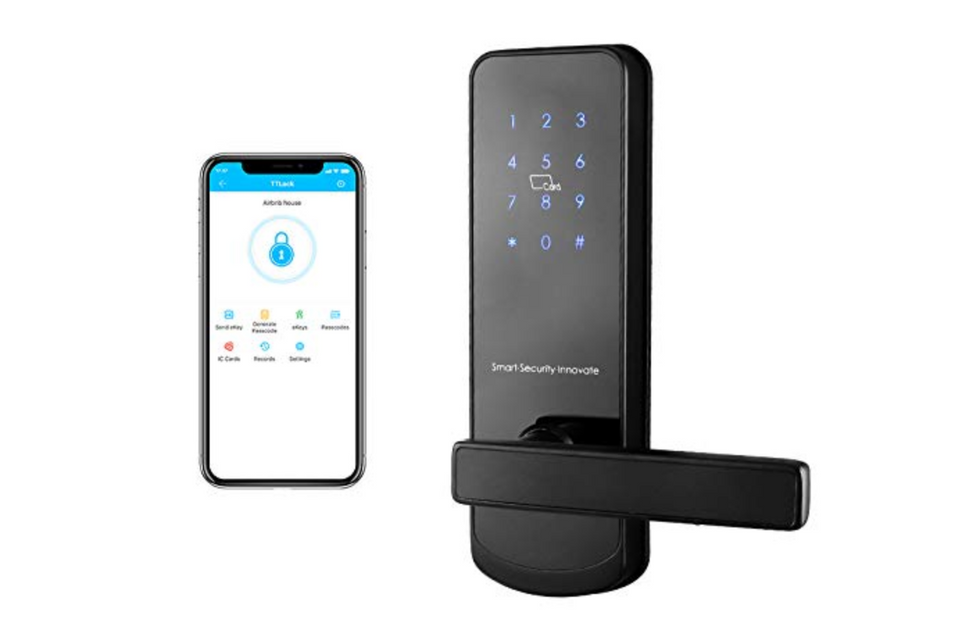 This lock works with a keypad and smartphone app via BluetoothYRHAND
While the above locks can all tap into your existing smart home system, there are several other options which work solely with their own smartphone app. They aren't aimed at buyers who want a door lock to talk to their other devices, or one which works with Alexa, but they still offer a degree of smartness.

One example is the NX1 touch screen door lock by YRHAND. This level lock has an integrated touch screen keypad, but can also be unlocked with a Bluetooth connection to the manufacturer's smartphone app.
Alternatively, you can buy a Wifi gateway, and once this is connected to the lock it can be operated remotely — for example, if you need to let in a friend while you're not home.
Ultraloq UL3 BT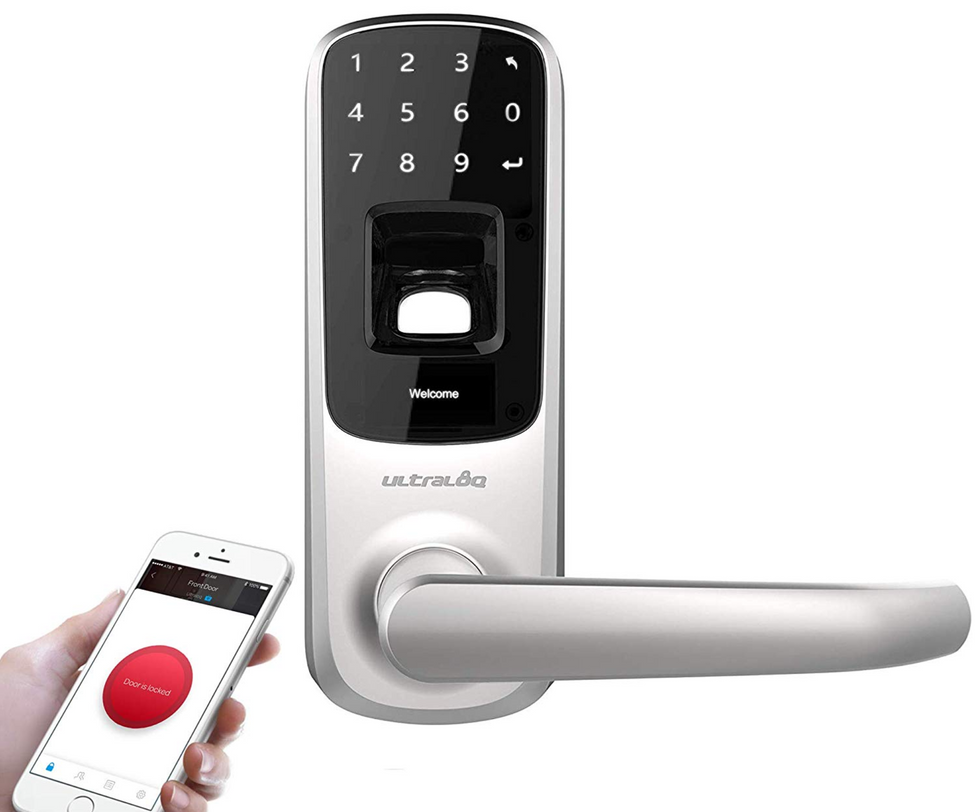 Bluetooth means this can be unlocked with a smartphoneUltraloq
Another semi-smart option is this from Ultraloq. It has the same lever lock design as the others shown in this article, and can be unlocked with a passcode, fingerprint, or your phone smartphone via a Bluetooth connection.

There is also an Android-only feature where you can shake your phone (when in Bluetooth range of the door) to open the lock, without needing to first unlock your phone and open the Ultraloq app. The lock also comes with a mechanical key for peace of mind, although there is no Wifi, so no support for Alexa, Google Assistant, Apple HomeKit and other smart home systems.
Like GearBrain on Facebook