Like GearBrain on Facebook
After a couple of teasers about its display and sound capabilities, LG has finally revealed its new flagship Android smartphone, the G7 ThinQ.
LG's focus for the G7 ThinQ is on the device's display and its sound quality, both of which were teased by the company before the phone was fully unveiled. Rated at 1,000 nit, the screen is the brightest of any smartphone on sale today, LG claims, and the most vibrant too.
GearBrain has spent some hands-on time with the LG G7 and we were impressed — the screen really is extraordinary when seen in person. But as well as being bright, LG has worked to ensure the display consumes less power than before — the result is a claimed 30 percent decrease in power consumption compared to last year's G6.
Also new is how the display uses a slightly different screen ratio compared to its predecessor, as it is now 19.5:9 instead of 18:9 - this makes the screen appear slightly taller and narrower, a move which should make the phone easier to grip securely in one hand.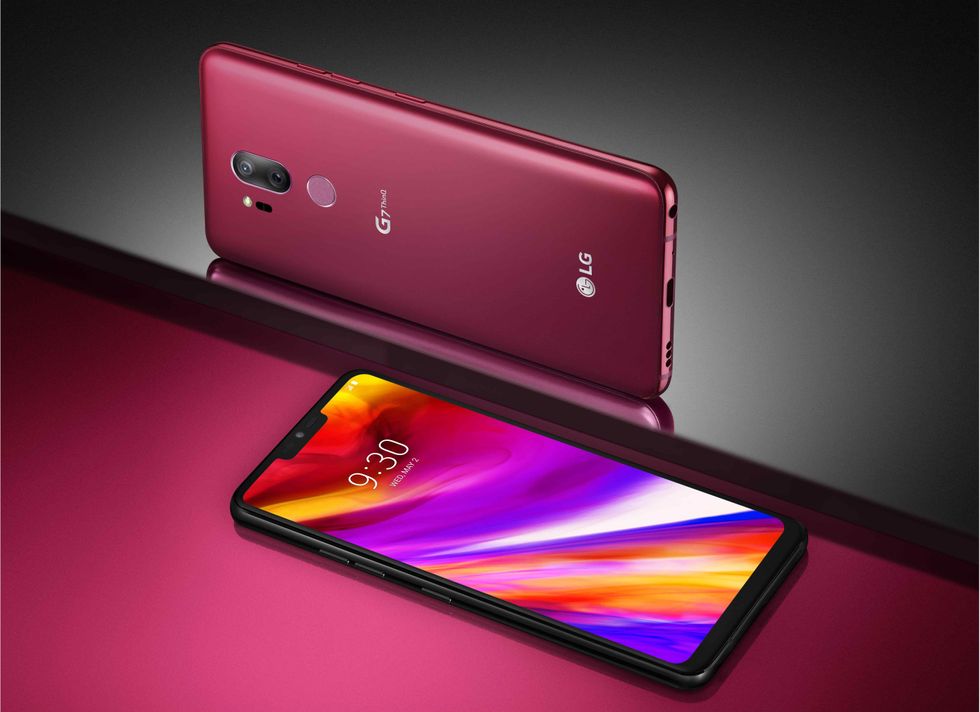 LG
The 6.1-inch, edge-to-edge display has a resolution of 3120 x 1440, and a notch at the top, just like the iPhone X. However, unlike on the Apple flagship, the G7's notch can be 'removed' by adjusting a setting so that a black bar appears at the top left and right corners of the screen, effectively blanking out the notch. Huawei performs a similar trick with its new P20.
At 153.2 x 71.9 x 7.9mm, the G7 ThinQ is slightly larger than the iPhone X is every direction, which measures in at 143.6 x 70.9 x 7.7mm. The Samsung Galaxy S9, perhaps the LG's closest rival, is a relatively compact 147.7 x 68.7mm, but is a little fatter than its competitors, at 8.5mm.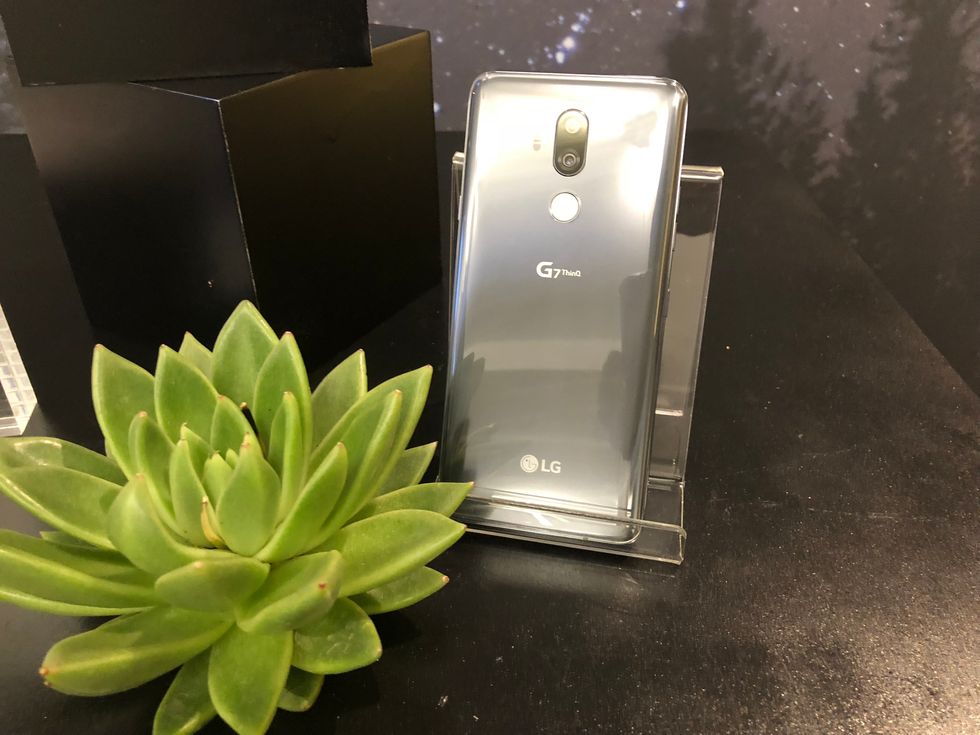 GearBrain
Another key feature of the LG G7 is its "Boombox Speaker". This more than doubles the phone's bass output (an increase of over 6dB) and, LG claims, means sound levels are more than 10 times louder than a typical smartphone. This is possible, LG says, because of the way the inside of the phone has been designed to act as a sound resonance chamber — and placing the phone on a table makes it louder still. We'll look forward to putting LG's room-filling audio claims to the test.
High-end headphone users will be pleased to hear the G7 has Hi-Fi Quad DAC and the addition of DTS:X support — apparently a first for any smartphone - promises to produce 7.1 surround sound, even if you just use regular earphones. This is clearly a counter strike against Samsung, which gave Dolby Atmos to the Galaxy S9 earlier this year.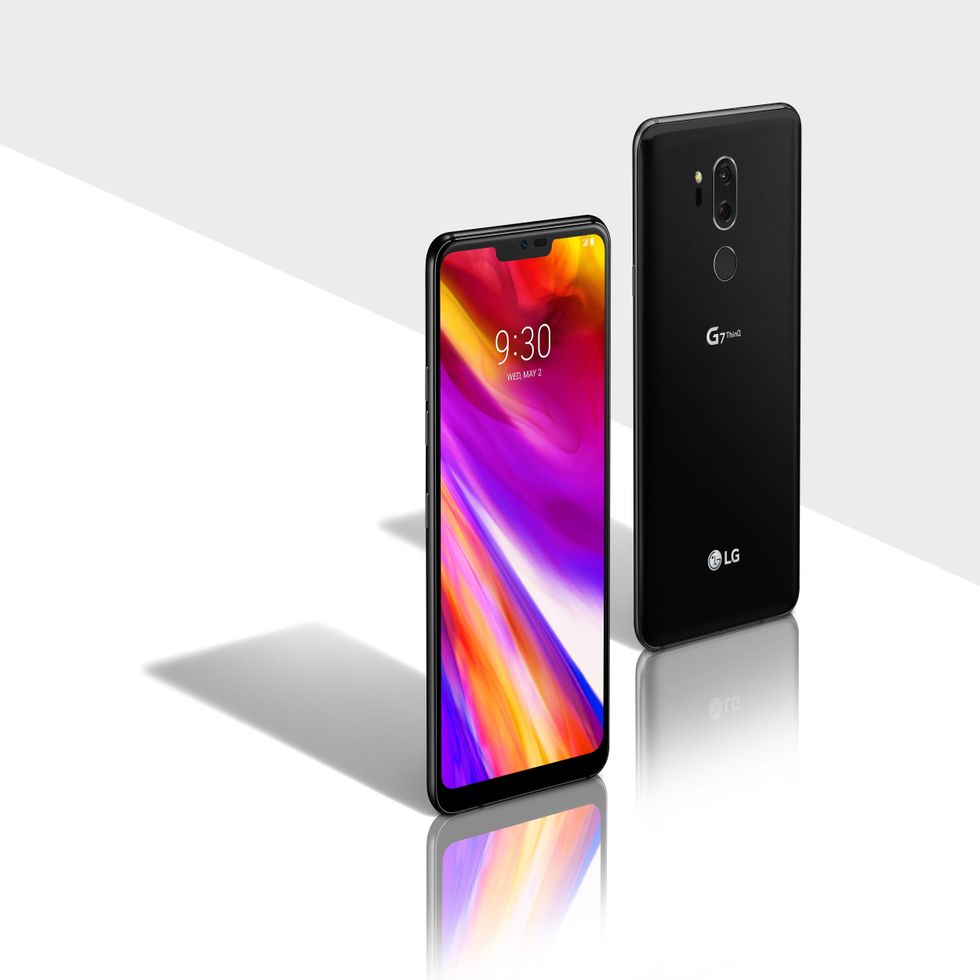 LG
Turn the LG G7 ThinQ around, and you are greeted by a dual-lens rear camera. This is made up of two, 16-megapixel sensors, one with a telephoto lens of F1.6 aperture, while the other is a 107-degree wide angle lens with an aperture of F1.9.

The ThinQ part of the phone's name — shared with a whole range of smart home appliances made by LG - comes into play when using the G7's camera. It uses artificial intelligence to analyze the scene and adjust the camera's settings to best fit one of 18 defaults, depending on what you are shooting. These defaults include flowers, pet, sunset, city, animal, beverage, fruit, sky, snow, lowlight and - good news, Instagramers - food.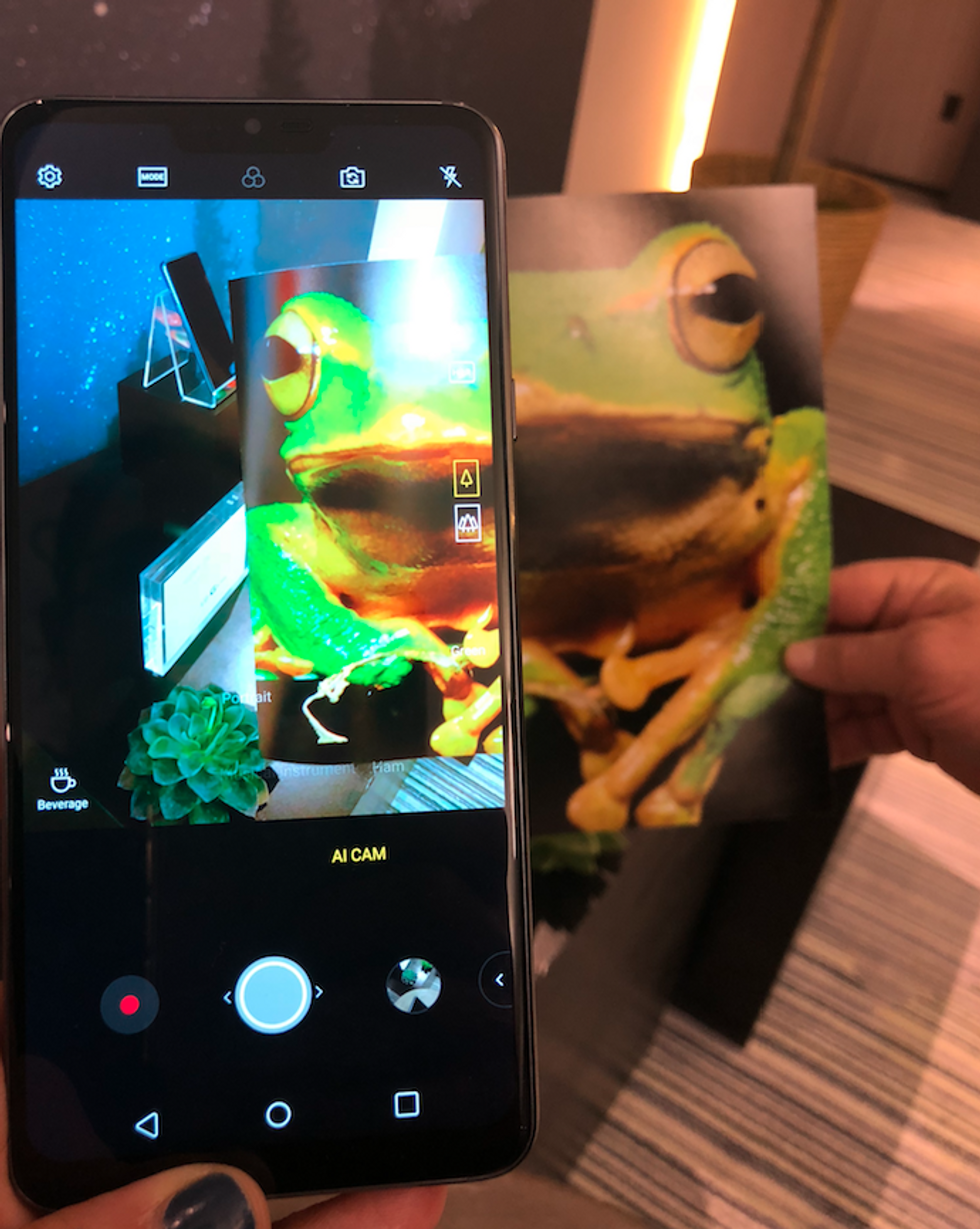 Here, the AI camera has identified the photograph as a portraitGearBrain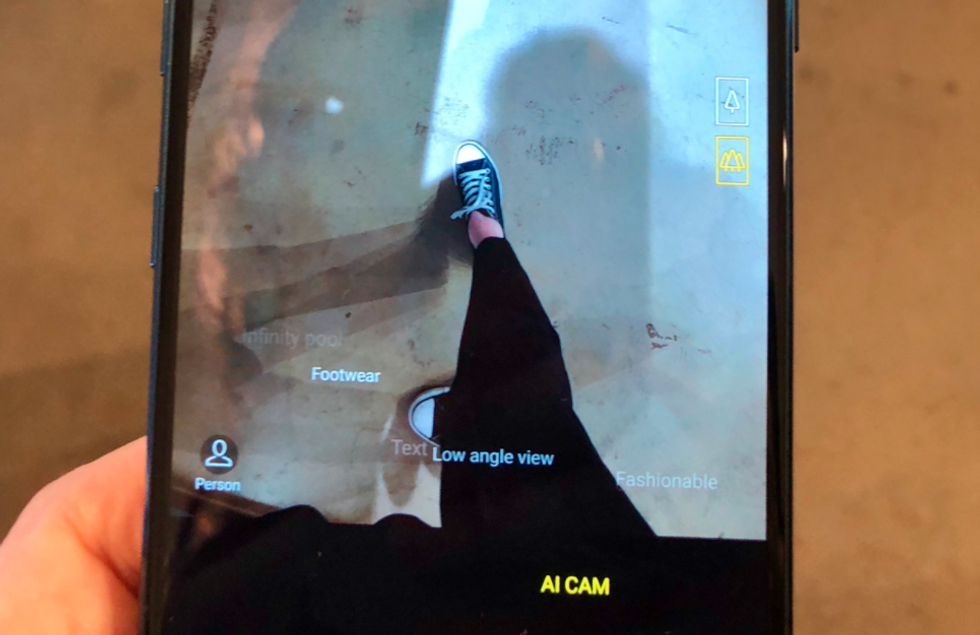 The AI camera recognized our shoe as 'footwear' and even 'fashionable'GearBrain
The front camera - which can focus on up to five faces at once - has a resolution of eight megapixels and an aperture of F1.9. As is the case on all of today's flagship smartphones, both of the LG's cameras use optics and smart image processing to blur the background, creating the 'bokeh' effect usually only seen with SLR cameras. Phones like the Google Pixel 2 produce this with excellent results, while others — like the iPhone 8 and X - struggle to blur neatly around the subject. Well are interested to see how the LG gets on.
An interesting detail is that LG has fitted a dedicated button for Google Assistant on the side of the phone. Samsung caught a lot of flak for its dedicated Bixby button on the S8, Note 8 and S9, so it will be interesting to see how consumers react to LG's approach here. We suspect Google Assistant will go down better than Bixby did, but not letting owners use the button for anything else is a brave move. In fact, we are already hearing suggestions that LG might back down on this and let users assign the button to something else soon after launch.
The LG G7 ThinQ has 4GB of RAM and 64GB of storage in the US - compared to 6GB of RAM and up to 128GB of storage in other markets — and is available in Platinum Gray, Aurora Black, Moroccan Blue and Raspberry Rose. It will be up to the carriers to decide on which colors they sell, and how much the phone will cost. What we do know, is that LG will update the G7 Thinq to Android P once Google's new software becoming available later in 2018.
Like GearBrain on Facebook