Like GearBrain on Facebook
LG has announced that its new QNED televisions will be coming to the US from July and arrive in other territories in the coming weeks.
Announced back in December 2020 and detailed at the virtual CES technology show a month later, the televisions will sit below the company's flagship OLED screens.
Read More:
LG's QNED range includes a 4K resolution TV called the QNED90, which is available in screen sizes from 65 to 86 inches. Above this there are a pair of 8K QNED televisions called the QNED99 and the QNED95.
Standing for Quantum Dot NanoCell, the QNED screens use the same mini LED technology we have seen from other manufacturers over the past couple of years. Where regular LED-backlit LCD televisions use just a handful of lights to illuminate their screen, mini LED (and therefore LG's QNED televisions) use thousands of tiny LED bulbs instead.
This gives the TV more precise control over its brightness levels right across the display panel, making for improved contrast ratios. In the case of LG's flagship 86-inch QNED99 this means 30,000 LED bulbs illuminating the display panel from behind. These bulbs are split into 2,500 local dimming zones for what LG claims delivers a 10x better contrast ratio than a conventional LCD television.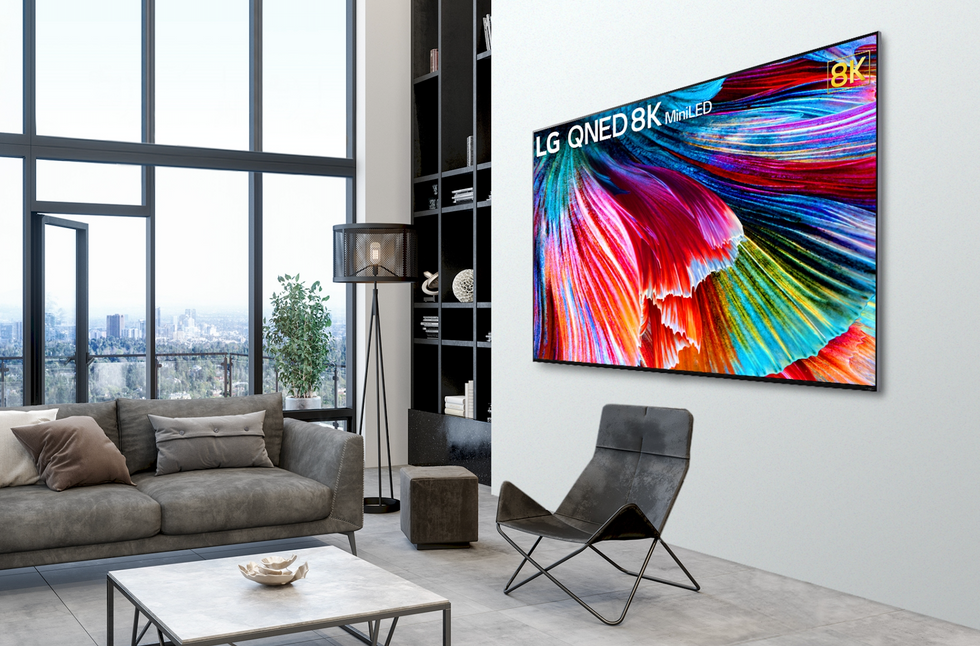 The QNED range includes 4K and 8K resolution displaysLG
As for how these QNED panels compare to LG's OLED flagships, they should offer greater brightness, but won't have the same black levels and contrast as OLEDs. As a reminder, the O in OLED stands for organic and means the LEDs illuminate naturally instead of being backlit by LEDs. This makes for improved contrast, as each pixel of the television controls its own brightness levels.

Looking at the rest of the specifications of these QNED televisions, you will find support for Dolby Vision HDR, HLG and HDR10, brightness levels of up to 3,000 nits, Dolby Atmos sound, and 120Hz refresh rates on all models, making them perfect for next-generation game consoles. As far as smart home tech is concerned, the televisions have ThinQ, webOS, Apple AirPlay 2 and support for HomeKit.
Prices start at $1,997 for the 65-inch 4K model, while the 75- and 86-inch models are $2,997 and $3,997 respectively. Prices then leap to $3,497 for 65 inches, $4,797 for 75 inches and $6,497 for the 86-inch model. LG is yet to give prices for the 8K display.
Like GearBrain on Facebook