Like GearBrain on Facebook
Announced back at CES in January, LG is finally ready to put its new range of smart AI-powered home appliances on sale.
Rather than simply being connected to your other devices and controlled with a voice assistant or smartphone app, the appliances will use the company's ThinQ-branded artificial intelligence to help them run smoothly and predict problems before they break down.
Read More:
Initially, the service will come with LG's new front-load washing machines and refrigerators sold in France, Germany, Italy, Spain and the UK this fall, before coming to North America and further European markets in 2020.
Save $550 on LG - InstaView Door-in-Door 27.8 Cu. Ft. 4-Door French Door Refrigerator at Best Buy
LG says the artificial intelligence of these appliances will "alert users to issues with their LG appliance and offer helpful tips and solutions to maximize performance and long product life."
Described as a "proactive" AI, the system is said to "inform LG smart appliance owners of potential problems before they even occur." The system can arrange for a technician to visit your home and inspect the appliance at the first sign of something going wrong, rather than waiting until a total failure.
When the AI spots a problem — such as fluctuations in the temperature of a freezer compartment — it will alert the owner and give them instructions for fixing the issue. In the case of a freezer working incorrectly, the AI continuously looks for issues that could lead to increased energy usage and water consumption, then give the owner guidance on what to do about it, improving efficiency and saving them money.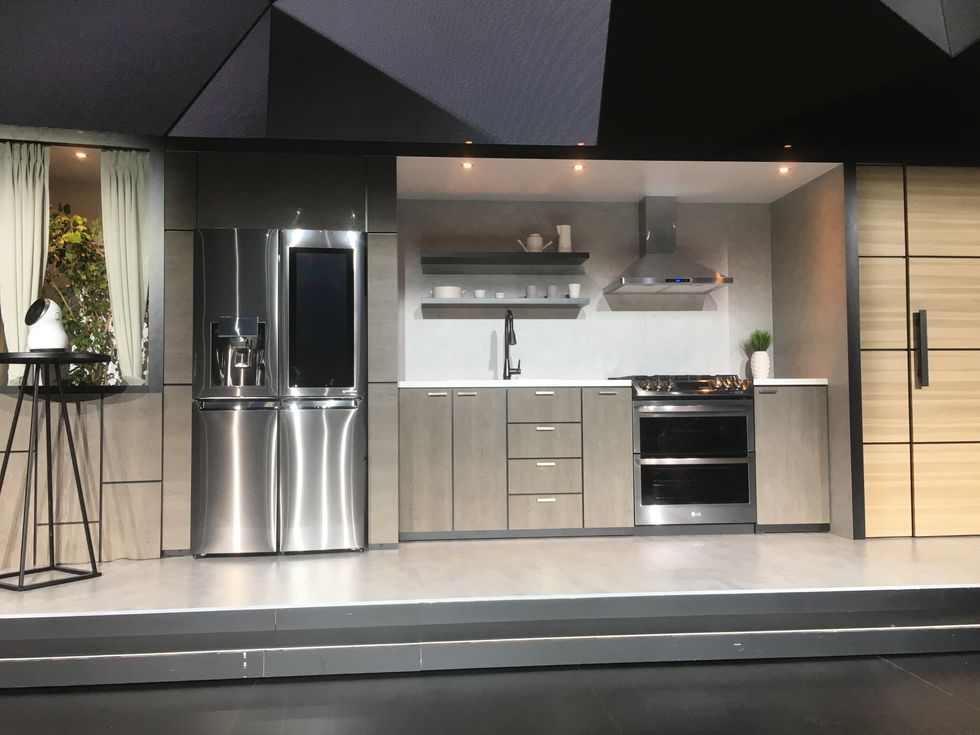 LG first showed off its AI-powered smart kitchen at the CES tech show GearBrain
We welcome this move from LG, as it not only helps owners get the most out of their appliances and potentially prevent the cost of a serious breakdown (or excess water and electricity usage). But it also takes the smart home to the next level, where technology begins to think for itself, proactively asking for help when something is wrong, rather than merely being controlled by us, and only ever doing exactly as we say.

We see a future here where, for example, a washing machine could use AI to warn us about using too much detergent, a dryer could remind us to clean the filter, and a fridge could suggest we put our food on different shelves to make it stay fresh for longer.
LG is clearly interested in making the smart home more intelligent, but in a way which is actually useful instead of just for show. In May this year, the company announced a new AI chip which it said would help smart home products think more like a human brain, using a neural network. LG said at the time: "The chip...makes it possible to implement customized AI services by processing and learning from video and audio data in order to enhance recognition of the user's emotions and behaviors and the situational context."
The first smart home appliances with LG's new artificial intelligence will be on the company's booth at the IFA technology show in Berlin, which runs from September 6-11.
From Your Site Articles
Related Articles Around the Web
Like GearBrain on Facebook