After the holidays, everyone seems to go into health mode. They look for new ways to take off the weight they just put on from eating and drinking a lot with family and friends. It's not surprising to see health apps become popular at this time of the year. Also, weight loss programs advertise everywhere with the hope you will sign up and let them help you lose those extra pounds. However, over the past few years we have seen new smart health devices come to market with pioneering ways to help you lose weight. We've seen fitness trackers and smartwatches integrated with smart health apps to assist in your weight loss program. And there are new smart scales which can track your weight and provide tips on what to eat. But this year, we have come across a new device that helps you lose weight by tracking your metabolism. It's a hand-held metabolism reader called Lumen and we got to test it the past few weeks. Here is what we found.

What is Lumen?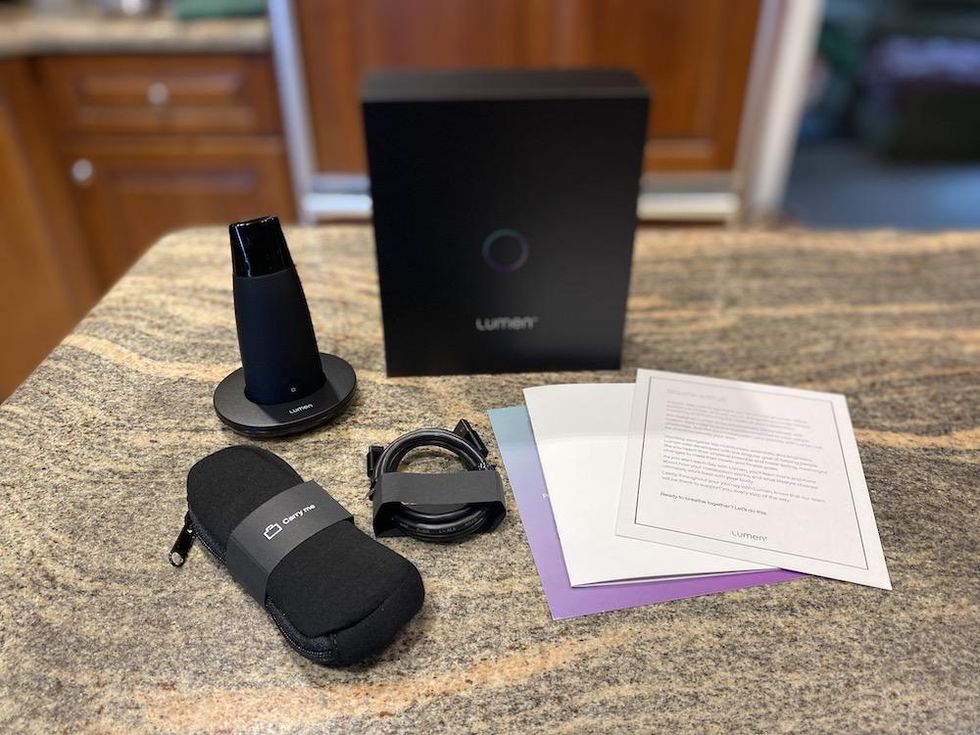 Lumen unboxed on a countertop
GearBrain
Lumen is a portable handheld metabolism reader. It's a smart device which you breathe into to measure your body's metabolism. The device uses a CO2 sensor and flowmeter to determine the CO2 concentration in your breath. It has been scientifically proven for metabolism measurement. According to the company and multiple validation studies, Lumen meets the gold standard of metabolism measurement (RER).
Why is this important? Your body's metabolism is connected to your body's sleep, physical activity and nutrition. By measuring your metabolism, you can learn what to eat and when to live a healthy life. By breathing into the Lumen device, Lumen can provide this information and more. It can tell you are ready for a tough workout or need to eat something before the workout. And it can help you learn the impact of your workout on your body.
To help you keep track of your progress and learn if you are improving or not, Lumen provides a Flex Score. This is your success metric. The Flex Score helps you discover what to do to live a healthy lifestyle.
How does Lumen Work?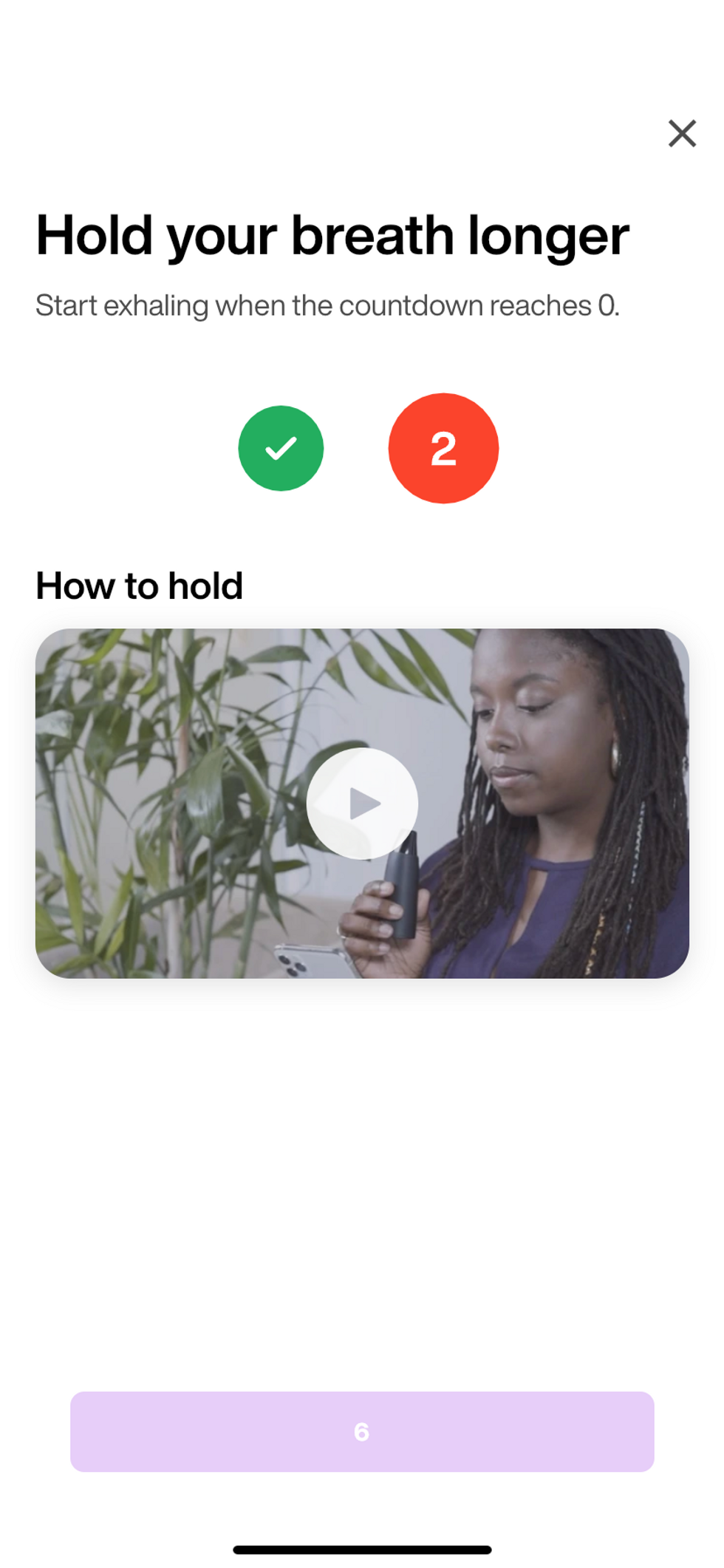 Breath into your Lumen and it will read your breath through a CO2 sensor and flowmeter.
GearBrain
Every morning when you breathe into your Lumen you can see the source of your body's energy. It can see if you are burning carbs, fats or both. Once it detects how much of each your body is burning, it creates a daily nutrition plan to help train your metabolism to use the food you eat more efficiently. And over time, when your metabolism is more flexible, your body can burn fat instead of carbs, which can help you lose weight as well as help you keep it off.
How to Setup Lumen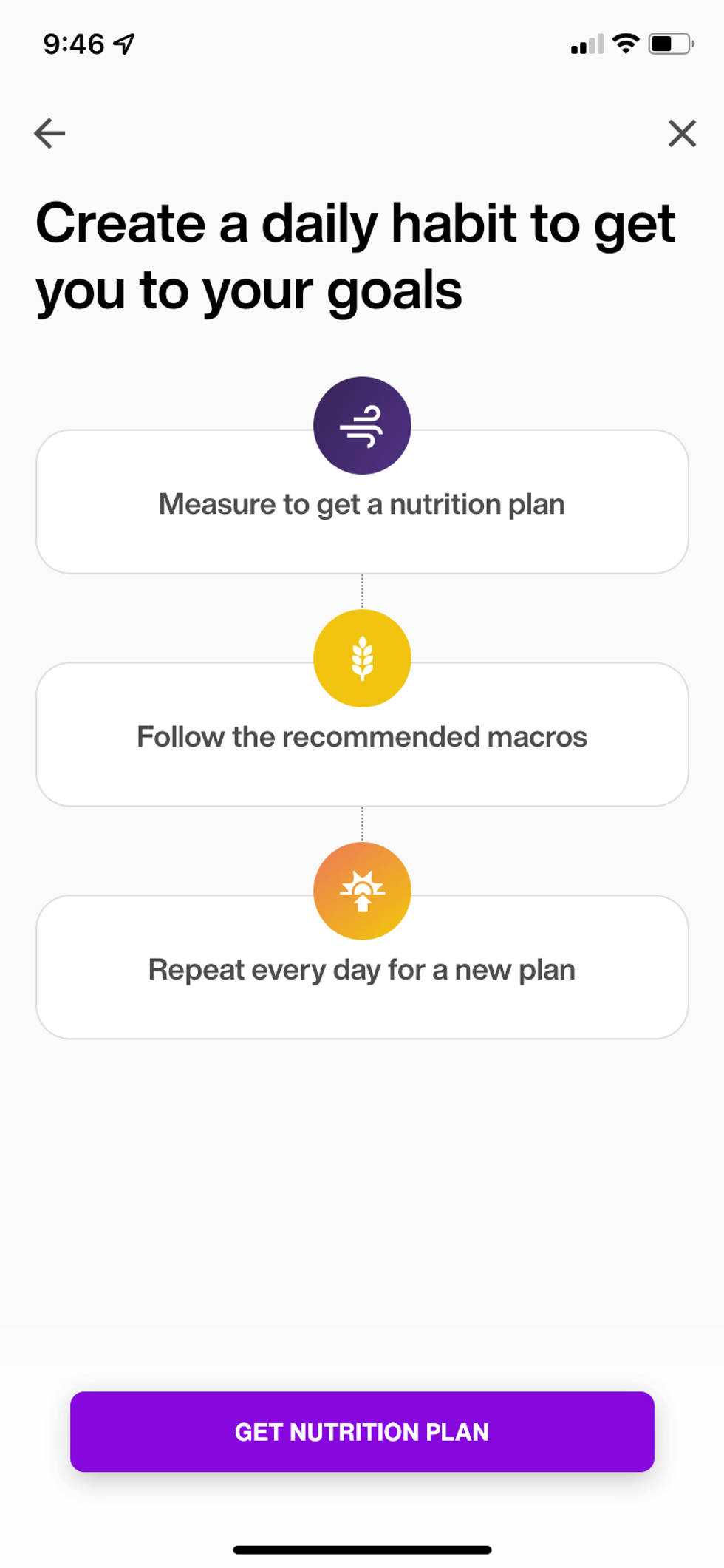 Lumen app will provide instructions on how to setup your Lumen and pick the right plan.
GearBrain
Setting up your Lumen is simple. It connects to your smartphone via Bluetooth connection. The first thing you'll need to do is charge your Lumen before you start. While it's charging you can download the Lumen app from either the App Store or Google Play. Lumen works with both Android and IOS smartphones.
Once your Lumen is powered up you could start the setup process in the Lumen app. We recommend you follow the instructions in the app. They're easy to follow and we'll get you up and running in no time.
After setup is completed, you can start using the Lumen. What's unique about Lumen is its real time tracking of your metabolism. With unlimited measurements it can track your activity, sleep and provide workout optimization recommendations all by breathing into this little device. It also integrates with Apple Health app, Google Fit and Garmin IQ fitness app.
When should you use your Lumen?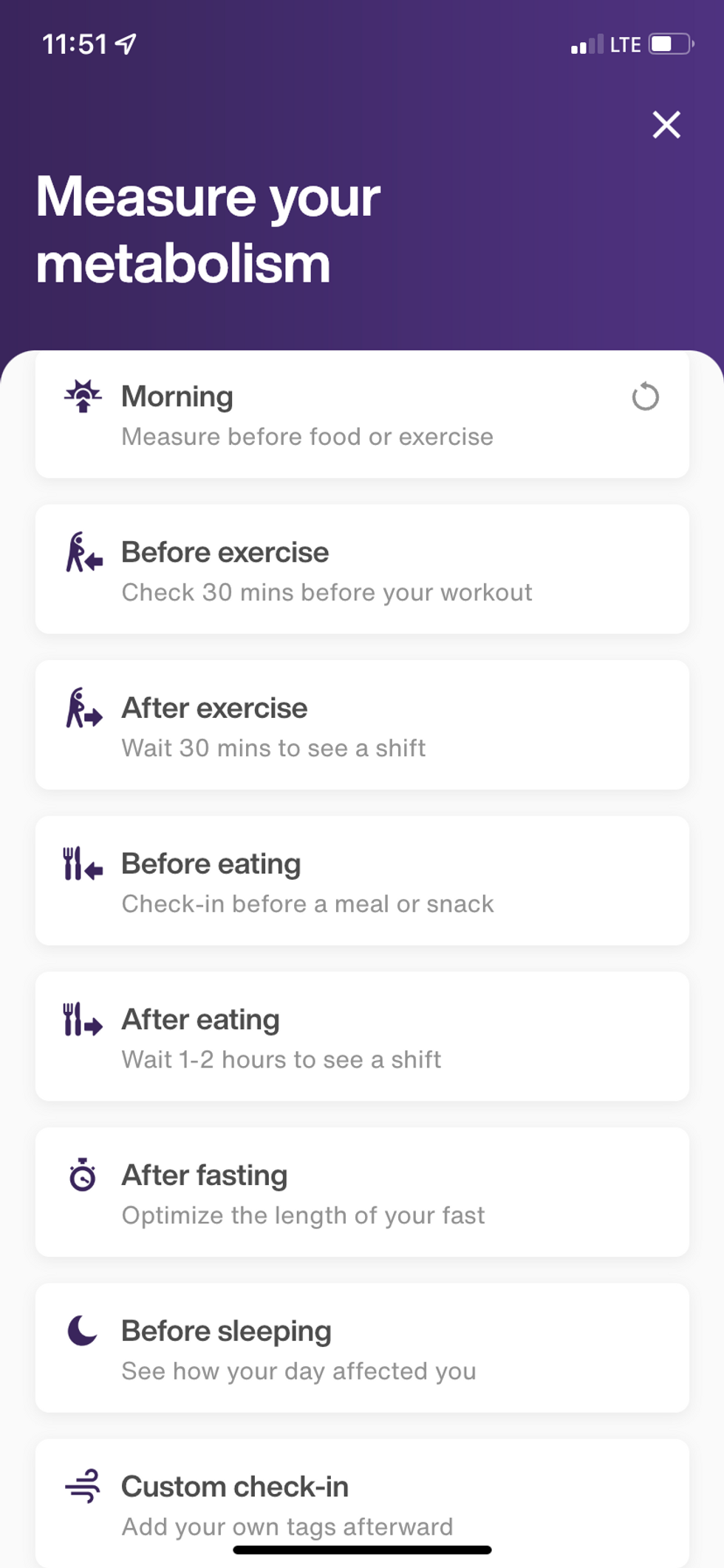 Lumen app will guide you on when to breath into your Lumen reader.
GearBrain
You should use it when you first wake up, half hour before exercising, half hour after exercising, and before and after you each meal. Now that sounds like a lot, and it is a lot. But the more breaths you measure, the greater amount of data Lumen can analyze to give you better insights into your metabolism and how your body burns fats and carbs more efficiently and effectively.
Does Lumen Actually Work?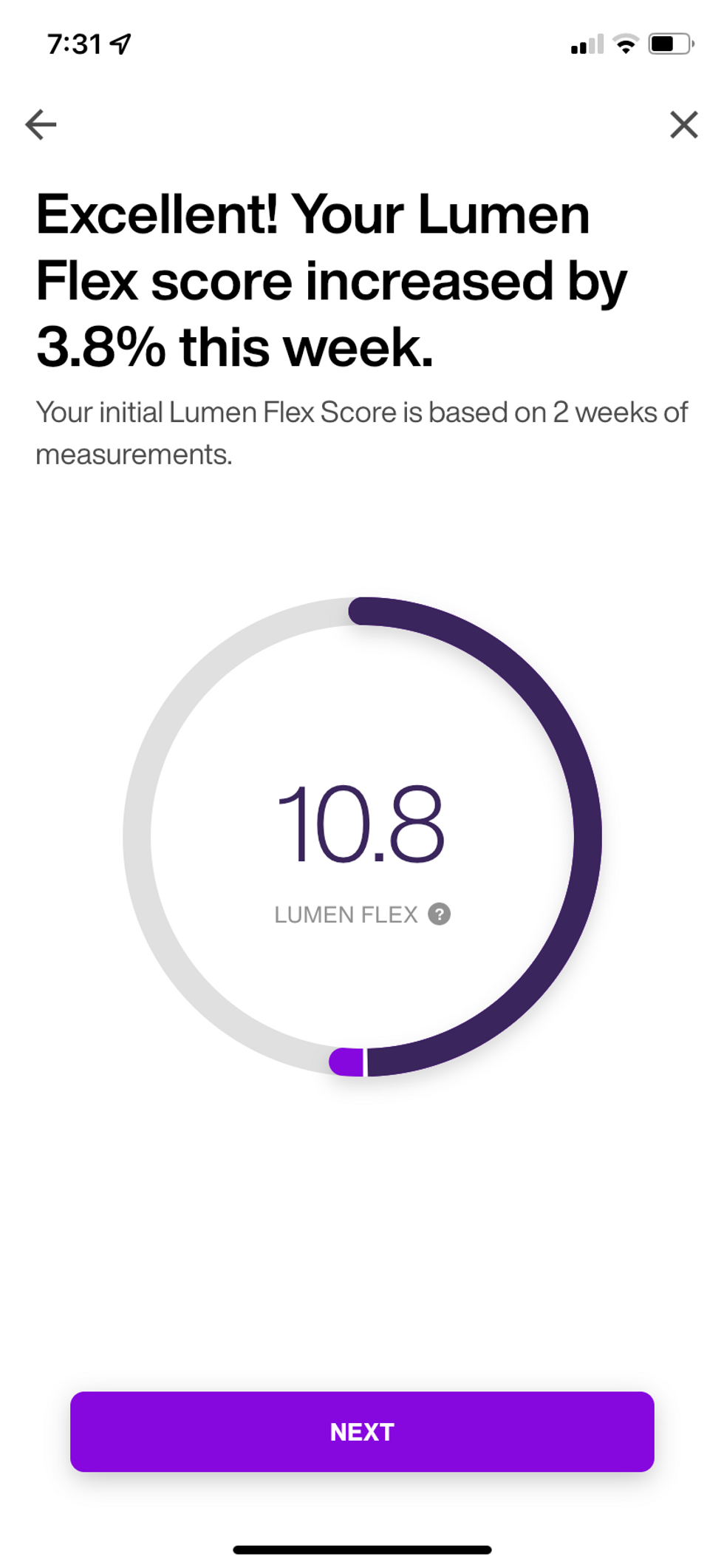 Our flex score increased week over week and we lost weight. so it worked.
GearBrain
The first thing I liked about Lumen was how easy it is to use and how it provides a daily view and weekly report of your metabolism. The weekly report shows you how many mornings you woke up after burning fat while you slept, how many hours of sleep did you average a night, how many hours of overnight fasting did you average for the week, how many carb servings did you have for the week that went over your goal and how many steps you did for the week. All these data points are shown in a weekly email or on your phone in the Lumen app for you to keep track.
Lumen also offers nutrition coaching. These are your daily personalized nutrition plans that Lumen has determine will help you learn what to eat and when after analyzing your breaths. They provide meal suggestions and recipes as well as intermittent fasting insights on what you should eat to help you with your metabolism.
How much does Lumen cost?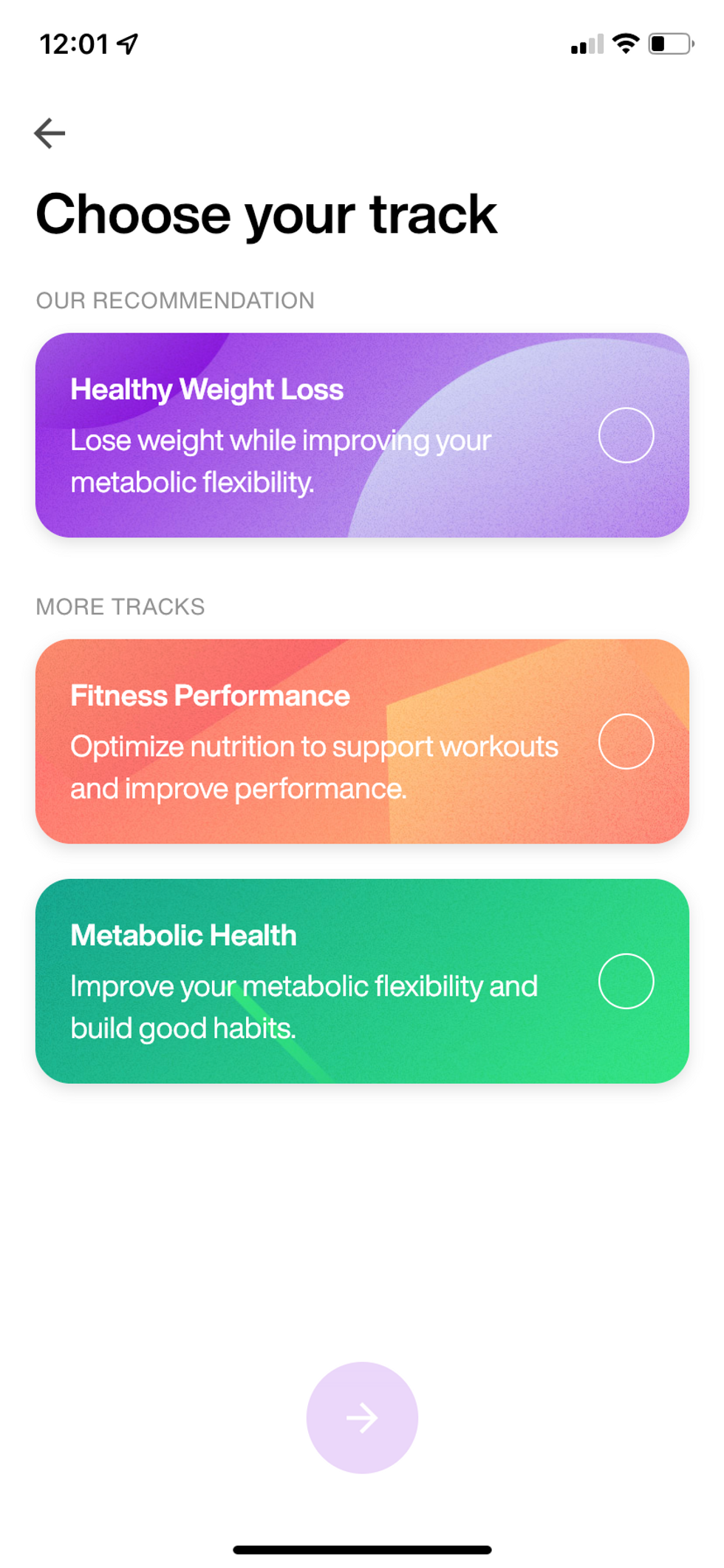 Lumen comes with any of the three tracks that you want to help you lose weight.
GearBrain
The Lumen device is available on the company website and comes with a travel case, charging stand, power adapter, instructions and 30-day money back guarantee. You must sign up for one of the three different tracks when purchasing your Lumen. The tracks are plans which work with the device and provide guidance on how to lose weight and live a healthy lifestyle. The Lumen will not work without a track. The three plans are Metabolism Booster, Advanced Fat Burn, and Optimal Health. Note: for all GearBrain readers, if you use the promo code "gearbrain30", you will get a special discount: $30 off.
Metabolism Booster Plan costs $249 for a six-month track. After the first six months it will renew at $25 per month and you can cancel at any time. This plan is for individuals who want to learn about their metabolism, lose weight and shift to fat burn.
Advance fat burn plan costs normally $399 but is available on the company website four $299 for a 12-month track. This is $100 savings. This plan is for individuals who want to enhance their metabolism, lose weight and keep it off. It's also a 12-month plan that renews annually but you can cancel at any time.
The last plan is the Optimal Health Track. This plan normally costs $449 but is available on the company website for $349, a $100 savings. It's an 18-month track for people who are on a weight loss journey to improve their overall health. It renews annually after the 18th month, and you can cancel at any time.
See Benefits from Using Lumen, a Metabolism Reader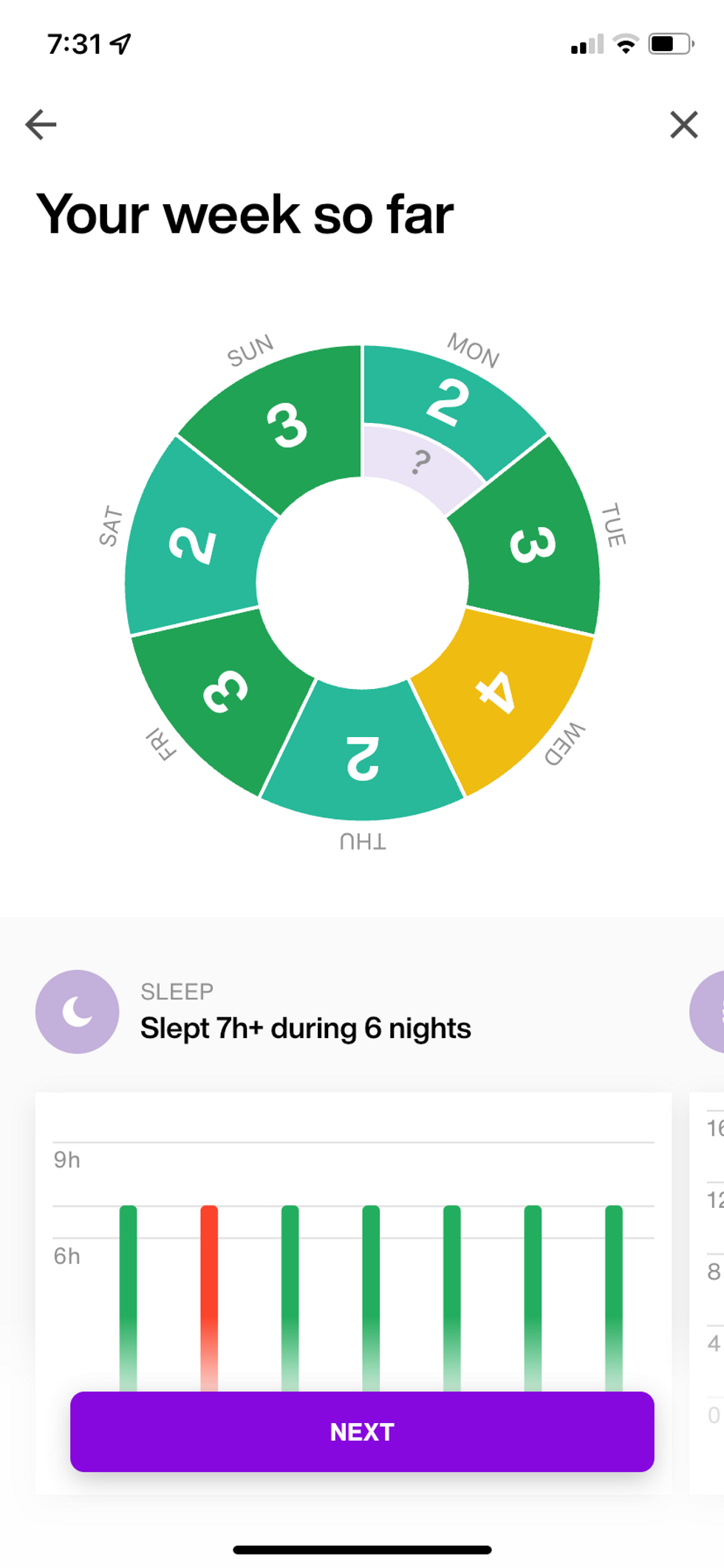 Every week Lumen provides a report to show you how you did the previous week. It helps track your progress
GearBrain
One interesting insight we learned from using our Lumen was the impact fasting has on your metabolism and how it can help your body reach the fat burning stage. According to Lumen, "fasting is a key strategy for improving your metabolic flexibility by pushing your mitochondrial density to burn more fat and improve your insulin sensitivity." They found from Lumen users who fast longer are more likely to reach fat burn than users who don't fast. During our tests, I learned the longer I slept or fast I could see in my readings I was burning fats instead of carbs. This was something I had no idea I could do.
But how long should you fast? I was under the impression that it's not good for your body to fast for long periods of time. And you should eat small bites throughout the day. According to Lumen, if you fast too long, your body could go into stress mode and cause your metabolism to increase to high levels, especially when compared to a morning measurement.
We tested Lumen for a few weeks and found you need to be dedicated for Lumen to work correctly and get the readings which help you learn what is impacting your body so you can live a healthy lifestyle. Taking breaths was the at first challenging. You must inhale so the ring in the center of the app expands into the outer ring. Then you need to hold your breath for about 15 seconds. The app will countdown the time for when you need to exhale into the device slowly. When exhaling, you will see a line and a ball on the app's screen. You need to master keeping the ball in the middle of the line while you exhale. If you breathe in too fast or exhale too slow or fast, Lumen will not get a reading and will instruct you to take the breath again. For our tests, mastering the breathing was a challenge in the beginning, but we were able to figure it out and it became second nature for us.
As I mentioned, you need to be dedicated when using Lumen. But once you get the hang of it and the more you use it throughout the day, the better the readings and data you get to learn how to achieve your goals.
We do like how Lumen integrates with Apple Health devices and other health apps on your smartphone. We had no problem setting that connection up and seeing the readings integrated into the Lumen report. The added data gives a more stable reading of our metabolism. Also, we liked how our Apple Watch captured our activities like steps and workouts and automatically inputted the data to Lumen app.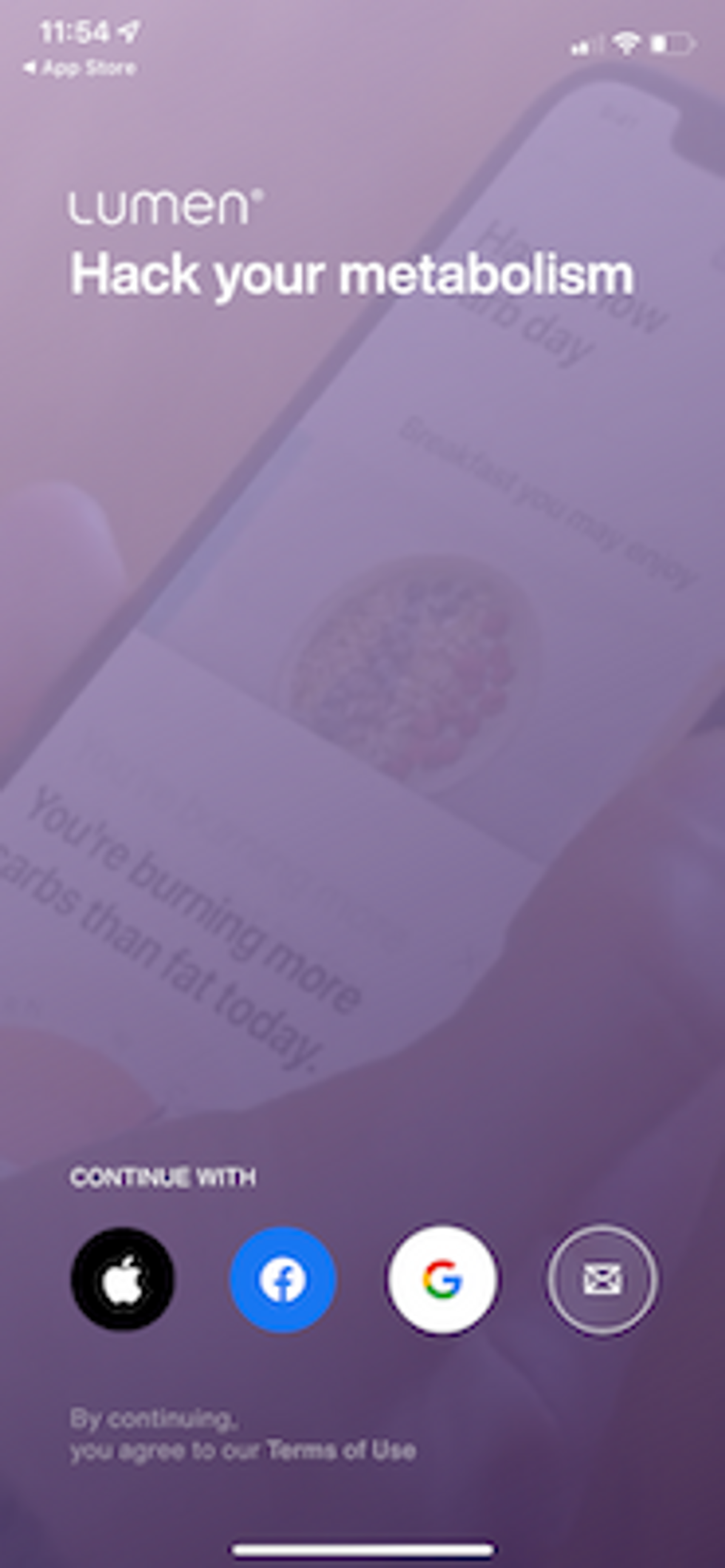 Lumen works with Apple Health, Google Fit and Garmin IQ to help you lose weight.GearBrain
Summary

Lumen is a unique and innovative health device that can give you good insights into your metabolism. It can also provide guidance on how to eat better, when to eat or not eat which could lead to weight loss.
If you are a health-conscious workout animal or just the casual walker who's looking for an innovative way to understand if their metabolism is working or not working, Lumen might be the device for you. Though you must be dedicated and breath into the metabolism reader multiple times a day no matter where you are, it offers a unique method to help you lose weight by looking at how your body is burning energy, fats and carbs. It also teaches you how to maintain weight once you burned enough carbs and fats.

Is Lumen too expensive? After looking at what the weight loss programs like Weight Watchers or other fitness devices that measure your metabolism like Whoop, (a new biometric wearable) Lumen's lowest cost track (Metabolism Booster) is more expensive than online weight loss programs but equal to or less expensive than smartwatches and fitness trackers that track your skin temperature, blood oxygen levels and more. And keep in mind, none of these health devices can read your metabolism.
Overall, we recommend you first decide what are you willing to spend for a healthier lifestyle. Then determine what is the best way for you to achieve your goals. After testing Lumen for weeks and having experienced using weight loss apps and devices, this new metabolism reader is a good health device to consider using to help you achieve a healthier lifestyle. It is a new approach to losing weight and eating right which we have never seen before. And it worked in helping us lose weight. So, Lumen might not take your breath away, but it will help you use your breath to take the pounds away and live a healthier lifestyle.
Pros
Innovative approach to lose weight – fasting, nutrition and workout recommendations
Integrates with Apple Health, Garmin IQ and Google Fit
No monthly contracts with 30-day money back guarantee
Cons
Need to breath into device throughout the day
Takes time to learn how to breath correctly into metabolism reader
Price
How to Find Products in The GearBrain, Our Compatibility Find Engine for Smart Devices www.youtube.com