Mercedes-Benz and Bosch have earned approval to begin offering a driverless valet parking service to the public. The service will be available at the Mercedes museum in Stuttgart, Germany.
In development since 2015, the parking lot lets visitors driving compatible Mercedes vehicles leave their car at the entrance. They then tell the car to go find a parking space using a smartphone app; the car then drives to the space and parks, before returning to the visitors at the exit once they are ready to leave.
Read More:
The system works by integrating the car's own semi-autonomous driving systems with sensors installed throughout the multi-storey parking lot. When visitors to the Mercedes museum are ready to leave, they use the smartphone app to ask their car to come and meet them at the exit.
Until now, the system could only be used with a safety driver in the car, ready to take over in case something went wrong. But with this week's approval from the Stuttgart regional administrative authority, the autonomous valet parking service can be used by the public and without safety drivers.
Bosch claims this special approval - partly given because the driving takes place on private land - means the Mercedes Benz Museum Stuttgart is now home to "the world's first fully automated driverless SAE Level 4 parking function to be officially approved for everyday use."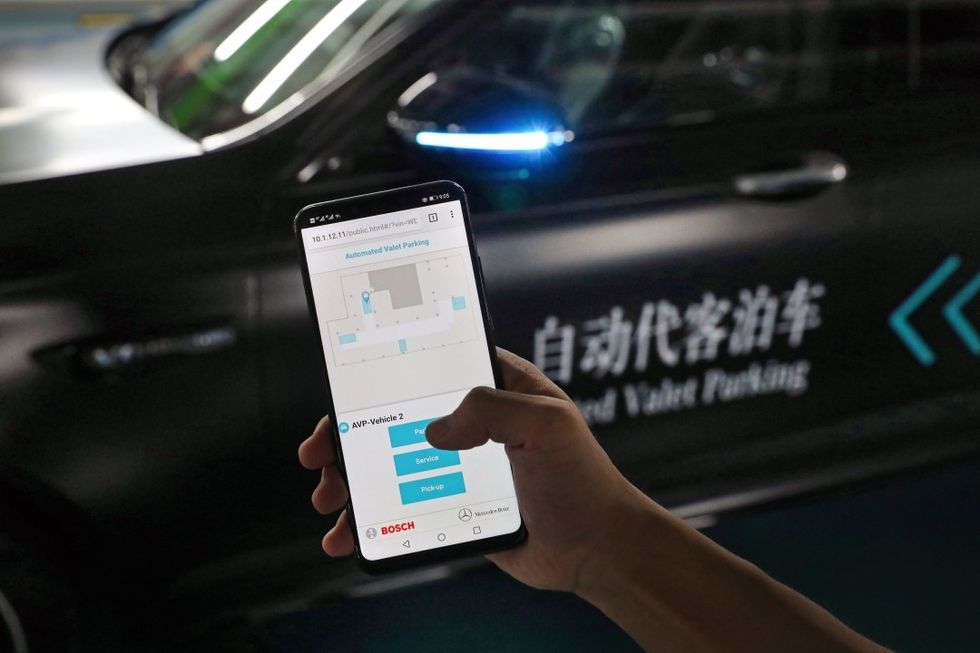 Cars are sent to a parking space, and requested to come back again, via a smartphone appDaimler / Bosch
Dr. Markus Heyn, member of the board of management of Robert Bosch, said: "Driverless driving and parking are important building blocks for tomorrow's mobility. The automated parking system shows just how far we have already progressed along this development path."

Dr Michael Hafner, head of drive technologies and automated driving at Daimler, parent of Mercedes, said: "This approval...sets a precedent for obtaining approval in the future for the parking service and parking garages around the world...as a pioneer in automated driving, our project paves the way for automated valet parking to go into mass production in the future."
As part of the development and approval process, the system's ability to react to pedestrians and other vehicles was tested, as well as cars' ability to reliably complete parking manoeuvres.
Bosch explains how the system works: "Bosch sensors in the parking garage monitor the driving corridor and its surroundings and provide the information needed to guide the vehicle. The technology in the car converts the commands from the infrastructure into driving manoeuvres. This way, cars can even drive themselves up and down ramps to move between stories in the parking garage. If the infrastructure sensors detect an obstacle, the vehicle stops immediately."