Like GearBrain on Facebook
Bluetooth headphones with active noise cancellation (ANC) are an almost necessity today, whether you're working from home, studying from home or just needing some muted silence. Monoprice BT600 ANC is a very fairly priced pair of Bluetooth headphones, offering both noise cancellation and ambient mode, and host of other features. The company sent us a pair to test, and we used them during phone calls, web conferences, and more. Here's how they fared.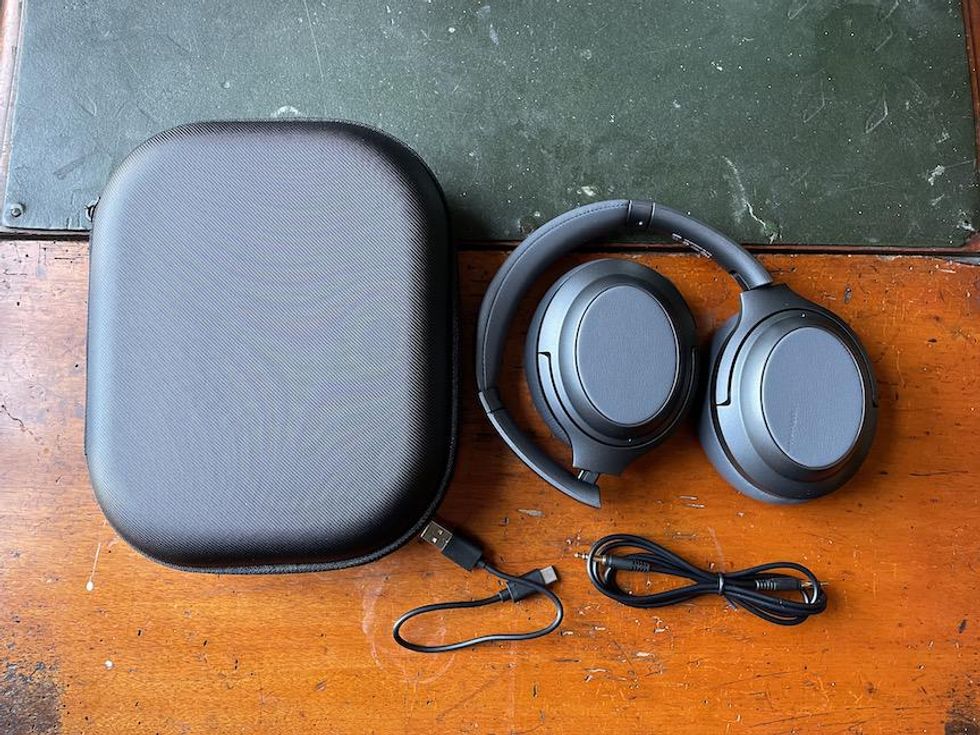 The headphones come with a hard shell case plus two cords, one for using them as wired devicesLauren Barack/GearBrain
What you get in the box

The headphones themselves have few pieces, just a charging cord and one that allows you to use them wired if you choose, such as on an airplane. There's also a hardshell case which I find to be a plus when brands include especially when using the headphones for traveling. A mesh pocket is there as well, useful for tucking cords into, and the headphones fold neatly into the case.
The design is standard, with padding around the ears, and they fit snug against the head. They are adjustable against the head.
Taking them out of the box, they felt lightweight, a bit less hefty than some other headphones including Bose and Skullcandy. That's a plus for their weight on my head, something that also makes then feel a bit less sturdy though on the other.
I was immediately struck by the controls. The right ear handles most of the work, with a set of three buttons for turning on ANC, Ambient mode or all three off, a power button and a Bluetooth pairing button.
How they sound

Active noise cancellation worked very well, as did ambient mode. It's already heating up here in New York, and I have a robust (read: loud) air conditioner. The sound was tempered very well, and street noise actually disappeared, with these on my head.
Sound with both ANC and Ambient mode turned off was clean as well. I was able to hear clearly through all set-ups. You get audio cues when you activate them, so you'll know which mode the headset is in, and they're easy to toggle through.
Phone calls were muffled a bit — there's a sound as if you're speaking through some cotton. But voices were clear without any issue.
Sound was even overall, although there wasn't much variation or clarity between tones. Bass wasn't strong either and so while I found the sound good, I would say it was a bit flat. You'll have zero trouble with them while watching a movie, handling a voice call or a video conference. But as for listening to music, if you're a real audiophile, you won't hate these — but you won't love them. The sound seemed actually better, in terms of range and quality, with ANC off, but I found they were definitely solid for work use.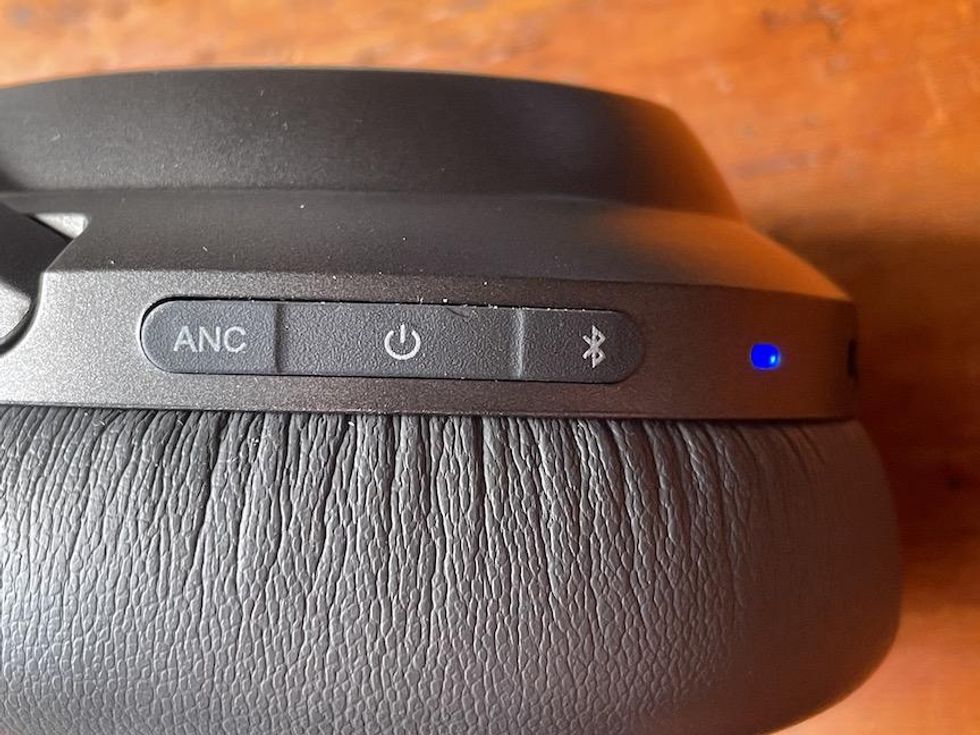 There are just three buttons on the headphones to control power, ANC and Ambient Mode, and connecting via BluetoothLauren Barack/GearBrain
How they worked

You're wondering — as did I — where is the volume button? I had to turn to the instruction manual (I don't love these) to find that this is a touch environment for volume. Basically running your finger up (for increasing) and down (for decreasing) on the right ear changes the volume for the device. And if you want the volume temporarily off, you cup your hand over the ear completely while in Ambient Mode — a feature I used often. Bringing up a voice assistant? That's a press and hold in the center of the earbud and there are others.
Getting used to handling these? That took some practice. Volume control, for example, was not as simple as sliding my finger up and down. You need to move your finger with purpose and a bit quickly — and without a lot of pressure. I consistently brought up the voice assistant, in my case Siri, multiple times getting this right.
But over the course of a week, I found I really enjoyed wearing them. They were lightweight and didn't pinch my head, nor my ears — which I find can happen with other headphones especially if you wear them for hours. The ANC feature was solid and the sound, while not what I would consider premium, was good. Basically, they just worked well.
Other details
Battery life is an active 40 hours for listening and 30 hours for talking, and I found that was pretty true. I used them pretty heavily through a week and didn't charge them once.
The headphones feature Bluetooth 5, and allows them to stay connected to a device for up to 32 feet. I tested that up to 25 feet — and they held up, letting me follow my playlist while in the kitchen grabbing a mid-afternoon bowl of cereal.
Price
You can pick up the Monoprice BT600 ANC headphones for $99.99 on the company's web site.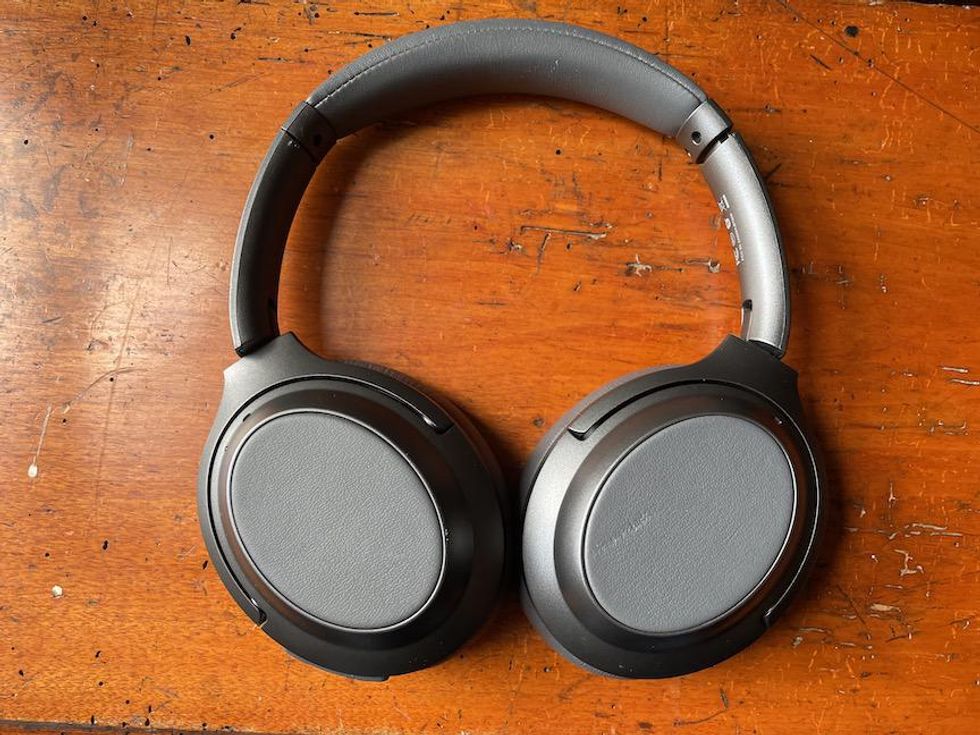 Volume, call control and voice assistants are managed via touch sensor on the right earLauren Barack/GearBrain
Worth buying?

For $80 the Monoprice BT600 ANC headphones are a good option. They're very fairly priced for ANC headphones — and good ANC — and the option of Ambient Mode is a nice inclusion as well. Sound was clean, and while not exceptionally bright, they were more than solid for web conferencing, movie watching and even listening to audio. They might not be my first pick if I was an audiophile, but as a headset to listen to music while studying, use to answer calls, or keep surrounding noise down while working, they're great.
I also found they were very comfortable to wear for long periods, not pinching my head or ears, and finally I think the added carrying case is a good one with its hard shell. All together, you're getting a solid pair of headphones that are worth considering.
Pros:
Lightweight
ANC and Ambient Mode
Comes with hard shell case
Cons:
Sound can muffled during calls
Touch controls are temperamental
Audio is a bit flat during music playback
Monoprice BT-600ANC Bluetooth Over Ear Headphones with Active Noise Cancelling (ANC), Qualcomm aptX HD Audio, AAC, Touch Controls, 40hr Playtime
From Your Site Articles
Related Articles Around the Web
Like GearBrain on Facebook