Like GearBrain on Facebook
Motorola continues to produce some of the favorite budget smartphones with its Moto G line. The G6 is the latest, a $249 mobile boasting a large 5.7" HD, 18:9 aspect ratio screen, a 1.8 GHz octa-core processor, and a 12 megapixel camera.
With the market for budget smartphones growing rapidly, we took a look at the G6, which Motorola sent us to try.
Design

From a design standpoint, the G6 is a bit bulky, but its size is certainly not a deal breaker. The back of the phone lacks a gel or cushion-like material, so the phone isn't necessarily comfortable to hold. However the glass back and curved Gorilla Glass 3 finishes are certainly pretty, if not fingerprint collectors.
The phone has a water repellent coating. Don't immerse the device, but a quick splash from a spilled drink shouldn't cause immediate panic.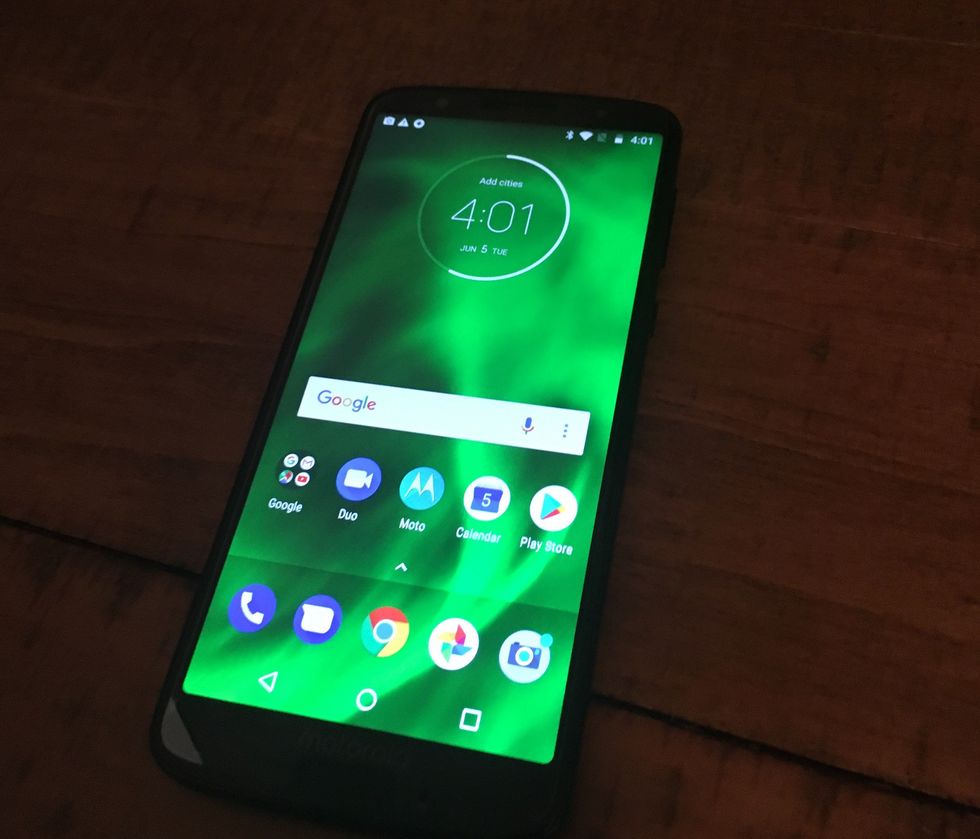 The Moto G6 features a bright, clear screen with HD+ resolutionGearBrain
Features
The Moto G6 has a front fingerprint scanner, and facial recognition, features usually considered part of high-end phones — so these were a plus.
The screen itself is bright and clear, with HD+ resolution, with great color saturation. The G6 also comes with a 3000 mAh battery, 3 GB of memory, a front-facing camera, and a dual lens camera on its back.
The camera on the G6 comes with two lenses, one that's 12MP and a second 5MP lens. These support some fun features including face filters, which you can pop on to images, and then post on social media without needing an outside app. The camera also lets you use Spot Color, which lets you emphasis a specific color in the image, and there's a portrait mode built into the phone as well. Video can be played back in slow-motion and also with a time-lapse.

The camera does a good job capturing images when there's plenty of light, but like most phone cameras, we didn't find it did well in dimly lit areas. Don't count on it as your main camera for photography. The flash feels awkwardly placed between the dual lenses, and doesn't really help to light the shot too much. The smart camera feature however, is very cool and can recognize objects –immediately pulling retail items up on Google, as well as landmarks. You can even use it to scan and upload text.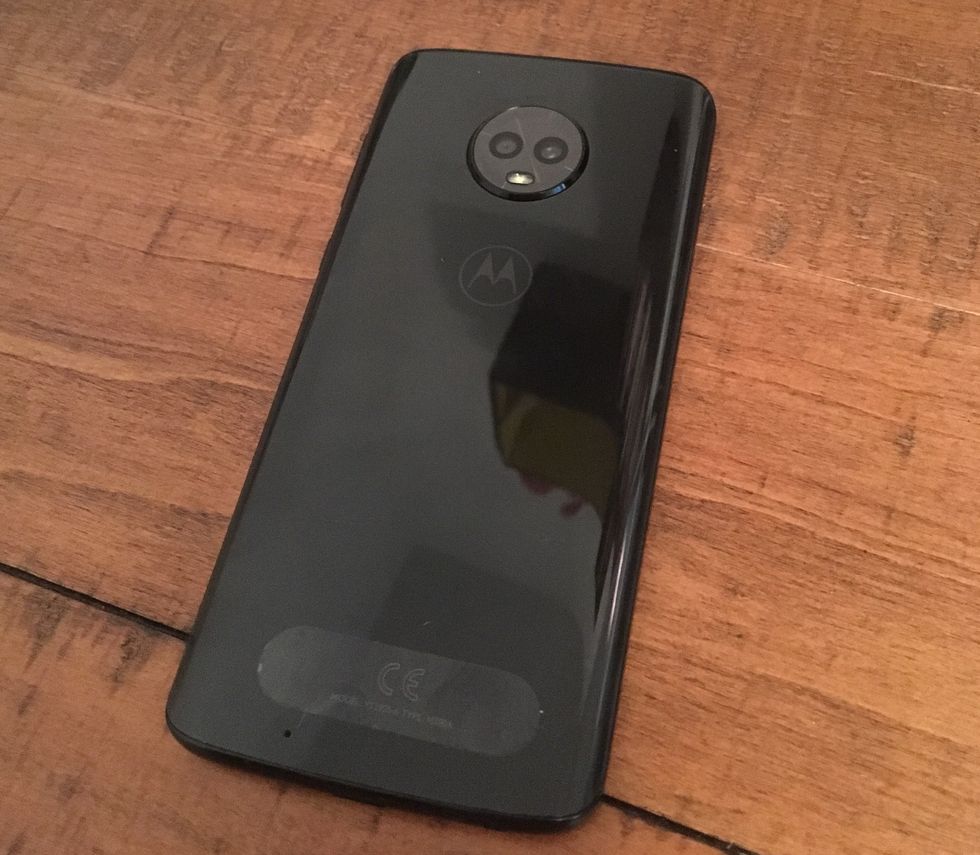 Moto G6 comes with a dual-lens camera on the back: one 12 MP and one 5 MP lensGearBrain
Performance
Powering up the phone though the TurboPower charger was fantastic, getting the Moto G6 up to 60 percent within 15 minutes. After the phone got charged, I started by testing the G6's speed. The device comes with a Qualcomm Snapdragon 450 processor, and I went straight to YouTube to see how it chewed through the site. I ended up slightly disappointed by the amount of time it took to load. The phone doesn't crawl, but then again it isn't very fast, especially when compared to what else is out there.
The Moto G6 works pretty well within most of the G Suite, but when it comes to loading or streaming video, its low speed is a major concern. Once I got to YouTube to load, though, I was pleasantly surprised. The HD video looks spectacular, but the real shocker was the phone's front speakers which comes with integrated Dolby Atmos for sound. Smartphones get a bad rap when it comes to their built-in speakers, and Motorola (along with Dolby) really set out to address the issue.
Moto G6 comes installed with Android Oreo, but Motorola says it will upgrade to Android P when the operating system comes available.
Verdict
The budget smartphone is getting there, and from a practical standpoint, the Moto G6 does everything one could need it to do. Advanced features, many of which aren't available in other budget phones, can run just about any program you'd want. While its camera isn't top of the line, and the performance lags a bit, at $200 the G6 is a steal.
Pros
• Price
• Good speakers
• Great HD screen/streaming resolution
Cons
• Lags a bit in performance
• Camera challenged by low-light
• No cushion for the back
From Your Site Articles
Related Articles Around the Web
Like GearBrain on Facebook