Like GearBrain on Facebook
Today, having a baby means trading in the old-fashioned walkie-talkie like speakers for an entire system that can help you see, hear and monitor your baby — and even their vital signs. Smart baby monitors let you hear and talk to someone in the room, while making sure your child is safe with HD video and night vision, plus the ability to track the baby's room temperature and humidity. One such system comes from Nanit, a U.S.-based tech company, which makes a device that we recently tested in a home with a newborn. Here's what we found.
What is Nanit Plus?

Nanit was one of the first to make a smart baby device that let you monitor a baby while they were sleeping. Nanit Plus is the the company's latest smart HD baby monitor which still tracks a baby while it sleeps, but also monitors its breathing, movements and other activities while in their crib. It's also designed to help not only a baby, but parents sleep more soundly.
Nanit Plus camera records HD video, has night vision and a 130 degree field of view (FOV). It also comes with temperature and humidity sensors to monitor the conditions in your baby's room. But what we consider its most unique feature is the camera's ability to broadcast audio from the background of a baby's room to your smartphone through the Nanit iOS and Android app — even if a smartphone screen is locked. That feature means you don't use up your smartphone's battery life, which can typically drain very quickly when live streaming video from the camera.
Nanit's ability to monitor your baby's breathing in real-time — and send alerts if needed — is tied to an accessory called the Nanit Breathing Wear, which is essentially a wearable that comes in three different forms: a sleeping bag, swaddle or a band which you pick depending on the baby's size and age. Each has a custom-designed black and white pattern which your Nanit Plus camera uses to track your baby's breathing, and all of them are machine washable and 100 percent cotton. They don't include sensors, and they can be picked up separately or in bundles. For those of you who don't know the difference between a swaddle and sleeping bag, a swaddle is a pouch which you place your baby inside, including their arms. A sleeping bag allows your baby's arms to be outside while the rest of their body is inside the bag. As babies get older, they move from a swaddle to a sleeping bag, and eventually to a band.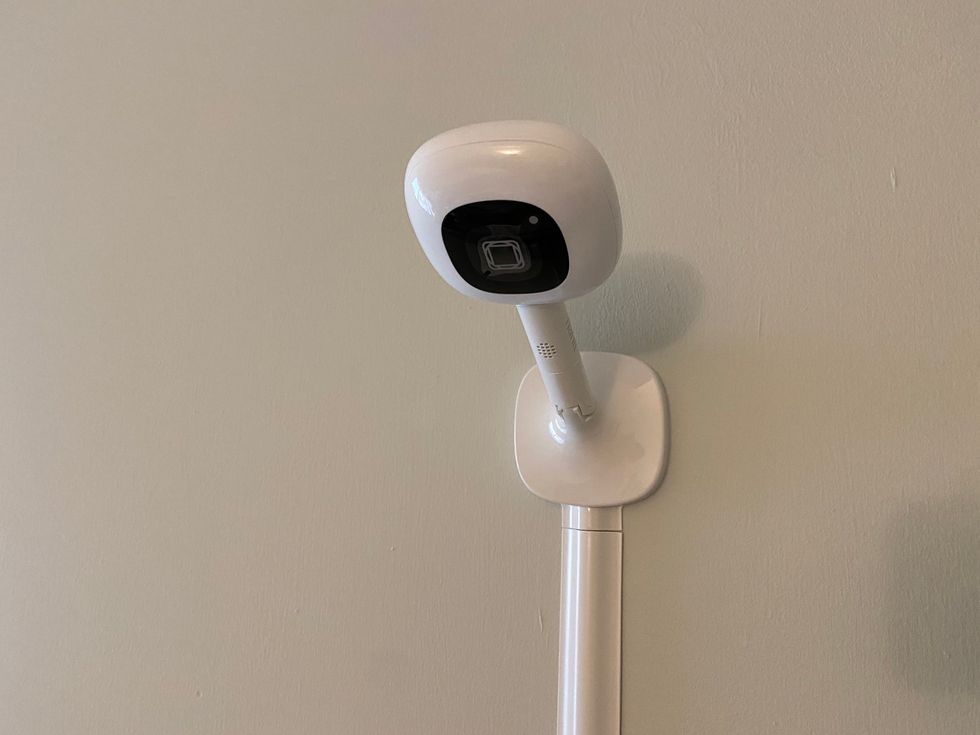 Wall mount for Nanit Plus baby monitor.GearBrain
Setup for Nanit Plus

Setup was rather easy, and we started first with installing the camera and then the camera mount, which comes as a floor stand or a wall mount. You can hang both over a crib, which gives you a full view because of Nanit's wide angle. Many smart baby monitor cameras we have tested didn't have as wide a viewing angle as Nanit, nor did they have as vibrant and sharp video resolution as Nanit Plus.
Next, you need to connect your camera to the Nanit app which you can download from App Store or Google Play. Once you have the app and the camera is turned on, just follow the setup instructions in the app. We found pairing the camera to our smartphone, quick and easy.
Nanit Insights: Dashboard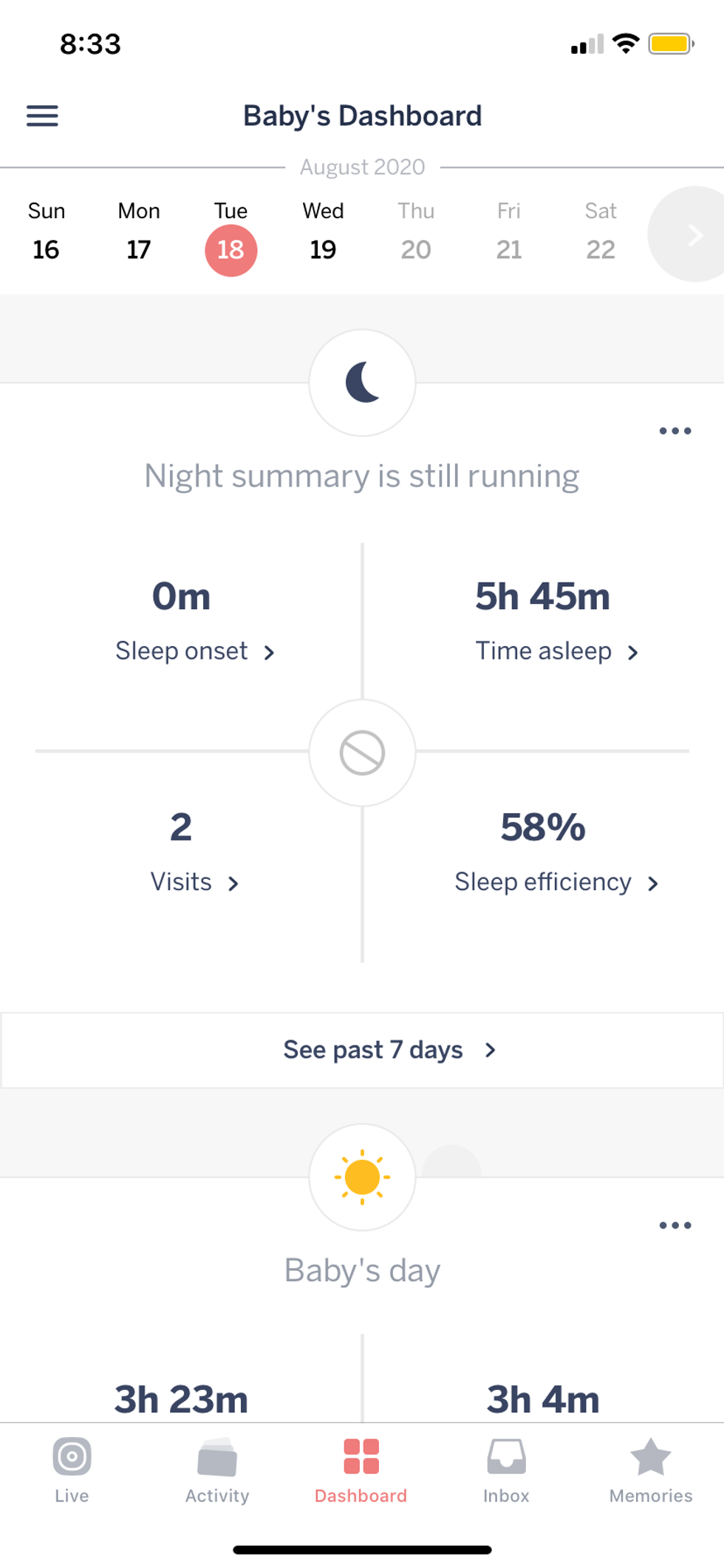 nanit app dashboard
GearBrain
Nanit's app dashboard provides a nice snap shot of your baby's activity including their sleeping, visits to the room and more.
Nanit Insights: Baby's Activity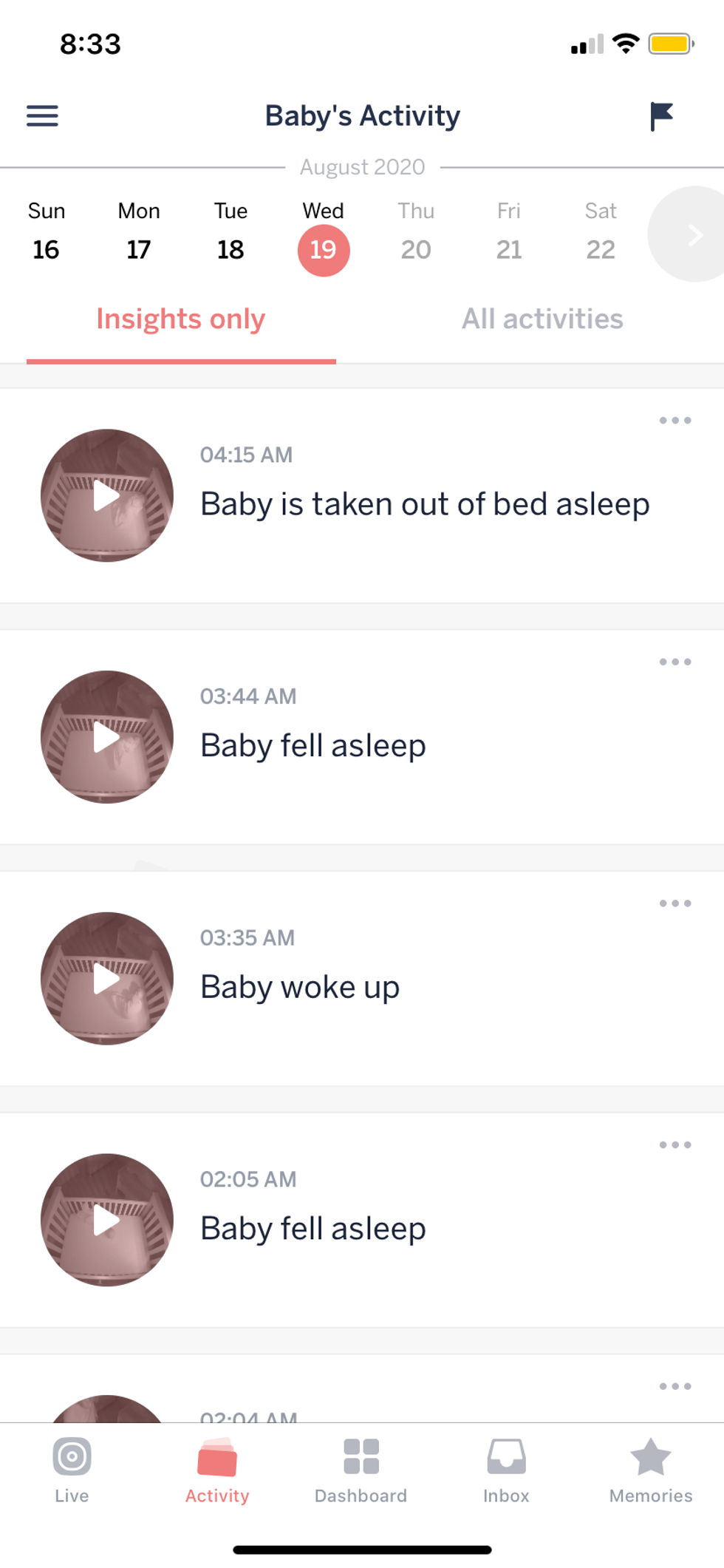 Keep track of your baby's activity in nanit app
GearBrain

Nanit's app provides a breakdown of your baby's acitivities 24/7.
Nanit Insights: Baby's Memories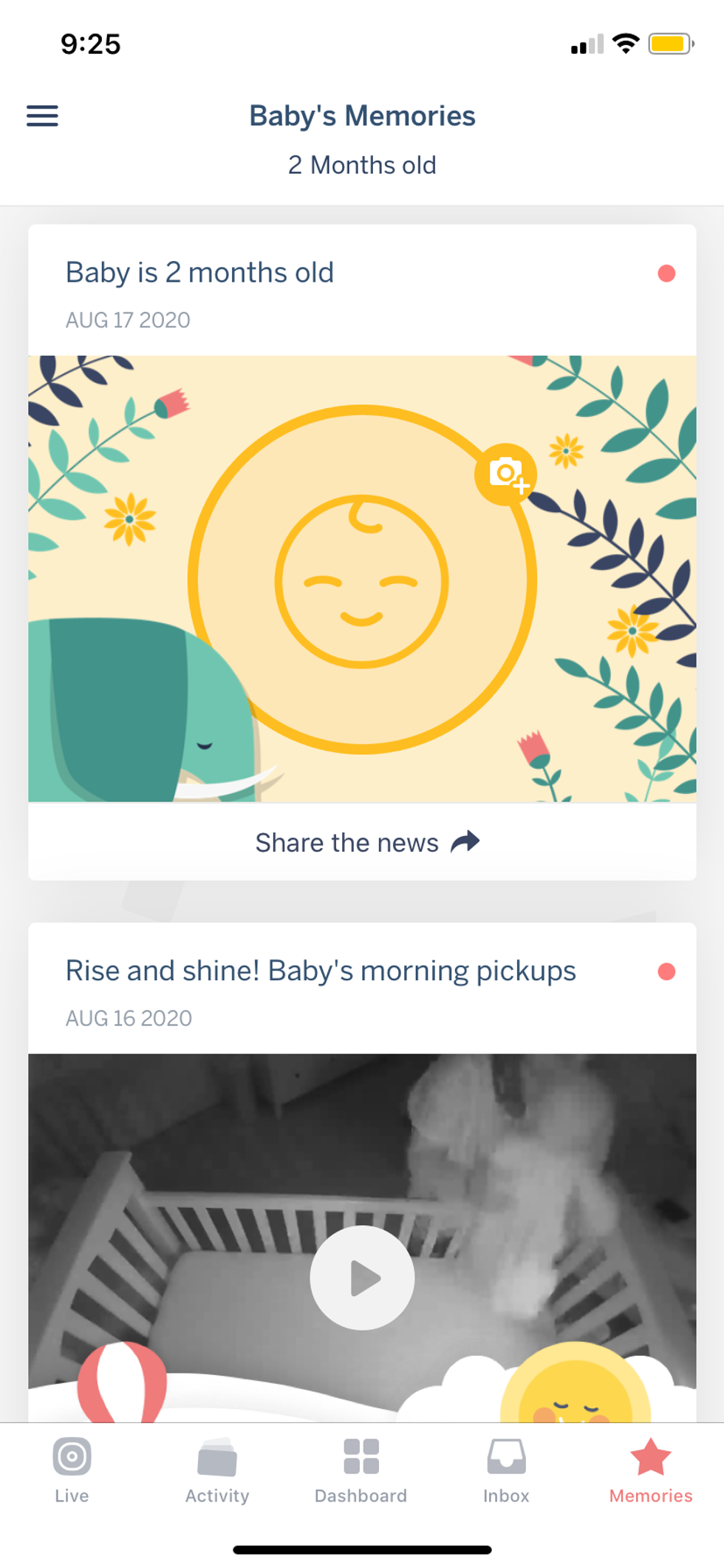 Baby's memories are tracked in nanit app
GearBrain.
Nanit's app also saves your baby's memories in a nice location which allows you to easily share with friends and family.
Nanit App
The Nanit app is a key part of how to monitor a child. With Nanit Plus, you get one year of Nanit Insights for free, which is how parents can watch their baby while she's sleeping and breathing, and even share videos and a live feed with friends and family. After one year, you will need to pay $5 per month, or $50 per year, for the service which includes the following information, stored for seven days:
Sleep tracking and analysis
Personalized sleep tips
Saved video history
Time-lapse sleep summaries
Age-based comparison
Real-time activity feed
Sleep dashboard
Breathing motion (if you purchased Nanit Breathing Wear)
Up to 50 Saved Memories
3 total users
There are two different plans you can buy: Insights Premium and Insights Unlimited. These plans include the same features as Nanit insights, but with Insights Premium you get 200 Saved Memories, can add up to 10 users, and you'll pay $10 a month or $100 per year. Insights Unlimited gives you unlimited Saved Memories, the ability to add up to 50 users, and will cost $30 per month or $300 per year.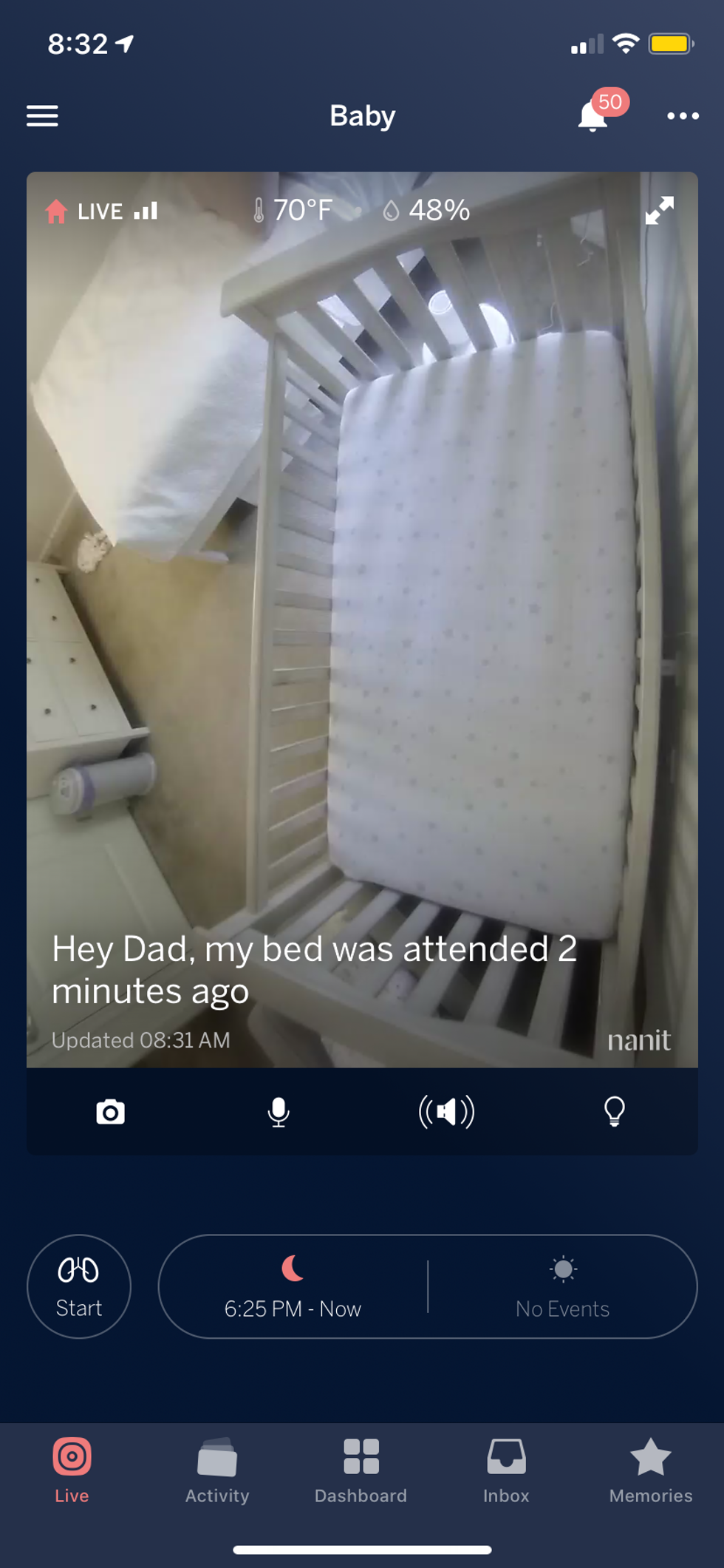 Nanit app will capture video and send alerts when someone attends to your baby.GearBrain
Smart Home Integrations

Nanit is compatible with Amazon Alexa-enabled devices, but with limited features. After you enable the Nanit skill in the Alexa app and paired with your Nanit Plus, you can ask Nanit to show your baby on your Alexa-enabled smart display (i.e. Echo Show). We didn't have an Amazon Alexa-enabled smart display to test, but we did have an Echo, which you can use to ask Alexa the temperature or how did your baby slept the previous night. Currently, Alexa is the only smart assistant integration. Nanit does not work with Apple's Siri, or Google Assistant. Sorry Google Home users.
Cost
Nanit offers a variety of packages for parents to choose from on its site. Buyers can choose between the Nanit Plus Camera, the Nanit Complete Monitoring System and Multi-Packs. With the Nanit Plus camera, buyers get the camera, and can choose between a Wall Mount version ($299) or a Floor Stand version ($379). The Complete Monitoring System package consists of the Nanit Plus camera, Breathing Wear and a choice of either a Wall Mount ($379) or a Floor Stand ($449). Nanit's bundles allow users to customize their choice of cameras, mounts and the number of Breathing Wear. Nanit products are also available on Amazon and Best Buy.
Performance

After a few months of testing Nanit Plus, we found some attractive features for first-time parents. Besides the fact that the setup was rather easy, we liked how you can hear sounds from your newborn's room from a smartphone while a screen was locked. Other smart baby monitors we tested required you to see — and listen to — your child through its app. If your screen was locked, all communication ended. With Nanit it didn't, and nor did our battery drain while in use.
In testing other baby monitoring cameras with night vision, we've found the night vision lighting so bright that there would be a glare when we viewed the video in the app. Nanit's night vision lighting was perfect — no glare, and a crisp and clean picture. The camera also had an exceptional wide angle view of the baby's crib, much better than other cameras we've seen. This might be due to Nanit's Wall Mount, which we think provides a better viewing angle than these other smart monitoring systems.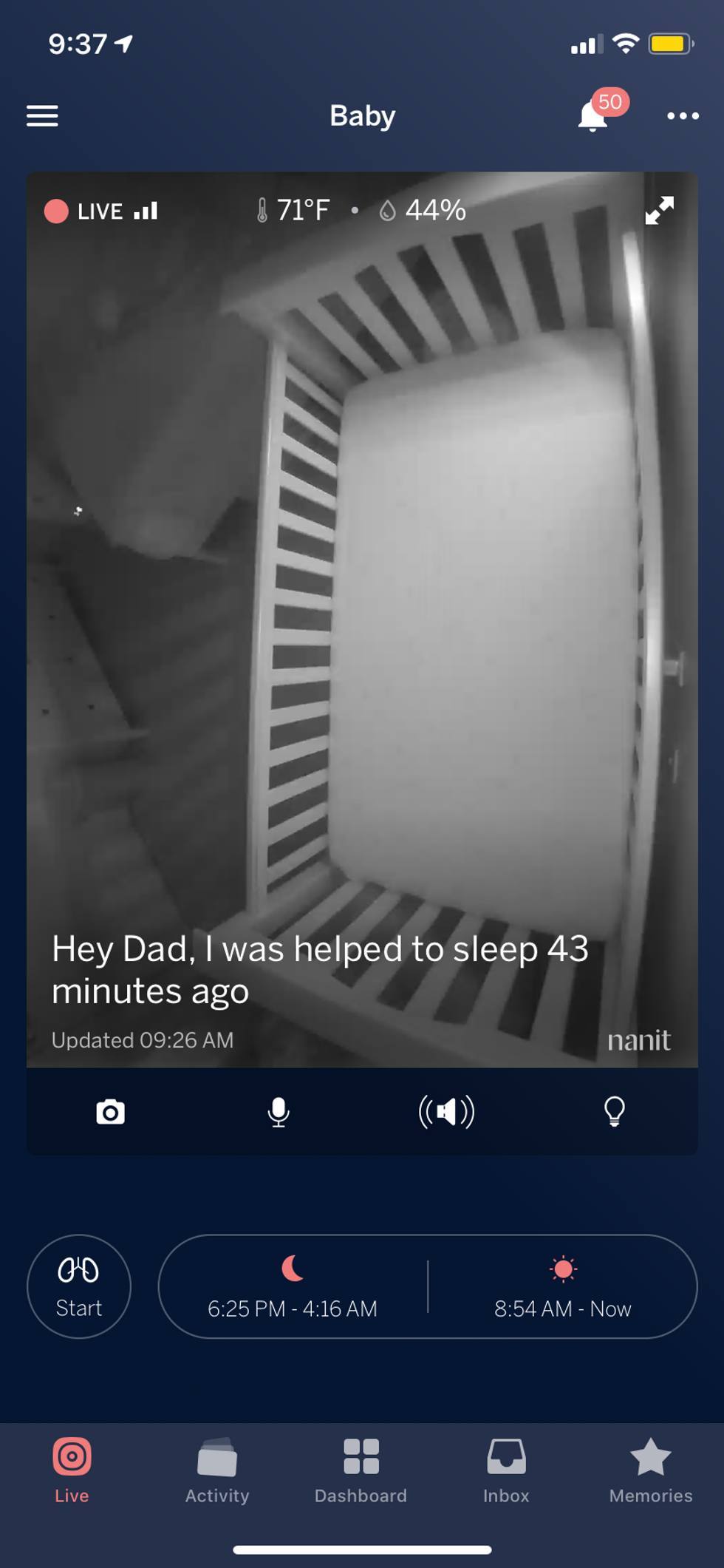 Nanit Plus has excellent night vision with no glare and wide angle view of baby's crib.GearBrain
Nanit's camera also measures the temperature and humidity in the baby's room. While this is a good feature, we would have liked to see the monitor tied to a smart thermostat, so you could adjust the temperature, or automate the room's temperature when the sunlight started to come into a room for example. It's just something we think Nanit could consider.

The camera also comes with two-way communication which allows you to clearly understand what's being said in the room.
Finally, we found Nanit's app performed well, monitoring our baby's sleep, along with the activity in the room. We did not have Breathing Wear on our baby reviewer, therefore we couldn't test monitoring the baby's breathing. In theory, we think this is a great feature, but it can also be achieved with the Owlet Sock, which we did have on our baby reviewer. Note, though, that using both will mean you'll need to use two different apps, which we know a lot of people may find cumbersome. Plus, this setup is slightly more expensive than if you just had Nanit Plus and a Breathing Band. A Nanit Breathing Band, along with Nanit Plus camera, has a total cost of $318.99. An Owlet Sock costs $299 (sock and sensor only) and Owlet Monitor Duo Smart Sock, which is a camera plus the Owlet Sock costs $399.
We also appreciated Nanit Insights for the fact it offered a 7-day look back at our baby's videos, which were clear. We also liked the sound and motion notifications, which popped up when the baby moved or made a sound, and seemed to be very sensitive. For instance, we got notifications sometimes that the baby woke up, but when we reviewed the video we would see just the slightest of movement. Adjusting the motion sensitivity in the app might be something Nanit can consider for the future too.
Overall, the app does a nice job of keeping track of your baby's sleep, how many times someone is in the room with the infant, the time they spend sleeping, and how long t took for your baby to fall asleep (also called, sleep onset). You can even find sleeping tips for new parents, and you can share your baby's feed with other members of the family as well as your nanny or babysitter in the app's permissions.
Nanit Breathing Wear Starter Pack - Size Small, 0-3 Months - Pebble
Summary
When you're looking for a good, reliable, smart baby monitor, there are a few things to consider. Is there a camera, and will there be an additional cost to store these videos? Does the camera have two-way communication and/or night vision? Does the camera also monitor the baby's sleep, and can it monitor other vital signs like the baby's heart rate and/or breathing? And if the monitor is a connected device, how do you share video and alerts with the babysitter/nanny? Nanit does most of these and more. Though it doesn't monitor your baby's heart rate, it can monitor your baby's breathing if you have Breathing Wear on your newborn. The camera has a wide angle view of your baby's crib, crisp two-way communication, clear night vision, and time stamped videos. These are all fundamental information for parents to have for their newborn.
Though the Nanit's motion tracking is a little sensitive, and the Amazon Alexa integration is not exactly strong, I would recommend Nanit Plus. It's a reliable, and powerful, smart baby monitoring system, which is even more effective if you have Breathing Wear. Yes, you can use the Nanit with Owlet Sock if you really want to also monitor your baby's heart rate. However, this will start to get expensive and require you to use two apps to monitor your baby, which we do not think is an efficient use of your time.
If you are a first time parent, and want a reliable smart baby monitoring platform for your newborn, you need to consider Nanit. This system will work for you now, and even when your child gets older. It will help you see, and hear, your baby from anywhere since the camera works on your home Wi-Fi network. As your child gets older, you might not need the Breathing Wear any more, but the camera — with its wide viewing angle and night vision — can be a nice way to continue to keep an eye on the new addition to your family.
Pros
Hear sound from baby's room on your smartphone when screen's locked
Good wide angle viewing, and no glare for lights in night vision
Good sleep tips and data, plus a reliable app
Cons
Cost – can get expensive when you start adding accessories
Sensitive motion tracking – could cause false alerts
Need to purchase Breathing wear to monitor baby's breathing
Nanit Breathing Wear Sleeping Bag 1pk, Size Medium 6-12 Months - Pebble
From Your Site Articles
Related Articles Around the Web
Like GearBrain on Facebook