Baby monitors used to be these little speakers you would use to monitor the sounds coming out of your infant's room. Today, these little speakers have morphed into smart baby monitors that have screens, motion sensors, night vision, two-way communication and technology that can monitor a baby's sleep and breathing. GearBrain recently had an opportunity to test one of the newer smart baby monitors, one made by Miku called the Miku Pro. Here's what we found by putting it to use around a newborn.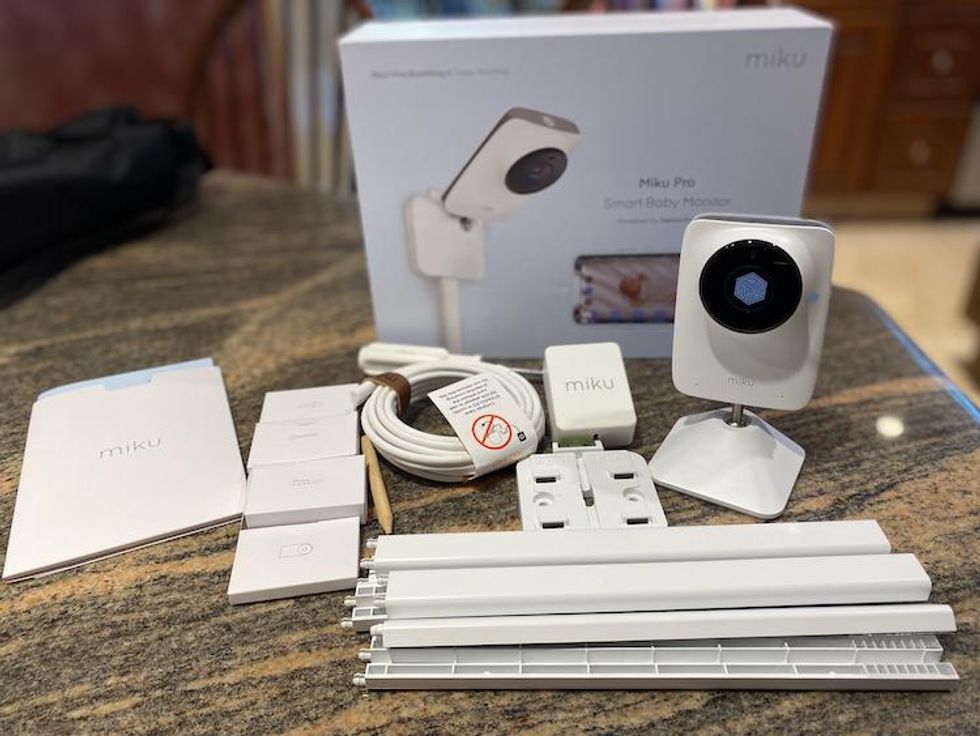 Miku Pro Smart Baby Monitor and Wall Mount unboxed.GearBrain
What is the Miku Pro Smart Baby Monitor?

Miku's new smart baby monitor, the Miku Pro, is a smart baby monitor which tracks a baby's sleep pattern and breathing, as well as the room temperature. Miku uses a technology it calls SensorFusion, which follows and then analyzes an infant's breathing and sleep patterns in real time — and without the use of a wearable. Miku uses five different sensors to track a baby's motion, breathing and sleeping, along with the room temperature. It can track these items even if a baby is in a swaddle or under a blanket, no matter the baby's age.
Similar to other smart baby monitors, the Miku Pro has a free app, and this one works on both Android (Google Play) and iOS (App Store) smartphones and tablets. You can set up custom alerts and notifications. There is also an alarm if something is happening in a baby's crib, such as crying, any noise that is picked up, or even if a baby falls asleep or wakes up. For each of these settings you can set a delay before a notification is sent.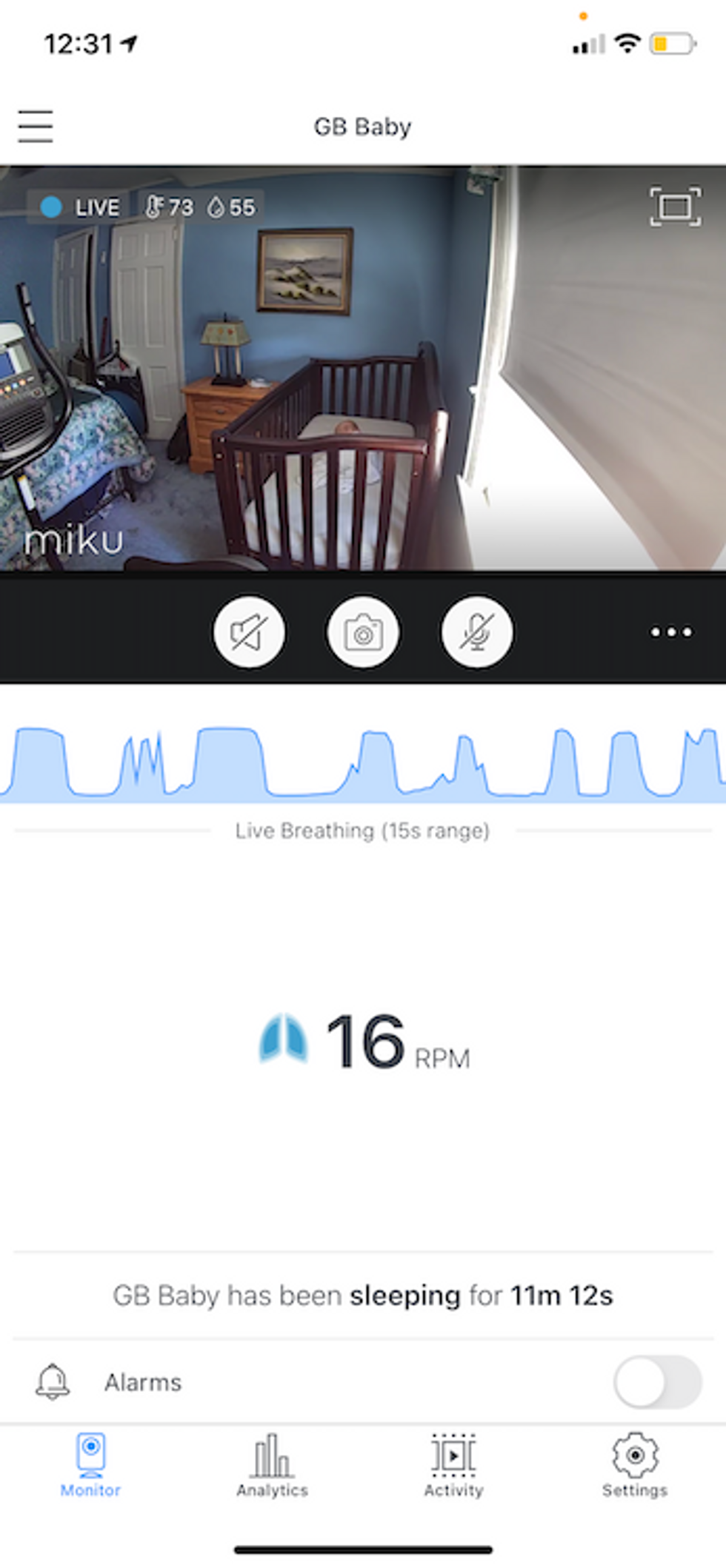 Miku app tracks baby's sleep and breathing in app.GearBrain
Miku also works to push out content as well, including sounds like white noise or lullabies to help a baby fall asleep or calm down if needed. The device includes a camera, which livestreams and records 1080p HD video, which is stored locally. You can store unlimited videos initiated by motion, sound or noise events but they will only be stored on your camera for 30 days. If you want to keep them longer, you can easily download the videos from the Miku app to your smartphone. The camera has 256 bit encryption to keep your videos safe, and data is automatically erased if the camera senses someone is tampering with it.
The camera also has a field of view (FOV) of 140 degrees, and by pinching the screen, it can zoom in for a closer view of an infant as well. The 5MP camera also has an ambient light monitor feature, which when paired with an integrated digital sensor on the camera, can report if the light in an infant's room is impacting their sleep.
The Miku Pro connects on either a 2.4 GHz or 5 GHz Wi-Fi connection, as well as Bluetooth Low Energy (BLE) 4.1. If you have a dual band router, Miku recommends using the 5 GHz connection. It also supports two-way communication in stereo thanks to the dual Ole Wolff speakers and a two-way microphone array. Lastly, the camera has a Snapdragon 624 processor with 8 core, ARM Cortex A53, 64-bit, 1.8 GHz, Qualcomm Adreno 506 GPU and Qualcomm Hexagon 546 DSP.
Features of Miku Pro Smart Baby Monitor
Follow the instructions in the Miku app for the wall mount.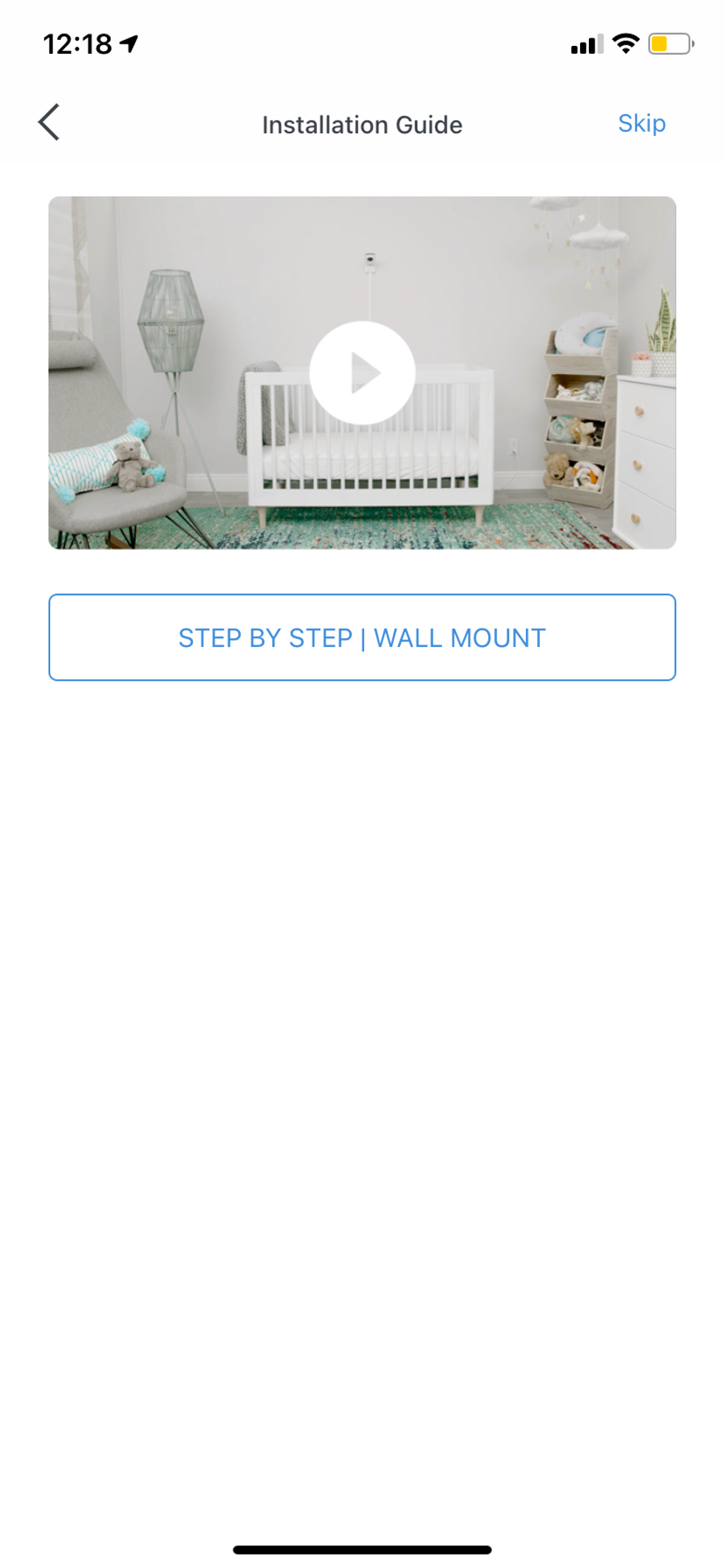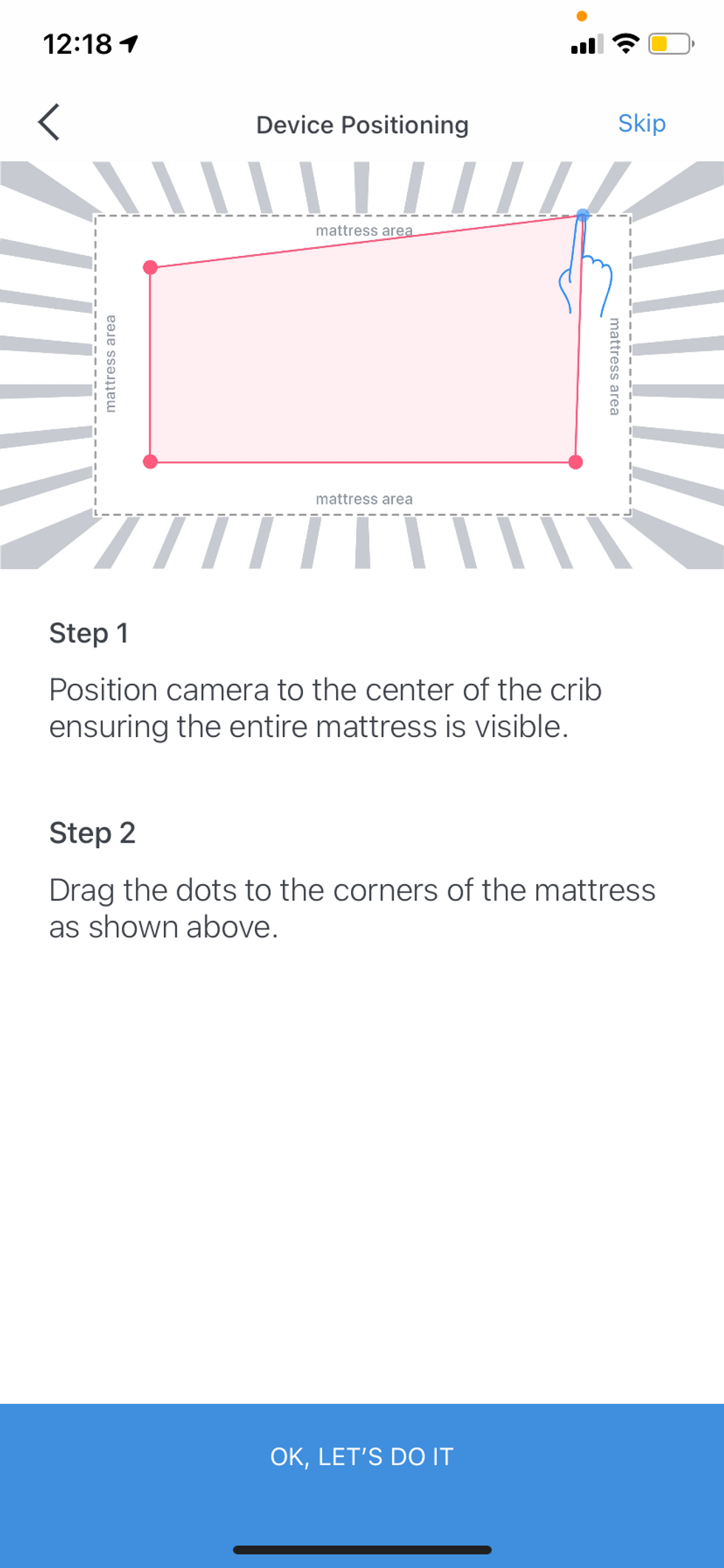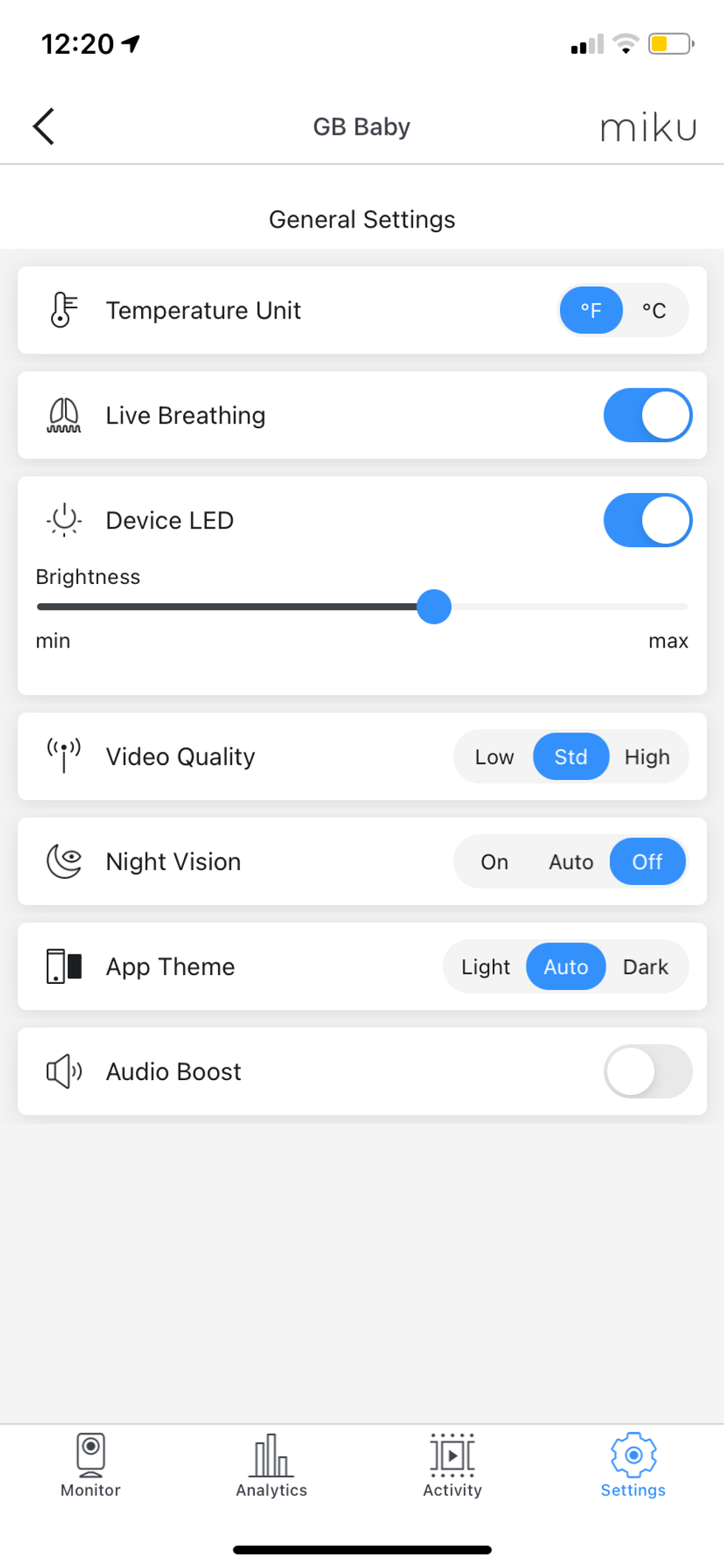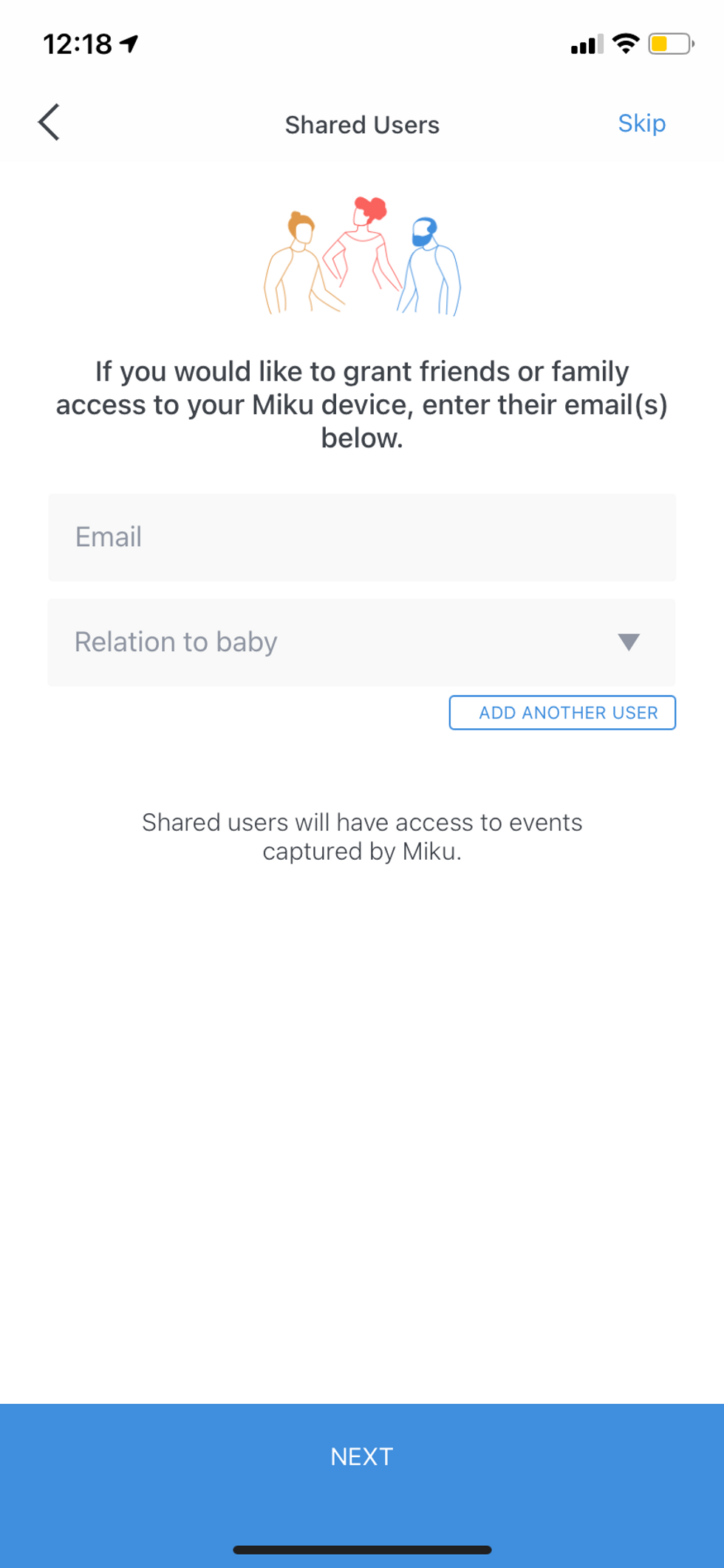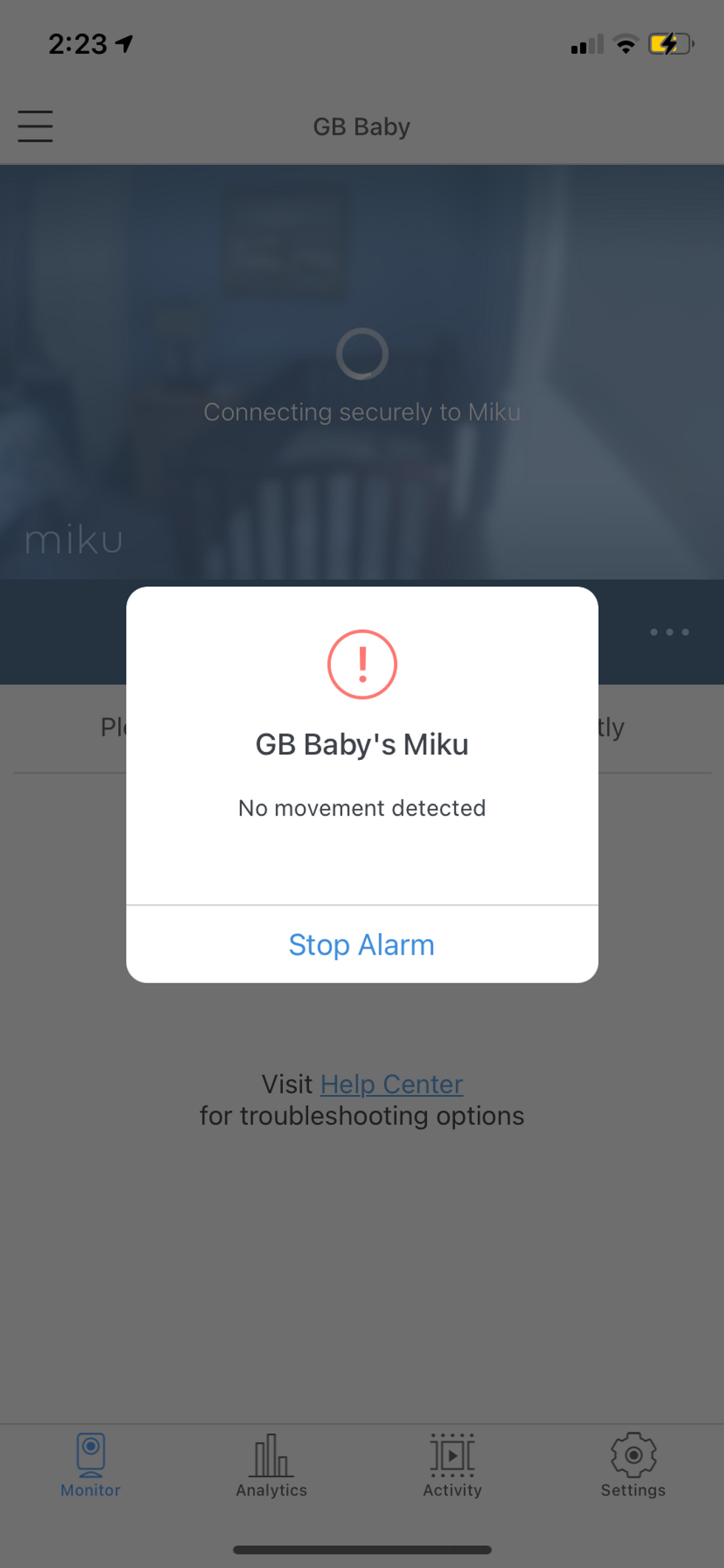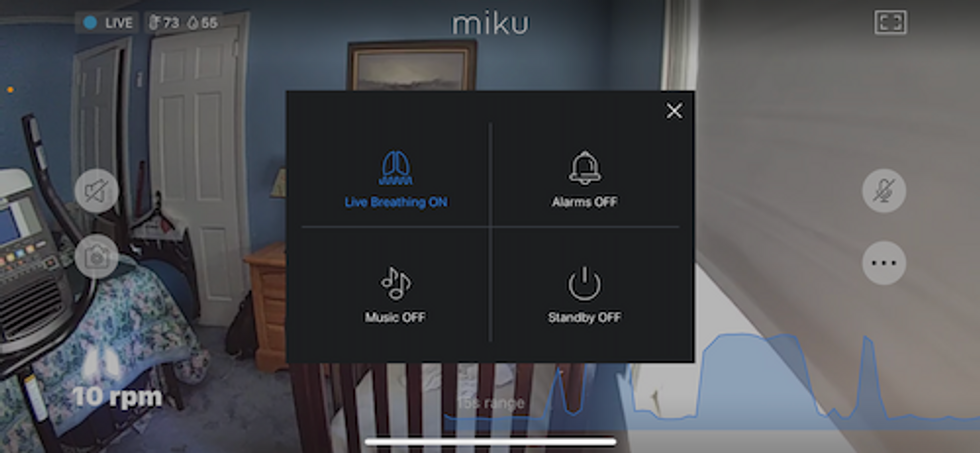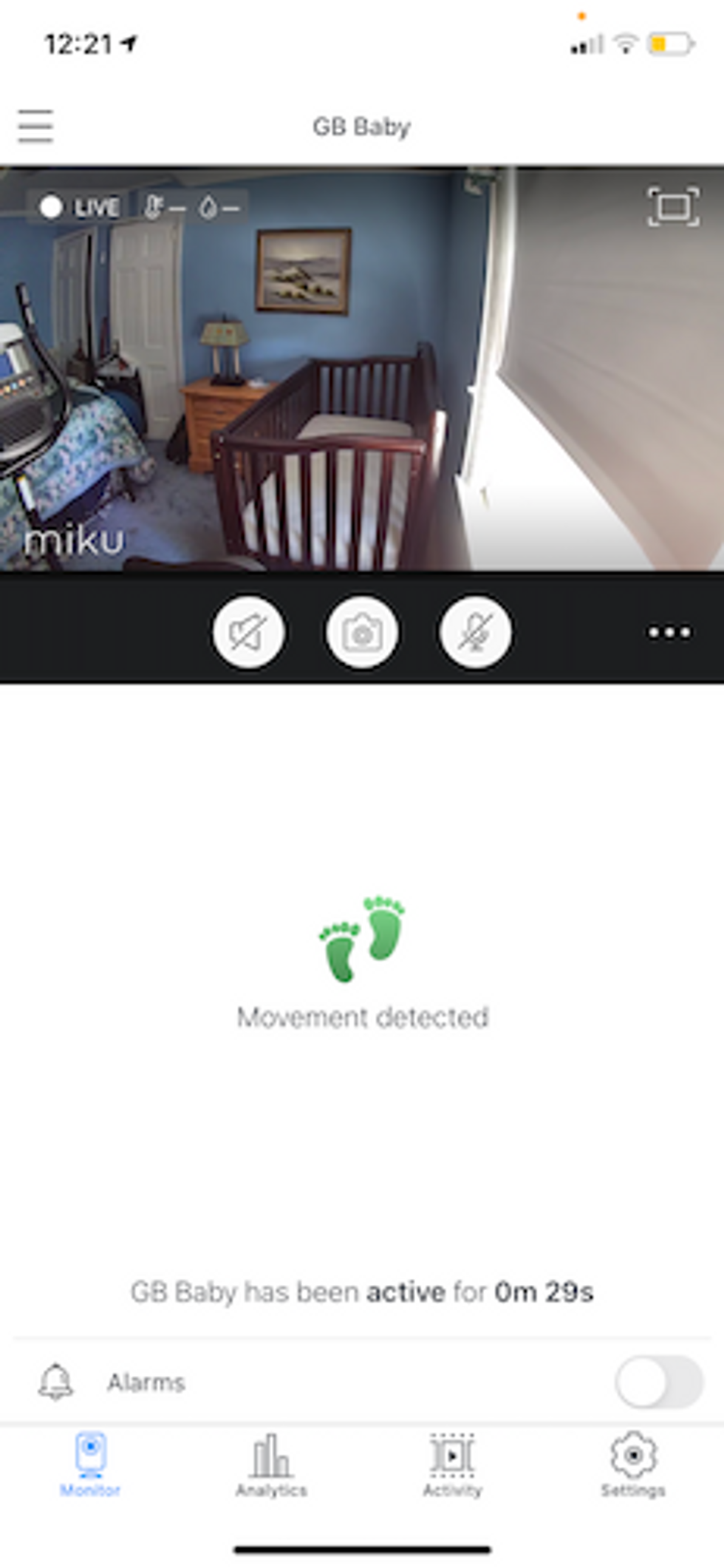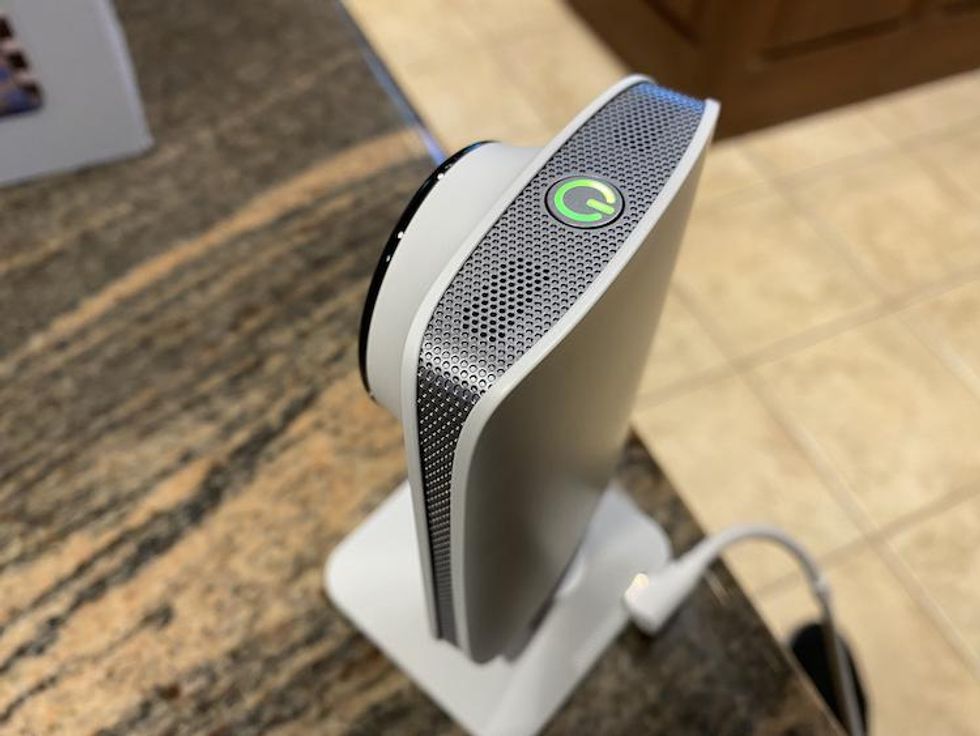 How to install the Miku Pro Smart Baby Monitor.
Installation of the Miku Pro is rather easy. In the box you have cable guides, measuring tape, a screwdriver, a power supply, cords, a wall mount, a level, wall anchors and screws. There is also an installation guide you can follow, but the Miku app has instructions which are easy to follow.
The longest part of the installation process will be adding the wall mount, the base which the Miku Pro is attached. Like other smart baby monitors, Miku does have a $99 free-standing mount you can purchase as an accessory. But with the wall mount, you'll need a wall next to the baby's crib which can provide a downward view into the crib. And the camera can easily rotate to help you get the perfect viewing angle. There are other smart baby monitors which offer wall mounts (i.e., Nanit) but they require you to secure the mount — and not the camera — to the wall.
You can use the Miku Pro on a shelf if it overlooks the crib and there is a good view for the camera. Tip: Make sure you use the tape measure (or your own) to get the right height for the camera, along with the level to make sure the camera is positioned correctly and out of reach of your baby once they start to stand up in the crib. When installing the cable guides, there is clear tape on the lower backside of each guide. Make sure you use this to secure the guide to the wall once it connects to the other guides. The tape is hard to see but is sticky enough to hold the guides in place. (See image below.)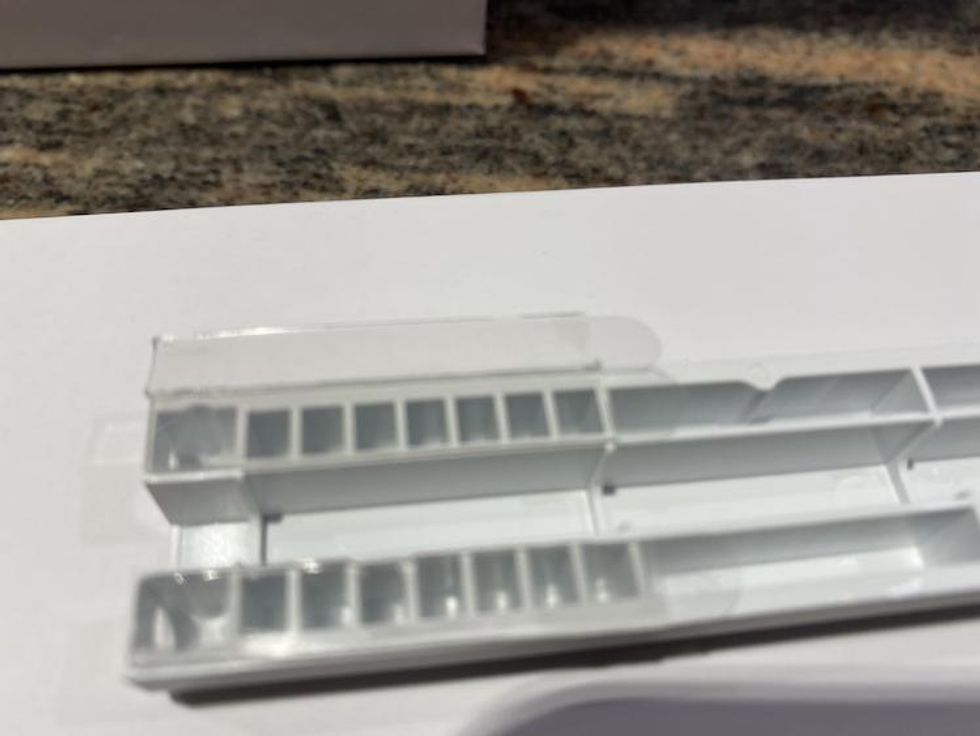 Clear adhesive is on the backside of each cable guideGearBrain
Once the mount is secure, just follow the rest of the instructions in the app or guide. Miku does have very good installation videos online, and overall, the installation time should take 15 to 20 minutes.
Smart Home Integrations
Miku Pro is not compatible with Amazon Alexa- or Google Assistant-enabled devices. You cannot use an Amazon Echo Show, Google Nest Hub or Nest Hub Max to access Miku Pro camera livestream. Per the company website, "We are in the process of developing Amazon Alexa and Google Home integrations." GearBrain will report back once these integrations are live and we had a chance to test them.
Cost
The Miku Pro Smart Baby Monitor with the Wall Mount Kit costs $399 and is available on the company website as well as Amazon, Best Buy, Target and eBay. The company also sells Miku Pro accessories on its site. You can purchase a floor stand for $99 or an extra power supply for Miku Pro for $15. They also sell the wall mount kit for the Miku Pro for $15.
Performance

We tested mounting our Miku Pro on the wall and on a shelf over the baby's crib. Both provided good overhead views of the crib, although we would recommend using the wall mount if you can or buy the floor stand. This provides a better view for the camera.
After testing this smart baby monitor for several weeks, we noticed several key features which we haven't seen in other smart baby monitors. First, the choice of sounds and lullabies that can be played. While many smart baby monitors comes with a few lullabies or sounds for you to use, Miku Pro offers the biggest selection we have seen from white noise to "Old McDonald Had a Farm," played on a piano. Our favorite was "Danny Boy."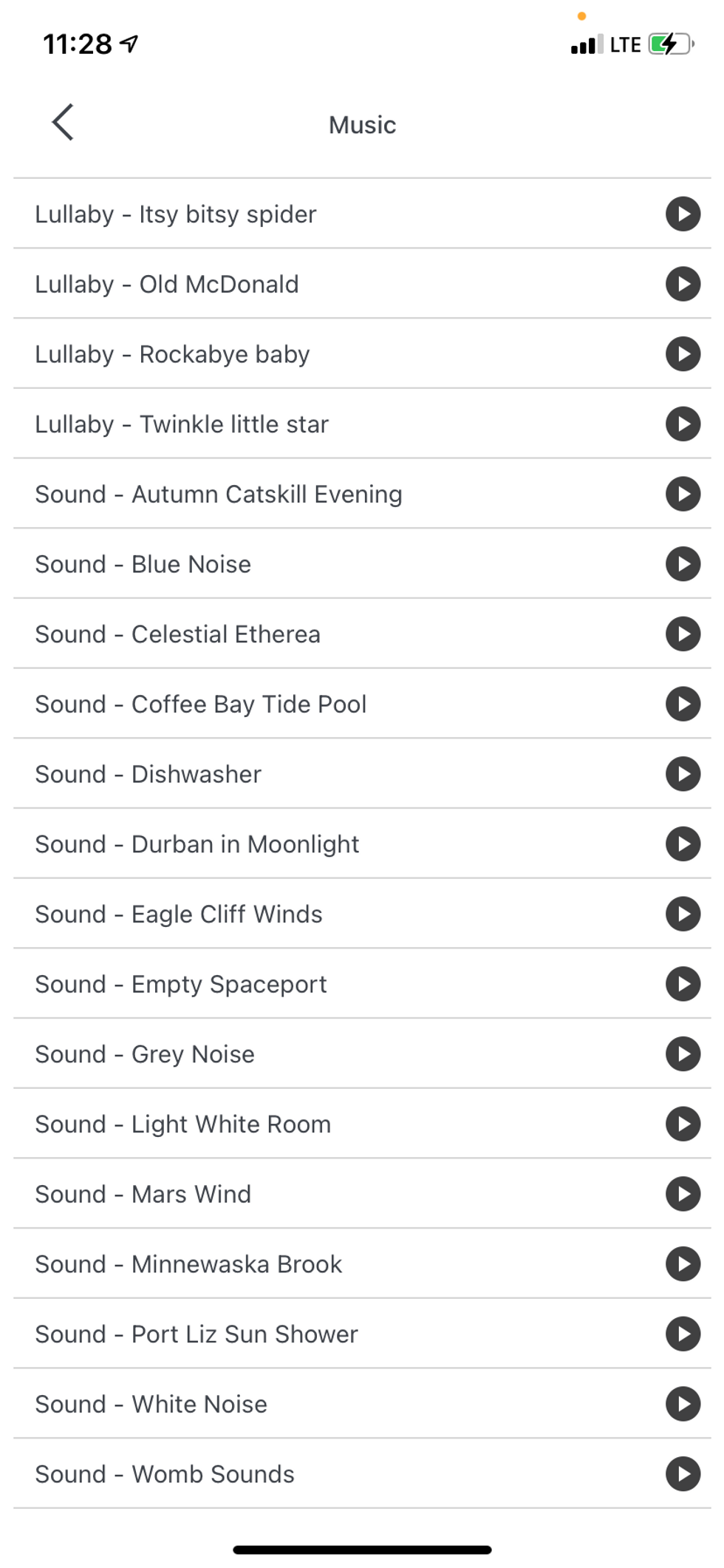 List of soujnds and lullabies in Miku app is very robust.GearBrain
Another nice feature was the ability to store up to 30 days of videos initiated by noise, sound or motion. Miku Pro is the first smart baby monitor we have seen to allow this. You can download videos to your smartphone, share them with friends and family, and there is a camera icon on the screen which allows you to take a picture and save it to photos on your smartphone.

The camera has exceptional video resolution, night vision and the sound is clean and clear. And this was the first baby monitor we're seen with a security feature designed to protect videos when someone steals or tampers with the camera. But the overall unique feature for Miku Pro is the technology that allows the device to monitor a child's breathing without a wearable (sensor) on the child.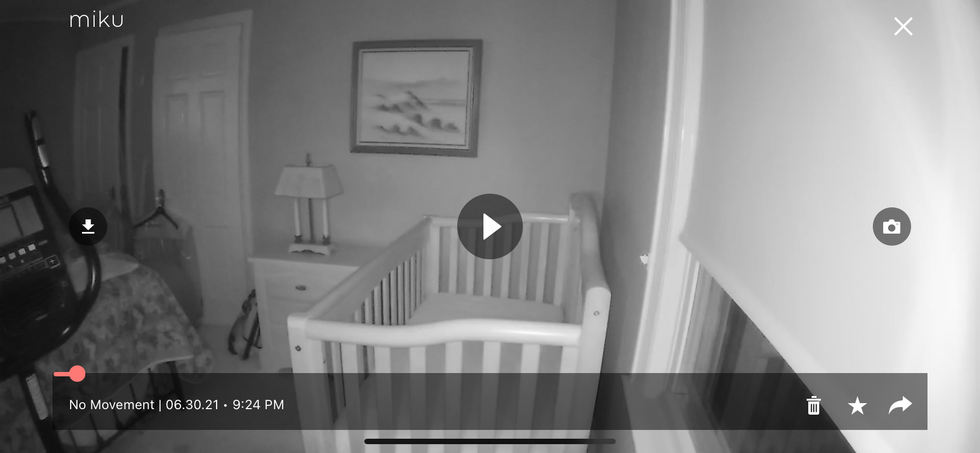 Night vision picture in Miku app is in black and white an clearn.GearBrain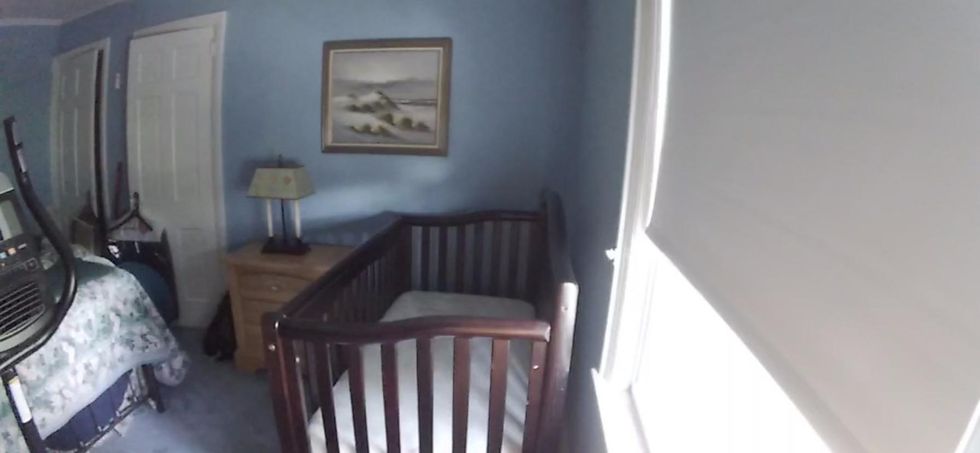 Day Vision in Miku App is in color.GearBrain
As we mentioned, Mike calls this its SensorFusion technology, which pairs with an algorithm to see a baby breathing. This is viewable through a scrolling bar at the bottom of the screen in the app which runs as the baby is sleeping, and there's a timer that records as well. Both Owlet and Nanit have similar technology but require a wearable be on the baby, whether that's a sock or swaddle. Be aware though that the Miku Pro is not a medical device, and if your child is having a medical issue, contact your doctor.
We did run into an issue setting up the device, when we had to reset the Miku Pro to connect the camera to our home Wi-Fi. A tip when installing? Make sure you stand next to your router when pairing the camera to your home Wi-Fi network first. And also, make sure that the location in your home where you are installing the camera has a good Wi-Fi signal. Our room had a low Wi-Fi signal (one bar) but the camera worked well. If you have any issues, contact support via the app. We did and response time was quick.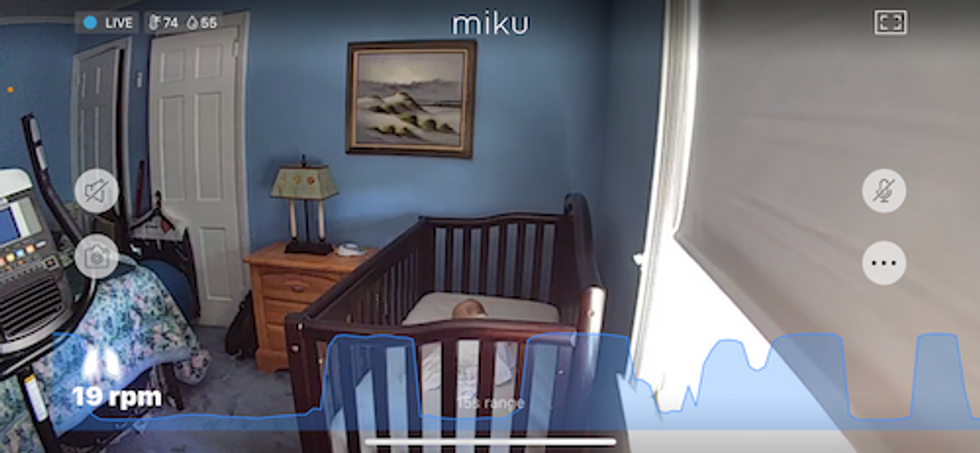 Live breathing of your baby while they sleep scrolls along the bottom of the screen in app.GearBrain
Summary

The Miku Pro is a powerful, smart baby monitor. You can easily monitor and talk with your child from your smartphone or tablet. You can also keep watch while they sleep, monitoring a child's sleeping patterns as well as their breathing, without having to put a wearable on your child. The camera has exceptional video resolution and night vision, and the device has a number of sounds and lullabies for you to choose. But this all comes at a cost.
Competitors Nanit and Cubo AI smart baby monitors work both with Amazon Alexa and Google Assistant-enabled smart displays, like the Echo Show 8. Miku Pro does not. And this is an option some parents may want to have for a baby sitter or someone you may not want to add into the app as part of your shared user list.
Also, you're going to pay more upfront for Miku Pro than its competitors — around $100 or so more. However, Nanit Pro and Cubo AI smart baby monitors do charge for storing videos and data after that first year. And that's something to keep in mind if you plan to use any of them for more than 12 months.
Lastly, these other smart baby monitors do require the baby either wear something, such as a wearable or a trackable swaddle, to monitor breathing and movement. That's something for new parents to think about, as well as grandparents, who might want to have a spare smart baby monitor for their grandchild who occasionally sleeps over for the night.
Pros:
Exceptional video resolution
SensorFusion technology – monitors breathing and sleep patterns without a wearable
30 days free video and data storage
Large selection of built-in sounds and lullabies
Cons
Price
No smart display integrations with Alexa or Google Assistant
Connectivity issues
Videos only record for 30 seconds