Like GearBrain on Facebook
Cut-price smart home company Wyze has announced a third-generation wired security camera, called the Cam v3.
It carries the same $19.99 price tag as its predecessor (plus $5 shipping from Wyze's website), but comes with new features and performance improvements, as well as a smart new design. It will be available to buy from mid-November.
Read More:
Wyze Cam v2 vs Wyze Cam v2: Hardware and design
Other than the new design, the biggest hardware change for the Wyze Cam v3 is the addition of waterproofing.
The Cam v3 has an IP65 weather resistance rating, which means it can be used outside and won't be damaged by rain. That rating also means it is safe to use in temperature between -4F and +113F. It can also be used inside, like the Cam v2.
Given the new camera is more likely to be used in dark conditions, Wyze has fitted the Cam v3 with twice as many infrared LED lights, improving night vision.
As for dimensions and weight, the new camera is 52mm tall, 51mm wide and 58.5mm deep, and weighs 98.8g. This compares to the Cam v2, which measures 56mm tall, 50mm wide and 50mm deep, while weighing 100g.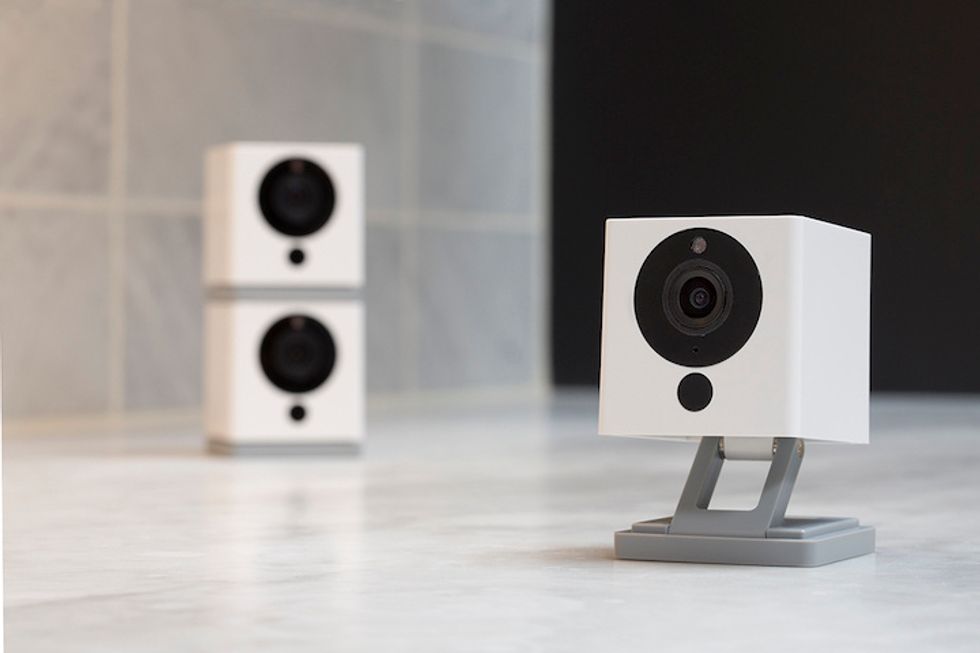 The second-generation Wyze Cam v2 Wyze
So, while the new camera is slightly shorter, it is a little wider and deeper, while being a fraction lighter. Despite the new design, the two comparers are almost identical in terms of size and weight.

New for the v3 is an optional spotlight attachment, which costs $10 and fits to the top of the camera, and is powered via the camera's USB port. Wyze says this accessory will be available for preorder soon.
Wyze Cam v3 vs Wyze Cam v2: Camera, speaker and microphone

Also new (and also a useful nighttime addition) is a lower f/1.6 aperture sensor that lets in 40 percent more light than before. Wyze says this helps the camera see in environments up to 25 times darker, and it enables a new color night vision mode, which is switched on by default. However if users prefer they can switch to regular black-and-white night vision.

Demonstration by Wyze of improvements in low-light performanceWyze
Resolution remains the same as before, at 1080p Full HD, and there is a microphone and speaker for two-way audio. Whereas the v2 camera had push-to-talk communication, the v3 has simultaneous communication. This is all useful for an outdoor camera, as it means you can communicate with someone outside your home without going to the door.

A siren is also included, which rings at 80 decibels and can be set to trigger when the camera spots a person.
A slight improvement over the v2 is with frame rate, which has been increased from 15 to 20 frames per second during the day, and from 10 to 15 at night. The field-of-view has also been increased for the new Wyze Cam v3, up from 110 degrees to 130.
As before, the Cam v3 is controlled using the Wyze app for iPhone and Android, and also integrates with Alexa and IFTTT.
The $19.99 Cam v3 can be pre-ordered now and Wyze says it will begin shipping at some point in November.
Wyze Cam Pan 1080p Pan/Tilt/Zoom Wi-Fi Indoor Smart Home Camera with Night Vision, 2-Way Audio, Works with Alexa & the Google Assistant, White - WYZECP1
Like GearBrain on Facebook