Like GearBrain on Facebook
It is impossible to review the Wyze Cam V2 (or indeed anything from Wyze) without jumping immediately to the price. This smart indoor security camera costs $20. Rivals like the Nest Cam Indoor can cost ten times more, yet on paper they offer a very similar set of features.
How can this be possible? How can Seattle-based Wyze, a new player on the smart home scene, sell a feature-packed and smartly-designed security camera for just $20?
Read More:
Thankfully, having recently set up a new Wyze system in my home (complete with sensors and bulbs to be reviewed later), I'm about to find out.
Wyze Cam review: Design and hardware

It shouldn't really matter what a security camera looks like, but nonetheless manufacturers love to put serious effort into the aesthetics of a device which, in many circumstances, is likely to go unseen for most of its life.
Wyze is no different, and as a result of the efforts of its design team the Cam looks like a character from a Pixar movie. The large camera lens and black surround, added to the black infrared night vision sensor and articulating stand, makes me imagine the Cam could play a minor role in Toy Story 5 or a new Wall-E movie.
It doesn't just look good, but the stand means you can easily adjust the camera's height, direction, and the angle at which it shoots — handy for when you place it high up and want to shoot down at a doorway. There's actually more options for movement here than with a $200 Nest Cam Indoor, and in any position the Wyze Cam stays securely in place. Alternatively, you can keep the stand folded closed.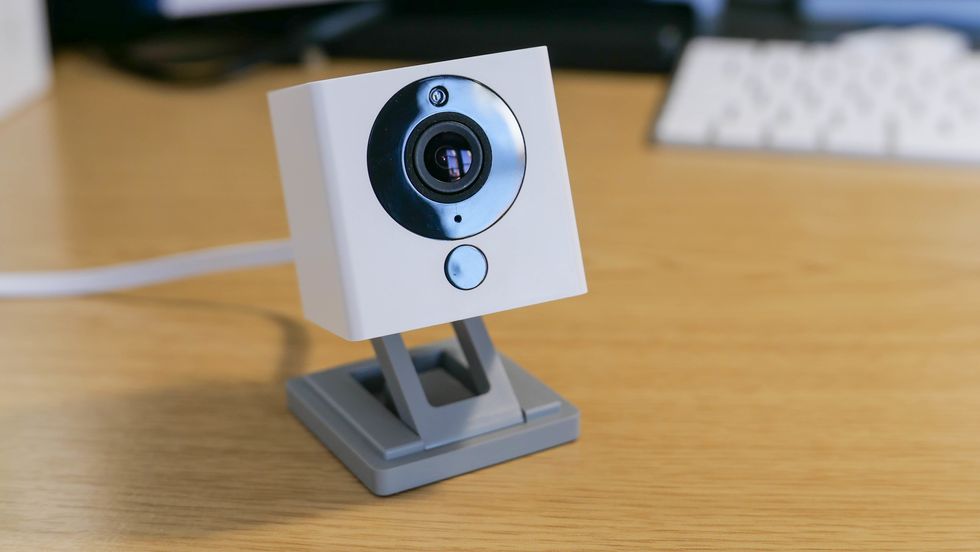 USB-powered, the Wyze Cam is for indoor use onlyGearBrain
Also included in the box is a magnetic mounting plate and a double-sided sticking pad with 3M adhesive. Peel the backs off, stick the pad to a wall (or wherever you like) and the magnetic plate, then snap the camera into place using the magnet integrated into its base.

There's also a wall plug and USB cable included in the box, which powers the camera via its microUSB port. A larger USB-A port is also on the back, which is used to attach the Wyze Bridge, sold separately and used to run the company's movement and door/window sensors.
Finally, there is a microSD card slot for recording video - either continuously or just when movement is spotted. This is in addition to video which is stored on Wyze's cloud and available to view for free for 14 days.
The camera feels well-made, even ignoring the fact it costs just $20. Honestly, if the Wyze Cam had a $100 price tag, I doubt anyone unfamiliar with the brand would bat an eyelid. What also impressed me was the packaging, which is clean, compact and has clearly been thought out. Dare I say it, but unboxing Wyze products is almost Apple-esque. Seriously.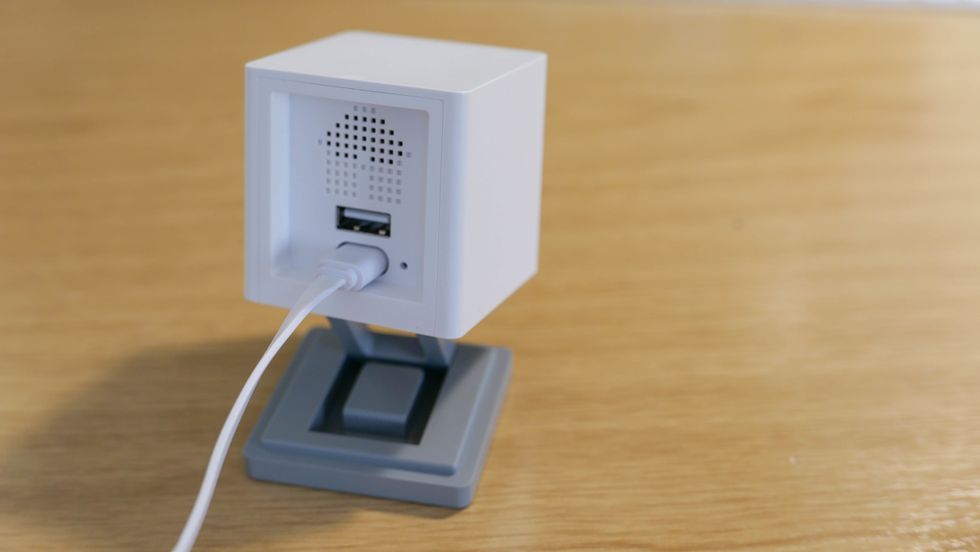 The USB port is for connecting the optional Wyze BridgeGearBrain
The only thing the hardware doesn't offer is weather-proofing, so this is strictly a security camera for indoor use only. You might get away with installing it under the roof of an outdoor decking area, for example, but you'd still have to power it with a USB cable, and ambient humidity could be a problem. In short, just point it out of a window if you need an outdoor view.

Wyze Cam review: Software and features
The camera is set up and controlled with the Wyze smartphone app for iOS and Android. Like other smart home ecosystems, this is also where you can view footage captured by the camera (both live and recorded) and where you add and manage further Wyze products, like extra cameras or sensors, smart plugs and light bulbs.
Setting up the camera takes no more than five minutes, and is simply a case of creating a Wyze account if you don't already have one, then introducing the camera to your Wi-Fi network and pointing the camera at a QR code displayed by the app.
After that, you can start using the camera right away. It records in 1080p Full HD and both live and recorded video can be zoomed in on by up to 8X. There is a set of toggle switches for turning the microphone and speaker on or off (the latter so you can speak to someone through the camera), and take a photo.
Recorded footage is easy to view and quick to skip through using a simple, scrollable timeline. You can pinch to zoom out, making it easier to skip across hours or days at a time, or there's a calendar view to tap on the day you want to view.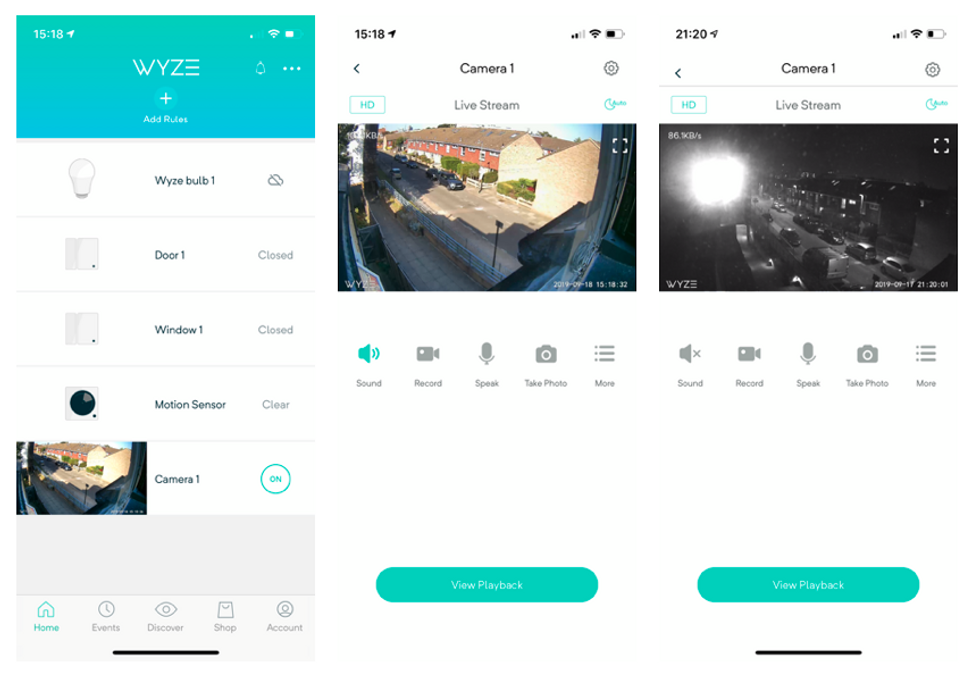 The Wyze app is fast, easy to use, and packed full of featuresGearBrain
Video quality is perfectly acceptable. It's 1080p Full HD shot through an F2.0 aperture, and while zooming in does degrade the quality rather quickly, it's still sharp enough to give a good view of what's going on. Bright sunlight can cause the image to wash out a little, but that's to be expected from a camera lacking HDR. That said, even on a beautiful sunny day with bright light next to late-afternoon shadows, the camera gave a good view.

The lens provides a 110-degree field-of-view, which is towards the lower end of what's acceptable from a security camera. I'd ideally want a wider view, to take in as much of the environment as possible, but for $20 it is hard to complain.
Sound quality is also perfectly adequate, both in terms of sound coming through the smartphone app via the camera's microphone, and sound emitted by the camera's speaker.
The Wyze Cam can be configured to notify you in several different ways. It can buzz you when any movement or sound is noticed, or it can be set to use on-board artificial intelligence to only alert you via the smartphone app when a person is seen, or a smoke or CO2 alarm is heard. In any of these instances, the camera automatically records a 12-second video clip.

I found notifications arrive quickly, and tapping on the alert on my iPhone X opened the Wyze app and video feed in just a couple of seconds. I'd say the video began playing quicker than it does on the Ring Video Doorbell, which is high praise for the budget camera. Also, I noticed the camera is very quick at starting its recordings; often a passing car (which triggered the camera) would have only just entered shot at the start of a recording.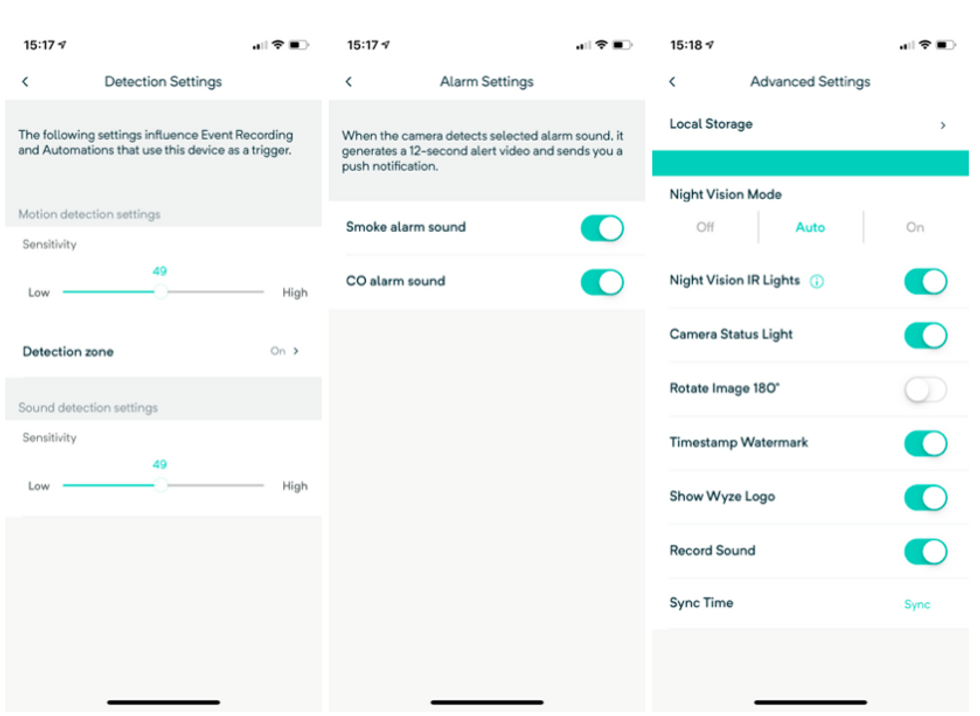 There are plenty of customization options on offerGearBrain
For reference, I positioned the Wyze Cam in my bedroom, pointing out of the window towards the spot where I usually park my car. As I've previously had a car written-off while parked outside my house (and no note left by the careless driver, naturally), I feel 24/7 recording of this view by the Wyze Cam would be $20 very well spent.

A feature I didn't expect to find for the low price is the ability to adjust the camera's sensitivity to movement, and draw a box in its video feed, where only movement in that area will be acted upon. This is useful if you want the camera to only record if movement is detected on your driveway, but the wide lens also sees passing traffic that you want the system to ignore.
I really can't fault the performance of the Wyze Cam. Even if it cost four or fives times more, I'd have little to complain about. It records good quality video, works quickly and reliably, has both local and free online video storage, night vision with four infrared sensors, and two-way audio.
Wyze Cam review: Smart home integration
The Wyze Cam works with Amazon Alexa, Google Assistant and IFTTT (If This, Then That). Unless you are locked into an Apple HomeKit ecosystem, this is a fantastic feature set regardless of the $20 price tag.
What this support means is you can ask Alexa to play live video from the Wyze Cam on all models of Amazon Echo Show, the Echo Spot, all models of Fire TV Edition televisions, the Fire TV Cube, all generations of Fire TV, and recent Fire Tablets and Fire Stick devices.
Just tell Alexa to ask the Wyze skill to show video on the device, and it'll work. If you have multiple Wyze Cams, then call the camera out by name to have its feed show up.
Similarly, support for Google Assistant means you can ask for the Wyze Cam's video feed to show up on your Google Home Hub (or upcoming Nest Hub), or any TV with Chromecast built in, or with a Chromecast dongle attached.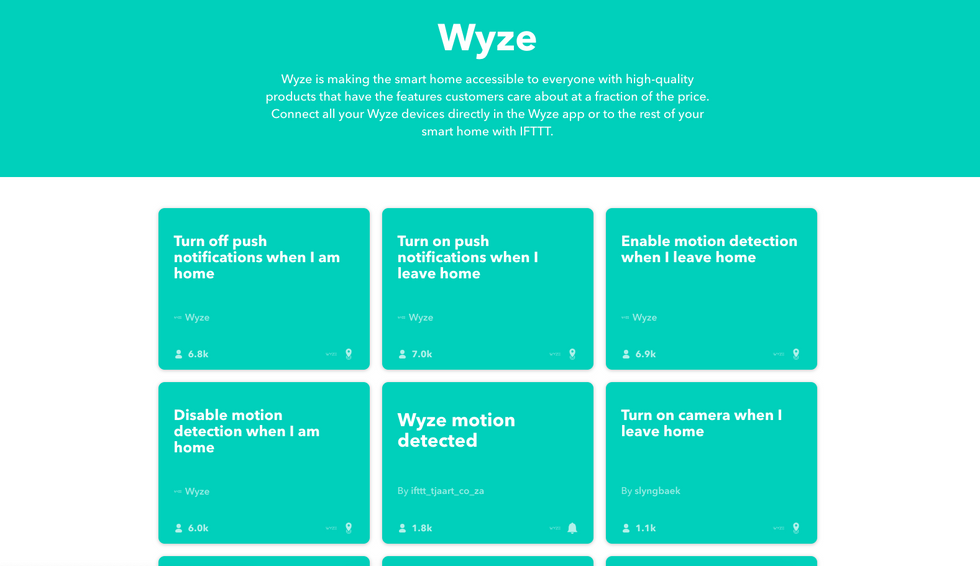 Finally, IFTTT integration means you can do even more with the Wyze Cam. Many of these applets are location-based, so you can have Wyze notifications switch off when you are at home (based on the location of your smartphone), or switch the camera on automatically when you leave home.

Add in the Wyze Motion Sensor, and you could also have a Kasa smart plug or Philips Hue light switch on when movement is detected, helping to deter burglars, or light your way to the bathroom at night.
Conclusion
The Wyze Cam is a remarkable offering for just $20. In fact, it's a solid smart camera for $100; the fact you can buy five for that price — or 10 for the cost of a Nest equivalent — is simply staggering.
The camera looks and feels good, is easy to set up, configure and use, and works reliably. The video it records is sharp and clear during both day and night, there is 14 days of free cloud storage plus microSD card support, and a broad offering of smart home integration.
Beyond Apple HomeKit support, there really isn't anything this camera misses out on, regardless of its price.
Pros:
Unbelievably low price
Compact design
Broad smart home system integration
Cons:
No battery, so isn't wireless
No HomeKit integration
110-degree field of view
Like GearBrain on Facebook