Like GearBrain on Facebook
Rounding out a year that saw it expand into health and fitness, Wyze returns to its most notable product, and gives it an impressive upgrade, with the Cam v3.
For its third generation, the Wyze Cam keeps the original's $20 price tag, but introduces a range of useful and impressive new features, including weatherproofing and a starlight sensor enabling color night vision.
There are also improvements to the microphone and speaker for enhanced two-way audio, more mounting options, enhanced processing power, and video captured at a higher frame rate.
Wyze Cam v3 review: Design and hardware
Looking a little like a Pixar character, the Wyze Cam v2 shares a similar design to the Cam v3, but now we have a camera with rounder edges. It's a friendlier design but one that also retains the rotating, articulating stand.
Unlike the previous model, the new Cam v3's USB power cable is hardwired into its rear, thus making the camera weatherproof with a rating of IP65. This means it can be located outside and will survive a rainstorm.
Also different is how the new camera no longer has a USB port in the back. This was used by the Cam v2 to power the Wyze Sense smart home security system, but that has now been discontinued.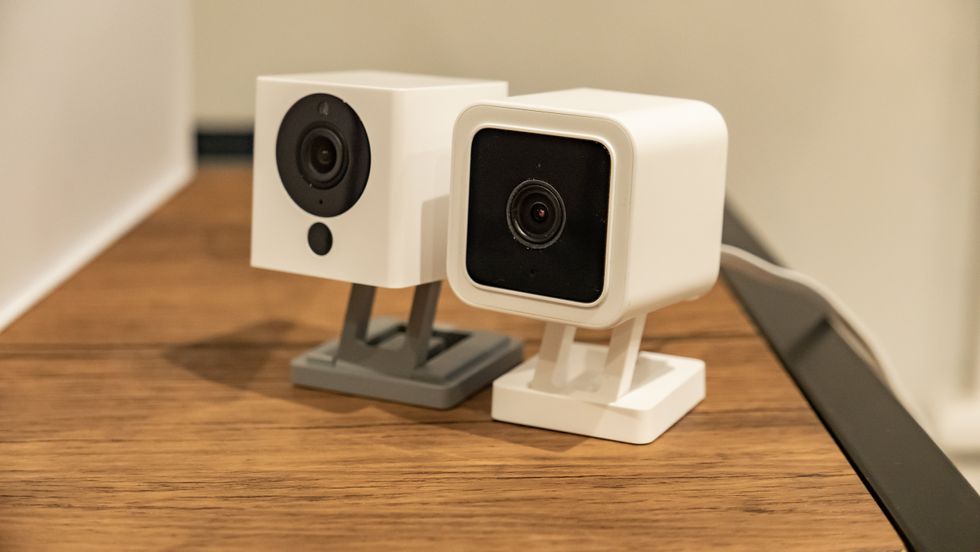 The older Cam2 vs (left) and new Cam v3GearBrain
A new model of Sense is currently in development, but buyers of the Cam v3 can't connect the older Sense on its own. Instead, if you want to run Sense, you'll need to keep your Cam v2 connected, then add the Cam v3 to your Wyze system, and then upgrade to the new Sense once that has been launched.

Although the new Wyze Cam v3 looks and feels similar to the Cam v2, its makers say it is not only weatherproof, but can handle temperatures between -4F and 113F too. And the camera includes an articulating, rotating and magnetic stand for indoor use, plus a metal plate, adhesive tape and screws for mounting outside.
Weather resistance is achieved thanks to a rubber door protecting the micro SD card slot. Rubber also protects a connection between the cable hardwired to the camera and an included six feet USB cable for plugging the camera into the included power adapter.
Next to the card slot is the camera's single button, which kickstarts the setup process when pressed. This makes setup simple, as I'll explain in the next section, but a single short press of this resets the camera, disabling it.
When fitted to a wall or fence using the included mounting plate this isn't a problem, as the steel plate covers the button and micro SD card slot, but when using the camera indoors they are exposed and the button could easily be pressed, either accidentally by a family member moving the camera, or by a burglar with very specific security camera knowledge. That said, footage of them approaching the camera would still be saved to the SD card and a movement alert would be sent to the Wyze phone app.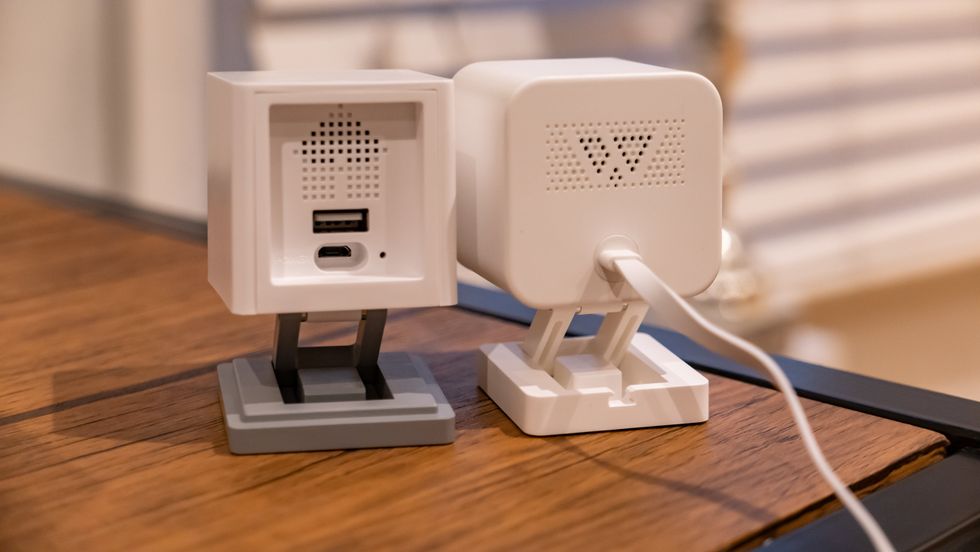 The rear of the Wyze Cam v2 (left) and Cam v3GearBrain
Wyze Cam v3 review: Set up and software

Like other Wyze products, setting up the Cam v3 is very simple. Just plug it is using the included USB cable, press the setup button, open the Wyze smartphone app and follow the instructions. This involves creating a Wyze account if you don't have one already, then showing the camera a QR code created by the app.
Next you just have to insert a microSD card (or opt to use Wyze's own cloud storage), give the camera a name, such as 'Back Yard Camera' and you are good to go.
Speaking of cloud storage, Wyze offers 14 days of free storage, which means video is saved for 14 days before it is deleted. However, recordings are each limited to 12 seconds in length and there is a five-minute cooling-down period between each, meaning the camera won't record again for five minutes after movement is first detected. You can install a microSD card to get around this, as every instance of movement is recorded to the memory card until it gets full, at which point the oldest videos are overwritten.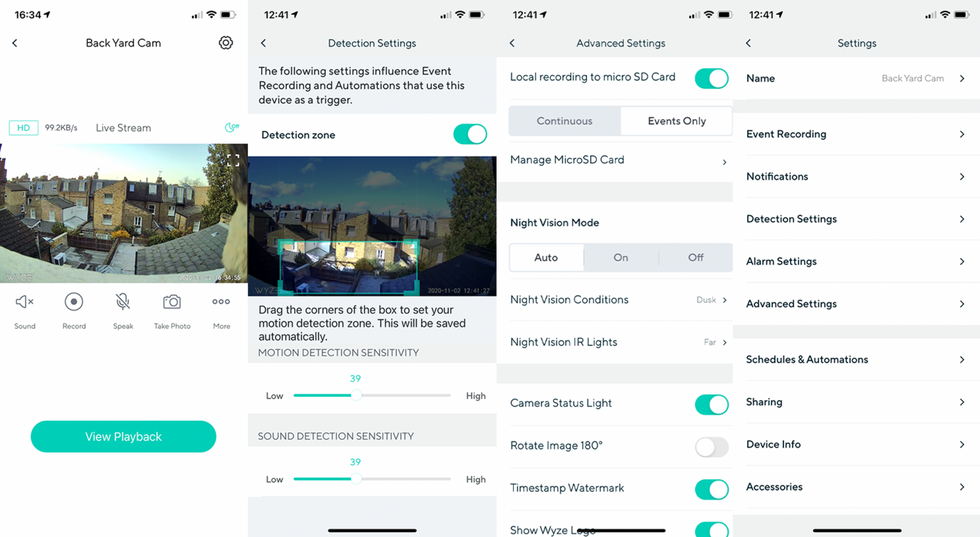 Wyze smartphone app and Cam v3 settingsGearBrain
Wyze also offers its Plus cloud service, which costs $1.99 per camera per month and provides storage for unlimited video length with no cool-down period between recordings. New Wyze Cams come with a two-week free trial of Cam Plus, for which you aren't required to hand over billing details (a smart move). As well as unlimited video length and no cool-down between recordings, Cam Plus includes AI-powered person detection, and coming soon Wyze promises facial recognition, plus package, pet, and vehicle detection too.

Wyze's smartphone app (for iOS and Android) works well, is quick to receive movement notifications and open a live view from the camera, and offers plenty of customization options. You can create a detection zone, where the camera will only react to movement in a certain area of its view, and then adjust its motion sensitivity on a scale of one to 100.
A separate sensitivity scale can be set for sound detection, and further settings let you set the camera to notify you and start recording when a smoke or CO2 alarm is heard by its microphone.
I like being able to set a detection zone, as this prevents the camera from being triggered by passing traffic or trees blowing in the wind. However, the detection zone can only be square or rectangular, not a custom shape, and there are minimum dimensions that it can't be smaller than, so it's not quite as customizable as I would like.
On a related note, I found the motion sensitivity needs to be set fairly low, at around 25 to 30 percent. Any higher, and trees blowing in the wind, or even the passing of cloud shadows, can cause the camera to send an alert and start recording.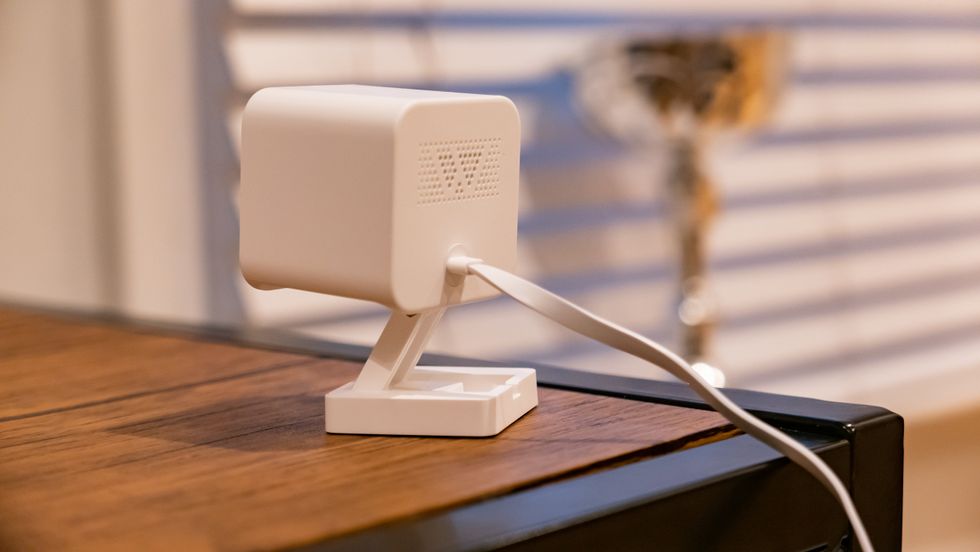 Rear of the Wyze Cam v3GearBrain
There is also a schedule and automation section for creating rules that determine how the camera should behave in certain situations. At its simplest this involves creating a schedule for when the camera functions — you might want an indoor camera disabled while you are at home, for example. It's also possible to connect multiple Wyze devices so one can trigger another; for example, when a Wyze Sense sensor on your front door opens, a Wyze smart light bulb switches on.

The Wyze app feels comprehensive, especially when you consider the camera costs just $20 and 14 days of cloud storage is offered for free.
Finally for the software side of things, the Wyze Cam v3 has Alexa support. This means you can ask the Amazon voice assistant to show a live video feed from any of your Wyze cameras on an Alexa-enabled smart display, like Amazon's Echo Show range.
Wyze Cam v3 review: Video and audio quality
For its third generation of Cam, Wyze has increased the performance of its processor, fitted a wider F/1.6 aperture lens for capturing more light, and widened the field of view from 110 to 130 degrees.
Wyze has also doubled the number of infrared night vision sensors from four to eight and fitted a starlight sensor. The latter enables a feature called color night vision, which does exactly what you would expect. Instead of using infrared to create the black-and-white night vision you are probably familiar with, the starlight sensor dramatically boosts the camera's ability to see, in full color, with the tiniest of light.
The image below shows the huge difference the starlight sensor makes to the Cam v3, compared to the Cam v2. The cameras are sat next to each other in exactly the same lighting conditions, around 45 minutes after sunset.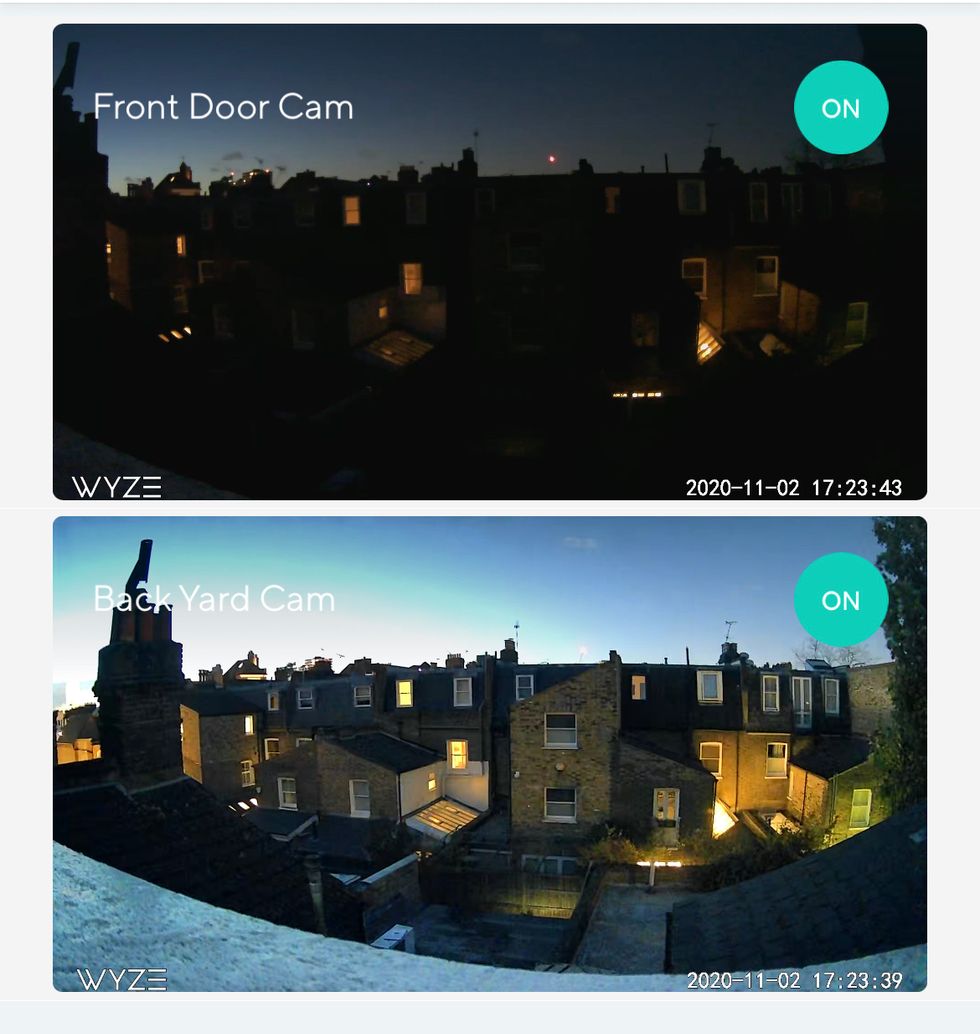 Difference in low light performance between v2 (above) and v3GearBrain
This doesn't work in complete darkness, so for that you'll need to stick to regular IR night vision. But for brightening dimly-lit scenes, in full color, the starlight sensor does an incredible job.

Video resolution remains the same as before, at 1080p Full HD. This is mostly fine but means you aren't able to zoom in on recorded footage much without losing quality. You'll therefore need to put some thought into where you locate the Cam v3, especially if you are using it high up and outdoors, but require a detailed view of something specific like a door or gate.
There has also been an improvement to frame rate over the Cam v2, which is up from 15 during the day and 10 at night, to 20 during the day and 15 at night; this helps make footage smoother.
Next on Wyze's extensive list of improvements for the Cam v3 is a better speaker and microphone, making it much easier to have a conversation through the camera. It's not quite on par with a dedicated (and more expensive) video doorbell, but it's a workable way to offer a similar feature. It's also now possible to have a two-way conversation with the microphones of the camera and smartphone open at the same time, as the Cam v2 uses an inferior push-to-talk system through the Wyze app.
Wyze has focused on exactly the right places here, sticking with the adequate 1080p resolution and instead spending its budget on improvements to aperture, field of view, frames per second and audio – and of course the excellent starlight sensor.
My only criticism is how the camera can't intelligently switch between IR night vision and starlight-powered color night vision, as you have to pick between them in the settings menu. That said, you can quickly see which setting will work best in your camera's location, then pick whichever provides the clearest picture – and remember, the IR night vision mode can be set to switch on and off automatically.
Wyze Cam v3 review: Price and availability
The new Wyze Cam v3 is priced at $19.99 plus $5 shipping and is available to pre-order now, ahead of shipping in mid-November 2020.
Wyze Cam v3 review: Verdict
As with the Cam v2 a year ago, I am deeply impressed by the Cam v3. Wyze has made improvements in all of the right places to make the new model feel like a serious upgrade on its predecessor, while somehow retaining the compact design and very low price.
Your expectations for a $20 smart home security camera might not be very high, and before Wyze came along I wouldn't have blamed you for having that view. But, as the Cam v2 did before, the Cam v3 mostly blows those low expectations out of the water.
This is a compact and easy to use security camera that records in Full HD, has a microphone and speaker for two-way audio, can alert you about movement as well as the sound of a smoke or CO2 alarm, offers plenty of fine-tuning options, as well as scheduling and automation, while having hugely impressive low-light performance. Even the premium cloud storage tier is only $1.99 a month (per Wyze camera).
Pros:
Incredible value
Compact and attractive design
Amazing low-light performance
Cons:
Limitations with free cloud storage option
Detection zones not as customizable as hoped
Can't automatically switch between IR and color night vision
Introduction of The GearBrain, The First Compatibility Find Engine for Smart Devices www.youtube.com
From Your Site Articles
Related Articles Around the Web
Like GearBrain on Facebook