As car makers continue to work out what to do with old EV batteries, Nissan has shown off a new concept - using the batteries to power your next camping trip.
The battery pack uses just a small part of the batteries previously fitted to Nissan's Leaf EV. They have a capacity of just 700wH (which is 0.7kWh, or a little over one percent of the largest Leaf battery).
Read More:
But with this small battery, the system can still power all of the camping essentials for a short trip away. This includes a fridge, dual-burner gas stove, portable microwave, 4G hotspot, LED lighting, and several USB outlets.
All of these accessories are included with the battery, along with a 400W solar charging kit which Nissan says can refill the battery in two to four hours. Alternatively, it can be plugged into a regular 230V wall outlet and recharged in just one hour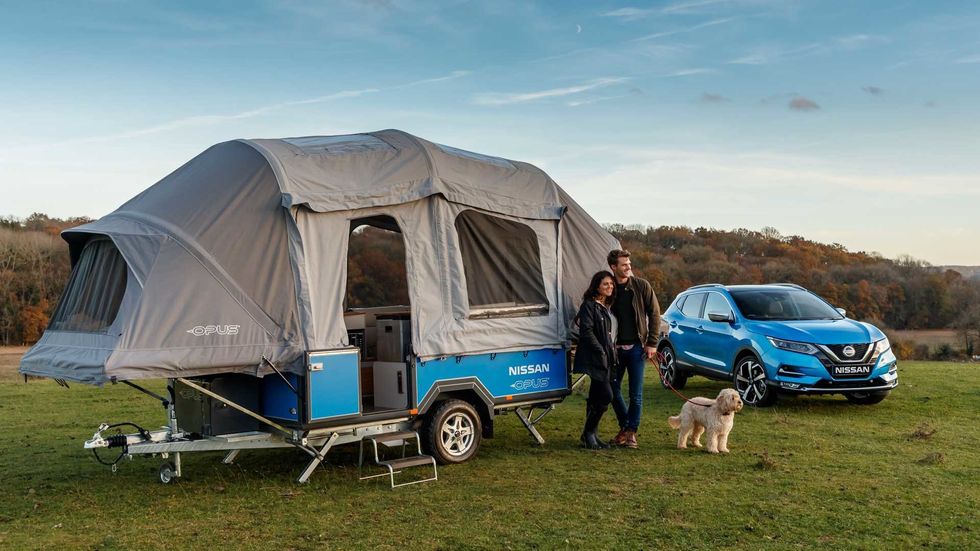 Battery is made in collaboration with trailer tent producer OpusNissan
Although only a concept for now, Nissan has released images and a video, below, showing how the battery comfortably fits in the trunk of a car, ready to be taken on your next camping trip. Using a battery means there's no need to use your car's own power, or resort to a noisy and polluting diesel generator.

Called the Nissan x Opus Roam, the system - comprising a trailer with tent and camping gear, plus the battery - has been made in collaboration with Opus, maker of a tent which is installed to the top of a trailer.
The benefits here are obvious. Campers don't need to bother with a generator, and aren't restricted to only setting up their tent close to a power supply. Instead, they can go truly off-grid for a couple of days and carry all the power they need with them - and clean power at that, with no need to run their car's engine while parked.
And, of course, this extends the life for batteries which may no longer be required in a car, saving them from the scrap heap.

This camper and its battery pack, called the Roam, is still a concept for now, but we hope Nissan and Opus put something similar into production soon.
GearBrain Road Trip Gadget Guide www.youtube.com