Like GearBrain on Facebook
Nvidia has revealed its latest autonomous car super computer, which it says packs the power to make truly self-driving cars — with no steering wheel or pedals — a reality.
Called Pegasus, the chip will become the brain of fully autonomous vehicles before the end of this decade, and can handle over 320 trillion operations every second.
The chip, which is the size of a car license plate, is the missing piece of the self-driving jigsaw puzzle — one which will make it possible for the first time for manufacturers to build vehicles that are completely autonomous.
Nvidia says Pegasus will offer Level Five autonomy, where a vehicle can drive itself on all roads and in all environments, regardless of weather, traffic, road conditions, or the actions of human drivers around it. Such vehicles will have no conventional controls for its occupants to use.
The Silicon Valley-based chipmaker says it has over 25 customers working to build the next generation of self-driving cars, taxis and long-haul trucks, mentioned during an industry event in Munich on October 10. These include courier company DHL Group and automotive parts supplier ZF.
Pegasus can handle 320 trillion operations per second, a 13-fold increase on its predecessor. The chip will be available for manufacturers to start working with by the middle of 2018, Nvidia says.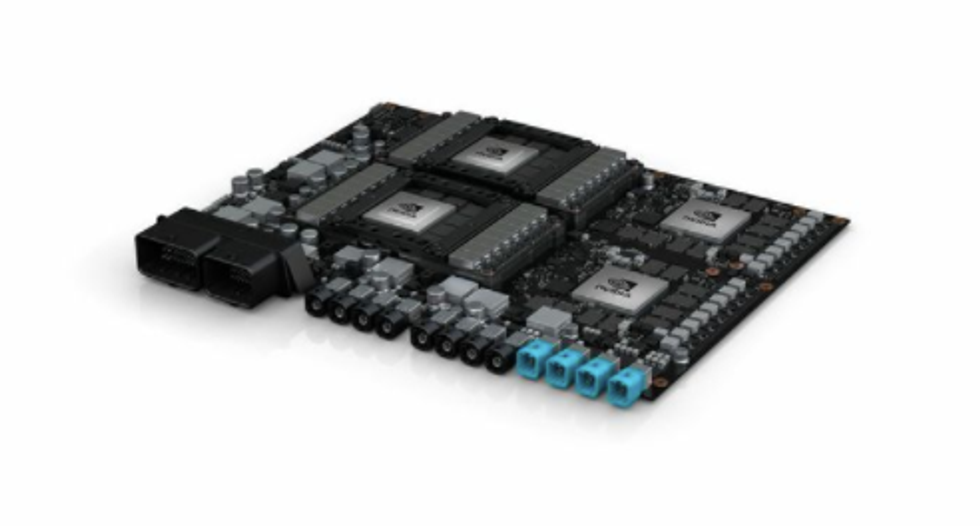 Pegasus is around the size of vehicle license plateNvidia
Regarded as the holy grail of robotic driving, Level Five autonomy is far beyond what today's cars are capable of. Even Tesla's Autopilot system, which on some roads can operate the steering, accelerator and brake, and switch lanes when asked to by the driver, is only regarded as Level Three, as the driver is always ultimately responsible for the car's actions.
Level Four, which Audi claims it will soon bring via a software update to the recently launched A8, is where a car can completely drive itself on specific roads. Audi even claimed at the launch of the A8 in July 2017 that, when on such roads, drivers can take their hands off the wheel and watch a movie on the infotainment screen.
Although watching TV or sleeping in a car is the end goal for autonomy, the Pegasus chip will begin life driving haulage vehicles on private roads, Nvidia said.
"Creating a fully self-driving car is one of society's most important endeavors -- and one of the most challenging to deliver," says Jensen Huang, Nvidia founder and CEO. "The breakthrough AI computing performance and efficiency of Pegasus is crucial for the industry to realize this vision.
"Driverless cars will enable new ride- and car-sharing services. New types of cars will be invented, resembling offices, living rooms or hotel rooms on wheels. Travelers will simply order up the type of vehicle they want based on their destination and activities planned along the way. The future of society will be reshaped," he says.
Like GearBrain on Facebook