Remember when you thought first-person roller coaster rides were revolutionary? Well, get ready for Oculus' first full length virtual reality movie, 'MIYUBI', created by Felix & Paul Studios and Funny or Die. The 45-minute film stars Jeff Goldblum, Emily Bergl and P.J. Byrne.
To view the film, you'll need VR gear (Oculus Rift or Samsung Gear VR), an internet connection and of course — you.
The film is shot from the first-person perspective of a small Japanese toy, given to a little boy on his birthday. Set in 1982, the movie centers around the toy's experience with an American suburban family.
"Miyubi" is a 45-minute feature film told entirely in virtual reality
You'll need an Oculus Rift or Samsung Gear VR to watch "Miyubi." But the trailer just requires a minute of your attention.
A little boy in a birthday hat, Dennis, surrounded by his family members, is screaming (think about lowering your volume) as his family captures the event on video. Of course something goes wrong, and the trailer is intercut with images that look like video interference (hello 1980s) cutting to other images: a rock star blowing smoke into the robot's face, a little girl in a princess costume hosting a tea party with it, and an animated scene of a unicorn in a forest. Finally, Jeff Goldblum informs the robot that he's "put something in [him]" in the final cut.
It's easy to gather that this isn't going to be a normal movie, but the genre? That's not as easy to decipher. Horror? Comedy? Sci-fi? I guess we'll just have to watch the film. Mashable reported rumors suggest that if you look at three key objects, you'll unlock a secret bonus scene.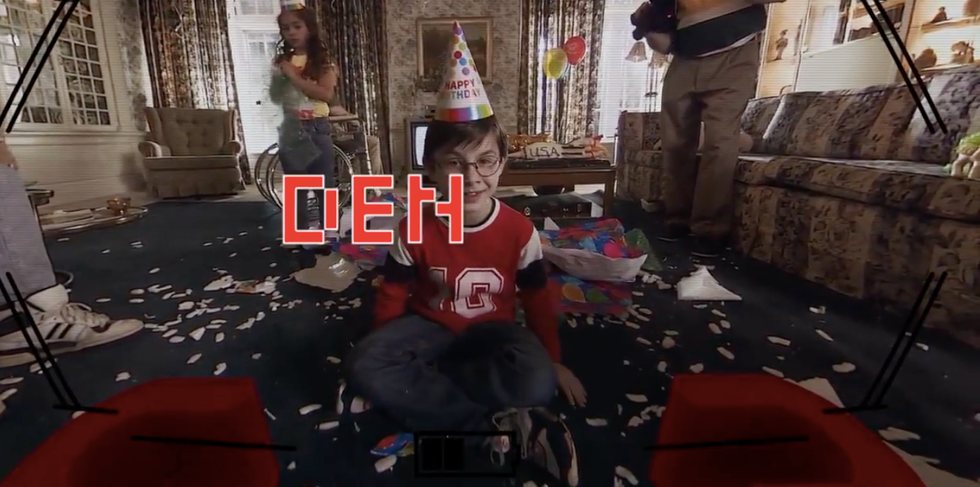 "Miyubi" is a VR film that takes place in the 1980s.
The movie debuted at the 2017 Sundance Film Festival and the Cannes International Film Festival, but you can watch the entire 45-minute feature now it if you've got an Oculus Rift headset or a Samsung Gear VR.
This VR film is a big step to opening the doors for future VR and AR films for Hollywood. Both studios and filmmakers are eager to take advantage of this new technology in the way they tell stories on the screen.
With "Miyubi" a film meant to be seen with a VR headset, and more than likely at home, how the film does among viewers will be watched — closely.
- Amber Wang last wrote about taking another round at Pokémon Go.