Like GearBrain on Facebook
More than a year after Facebook promised to clean up its act following the Cambridge Analytica scandal, the social network has created a new tool to limit its ability to gather data from users as they browse the web.
Called your 'Off-Facebook Activity', this data is collected by partners of Facebook, such as retailers, who tell the social network which websites you visit. Facebook can then offer this data to advertisers, who use it to show you targeted ads on Facebook.
Read More:
For example, say you visit a fashion retailer and look at a pair of shoes. If that retailer is partnered with Facebook, it will share the data of its website visitors with the social network. If the device information of a visitor to the website matches that of a Facebook user, Facebook can then show adverts of those shoes to that user.
Both Apple and Mozilla have this year begun taking steps to limit how this data is shared, with their respective Safari and Firefox web browsers.

With the new tool, Facebook says users can see a summary of the information apps and websites have sent to Facebook. Users can then "disconnect" this information from their Facebook account, then choose to have all future off-Facebook activity disconnected from their account.
Alternatively, users can opt to disconnect only information collected by specific apps and websites. However, while this data is disconnected, it is not deleted. Instead, while Facebook will no longer know you specifically have looked at the shoes in the above example, it could still know that lots of Facebook users are looking at them on the retailer's website, then distribute ads accordingly.
Facebook says: "If you clear your off-Facebook activity, we'll remove your identifying information from the data that apps and websites choose to send us. We won't know which websites you visited or what you did there, and we won't use any of the data you disconnect to target ads to you on Facebook, Instagram or Messenger."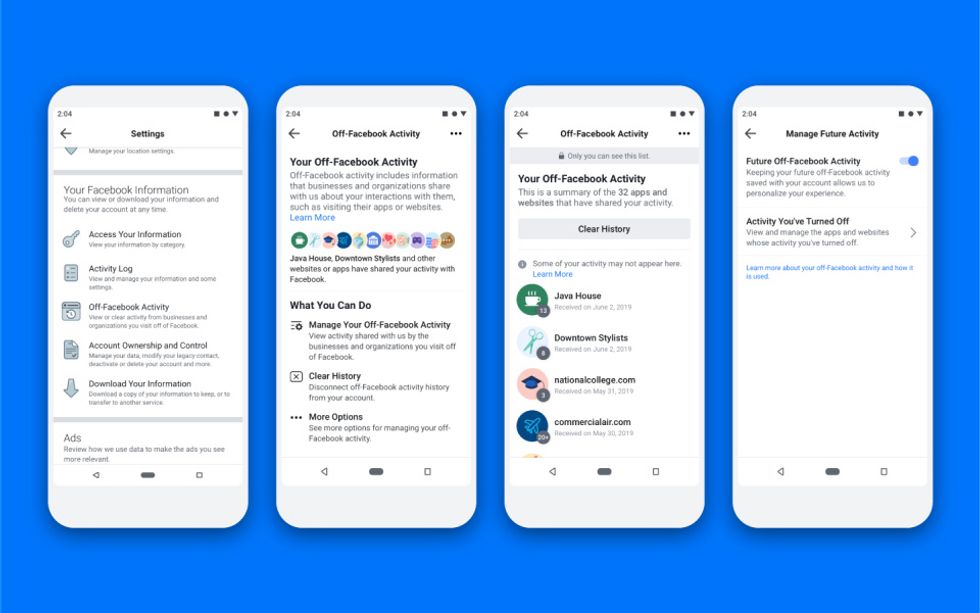 The new tool helps users understand how their data is being sharedFacebook
The social network, which said somewhat defensively "this is how much of the internet works," added that it expects disconnection "could have some impact on our business, but we believe giving people control over their data is more important."

Facebook is rolling out the new privacy option very slowly at launch. For now, it is only available to users in Ireland, Spain and South Korea. But the company says it will roll out "everywhere over the coming months".
The new tool represents the first time Facebook users have been able to see in detail how the social network watches their activity across the internet and their smartphone apps. It will let users see who has shared their information with Facebook, how many times they have done so, and when.
Facebook says the average user has 80 apps on their smartphones and uses 40 every month. So if you use the new tool to look at the data collected by those apps - and many of the websites you visit - you could be presented with a surprisingly large database.

To be clear, this information relates to the device used to visit websites and use apps. Facebook hasn't said exactly what data is given to it by the sites you visit, but it likely includes a device ID, along with a description of the device, such as its manufacturer and model name, operating system, web browser name, and display resolution.
This is a step in the right direction for Facebook, but we wouldn't be surprised to hear horror stories from the first users to look at the data collected by the social network. Those who use a lot of apps and visit a broad range of websites will likely be shocked at how much information all of those services are sending back to Facebook.
From Your Site Articles
Related Articles Around the Web
Like GearBrain on Facebook