Like GearBrain on Facebook
Oppo, the Chinese technology company and smartphone maker, has revealed what it claims to be the world's fastest wired and wireless charging technology.
Although not yet available to buy, the chargers are claimed to refill empty batteries in as little as 20 minutes. Oppo often showcases new smartphone technologies before releasing them as part of a finished product. It previously developed the fast-charging system used by OnePlus.
Read More:
Oppo's latest 125W wired 'flash charge' technology can refill a 4,000mAh phone battery from empty to 100 percent in 20 minutes. This beats Oppo's previous record by a staggering 10 minutes.
But, because batteries charge quicker the emptier they are, the first 41 percent of charge takes just five minutes. For context on battery size, the Apple iPhone 11 Pro Max has a 3,969mAh battery.
Oppo says the new charger, which isn't available to buy just yet, "has significantly improved power density properties in order to effectively reduce charging time whilst simultaneously not increasing the size of the charger."
It isn't just the charger that makes these speeds possible. The cable (USB-C at both ends) and battery itself have all been upgraded to safely handle the power delivery.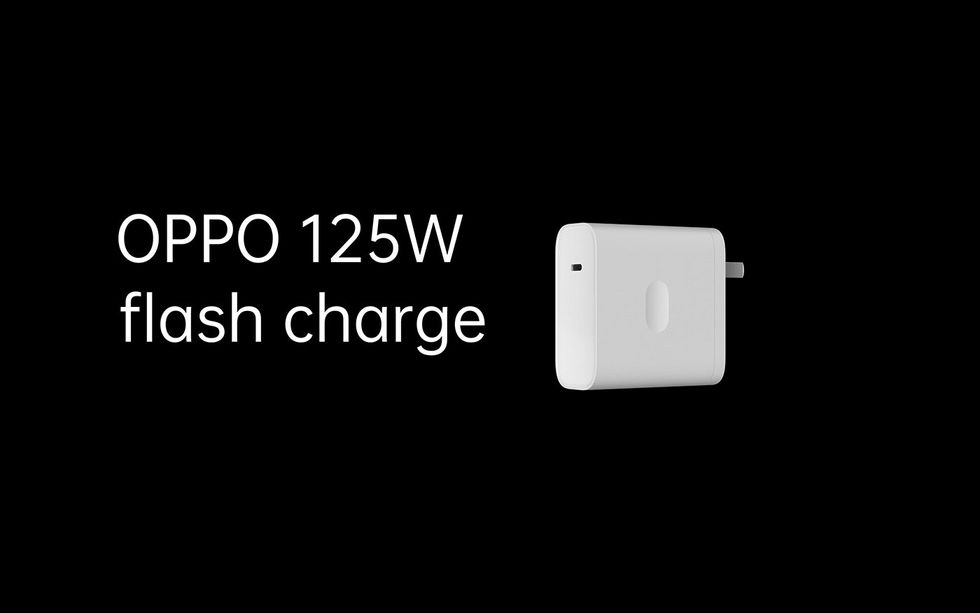 Oppo's 125W charger is the most powerful ever for smartphonesOppo
Oppo also announced a new super-fast QI wireless charger today, with a 65W output that can fully charge a 4,000mAh battery in 30 minutes. Anyone who has placed their phone on a wireless charger will know that a lot of heat is generated. Oppo has worked to fix this, it says, by fitting a semiconductor cooler to the base of the charger, helping to lower phone temperature while charging.

The company says: "In this case, the temperature of the back of the phone is kept over two degrees centigrade lower than that of only using the fan to dissipate heat."
Oppo believes fast charging of smartphones will be crucial due to the extra energy demands of 5G. Video streaming, gaming and augmented reality applications are all expected to take advantage of 5G in the months and years ahead, but there is unlikely to be a breakthrough in smartphone battery design or processor efficiency. Faster charging is easier to achieve, and means smartphones can be topped up quickly during the day, instead of being expected to last, while connected to 5G, through to the evening.
Oppo F11 Pro Charger, BoxWave [Wall Charger Direct] Wall Plug Charger for Oppo F11 Pro
From Your Site Articles
Related Articles Around the Web
Like GearBrain on Facebook