Locating missing things is a drag. We're rarely searching for something during a calm moment — it's almost always when we're in a rush, needing to get out of the house, or on deadline. Orbit makes a collection of small trackers, from stick-on buttons to those with loops, that can go on glasses, wallets or any items you want to find, whether that's your keys or a purse. I had two of its standard round disks to play with over the past four weeks, to see if they helped me find items I normally couldn't locate, faster.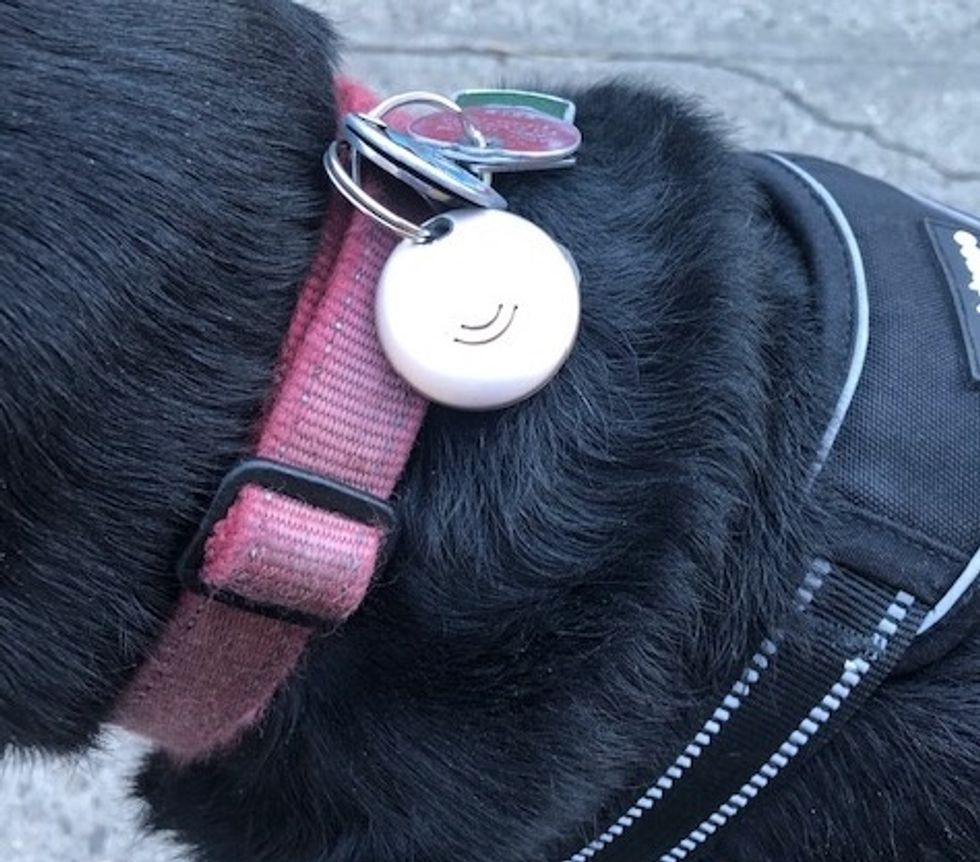 I added one of the Orbit trackers to my dog's collarGearBrain
Starting
Orbit is a small, round thick disk. Slots on one side push out sound, at the top of a hole that make it possible to attach to key rings or a metal loop so it can be slid on to a dog collar, or even a zipper. The device works over Bluetooth, and at a distance of about 100 feet. That means you're not going to get something to ring in a very big home — but you can walk around a house and keep trying to ping the Orbit to locate it.
To get Orbit started, you download the iOS or Android app, and pair the Orbit. It's pretty easy, with the app locating the device within seconds. Then you can name the tracker, and even customize how you want it to react when you're trying to locate it — including the sound or alarm that it plays. The app lists multiple Orbits that you're using, helpful to stay on top of what you've tracked.
Orbit runs on batteries, which are replaceable. You get tools to help you twist open the Orbit, and an extra battery comes with the device. You can also see just how low the battery is inside the app. If you're using multiple Orbits, each one will show its battery level separately. With regular use, each battery should last you about six months, says the company. In about four weeks of use, however, I saw one device use up its entire battery, the other stayed at about 100 percent.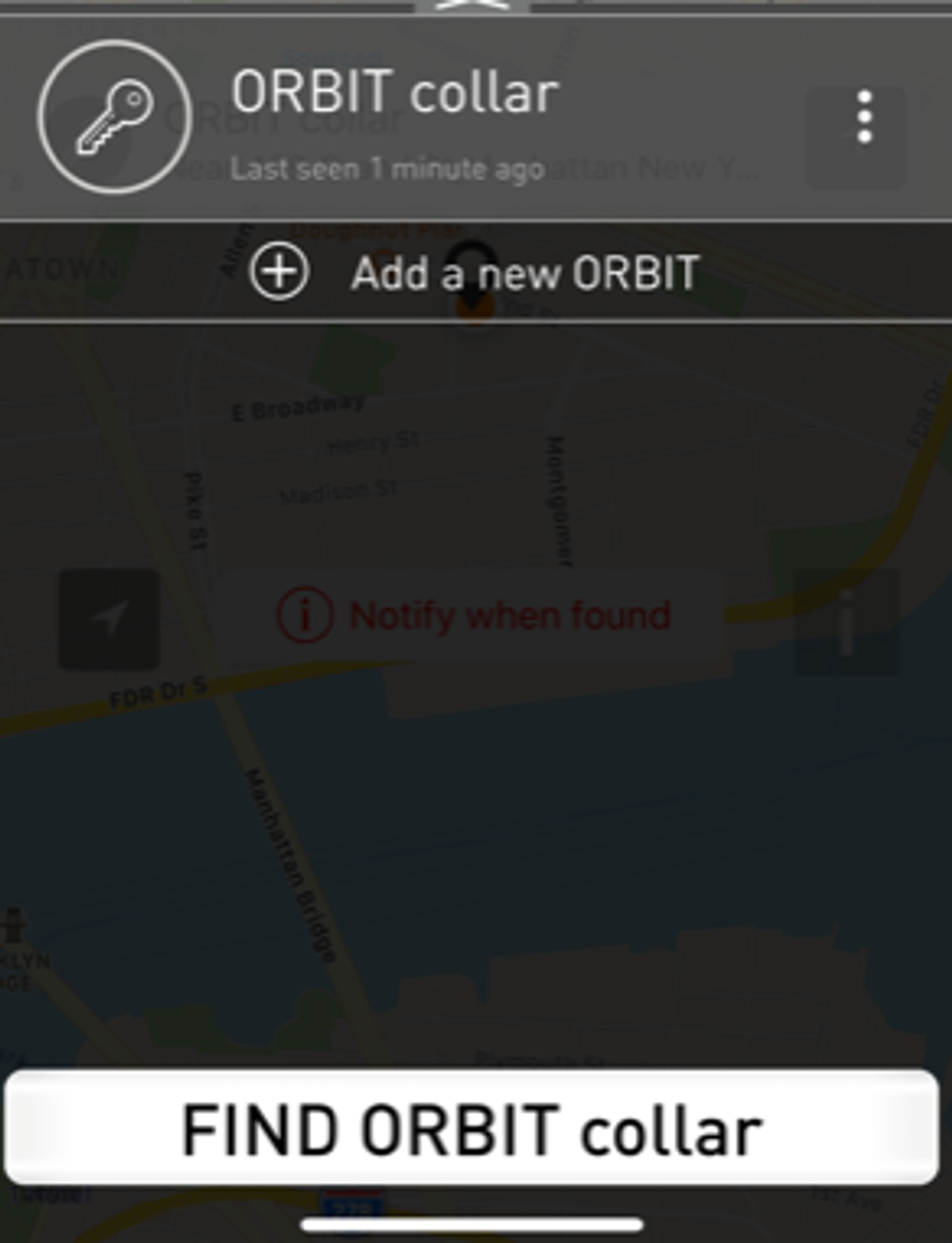 In the app, you can see how recently the Orbit was spotted.GearBrain
What to track

The Orbit app (iOS and Android) is where everything comes together, including the Find function. There, you'll also see a location map. When Orbit disconnects from Bluetooth (and your app), it will pin the last known location on the map via GPS. So if you've left your key in the office, you'll know. Also, if an Orbit detects another smartphone with the Orbit app, you get a notification. That wasn't as appealing to me — just because someone has an Orbit app doesn't make them a trusted person to me. But the ability to geo-locate an Orbit is certainly nice feature.
I attached the two I tested to a pair of headphones and my dog's collar. The Orbit was a bit heavy for the headphones, but I live in a household where my headphones disappear weekly, claimed as belonging usually to someone else. The tracker helped make it clear that this pair was mine. (And stayed mine.)
The Orbit on my dog collar was not meant to work as a true pet tracker. But it did help me know where he was on walks during the week. More keenly, I take his collar off at night because he shakes a lot, and the tags clanging can wake me up. Then I don't know where I've left the collar at times. I used Orbit multiple times to locate the collar easily.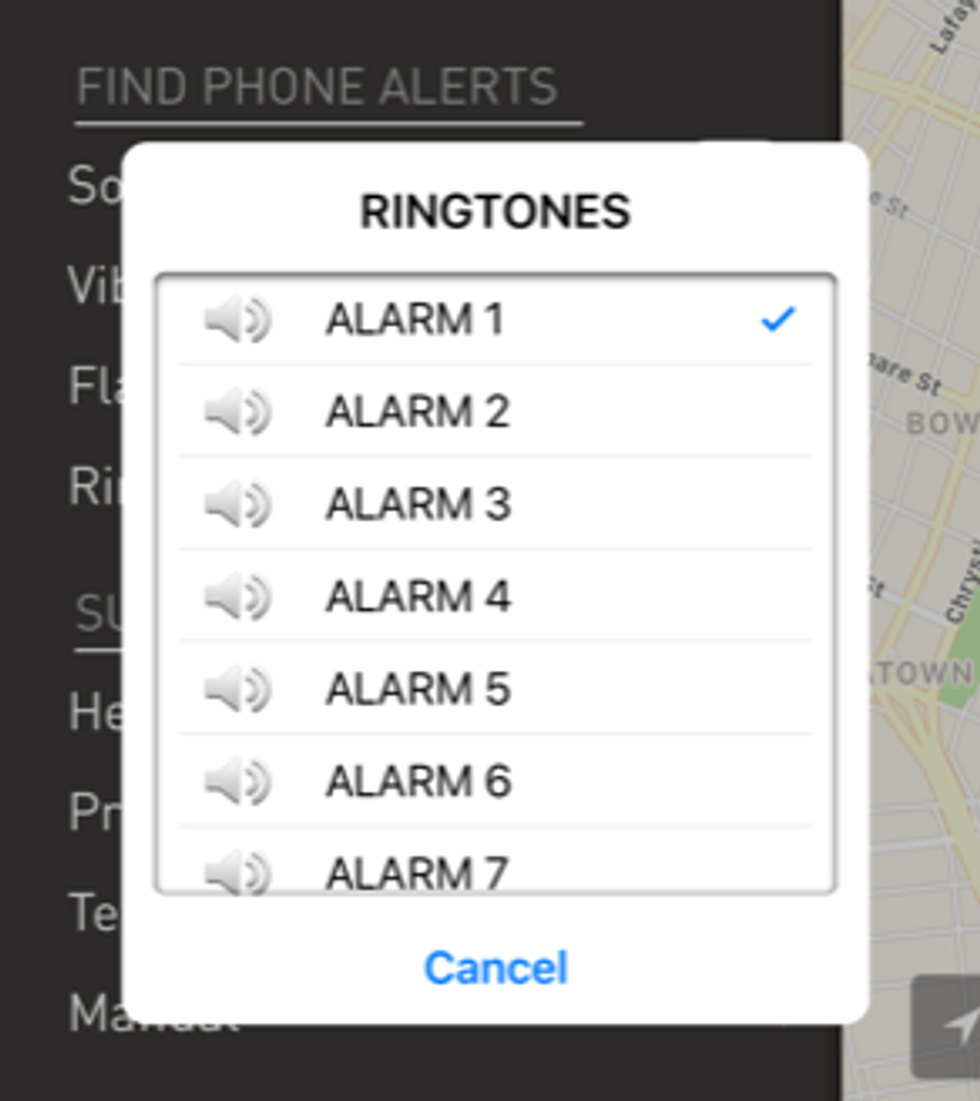 You can change the ringtone on the OrbitGearBrain
Like other trackers, you can reverse ring from Orbit. This means that if you have your keys, but can't find your phone, you can press the notch on the side of Orbit and your smartphone will ring, even if you flipped it to silent. It's a nice feature which comes in handy more often than you'll think, especially making a smartphone ring while in silent mode.
Note, though, that you need to enable notifications in the app to get your phone to ring — and it will do more than ring. When activated, it also flashes the light on your smartphone's flashlight. You also can't turn off the alarms until you go into the app. So be aware of that if you're concerned it's been left somewhere or near people who would find this ringing, flashing alarm a bit annoying.
How to Create Smart Dorm Room Part 2 - Smart Vacuums & Trackers www.youtube.com
Photos

An extra perk for Orbit is its selfie mode. On one side of Orbit is a very slightly raised edge which is the clicker for taking a photo with a smartphone. Again, because Orbit works on Bluetooth, you need to use the tracker within 100 feet of your phone.
To use this feature, you need to give the Orbit app permission to open the camera on your phone. You do this in the settings. Saving the images to your photo stream, also means giving permission to the app to access your photos. If this is a privacy concern for you, just be aware.
Once you've given the app both permissions, you can just click on the side edge on Orbit to snap a selfie, reverse the camera and shoot outward, and also take video. The Orbit turns on the video function, clicking a second time turns it off.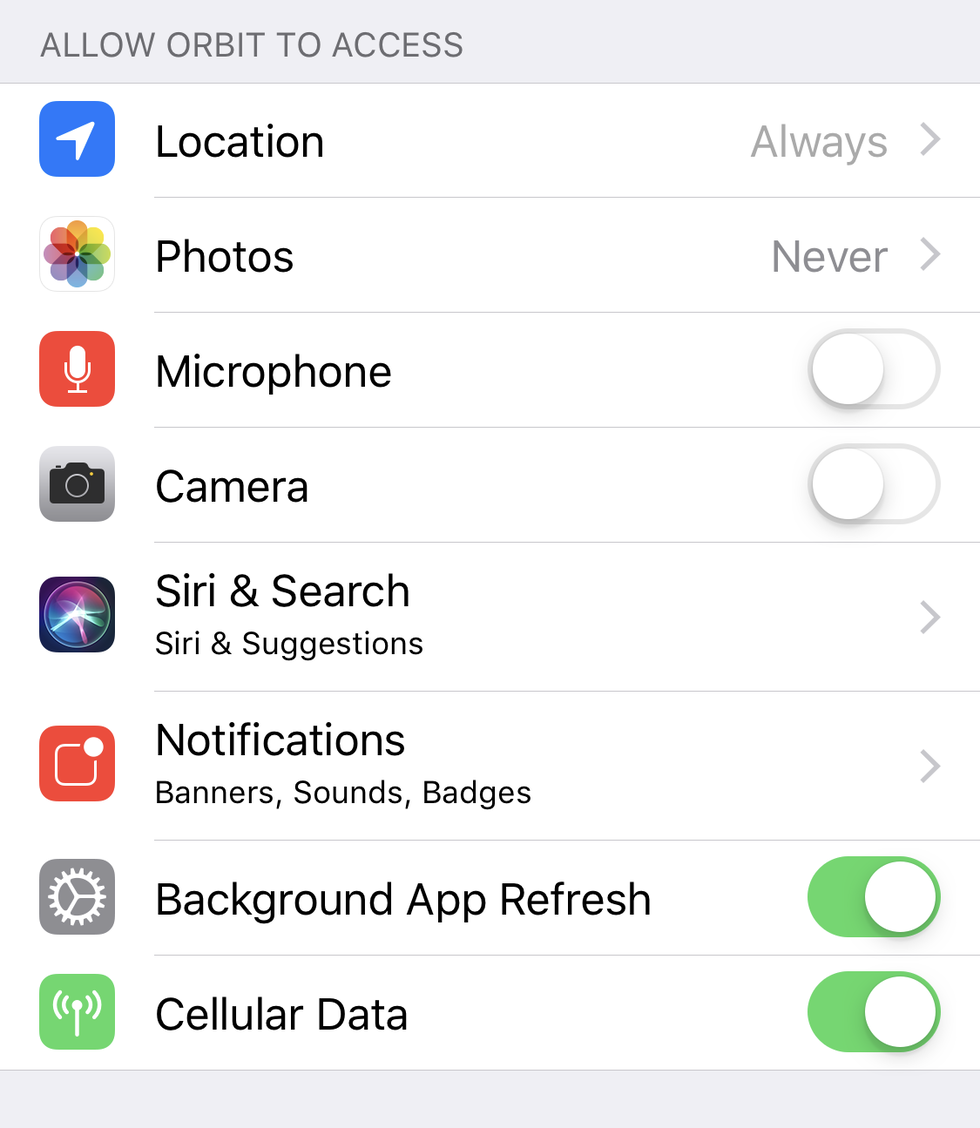 You need to give Orbit access to your camera and photos if you want to use the selfie featureGearBrain
How it fared
You can treat Orbit fairly ruggedly too. The device is made of aluminum and is waterproof. Admittedly, I didn't jump into a pool with it. But it did go out in the rain quite a bit on dog walks, and never showed any problems later. The device still rang loudly, and still worked.
I did have a few issues with getting Orbit to ring within the 100 feet radius a couple of times. For example, in my living room I could get the Orbit on my dog's collar, which was on top of a table in my bedroom, to react when it was about 15 feet away. The Orbit on my headphones was another six feet away in my bag, but didn't ring. This was also the device that chewed through its battery quickly.
Bluetooth connections in homes can be tricky. I live in a big city, and interference is not uncommon, for Wi-Fi too. Walking around the apartment, however, which I would normally do to find something, got the tracker to ring on the headphones which were tucked inside a pocket of my bag — and a location I would never have spotted just by looking.
Should you buy one

The Orbit I tested, is $39.95, and comes in eight different colors. The lowest priced Orbit is the stick-on model which is $34.95 and comes in silver and black.
Orbit certainly helped me find things I constantly misplace. The price is fair, and the app extremely simple to use. Trackers, like Orbit, are one of those devices that you almost don't realize you need them until you actually do. In the past four weeks, I've particularly liked how easy it was to locate my headphones, and even use the Orbit to find my phone.
I did find the uneven use a bit off-putting — that the Orbit on my headphones drained extremely rapidly, while the one on the dog collar barely drained at all. It may have had to do with the fact that the Orbit on the headphones traveled quite a bit more during the day (to the office, to meetings) than honestly my dog and his collar.
In the end, $40 isn't outrageously expensive, it is a price point for a small device that's worth a pause. Just be prepared to stock up on some extra batteries, so when you need Orbit to work, it will.