Bluetooth trackers are coming in to vogue again, buoyed by the launch of the Apple AirTag in 2021. But a few have been around for years, including the Orbit tracker, which we reviewed back in 2018 and found to be a reliable device to keep tabs on keys, bags or whatever you wanted to track, which at the time included our dog's collar.

With three years since we looked at Orbit, we decided to take another glance at the tracker — and also purchase a new one to see if the design had even changed. Here's our thoughts on the Orbit Bluetooth tracker freshened up for 2021.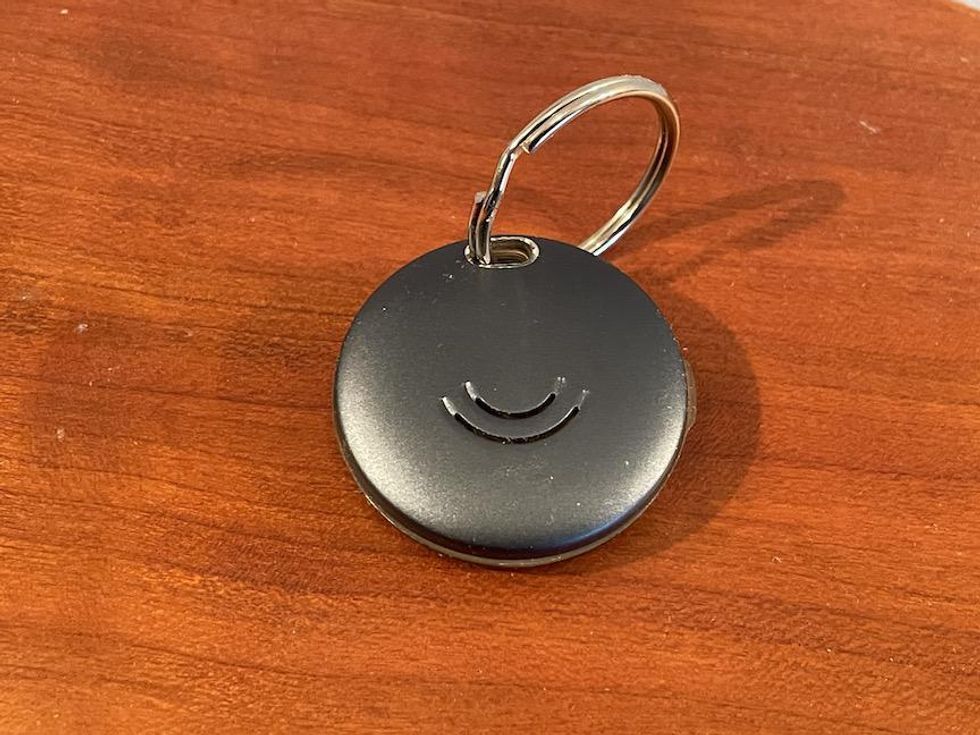 Orbit Bluetooth tracker comes with an extra battery and a keyringLauren Barack/GearBrain
What is Orbit?

Orbit is a Bluetooth tracker, a small battery-powered device that is attached to keys, bags or whatever you want to follow, and linked via an app to your smartphone. It works with iOS and Android devices, and also with Amazon Alexa, the company's voice assistant. (Although more on this later.)
You get the Orbit tracker in the packaging, plus a keyring, an extra battery, and a tool to replace the battery. (More on this ahead.) The design on this basic model has really stayed the same. It's a rounded device — actually very similar to the Apple AirTag look that Apple adopted.
There are technically six different kinds of Orbits you can choose — but many are sold out. As of writing this new review, you can basically buy the standard Orbit, which comes in 12 different colors including some metal tones like silver, gold and rose gold, one that can be stuck on to a surface, and an entire Orbit leather wallet which includes a battery chargeable, an RFID blocker, and is embedded with a tracker.
Installing the entire device is pretty fast. You're going to take it out of the packing material, then download the Orbit app, and create an account. Next, you'll need to link — or connect — the Orbit tracker you're using to the app. We tested the basic version of the tracker, which has a loop on the top for attaching a key ring, the same Orbit tracker from 2018 we reviewed.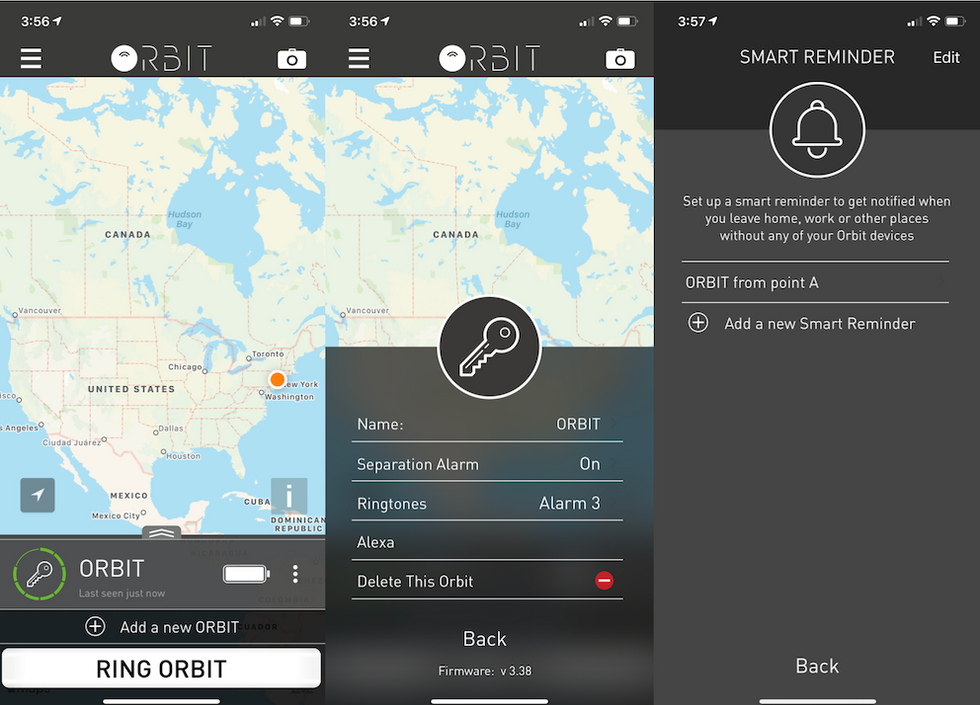 You can select different alarms and even request Orbit to ring its alarm from the appLauren Barack/GearBrain
Tracker

Orbit's main use is as a tracker. When Orbit goes out of range from a smartphone — and it's app — you can see the last GPS location on a map in your app. And you can keep tabs on how well the Orbit is staying connected to Bluetooth (and therefore staying tracked) in the app, with a green circle around the image of the Orbit. More bars? More connection. Fewer means there isn't a strong connection.
You can also tell Orbit to alert you if you leave whatever it's attached to behind. You select this option in the app settings and there are three ways you can get notified: you can have the Orbit itself ring an alarm, you can have your phone ring an alarm, or you can have your phone vibrate. You can choose one option, two or even all three. And there are 14 different alarms designed for the phone. This feature worked well — every time.
There's also a way to create what Orbit calls a "Safe Zone," which is basically a geofencing trick. This means that Orbit won't activate the alarm or vibration if you're away from it, as long as it stays within a space you designate as safe, such as your home or your office. I also got a notification on my iPhone telling me that the Orbit was lost (which wasn't always true) and the exact time and date.
You can also set up a Smart Reminder, which acts similarly. This allows you to create a geofence of a set number of meters, as small as 50 meters or 164 feet, and anytime you walk outside that range with your smartphone — and not your Orbit — you'll also get an alert.
Alarm

Setting up that fencing is something we strongly recommend as I found the Orbit would go off often — even within two feet of my iPhone, before I enabled the fencing. The alarm also would go off after I updated anything in my settings — and the alarm is quite loud. You do have three alarm options — and they're all intensely loud. We used an app DecibelX to test the level of the alarm, and found it would hit about 83db (the company claims it can hit 90db) when the Orbit would go off.
Luckily, once you find your Orbit (or your Orbit goes off), you can turn off the alarm by pressing a small side button on the tracker. But I did find the sensitivity on the Orbit a bit much.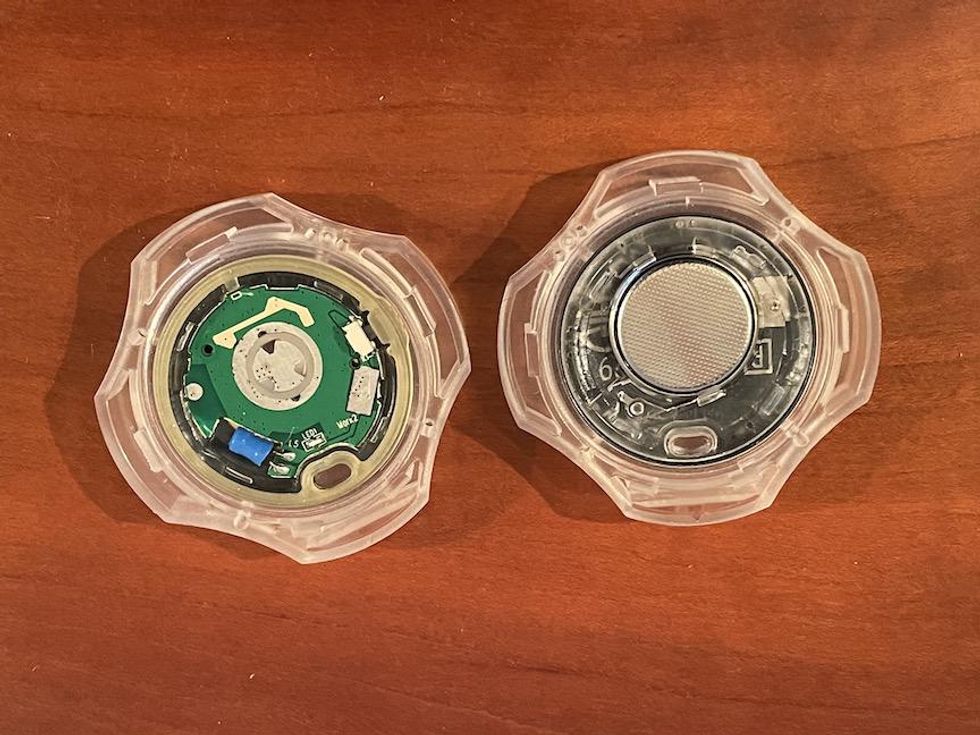 To remove the battery from Orbit, you need to use a tool that's included in the packageLauren Barack/GearBrain
Battery

One of our reasons for re-testing the Orbit tracker was a report we'd received from a reader who had bought a number of them finding the batteries needed replacing immediately. The battery life on the Orbit is said to be six months, and you can check that in the app, which shows you an image of the battery, but without the percentages, of its level. But we had to replace the battery in our Orbit once we received it as well. The one it shipped with was completely drained, and we couldn't even connect the Orbit to the app without putting in a new battery.
Luckily, Orbit does send a spare battery with the device — which is nice since finding these kind of small batteries can be difficult at times. Also, changing the battery in an Orbit is not a simple affair, and requires a small tool that the company sends as well. You need to place the Orbit in this, align it correctly, twist, and separate the two pieces. The battery is popped out, a new one out in, and then the tracker goes back into the tool to re-attach the two halves.
It's great to have this tool to help you replace the battery — but it is something to keep track of and store.
Alexa
You can presumably track Orbit via the voice assistant Amazon Alexa, but we found adding Alexa was a bit of gymnastics. You need to go into the Alexa app, and then go to the Skills section — not the Add a Device section — and then search for Orbit. There, you need to then type in your email and password you use for Orbit, to connect Orbit to Alexa. Once they're linked you're supposed to be able to request that Alexa ask Orbit to ring your keys, or whatever is connected to the tracker. And you can also ask Orbit to ring your phone.
While I was able to link and download the Orbit Skill for Alexa, I was not, however, able to ever get Amazon's voice assistant to get Orbit to ring for my keys. Alexa would constantly tell me Orbit was not in range of my phone, even though it was one foot away.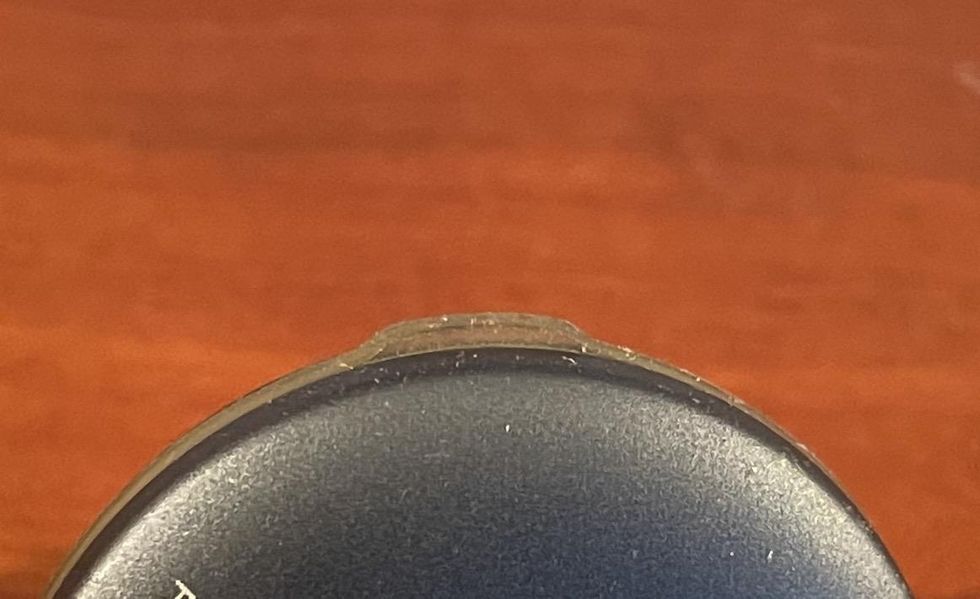 A sliver of a button on the side will turn off the alarm, and also turn Orbit in a camera remoteLauren Barack/GearBrain
Extra features

As we noted in our 2018 review, you can use the Orbit as a selfie remote, a sweet feature that lets you put your phone a bit out of range, and then snap a picture. You can do this as well with an Apple Watch if you have an iPhone — but the Orbit is a smaller device, and you can keep it neatly out of sight as you snap an image.
To enable this feature, you do need to go into your phone's settings and allow the Orbit app to have access to your phone's camera. But also note — you must give the app access to your Photo Library too, or the app won't be able to store the images it takes. (I discovered this the hard way.)
Once you've enabled this feature, you can only shoot images through the Orbit camera app. That makes the ability a little less fun as you can't take advantage of the extras your smartphone camera app typically has, such as zoom or wide-angle lenses. The Orbit camera app will record video too.
Another nice feature? The Orbit is waterproof with an IPX6 rating which means it can handle high-pressure sprays of water hitting it. But be aware it can't be submerged. So swimming with Orbit? That's out.
Finally, you can also make the Orbit ring through the app if you lose it in the house, if it's attached to your keys for example. And the reverse is true too — you can find your smartphone as well, by pushing the button twice on the Orbit to make your phone ring.
PriceOrbit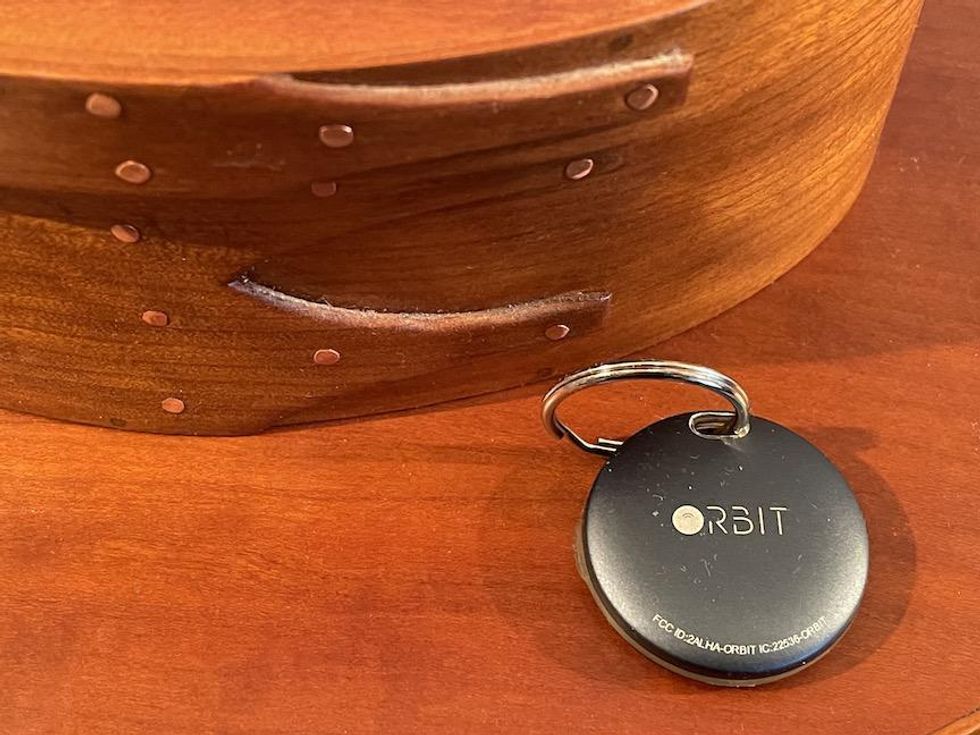 Orbit's tracking features worked, but we had some trouble with AlexaLauren Barack/GearBrain
Worth buying?

When I first reviewed Orbit in 2018 there were really just two major Bluetooth trackers that we focused on, Orbit and Tile. Today there are more including of course the newest, Apple AirTags. That means that options abound, and that's always better for buyers.
Orbit is definitely a Bluetooth tracker that works. Orbit consistently alerted me, I would say every time, when it was separated from my smartphone, and rung when I looked for it, and appeared correctly on a map, locating itself for me via GPS. Even more, there are some solid additional features like being able to use the tracker as a remote control for your smartphone camera, and the ability to reverse find your phone as well.
It's also reasonably priced, less expensive than Tile and AIrTags and more in line budget-wise with Chipolo.
I do think there are some issues to consider. Shipping the Orbit with an extra battery is a nice addition — unless of course it's really the only battery that works, as I found with the one I received. I also have reservations saying this works with Amazon Alexa as one of the most crucial features really did not work in my testing — Alexa could not find the Orbit.
As a basic tracker though, I think Orbit is a fine option. The design is clean, it's affordable and it works. Make sure, if you buy one, to keep the battery-changing tool in a safe place. And perhaps pick up an extra battery when you buy this as well.
Pros:
Solid tracking abilities
Can use to reverse find your smartphone
Can send alerts if you leave it behind
Works as a camera remote to take selfies
Cons:
Did not work with Alexa in our testing
Battery was dead when Orbit arrived new
Alarm sometimes went off even when Orbit was next to the smartphone
Orbit Premium Waterproof Aluminum Key Finder - Wireless Smart GPS Tracker and Locator with Replaceable Battery (Gunmetal)