Like GearBrain on Facebook
While Apple crams its new HomePod with enough technology to embarrass a satellite, and Amazon continues to lock horns with Google over who has the smartest speaker, British company Orbitsound is taking a different approach.

Its latest product, the Dock E30, deliberately does without support for Alexa and Google Assistant — despite the option being available to such manufacturers — and instead focuses on producing great, natural sound quality. Will this be enough to tempt buyers to pay out £400 ($590 delivered to the US) for a speaker replacing smarts with style? Let's find out.
Orbitsound Dock E30 review: Design
Isn't that bamboo finish just beautiful? We think it is, and can't understand why Orbitsound thinks the humble black MDF version will be its best-seller, followed by white MDF. The bamboo option costs the same as its stablemates, yet oozes style in a way that is too often missing from home technology.
This is a device which would look great on almost any table or shelf, in any room, anywhere in the world. We believe Orbitsound managing director Daniel Fletcher when he confessed to us how difficult the bamboo model is to get right. The finish is exquisite, inviting us to run a finger along its varnished surface every time we walk past.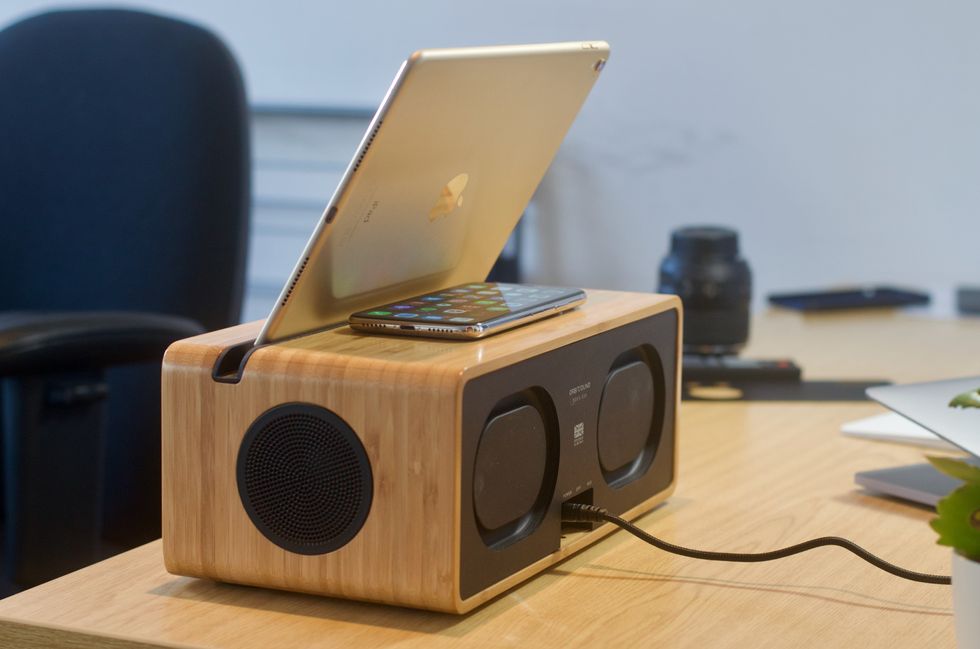 The E30 can wirelessly charge a phone while propping up a tabletGearBrain
A black metal grill can be fitted across the front with strong magnets, or you can remove it to show off the E30's asymmetrical design. The way the main speaker, passive bass radiator (one of three) and USB-C charging port are scattered about suggests form-over-function, but in a way that is still aesthetically pleasing. The large power button and volume knob surrounded by small white LEDs projects simplicity.
Where an Apple HomePod or Google Home requires taps, swipes and voice commands to work — all of which need learning — here is a big volume dial which everyone in the world can understand.
Up top, there is a black slot for holding up your smartphone or tablet. Again, Fletcher says getting this right was surprisingly difficult; we've tested it with several devices and they all stand up just fine, although older, thicker devices might not fit.
Behind this there is a Qi wireless charging pad, something which was added during the E30's three-year development process. So too was the USB-C port, something the company sees as a gamble likely to pay off.
On either side are the dock's Airsound speakers, which we will speak more about later, and on the back are two further passive bass radiators, plus power, optical and auxiliary inputs.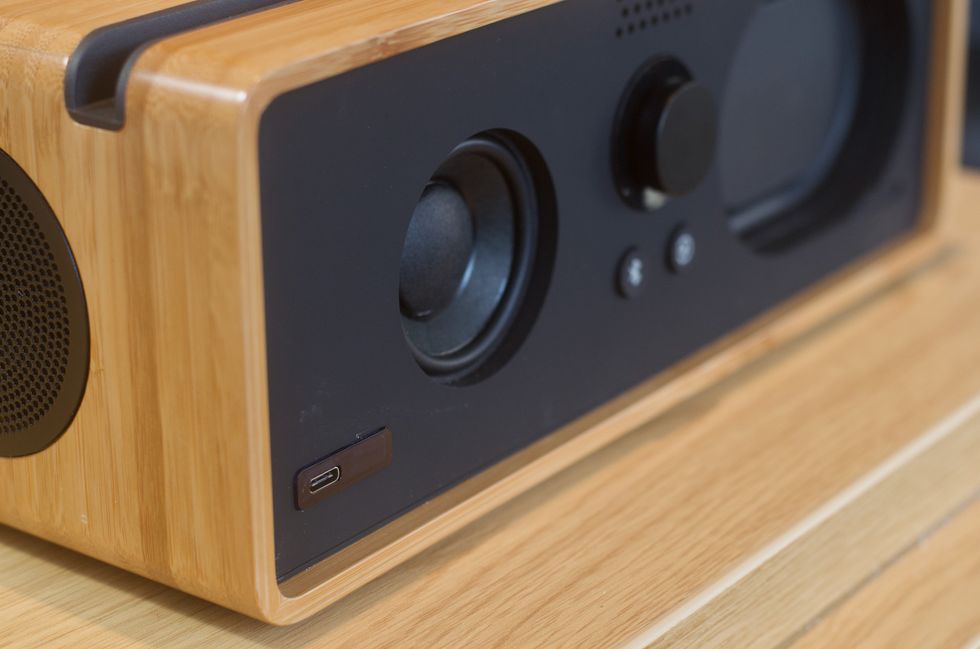 Gambling on the future sees a USB-C port for chargingGearBrain
Orbitsound Dock E30 review: Sound quality - and Orbitsound explained
What makes all Orbitsound speakers and TV sound bars unique is the company's patented audio technology, known as Airsound.
Where two stereo speakers require the listener to sit right in the middle, equidistant from both the left and right channels, Airsound does away with the concept of stereo to create a wide soundscape no matter where the listener is sat in relation to the speaker.
The result is a sound which seems wider than if it was coming from a single mono speaker, like the Google Home and Amazon Echo. True stereo sound is only possible from the more expensive Sonos One and Apple HomePod if you buy two and sit between them, yet the E30 — which isn't much larger — fools the listener into thinking it is sending sounds right across the room, and back at you from far away.
A hidden feature has been programmed into the E30 to deliberately turn the Airsound effect up too high and down too low. Reduce it to zero and the sound narrows in on the front speaker; crank it up to full and the sound appears to split down the middle and shoot off to the far sides of the room. Put the E30 near a corner and it will sound like an extra speaker has magically appeared in the wall, sending sound back towards you.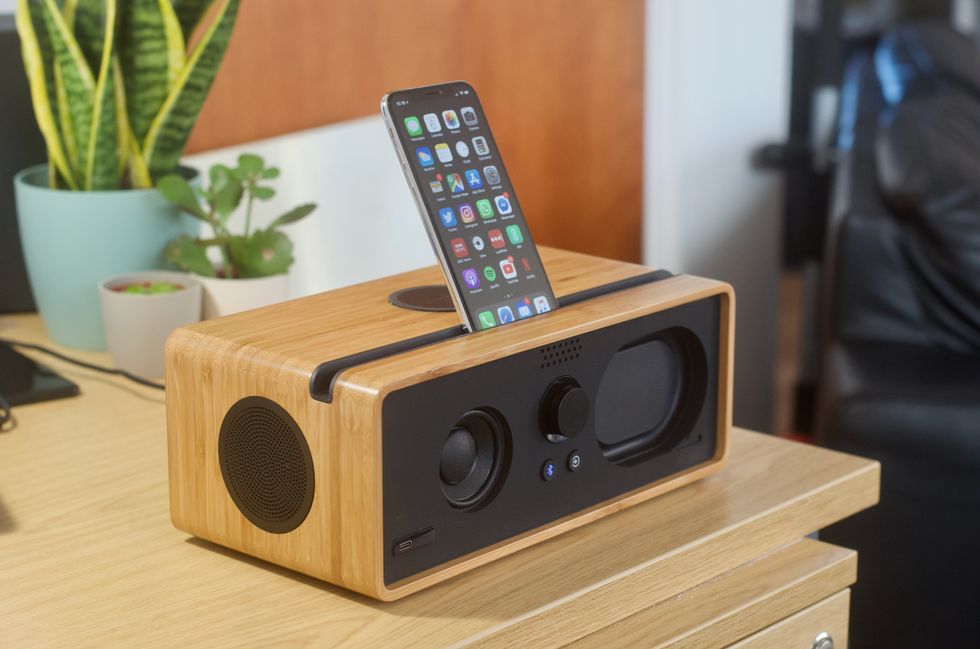 We love the old-school look and bamboo finish of the E30GearBrain
Turn it back to the intended middle setting and the sound returns to a happy-medium, where vocals are front-and-center but instruments are spread out across the virtual soundstage.
All genres of music we tried sound great on the E30, but for us it was classical music which played to Airsound's strengths. The delicate piano and strings of Ludovico Einaudi seem to reach out and wrap around us far more than you would expect from a speaker of this size.
Orbitsound is also proud of how there is no technological trickery going on at all. Yes, the two Airsound speakers send audio sideways and their volume can be adjusted, but there is no equalization taking place.
For those who want more punch (and who don't have downstairs neighbors), Orbitsound sells a compact wireless subwoofer for an additional £300 ($420).
The E30 works best when placed away from walls and objects which could obstruct its sound; it is also a speaker which is best enjoyed from a distance, not one sat on your desk just a couple of feet away. This dependance fits the Dock's design; this is a speaker we would want to place on a table or sideboard by itself. In bamboo especially, it is a statement piece and an item of interest, even when switched off.
Orbitsound Dock E30 review: Features, app and connectivity
The Dock E30 has both Wi-Fi and Bluetooth for streaming music from your devices. Bluetooth is a case of pressing the button on the front and pairing, while setting up a Wi-Fi connect is done via the Orbitsound app. The app lets you stream music to the E30 from services like Spotify, Apple Music and Tidal, or you can access the speaker from those services' own apps.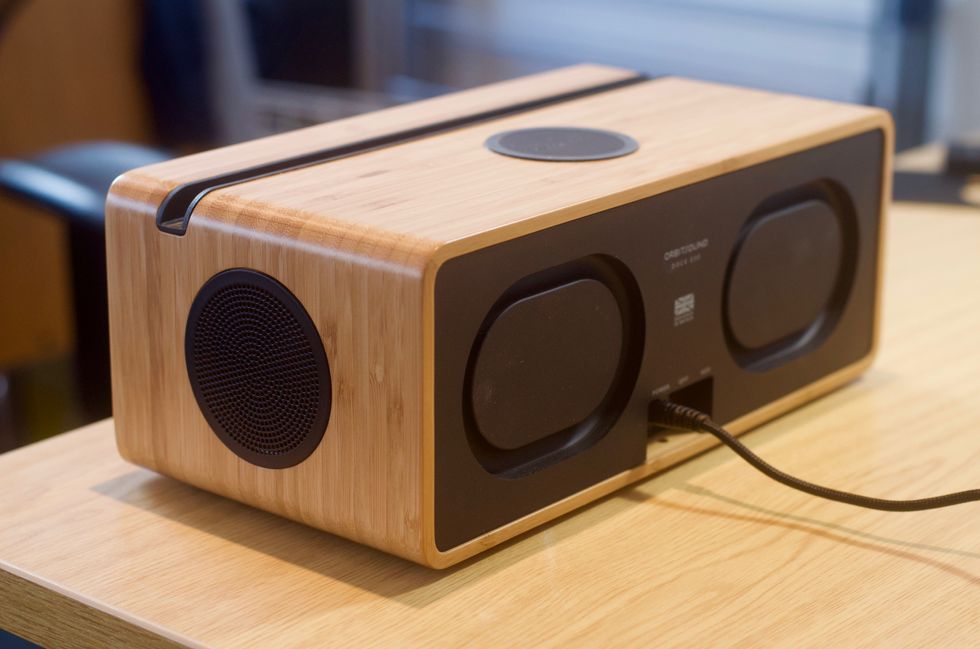 The E30 has three passive bass radiators, with two on the backGearBrain
Similar to Sonos and Amazon, Orbitsound offers a way to play music simultaneously from speakers in different rooms. The company says Apple AirPlay 2 will be added in the second or third quarter of 2018.
Although the E30 has no smart assistant or voice control of its own, you could easily connect an Amazon Echo Dot via Bluetooth or the auxiliary port, then play music via the Alexa app and the Echo's Wi-Fi connection.
Orbitsound Dock E30 review: Value and verdict
When listened to side-by-side with a Sonos One, the E30's sound is clearer, more detailed and makes the Sonos seem muddy. Listened to in isolation, the Sonos is still a great speaker — and costs less than half the price of the Orbitsound - but this test instantly demonstrated to us how a good mono speaker is surpassed by the E30's Airsound technology.
Combine the impressive audio with gorgeous looks and it's hard not to be sold on the E30. Its lack of AI and voice control is surprising in 2018, but the USB-C port and wireless charging pad will both be welcomed by iPhone X and Google Pixel 2 owners.
Add the subwoofer and things get expensive, but we believe this could be your main room's one-and-only sound system if you haven't got one already or are looking for an upgrade. It could also be connected to a TV and used as a compact sound bar, if you wish.
Like sympathetically refurbishing an old house — keeping the wooden floor and fireplaces, but rewiring every light switch — the Orbitsound Dock E30 is a beautiful speaker which blends classic design with modern fixtures and fittings like USB-C and Qi charging. It might not talk to you, but it looks as at home next to a record player as it does with an iPhone X wirelessly charging on top. And that isn't something its smarter rivals can match.
Pros:
Great sound for the size
Beautiful design
Wireless charging pad is useful
Cons:
Manufacture decided against Alexa and Google Assistant
Phones in thick cases do not fit in the stand
Priced higher than better-known rivals
Like GearBrain on Facebook