Like GearBrain on Facebook
If Amazon had its own way, we would all have one of its Echo smart speakers in every room of our homes. We'd perhaps even have several in the living room, taking advantage of their stereo pairing or surround sound capabilities .
But, while an Echo in every room is perhaps overkill, there is a lot of sense in buying a second or third Echo to complement your first.
Read More:
In this article, we will explain how to add a second Amazon Echo to your smart home.
But first, we should quickly note that you don't need to have the same type of Echo speaker across your home. You could even have models of Echo from different generations, and they will all connect to your network without complaints.
They also all have exactly the same functionality and intelligence, thanks to Alexa being stored in the cloud. This means the entry-level Echo Dot has the same feature set as the high-end Echo Studio ; the only real difference is physical design, volume, and sound quality.
How to add a second Amazon Echo to your home network
Adding a second Echo is very similar to adding the first. Just open the Alexa smartphone app (or visit alexa.amazon.com and log in), then tap the menu icon in the top-left corner, and tap on Add Device.
The next screen will ask what sort of device you are adding, such as a smart light, a plug, a camera, or something else. You of course want the top option, Amazon Echo. tap on this, then tap on the type of Echo product you are setting up (yes, there are now 12 Echo products to pick from…).
For some models of Echo, you will then be asked to pick which generation of device it is. For example, for the Echo Dot the setup process is a little different for the second and third-generation models as it is for the original. Photos in this section help you identify which model and generation of Echo you have.
Now plug in the new Echo and wait until it displays an orange light (this can take about a minute). Tap on the button marked Yes and wait for the Alexa app to find your new device. Tap on it once it appears, then follow the steps to finish the setup.
This setup process also involves telling the Alexa app where your new Echo will be in the home, such as the bedroom or kitchen.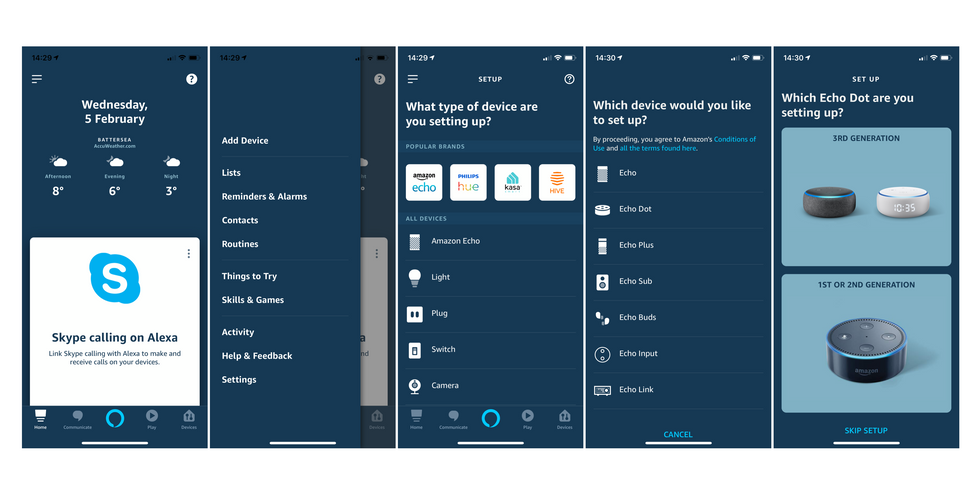 Using the Alexa app to install a new Amazon Echo speaker GearBrain
Re-naming your original Echo

By default, the Alexa app names Echo devices in the same way Amazon does with Kindle and Fire devices. This means the first is called [Name]'s Echo and the second is called [Name]'s 2nd Echo.
This quickly becomes clunky when using these names to tell Alexa where to play music. To fix this, you can change the name of your Echo devices to anything you like (as well as tell the Alexa app which room of your home they are in).
To change the name, open the Alexa app, tap on Devices in the lower-right corner, then tap on Echo & Alexa in the top-left corner. Here, you will see a list of all your Echo devices in one place. Tap on the one you want to rename, then tap Edit Name and type in the new name, then tap Done.
You can also use this page to change each Echo device's location (for accurate weather forecasts), time zone, and wake word (if you want to say 'Amazon' or 'Echo' instead of 'Alexa').
If you have Echo speakers of the same model but different colors, we'd recommend putting the color in the name so they are easy to identify if you change your smart home setup at a later date.
How does Alexa know which Echo I am talking to?
Placing one Echo upstairs and one downstairs means they are unlikely to both hear you at the same time. However, Amazon has Echo devices to work even if several are placed close together.
Say you have one in the kitchen and one in the hallway. Both will likely hear you say 'Alexa', making both illuminate their blue lights and start listening.
But they then use Amazon's Echo Spatial Perception technology to work out which Echo is closest to you. In a heartbeat, the nearest Echo takes control of the situation and the other stops listening.
ESP doesn't just work with Echos in neighboring rooms; we placed two Dots on our desk and found by moving just a few inches caused only the closer one to listen and reply.
Like GearBrain on Facebook