Eight months after it was first announced, the Siri-controlled Apple HomePod has finally been given a release date.
Pre-orders for the smart speaker open this Friday, January 26, and sales commence two weeks later, on February 9. These dates refer to the US, UK and Australia, while France and Germany will get the HomePod in the spring and Apple is yet to give details on availability in other markets. The speaker is available in white and space gray.
Read More: Apple HomePod smart home speaker - should you buy it?
The 7-inch-tall device is Apple's answer to the Amazon Echo and Google Home smart speakers, which have each carved out a substantial stake for themselves in the nascent smart home market. All three are capable of controlling devices like internet-connected lights and thermostats, but with the HomePod, Siri and HomeKit, Apple has some serious catching up to do.
Also a challenge for Apple will be the HomePod's price, which at $349 is significantly more than the $100 Amazon Echo and $129 Google Home. It's closest rivals will likely be the new Google Home Max, which costs $399, and the $199 Sonos One, which includes Amazon Alexa.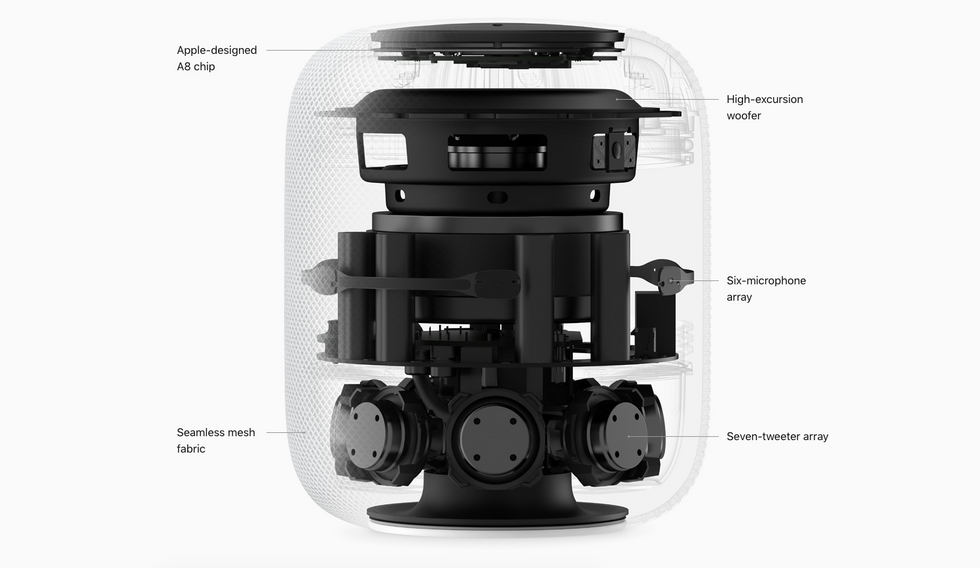 A cross-section of the HomePodApple
Announced in June, the Apple HomePod was originally due to go on sale before the end of 2017, but just as with the EarPods a year earlier, Apple delayed the speaker until the new year, missing the crucial holiday shopping season.
Unlike the Amazon Echo and Google Home, Apple is first-and-foremost describing the HomePod as a high-quality speaker for music playback. It has Siri, but Apple suggests its AI assistant is used for playing tracks from Apple Music, or performing simple tasks like sending messages via your iPhone, setting timers and checking the weather. Siri on the HomePod will also work with Apple HomeKit-compatible smart home devices.
Missing features
Unlike its rivals, the Apple HomePod will not offer multi-room music playback out of the box. This feature - where several speakers throughout the home all play the same music at the same time - will be added via a software update later this year. Although it isn't entirely clear in the press release, it seems stereo support with two HomePods placed at opposite ends of a room will also come with the update and is not available from day one.
Another unknown is whether the HomePod will work with music streaming services other than Apple Music. It isn't known if it will work with Spotify, for example.