Early this year we had a chance to see a new smart switch, combining motion sensors, a hub and light switch into one connected device for your home. We were impressed with this new company and how it used machine learning to help consumers create an intelligent home lighting system. Called Orro, its new smart switch is still in its infancy, but designed to control lights as well as other connected products in your entire house from the one device. We've seen a few companies start down this path at GearBrain, like Brilliant Control and Noon, and wanted to see how Orro would compare. Testing the Orro switch, we installed it in a real home to see how it performed under normal connectivity, while also understanding the set-up process since the device doesn't require any programming.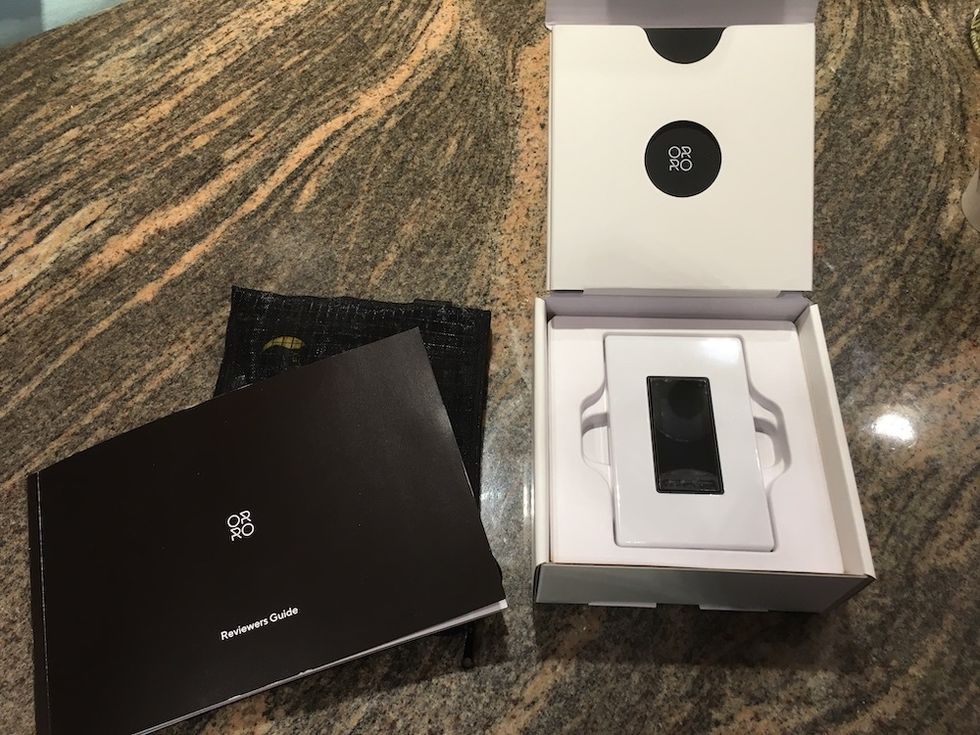 orro switch with owner's manuals and setup guidesGearBrain
What is Orro?

Orro is a smart switch that can serve as the center of an intelligent home lighting system. The switch can easily sense your presence in the room, while automatically adjusting the lighting based on your preferences, the time of day and any ambient light. The device can sense when you're moving, such as getting up from bed in the middle of the night, and turning on the light so you can see around you, and then off when you're back in bed.
Orro switches can also act as a hub for smart lights, a smart thermostat and a video doorbell if you have one in your house as well. The Orro Switch integrates with a number of leading smart home brands, like August Home (video doorbells and smart locks), Samsung SmartThings, ecobee smart thermostats, Philips Hue Lights and leading voice assistant platforms, Google Assistant and Amazon Alexa. The company is planning to integrate with more product lines, which we think will add to its use, as these will be automatic and not require any programming from consumers to work.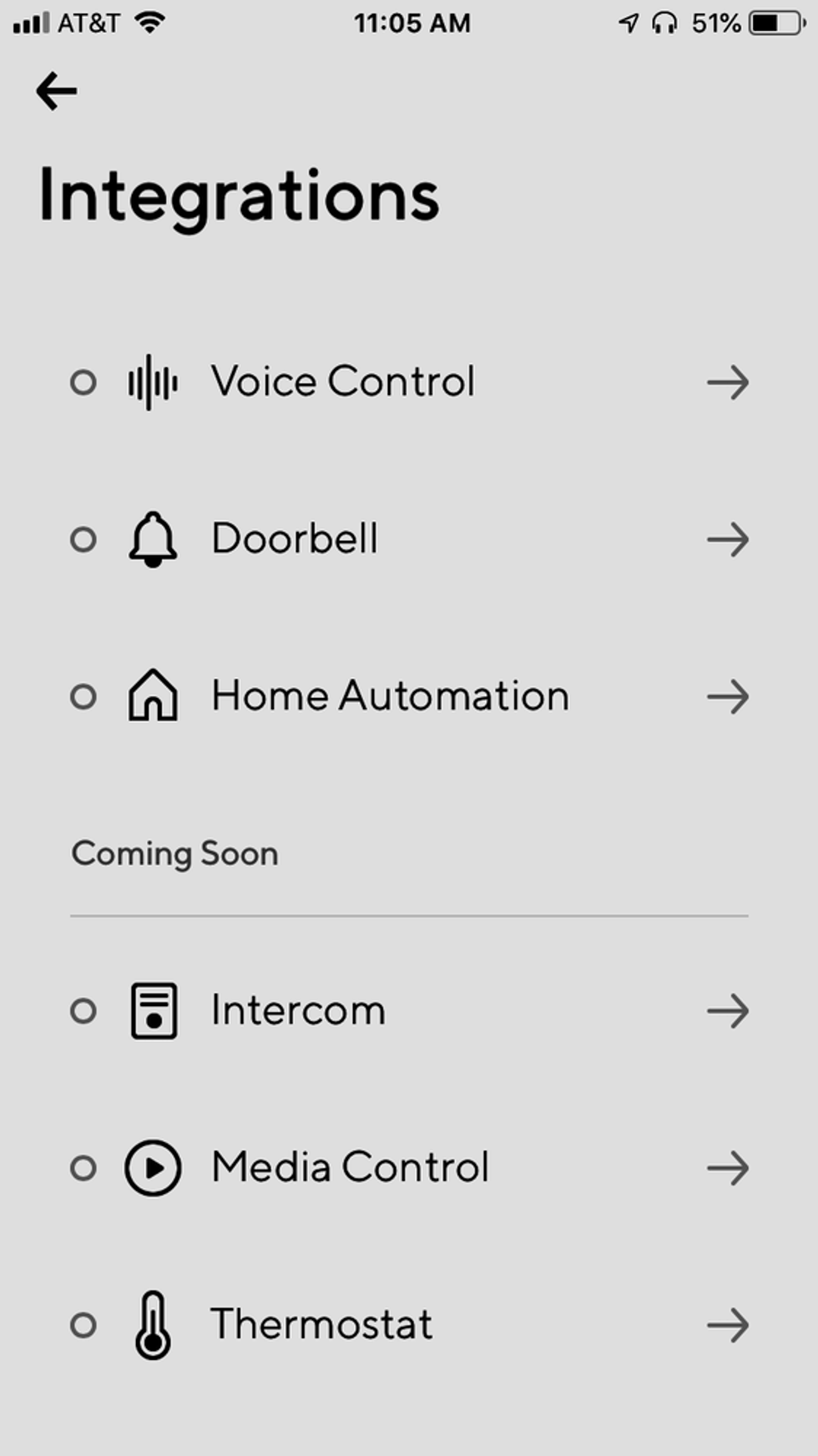 orro switch can connect to August Doorbell Cam and Samsung SmartThings today. Company is working on other smart home integrations.GearBrain
What comes inside your Orro box?

Inside the box is a faceplate, a mount, the Orro Switch, four extension wires, four wire connectors, two mountings screws and two plate screws. There are also wire labels which we recommend you use when installing the switch. They will help make sure you connect the right wire to the switch's ports.
ORRO - Smart Dimmer System with Motion Sensor, WiFi, Supports Multiway, In-Wall Lighting Control Compatible with Alexa & Google, SmartThings, August Lock, Philips Hue
How does Orro work?

Orro Switch learns how you prefer to light a room. Each time you adjust your lights using Orro, it gathers information, helping it learn how you like the lighting based on the time of day. You can also help the switch by using its app to input your sleep schedule, including wake-up times and light levels for different points during the day. If you usually go to sleep and wake up at specific times during the week versus weekend days, Orro can manage that was well, adjusting light levels when you wake or go to bed. In the middle of the night, for example, lights turn on but at a lower level.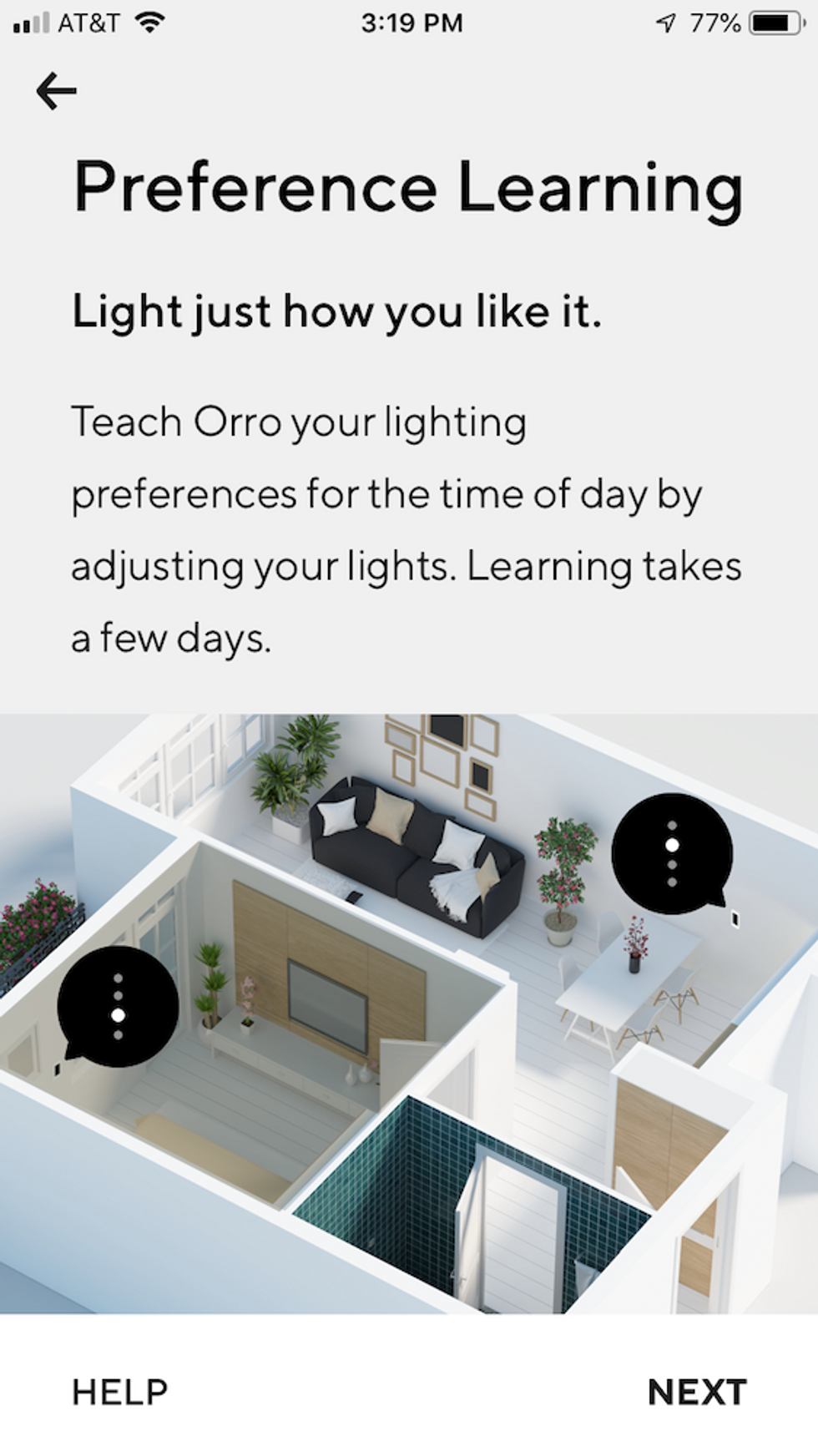 You can teach orro switch to adjust your lights to the way you want them based on time of day and day of the week.GearBrain
On each Orro Switch there are sensors for light, sound and motion. A dynamic touch screen reacts to your finger swiping left or right. The switch's screen is similar to the others on switches like Noon, which GearBrain tested, but the casing is rather large. Most smart light switches, like the Lutron Caseta or ones from Leviton, are bigger than standard light switch but small enough to fit inside an older home's junction box. Orro's casing is quite big because it has a light learning engine built inside, plus a micro speaker on the switch.

Similar to other smart switches, Orro can be control via a smartphone using its app, which works with iOS and Android devices. You can control the switch using one of the leading voice platforms, Google Assistant and Amazon Alexa. We tested both, and they worked well. Just make sure you know the name of your Orro switch and where it is located in your home when you connect it to either of the smart speakers app to use voice commands.
How do you install Orro?
To install the switch, you need to check that you have compatible wiring in your walls. Make sure you have a neutral wire, line and load wires plus a ground wire — a total of four wires. If you have an older home and just two wires on your current switch, Orro will not be compatible. In this case, you'll need to hire an electrician to update your wiring for Orro to work in your home.
Before installing Orro, turn off the power and remove your old switch. Make sure you mark each wire so you know the difference between the load wire and line wire. Insert the wires into your Orro switch and then connect the wires to your wires in the wall. The Orro switch has markings on the back to help make sure you insert the correct wire into its respective port on the switch.
Once you have connected all the wires and secured your switch in the junction box, turn the power on to make sure everything works. Then follow the instructions on the switch screen to complete the installation process, setting aside some time depending on how strong the Wi-Fi signal is in the room.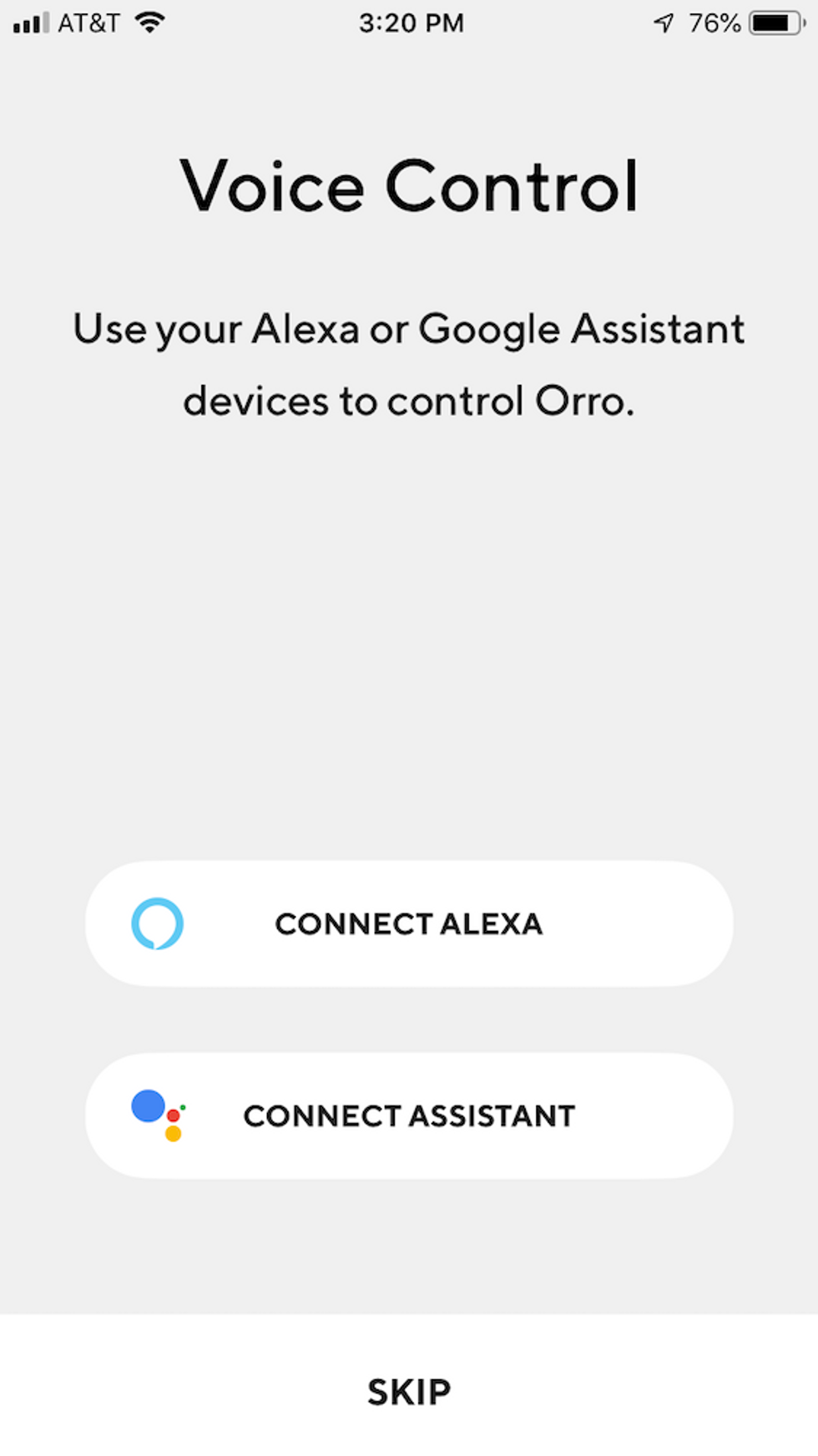 Connect orro switch to either Google Assistant or Amazon Alexa enabled devices using their app.GearBrain
Smart home integrations
Currently, Orro works with Amazon Alexa and Google Assistant-enabled devices. This means you can control the switch using your voice with connected devices that work with Alexa or Google Assistant (i.e. Amazon Echo, Lenovo Smart Display). Orro also works with the August Doorbell Cam.
For the August Doorbell Cam, Installation took just minutes and was rather easy. Just open the settings tab in your Orro app and click on integrations. You will see a Doorbell setting. Select this and follow the setup instructions. If you currently have an August Doorbell, just go to your August app and allow the two devices to talk. Keep in mind that the Orro switch will only currently support one August Doorbell Cam, even if you have two.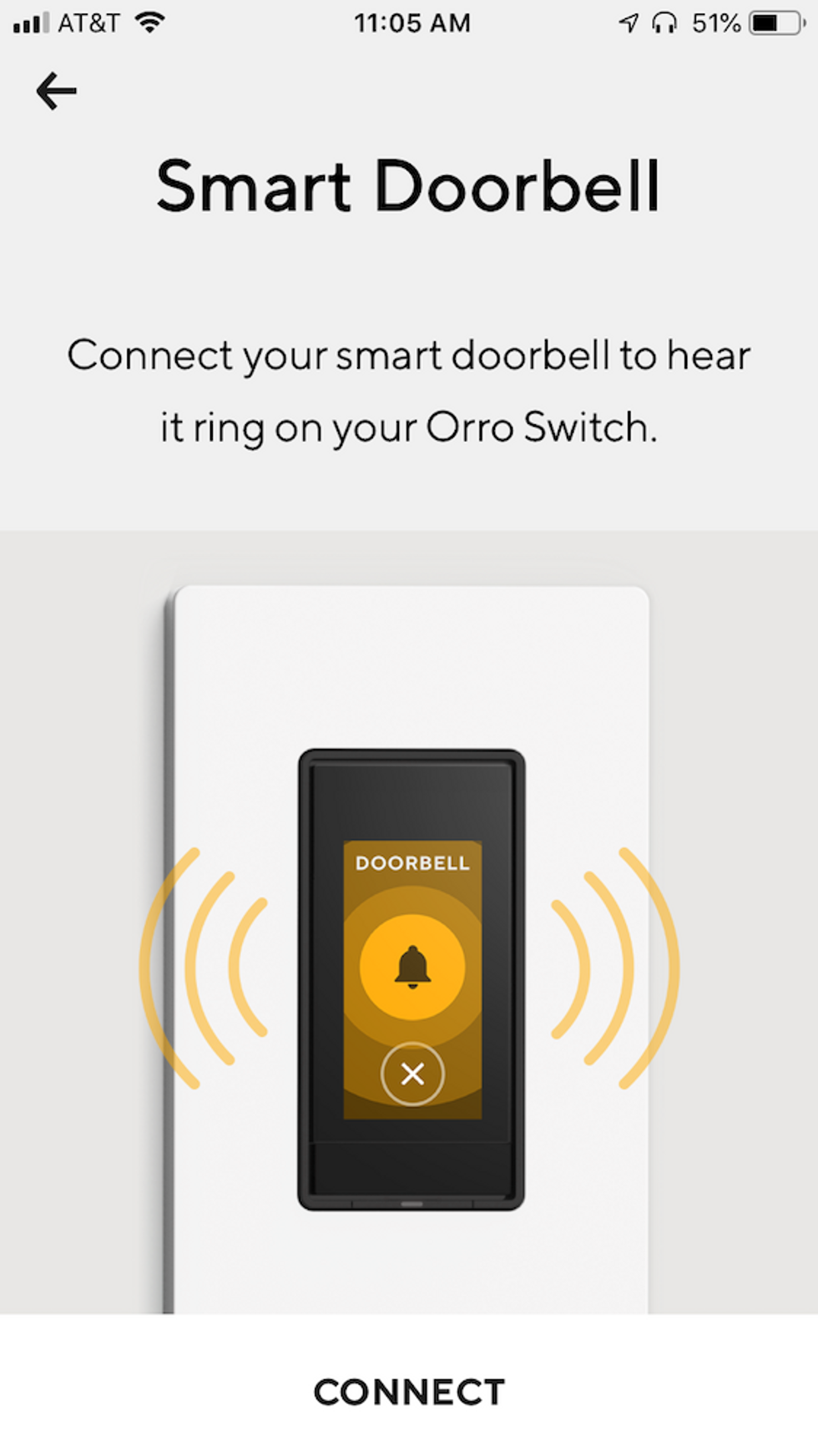 Connect orro switch to your August Doorbell CamGearBrain
How does the August Doorbell Cam integration work?

The August Doorbell Cam integration lets you hear the chime from the August Doorbell Cam. The company is planning on an update, letting you answer the doorbell and also see who is at the door right from Orro Switch. For now, you'll need to use the August app — and not Orro's app or switch — to unlock the door after answering the doorbell. However, you can use voice commands through Orro to unlock the door if you have it linked to a Google Assistant or Amazon Alexa-enabled device, and connected to August Smart locks.
Updated features
One of the most recent smart home integrations for Orro is Samsung SmartThings, released at the end of June 2019. We had some issues adding Orro to the Samsung SmartThings Hub, but after updating the SmartThings firmware everything worked well. We added Orro to our Samsung SmartThings hub, and easily controlled the switch, adding it to existing routines controlled through the hub.
Here are the other Orro switch integrations the company has today:
Smart doorbells - Arlo
Smart locks - August and Yale Smart Locks
Scenes - Philips Hue smart lights
Climate controls - Ecobee and Honeywell Home smart thermostats
Media - Samsung TVs and Sonos speakers
Intercom - Control4
Voice assistants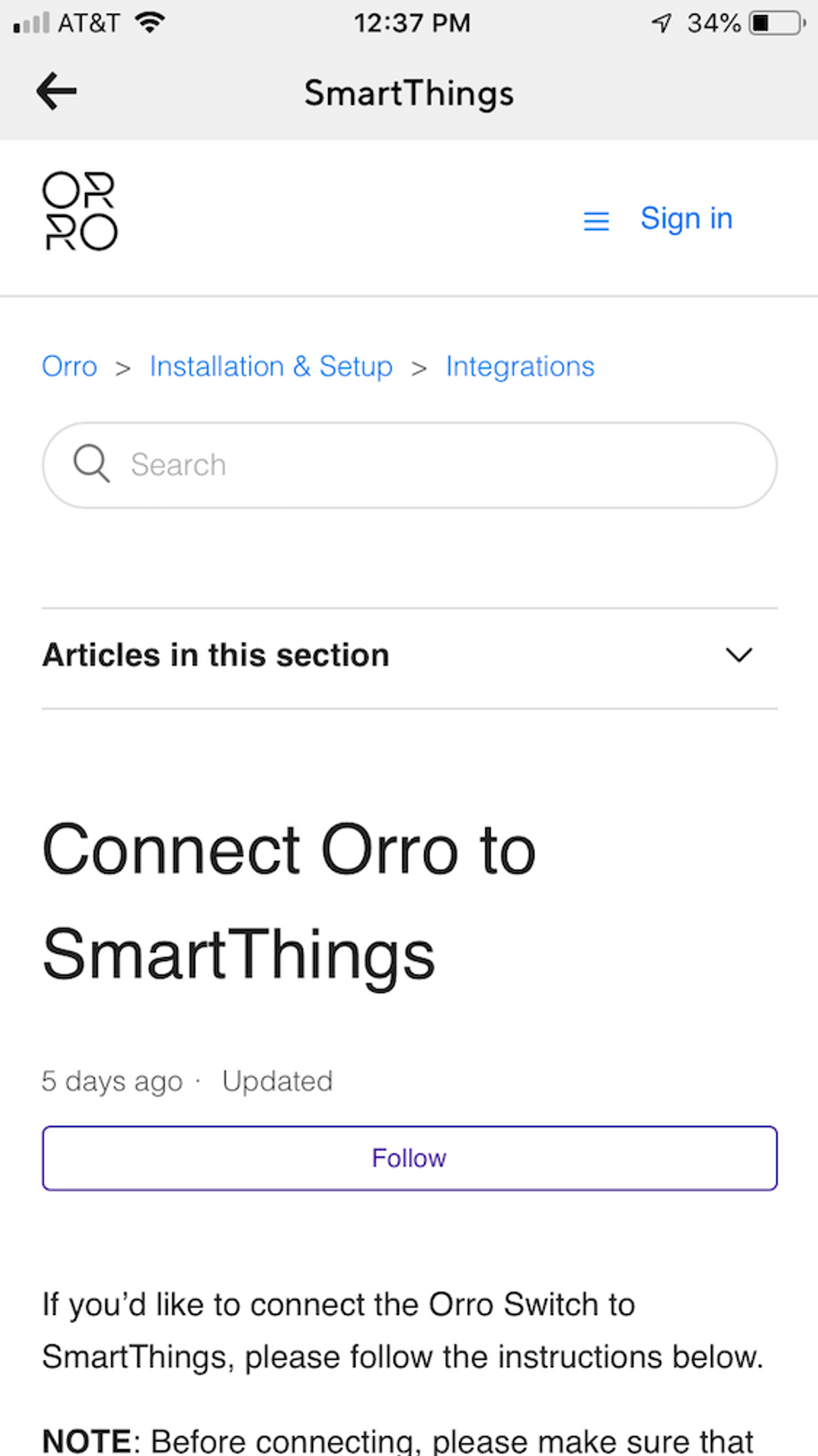 orro switch is now compatible with Samsung SmartThings.GearBrain
How well does Orro work?
At the beginning, we had some difficulties connecting to our home Wi-Fi network. After completing the setup process, the switch said it had connected to Wi-Fi but a notification on our screen appeared saying otherwise. We checked the strength of the Wi-Fi in the room where Orro was installed, (it was strong), restarted and rebooted the switch multiple times and still couldn't connect. So, we contacted customer service.
One of Orro's unique features is a direct line to customer service via the switch. After swiping left on the switch's screen, a button appears that lets you record a message sent directly to Orro's customer service department. Within minutes you'll get an email response — a customer support method that we think is smart and important as many consumers have challenges setting up new connected devices no matter their technical experience. This level of service helped us save time in solving our problem.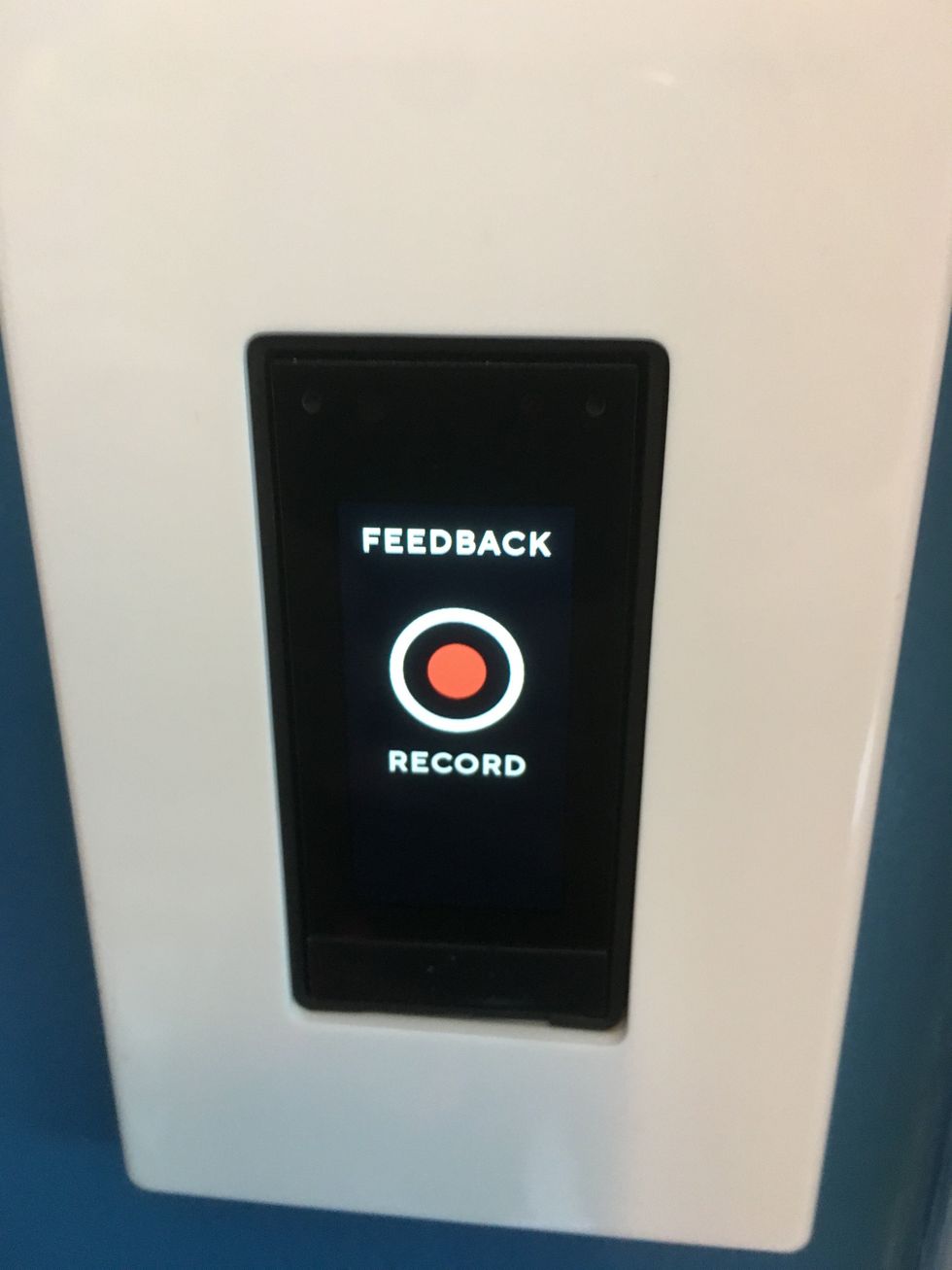 Record your problems with orro switch and then send to customer service. They respond in a very timely manner.GearBrain
In terms of our connectivity issues, Orro got the switch connected to our home Wi-Fi by fixing a system issue with our router. If you experience issues connecting to your home Wi-Fi, we recommend you contact Orro customer service through the switch as well.

Regarding design, our electrician who helped us install the smart switch noted he didn't like the color of its back as it was black as well as the wires. That made is difficult to see side the wires and ports as light in the room was limited. He requested the back of the switch be a brighter color to help with installation.
Finally, we found our connection with the August Doorbell Cam was spotty at first. We tried multiple times to get the chime on the switch to make a sound but to no avail. After reaching out to Orro's customer service and they told us to check the August integration face. If it shows a red circle with a mute icon, you have to tap the icon to re-enable the sound. If this action does not allow you to hear the doorbell chime, you then reboot your Orro switch and test the chime feature again. We did, and finally got the August Doorbell Cam to work.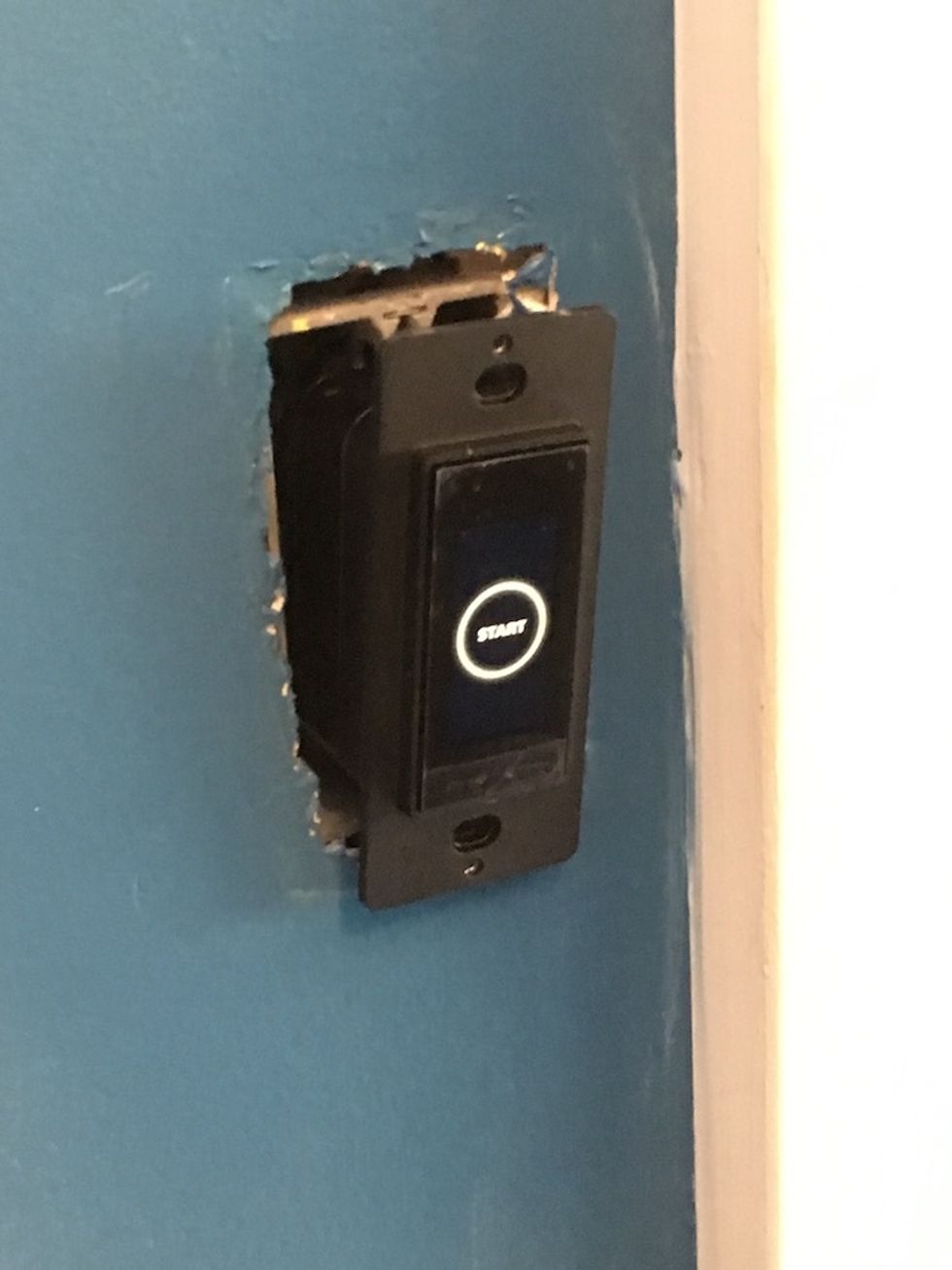 our electrician requested the back of the switch be brigher to easier to see if wires stay connected when inserting into junction box.GearBrain
Overall, we're impressed with how Orro learned our preferences and started to do things for us without asking. For instance, walking into the room on a dimly lit day, the light came on but just enough for us to see clearly. When we walked out of the room, the lights went off — a nice feature and great for those with children who never remember to turn off lights no matter their age.

Cost

The Orro Switch retails for $199, which is rather expensive if you look at the cost compared to other smart light switches, like Lutron Caseta or Leviton Decora, which can range between $30 to 50 per switch. But when compared to other smart switches that can also function like a smart hub, like Brilliant ($299 per switch) or Noon ($529 per switch), Orro looks like a bargain. The switch is currently available for sale on the company website.
ORRO - Smart Dimmer System with Motion Sensor, WiFi, Supports Multiway, In-Wall Lighting Control Compatible with Alexa & Google, SmartThings, August Lock, Philips Hue
Summary

Orro Switch is a powerful smart switch that combines the controls of a connected hub with motion and sound sensors, as well as artificial intelligence, to offer personalized lighting in your home. It applies machine learning. customizing lighting to help make a home smarter. But people should note Orro is still in its infancy stage but improving. For instance, if you want to use the Orro switch as a hub, it has good smart home integrations, but very few smart home security systems. Based on the price of the Orro switch at $199, it's expensive when other smart switches cost much less (i.e. the Leviton Decora Smart Switch is only $35.)
There are a few additional things to note. At the time of our review, Orro lacked Android support and offered only a single pole switch. This meant if you have a room with multiple light switches controlling the same light, you can't install the Orro switch unless you disable the other light switches — not something we recommend. However, Orro has addressed these two issues, and does have an Android version of their app and offer singe, 3-Way and multi-way switches. This is great news.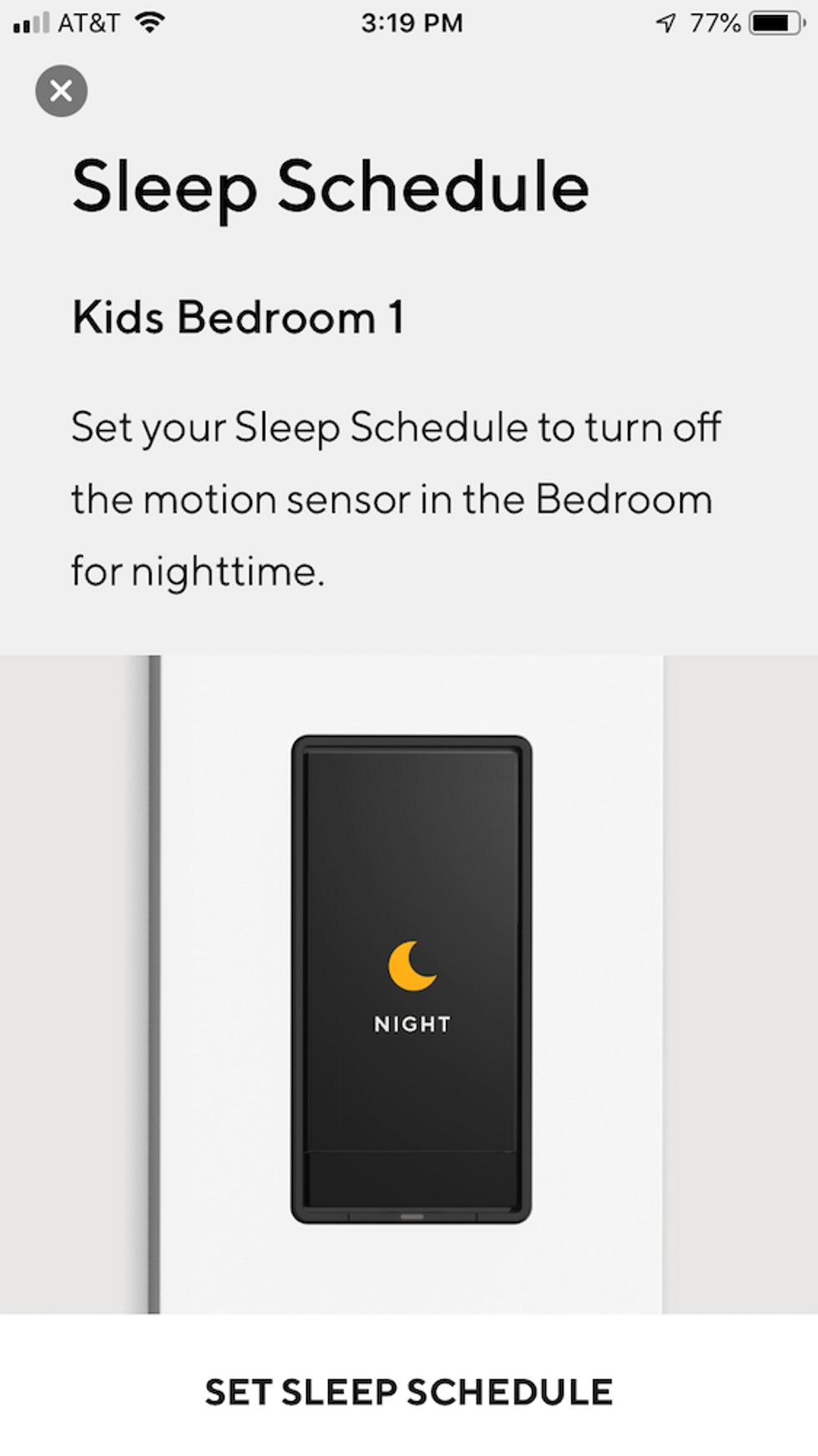 Can teach orro switch you sleep schedule.GearBrain
Overall, we do like where Orro is heading and believe this smart switch can be an integral part of any smart home. One of the issues many consumers have with smart switches today is they don't use them the proper way. Many can't break the habit of turning off the switch when they leave the room.

If you really want a smart home to help you save money on your electric bill, you have to learn to trust your smart switches and leave them in the on position. With Orro, you can trust its technology to help get you the type of lighting in your home, turning lights out just when you leave a room — and helping trim electric bills. The switch can also learn other habits, which you can integrate into other connected devices to help create not only savings, but a better living environment for you and your family.
If you are in the market for smart switches, we suggest you take a look at Orro. Though these switches might not be ready for everyone, they can work effectively in many homes home, especially in the bedrooms, kitchen and entertainment rooms where you have a single pole connection.
Pros and Cons
Pros:
Ambient computing switch
Motion and sound sensors built-in along with a controller
Voice control
Works with Samsung SmartThings, Google Assistant, Amazon Alexa, August Locks and Doorbells
Cons:
Price
Require a Neutral Wire