Like GearBrain on Facebook
When looking for a way to control your connected devices in the home, you often need a hub, like those from Samsung SmartThings or even hubs that come with home security systems, such as Vivint. Brilliant gives you another option, a way to control devices at the switch level instead of using a hub, whether you want to turn lights on and off, control a room's temperature and unlock doors. Since many consumers still turn lights on and off at the switch, even with smart lights, I think it's well, brilliant to offer consumers a controller at the switch level. GearBrain put Brilliant's smart home control switches to the test and here's what we found.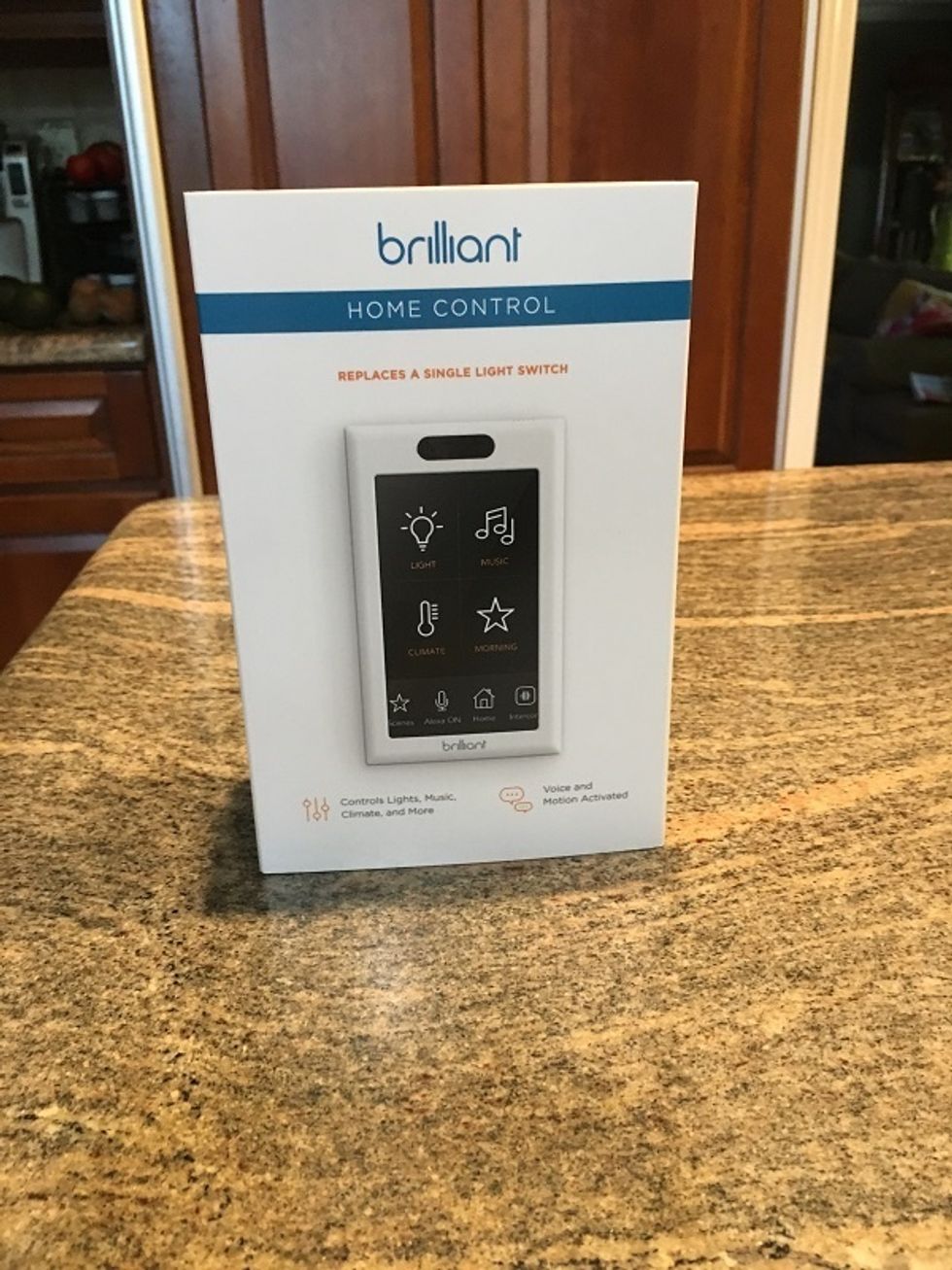 Brilliant Home ControlGearBrain
What is Brilliant Home Control Switches?

Brilliant Home Control Switches control lights, music, your home's climate and more, bypassing the the need of a smart home controller or hub. Smart switches react to motion or voice commands, and can also be tapped as a video intercom system through the camera on the switch. The cameras also have a privacy shutter, so people can choose to use the camera when they want.
Brilliant smart switches are the most comprehensive smart switches we have come across today. Many smart switches just control the lights or devices connected to the outlet tied to the switch. Brilliant is much more comprehensive, and looks more like a smartphone on your wall, and connecting to many leading brands.

Installation, however, is complicated and depends on your home's wiring, and how comfortable you are with working with electrical wiring.
How to install Brilliant Switches
Brilliant's smart switches are easy to install if you're an electrician or have a fair amount of experience with working with electrical wiring in your home. If you are not comfortable with working with electrical wires and products, then we recommend hiring an electrician.
Before installing any smart switch — or even buying one — including those from Brilliant, you need to determine the wiring in your walls, and also check if your junction box is big enough to fit all the wires, wire connectors as well as Brilliant's smart switch. While its switches are the standard depth and width of other brand's switches, they're still wider than a normal light switch, requiring a deep junction box. (Brilliant smart switches are 5.6" deep.) You will also need to make sure you have a white, neutral wire. Many older homes have just two wires in their walls. If you don't have a third neutral wire, Brilliant nor any other smart switch will work.
How to Install Brilliant Home Control Switch
We will walk you thought the installation process for installing Brilliant Home Smart Wi-Fi Switch.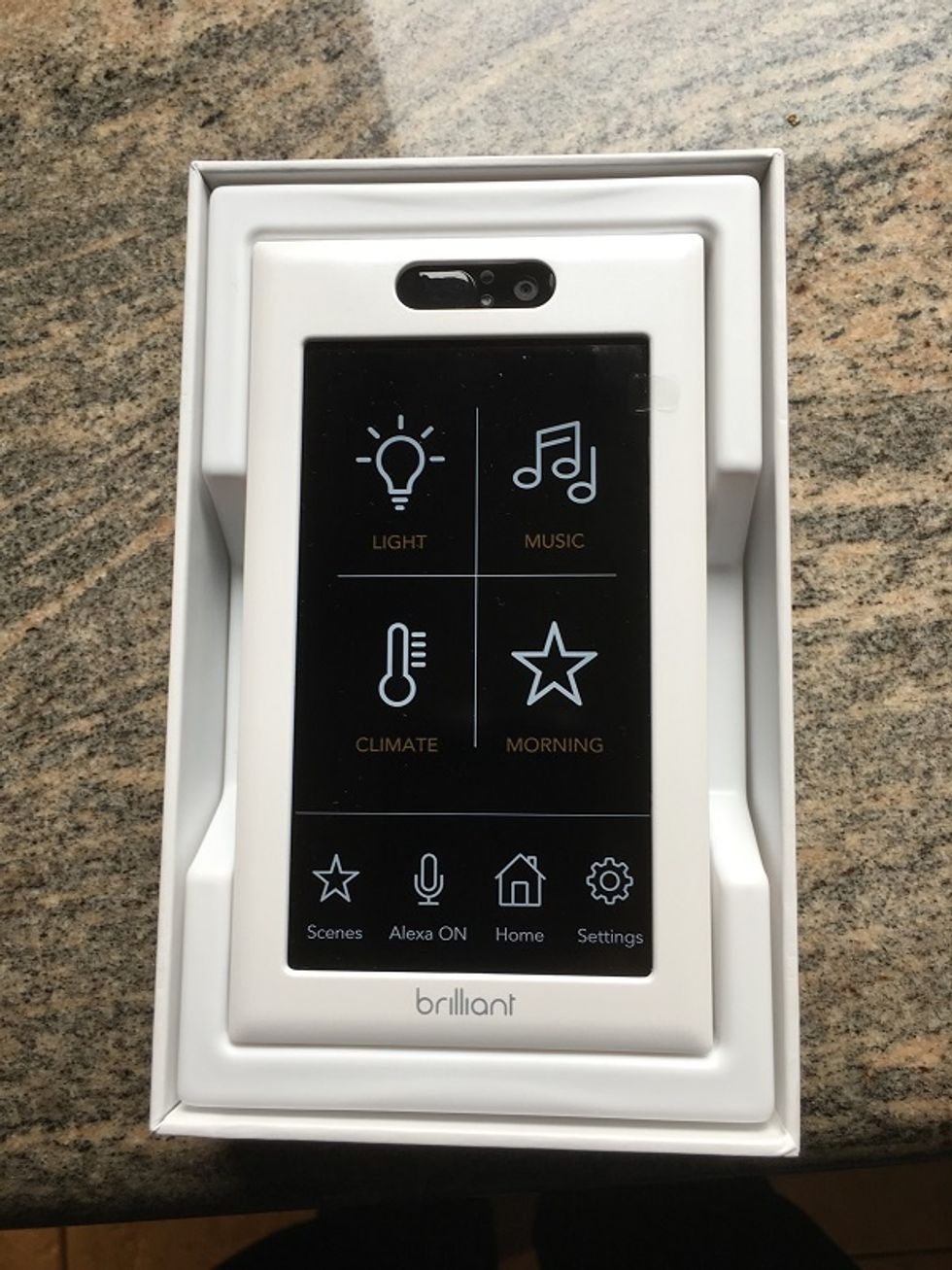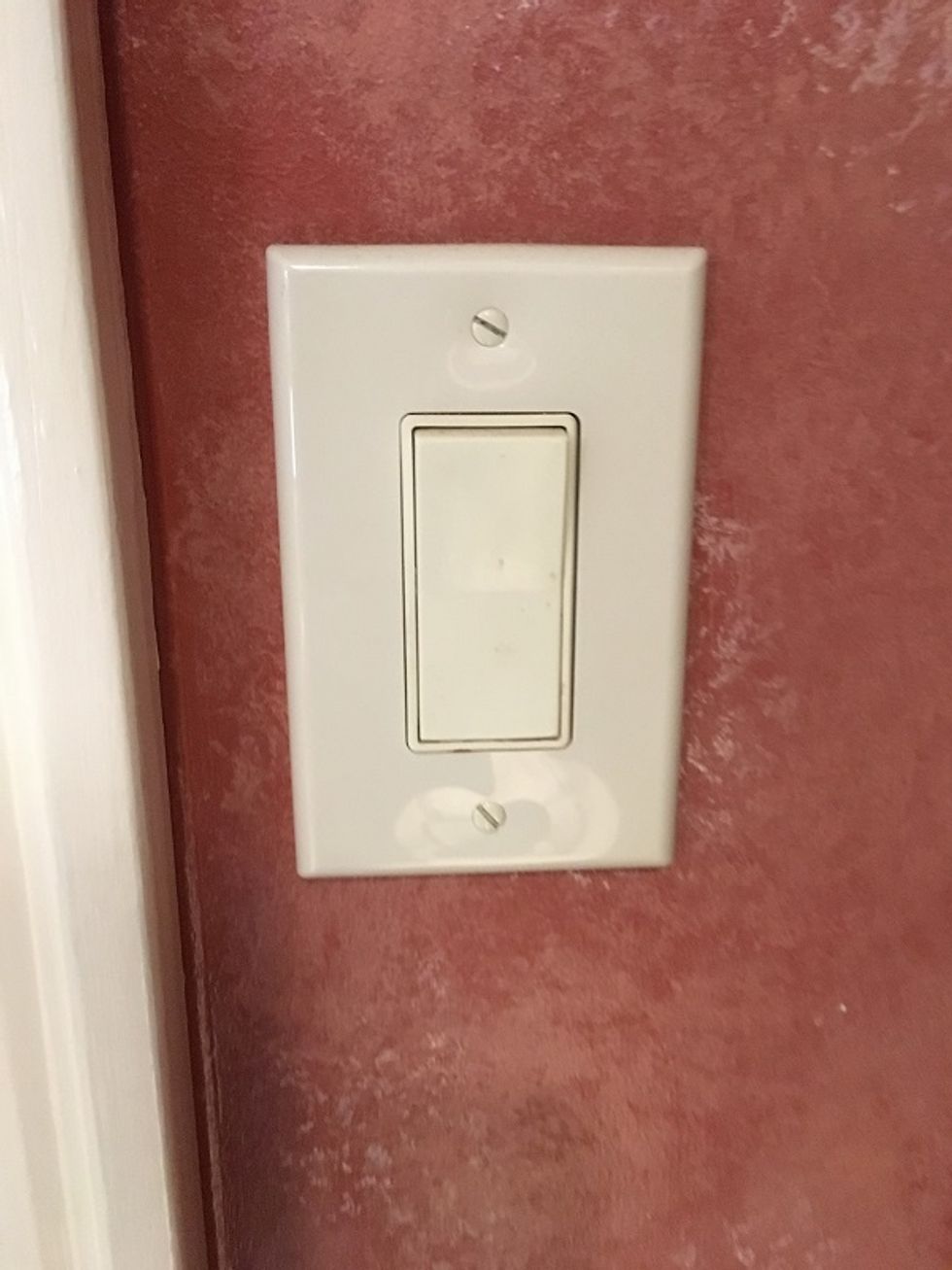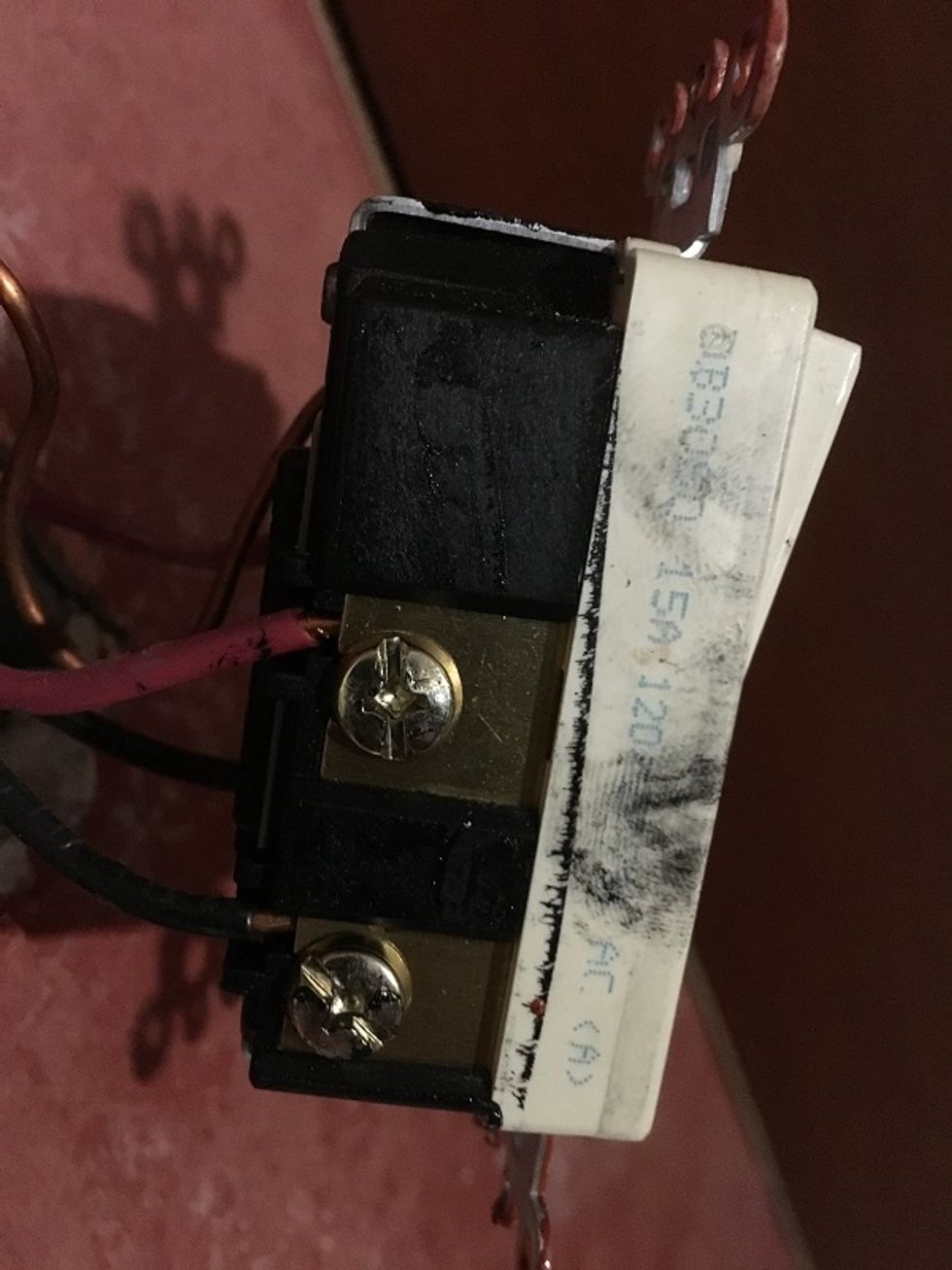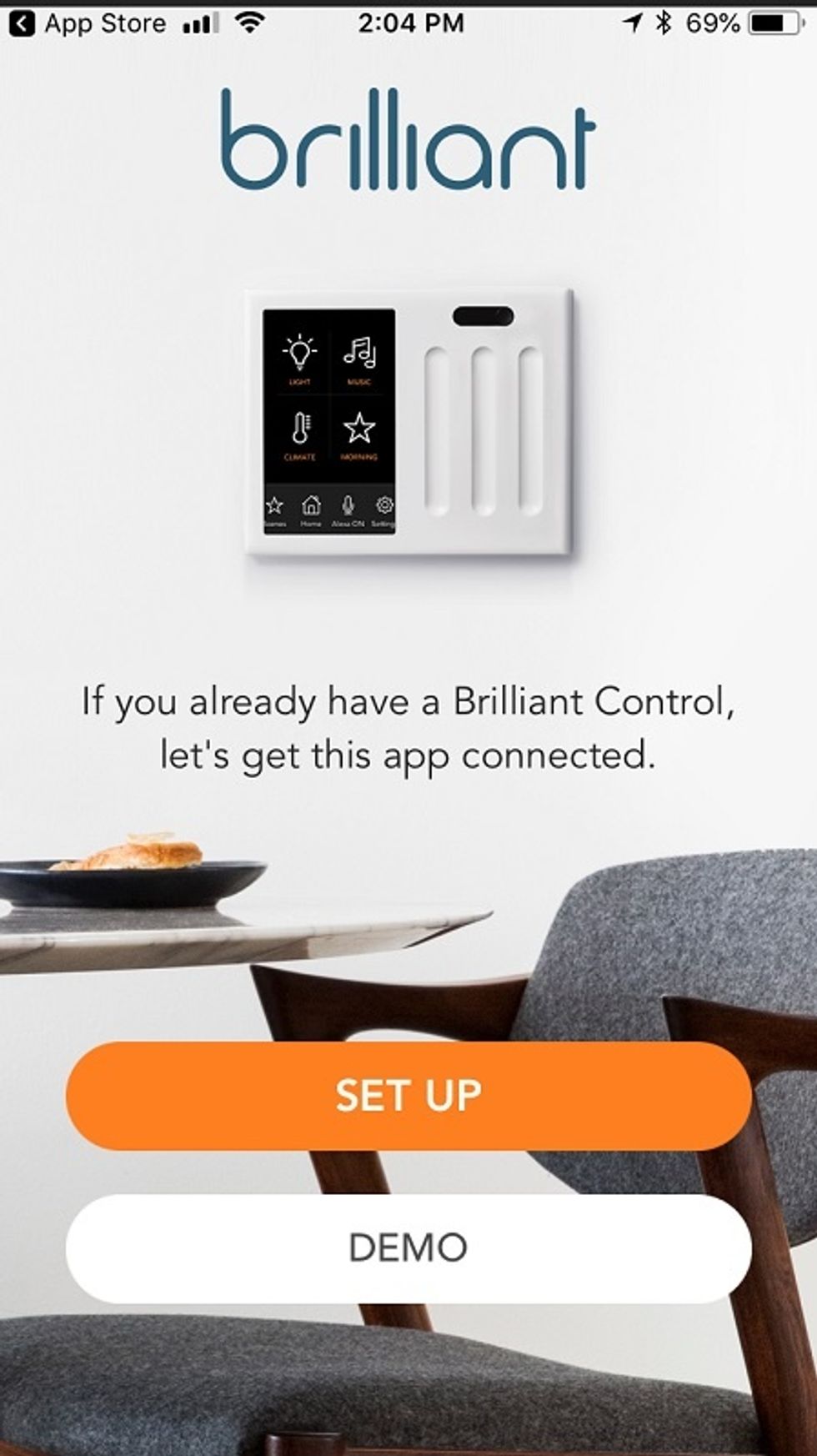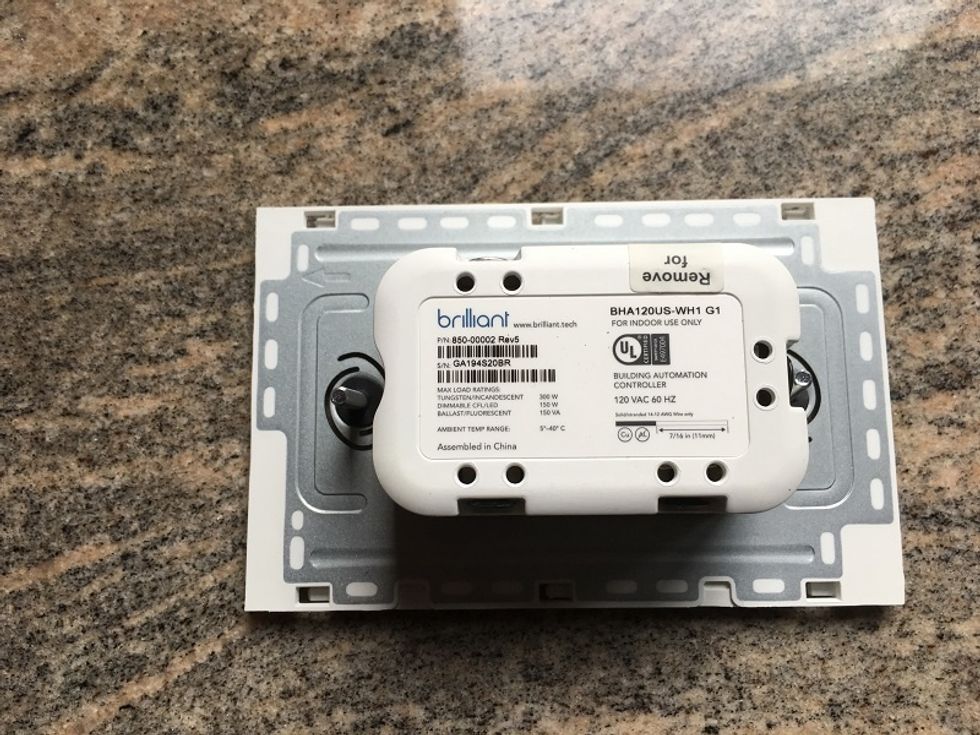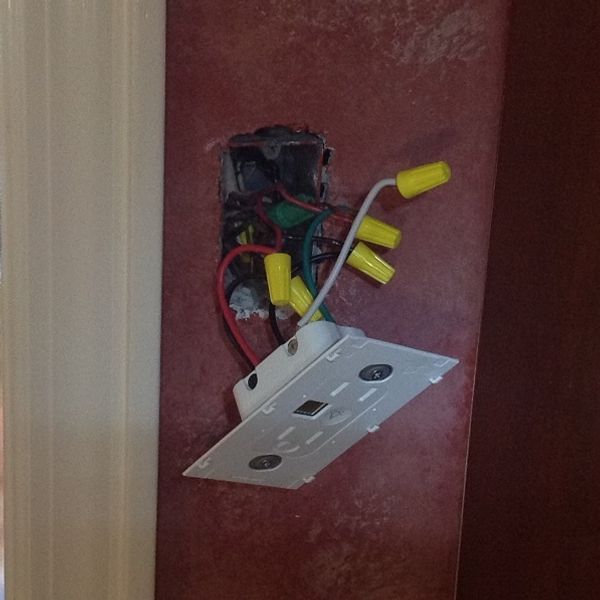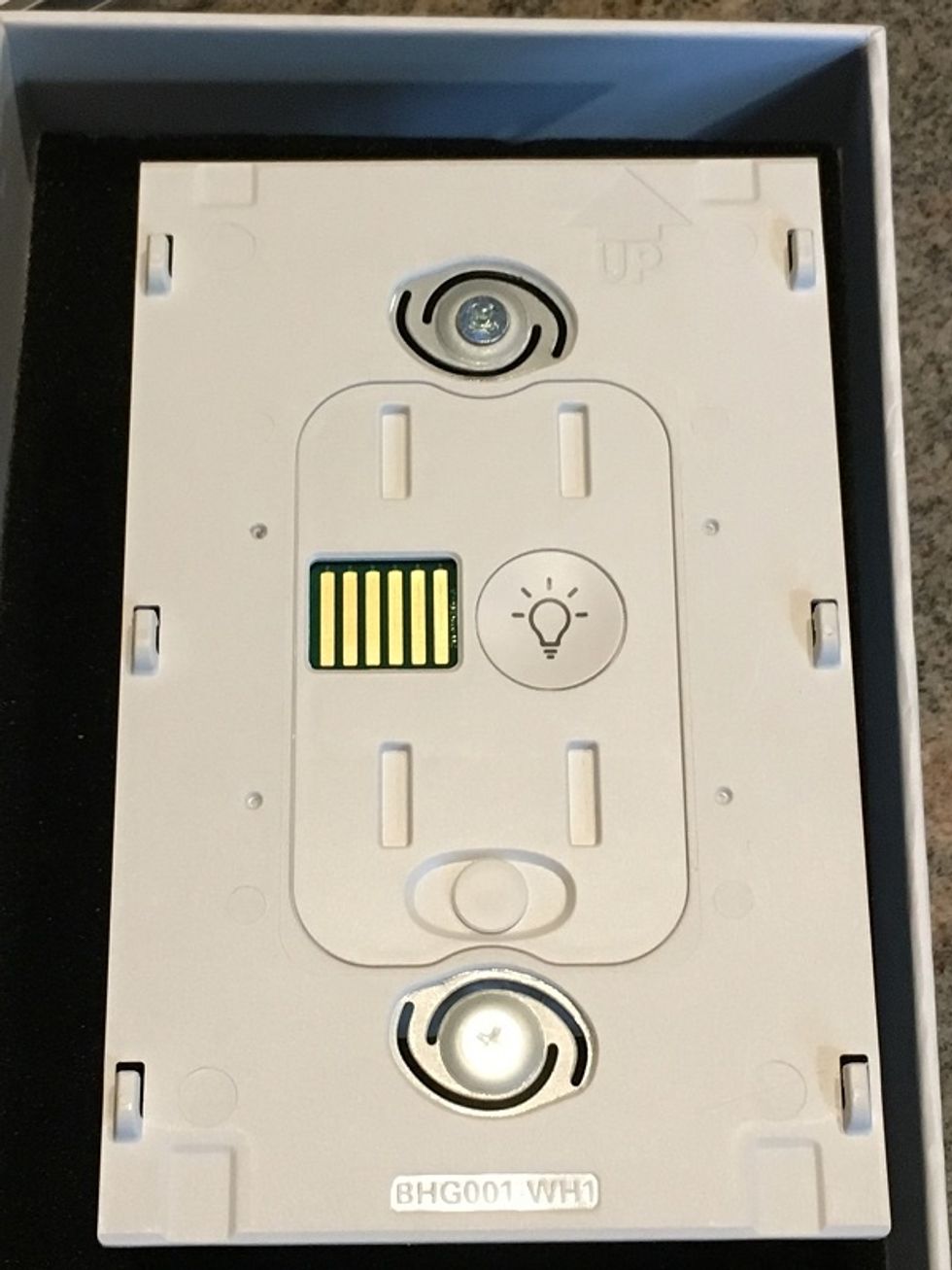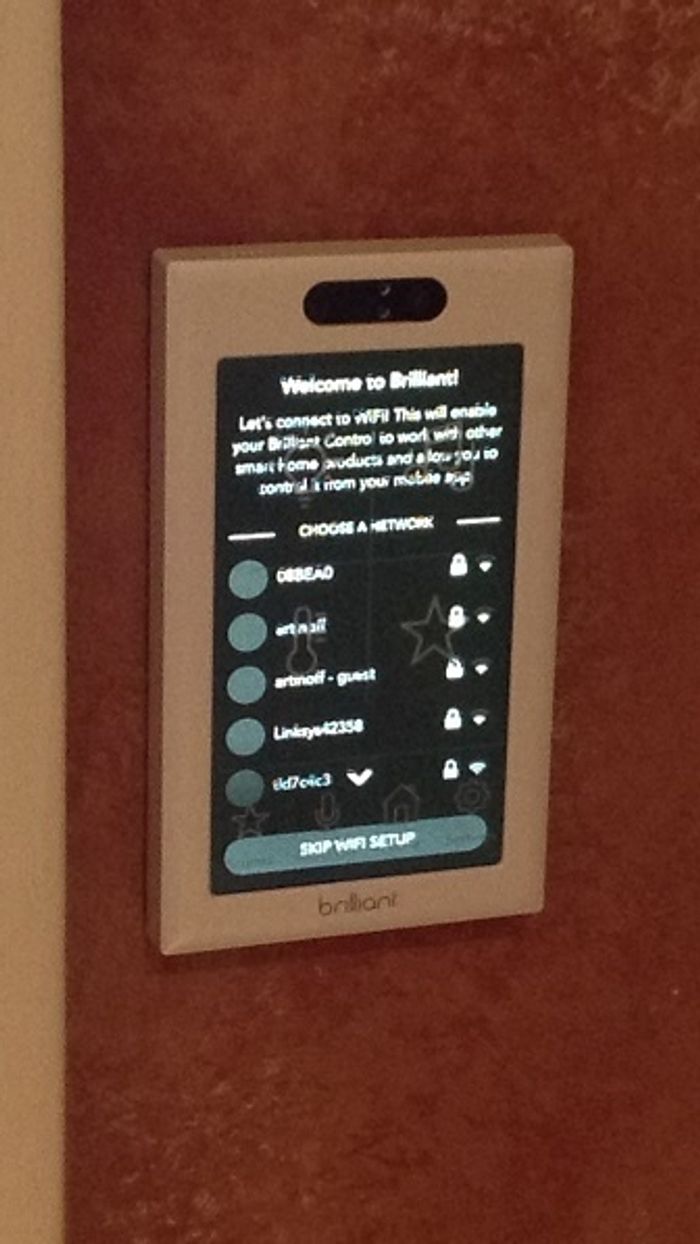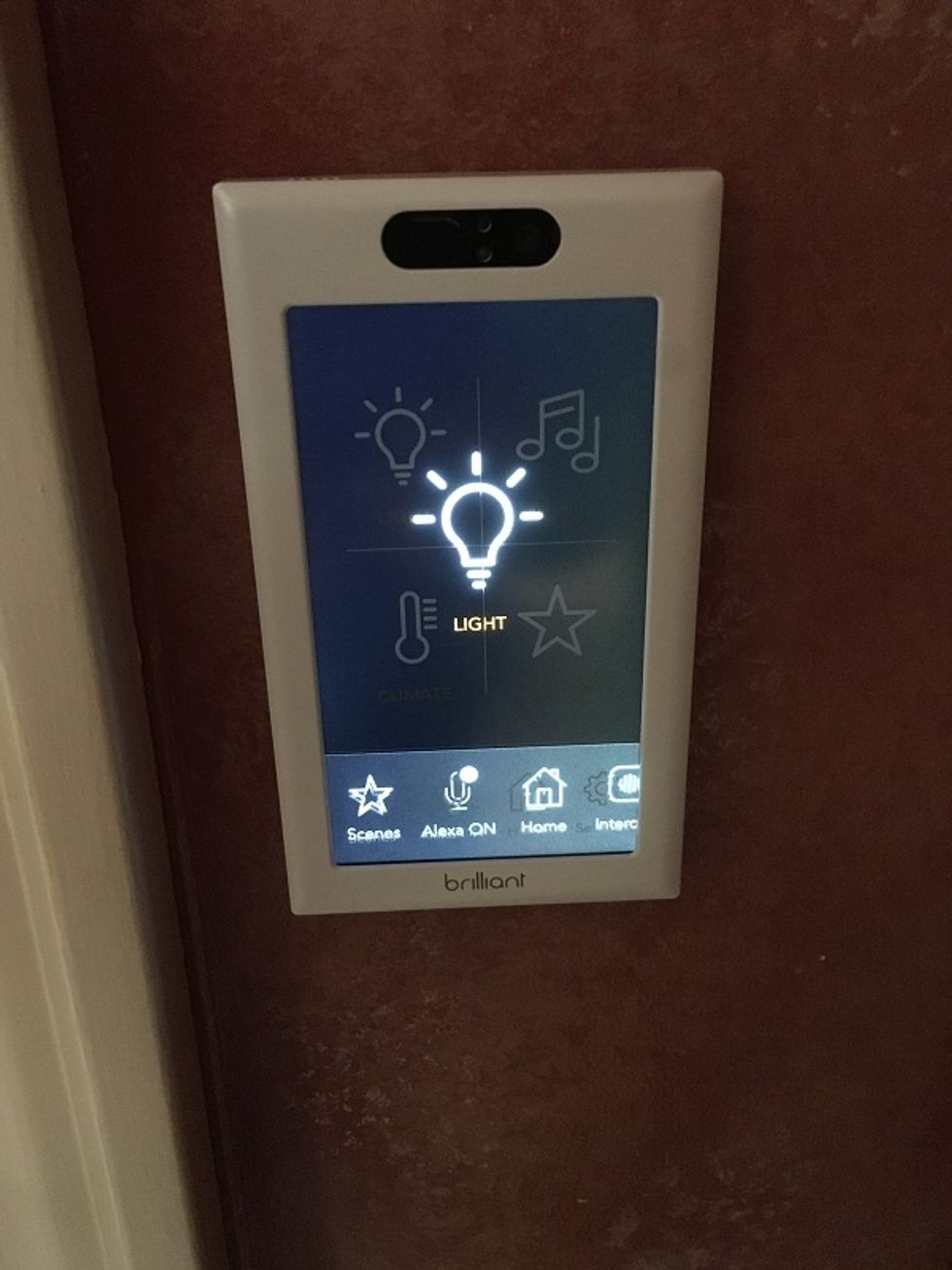 If you have a newer home, you will most likely have four wires behind your current switch: neutral, ground (usually a bare copper wire), along with ling and load (red and black wires). If you have this setup, you can start your installation.
First, turn off the power, then download the Brilliant app either from the App Store or Google Play. The app has very easy to follow installation instructions along with videos, which we found helpful. You can also do a live chat through the app or call customer service for assistance.
Next, take a picture of the wiring on your current switch. You want to identify the four wires and label them. Remove the old switch and connect the wires to their appropriate ports in the Brilliant smart switch, which are well-marked. Just make sure you tighten the screws once the wires are inside their ports, and that there isn't any wiring exposed. You don't want any wires coming loose, or touching another wire, when securing the switch into the wall, otherwise you could blow the switch when the power goes on — just as we did. (Tip: Brilliant supplies wires and wire connectors. You can connect the wires from your wall directly into the Brilliant base. But we recommend you insert the supplied wires into the Brilliant switch, and then use the wire connectors to connect the wires to those in your wall. This will help prevent any wires from being exposed.)
Brilliant smart switches come in various versions: 2-switch, 3-switch and 4-switch (multi-gang). We installed 3-way switches, and made use of live chat. The Brilliant rep, Lenny, actually asked to call me since we had a complicated issue, talking me through connecting one of the wires in our switch.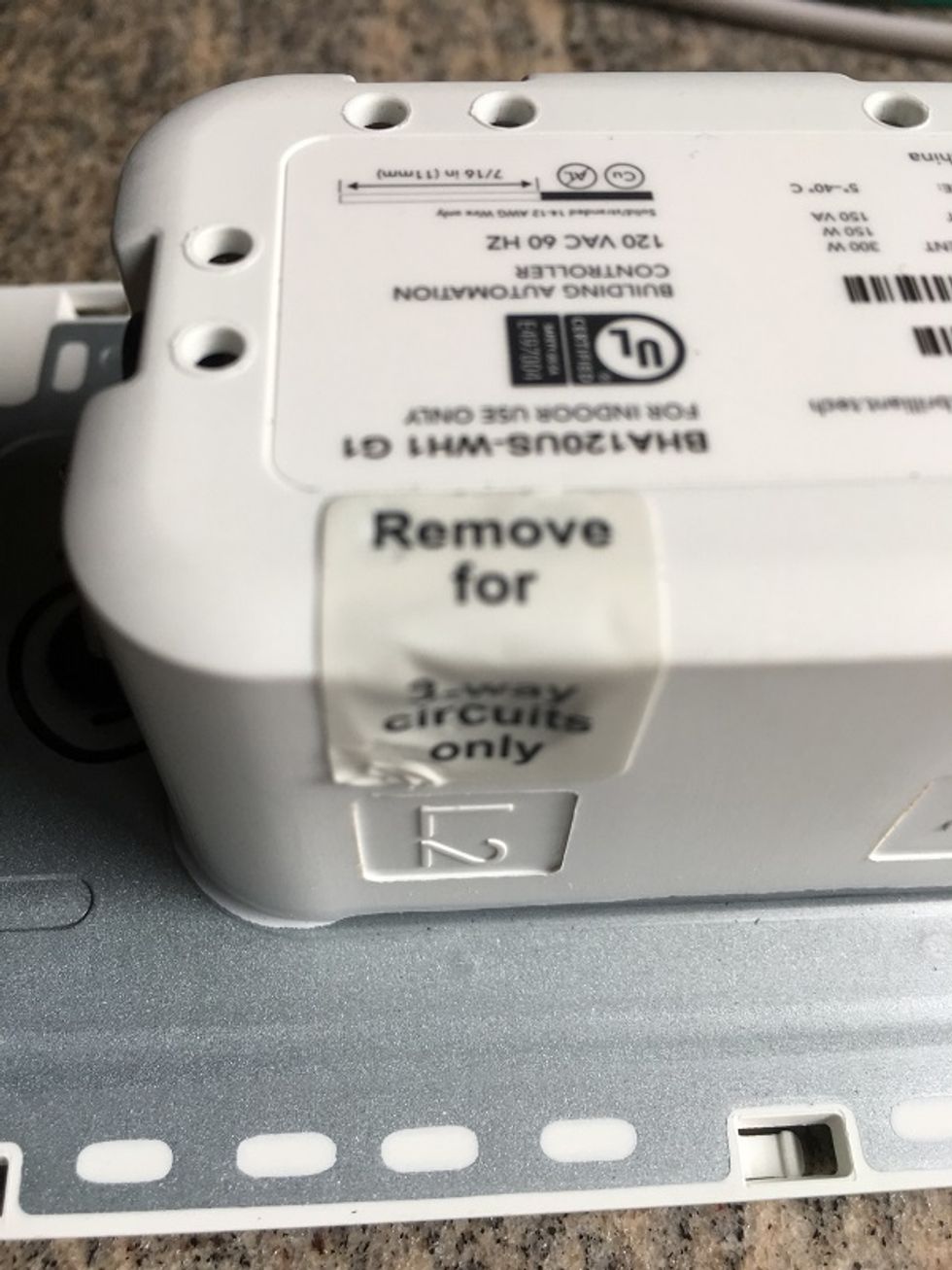 We tested a Brilliant Home Control 3-way switch.GearBrain
Once the wiring is complete, you need to secure the base unit to the wall socket. First, make sure you can fit all the wires, wire connectors and switch into your junction box. You also need to make sure wires are not touching or came unconnected from the wire connectors. Next, securely tighten the wall plate, but don't over-tighten as this could cause problems with the Faceplate mounting. The two screws that connect the base to your wall are designed to bend, and that will make it easier for you to fit all the wires and the switch into the box.
Once the base is installed, turn the power on, and test that the switch can turn your lights go on and off through the button that looks like a light symbol at the base. If all is working properly, you can mount the Faceplate and then connect your Brilliant smart switch to your home Wi-Fi network.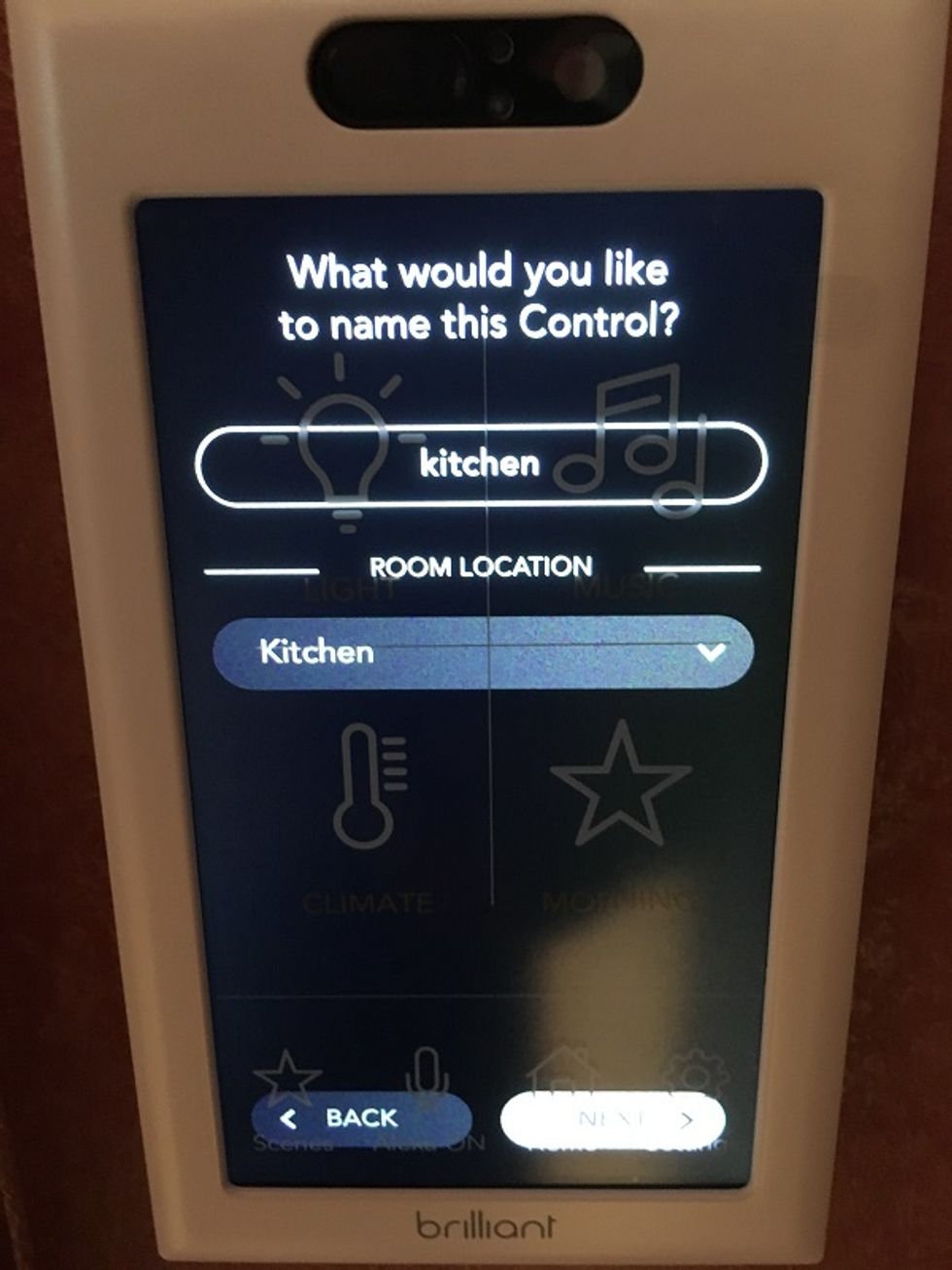 Naming your Brilliant smart switch on the screen.GearBrain
Smart Home Integrations

There are several smart home brands that work with Brilliant, and that can be controlled through the Brilliant app as well as the Brilliant smart switch:
We tested a number of these integrations, and discovered some interesting things. If you own an Amazon Alexa-enabled device, like an Echo or Echo Dot, you need to know that Brilliant will act as an Alexa device. That's great if you want to ask Alexa the weather, or turn on a smart oven in the kitchen — you can ask Alexa through the Brilliant smart switch and she'll answer or run the command just as if she were speaking from a Dot.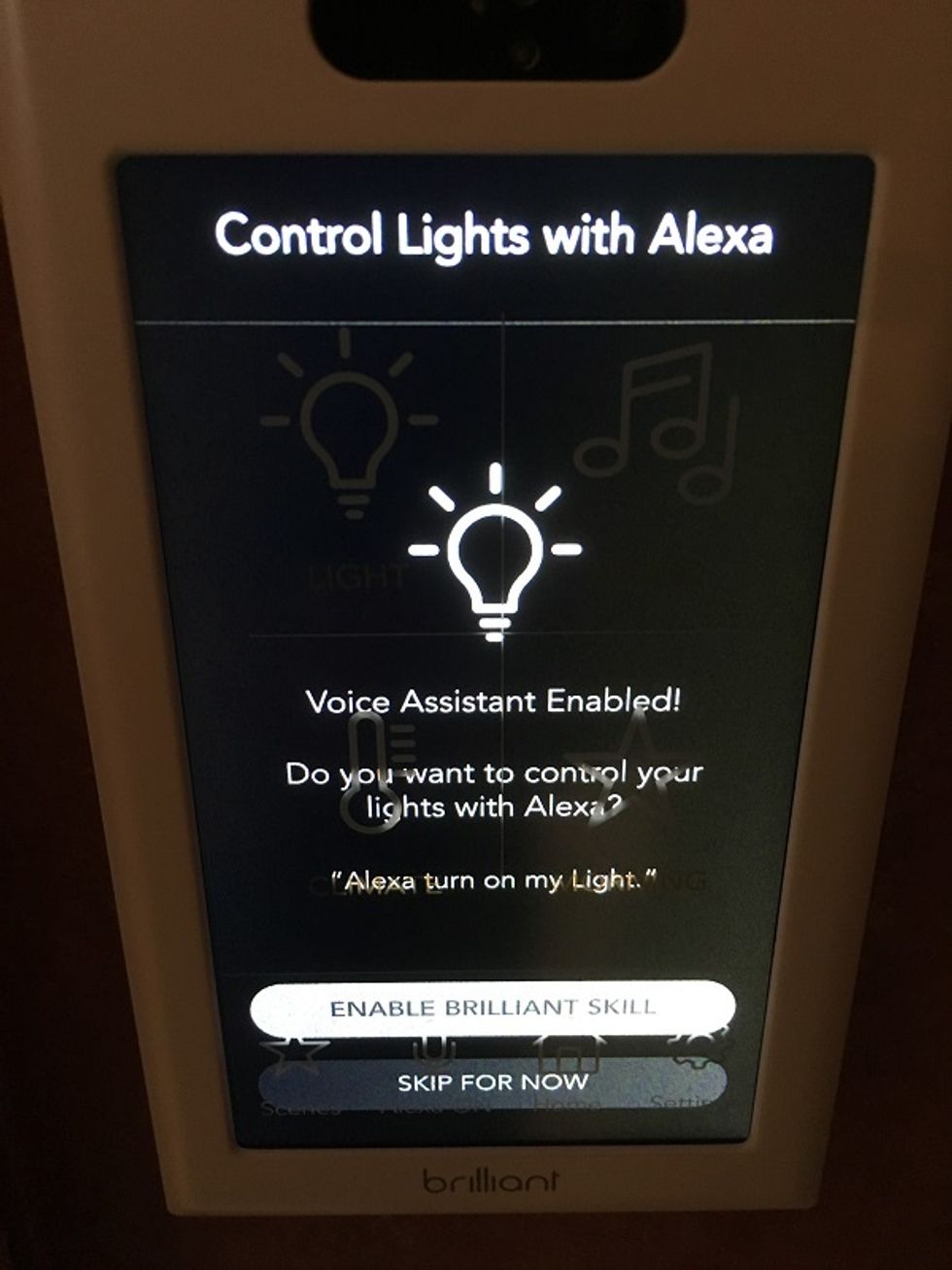 Connecting your Brilliant Hone Control switch to Amazon Alexa account.GearBrain
However, if you're asking Alexa to do something like play music, which you're typically doing from one of Amazon's smart speakers like an Echo or a Dot, you may run into problems if you're standing closest to Brilliant. Amazon Alexa devices network together when there are multiples in a home. The one closest to you, when you're speaking to Alexa, is the one that will take over. Asking Alexa to play music, when you're closest to Brilliant, won't work. Alexa can't play music from the smart switch and the request will fail. This response is common with devices that have Alexa voice platform integrated. It's also out of the manufacturer's control. Brilliant is working with Amazon to help prevent its smart switches with Alexa from hijacking other Alexa enabled devices, but it's up to Amazon to make the fix on its end. More to come on this.
Things you can do

Brilliant smart switches have several nice features. You can easily swipe up or down on the switch to turn lights on and off. You also just tell Brilliant what do, thanks to the Alexa and Google Assistant voice integrations. The switches also act as a video intercom system, with the built-in microphone, camera and motion sensor. The switch also has a 5" diagonal The LCD touch screen (5-inches diagonally) has a 720x1280 video resolution, and there's a privacy shutter on the camera.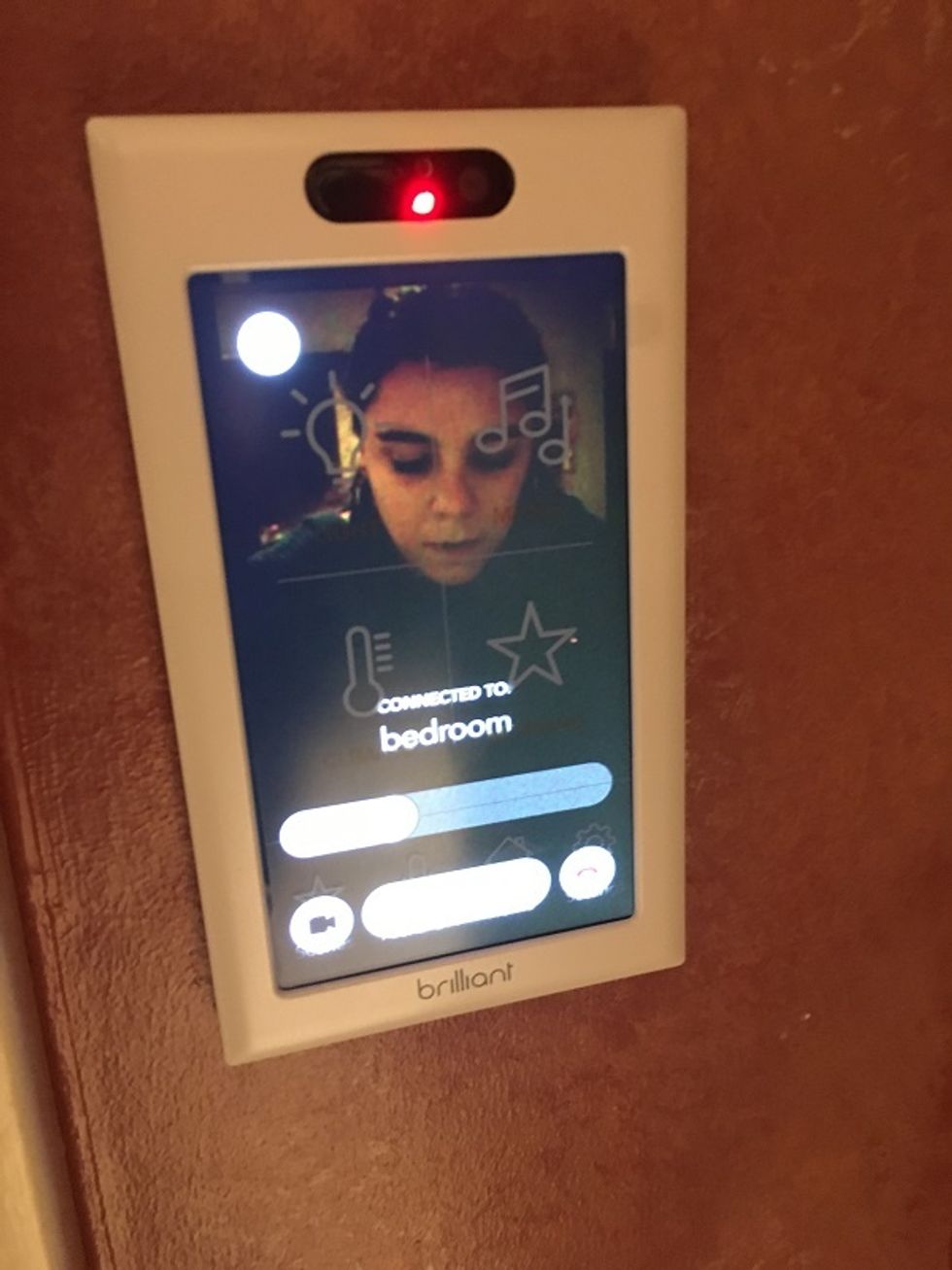 You can use your Brilliant Home Controller as a video intercom system if you have at least a second switch.GearBrain
The intercom system is another nice feature if you have multiple Brilliant smart switches in your house, and we found the sound and video quality are okay. We tested the intercom feature, finding we could speak with another person, in a separate part of the house, on a Brilliant switch without any delays. We liked this feature, and if you install a second Brilliant switch in your kid's bedroom, you could check on them or call them for dinner.

Other nice features include setting the motion sensor to have your lights go on and off when people come into the room. There are also screen savers that can run when you are not using the smart switch, either pre-set colorful scenes, or the option to use your own photos. Brilliant smart switches also double as night lights by just adjusting the brightness of each switch.
Regarding technical specs, here are a few key specs:
Wi-Fi connected supporting up to 802.11n
Bluetooth (if Wi-Fi is not present)
Customizable Scenes: You can save your favorite settings for lights and other connected devices.
Over the air software updates done automatically
Upload your own photos to Brilliant screen using the Brilliant app.
Dimensions: 141mm x 82mm x 9mm (5.6" x 3.3" x 0.35") from wall out.
The price of a Brilliant smart switch is more in line with the cost of a smart home hub then a smart switch. A Brilliant smart switch, with single control, is $299, two-switch control is $349, three switches are $399, and four switch control will run you $449. All are available on Brilliant's website.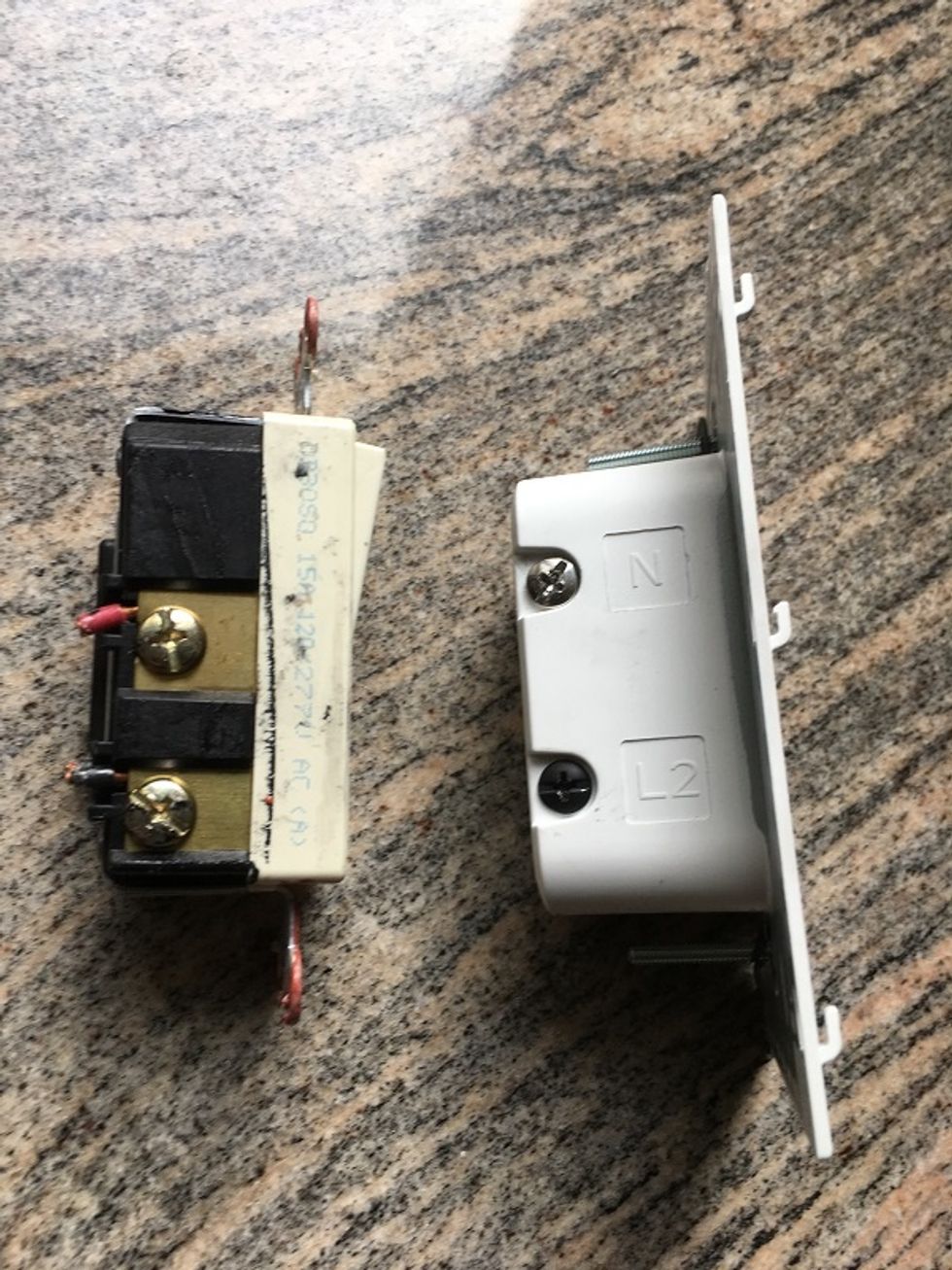 Here we compare a standard light switch with Brilliant Home Control Smart Switch. The switches are almost siimilar in width but make sure you have room for the wires and wire connectors.GearBrain
Summary

We tested the Brilliant smart switches for a few weeks, and found they worked exceeding well. We like how they act as both a smart device and controller when needed, and work with a robust ecosystem of connected products. We also like the design of these switches on the wall, and the screen saver option.
However, before you decide to buy a Brilliant switch, check the wiring in your home and make sure you can install one. Also, be aware that you're likely to pay a lot for these switches, and that's because you're going to get a video camera, intercom system (if you buy two switches), smart switch and Alexa enabled device all in one. If these features are appealing and useful, then the price for a Brilliant smart switch is very attractive. But if you're just in the market for a smart switch, I recommend looking at other smart switches like Noon Home or Leviton. They integrate with other smart home brands as well, and will work just fine.
Finally, before buying Brilliant smart switches, decide how and where you want to control your other smart devices. Do you want a main controller or connected hub? Then decide if you want a standalone device, like a Samsung SmartThings hub or an integrated into a smart switch like Brilliant.
Overall, Brilliant has built a one of kind smart switch that supports multiple integrations to make your home smarter and function better. We hope the company continues to build out its smart home integrations, and expand to work with other wireless protocols, like Z-Wave or ZigBee. We think this could give more customers a way to connect and control their existing smart home devices with these powerful smart switches.
Pros:
Good smart home integration with control at the switch level
Alexa enabled device, and works with Google Assistant
Video intercom system and nice design
Cons:
Cost
Installation, plus needs a neutral wire
Can interfere with existing Amazon Echo devices in same room
Check out The GearBrain, our smart home compatibility checker to see the other compatible products that work with Google Home and Home Mini, Philips Hue Smart Lights, Xfinity X1 platform and Amazon Alexa enabled devices.

Like GearBrain on Facebook