Like GearBrain on Facebook
Claimed to be the world's first commercially available flying car, the Liberty 'Pioneer Edition' just got its U.S. debut when it was shown off at Miami Art Week in Florida.
Built in The Netherlands, the twin-engined car is capable of 100mph on land and 200mph in the sky. Production was due to begin this year, but now its makers say the first deliveries will begin in 2021.
Read More:
Despite the delay — we first saw what the company said was production-ready example in early 2018 — Pal-V says it has sold orders for 70 examples so far. The vehicle is being displayed at the 'Miami 2020 and Beyond' exhibition, which is part of Miami Art Week.
The vehicle can has seating for two, plus space for up to 20 kg of luggage, and has a cruising range of 310 miles while flying at 100 mph at an altitude of 11,500 feet. It is said to be the first and only vehicle which can legally operate as both a car and a plane in the U.S. and Europe, requiring its driver/pilot to hold a license for each.
When used as a car, the Liberty has a 0-60mph time of under nine seconds and a range of just over 800 miles. The transition between car and plane takes roughly 10 minutes, its makers says.

The vehicle can be turned from car to plane in around 10 minutesPal-V
PAL-V first began road-testing the vehicle in 2009, with the first flight in 2012, and most recently showed it off at the 2018 Geneva Motor Show, where the company said the price would be $400,000 and deliveries would begin in 2019. Since then, the company has endured some delays and the price has risen by 50 percent, to a new starting point of $599,000 for US customers.

The PAL-V Liberty traces its roots back to the equally mad Carver One, a leaning three-wheeled car which sat its one passenger behind the driver and leaned at up to 45 degrees through the corners, proposed by another Dutch company, Carver. But that vehicle didn't fly — so clearly there was room for improvement.
Now PAL-V has taken the Carver's concept, rearranged the seating so that driver and passengers sit side-by-side, given it a second engine and fitted fold-out wings and rotors. Once airborne, the new vehicle, now called Liberty, is more like a gyrocopter than a plane, and reminds us of 'Little Nelly' from the James Bond film 'You Only Live Twice.'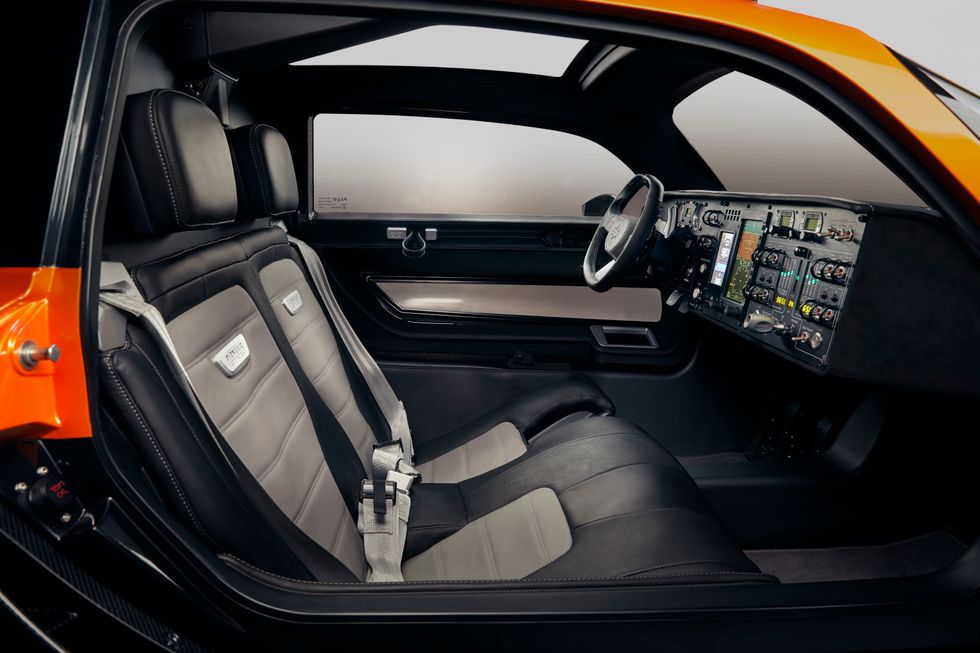 Interior of the Liberty flying car has seating for twoPal-V
PAL-V is one of many companies working to make the flying car — and flying taxi — a reality. These include startups like Lilium and Uber, along with aviation giants like Airbus and Boeing, plus car manufacturers Porsche, Audi, Volkswagen and Aston Martin. But very few of these are trying to make their vehicles work on the road as well as in the air.

From Your Site Articles
Related Articles Around the Web
Like GearBrain on Facebook