Like GearBrain on Facebook
Premium audio company Sonos has already said it plans to launch a couple of new products this year, and after a sneak peak of a new speaker, we've now also seen a pair of unannounced Sonos headphones.
If they make it into production – seemingly a likely prospect at this stage – the headphones will be Sonos' first, and are expected to enter a crowded and fiercely competitive market.
Read More:
Given the premium nature of other Sonos products, we expect to see the headphones go up against flagship models from Bose, Sony, Sennheiser, Bowers & Wilkins, Bang & Olufsen and Apple, with the latter likely to remain the most expensive of the bunch at $549.

As for the Sonos headphones, and this is the second time they have been seen in patent filings. They first appeared in a filing to the US Patent and Trademark Office in September 2020, and they have now been seen in a similar filing made with the German equivalent in December.
Both filings include simple drawings of the headphones, but there have been some changes made between September and now. The latest design is simpler, with the headband attaching into the top of each ear cup instead of arcing around the back of them first.
The new drawings also include the Sonos name on the outside of the ear cups for the first time. The sketches also include what looks like a 3.5mm headphone jack and a USB-C port, plus buttons and switches likely for controlling volume and media playback.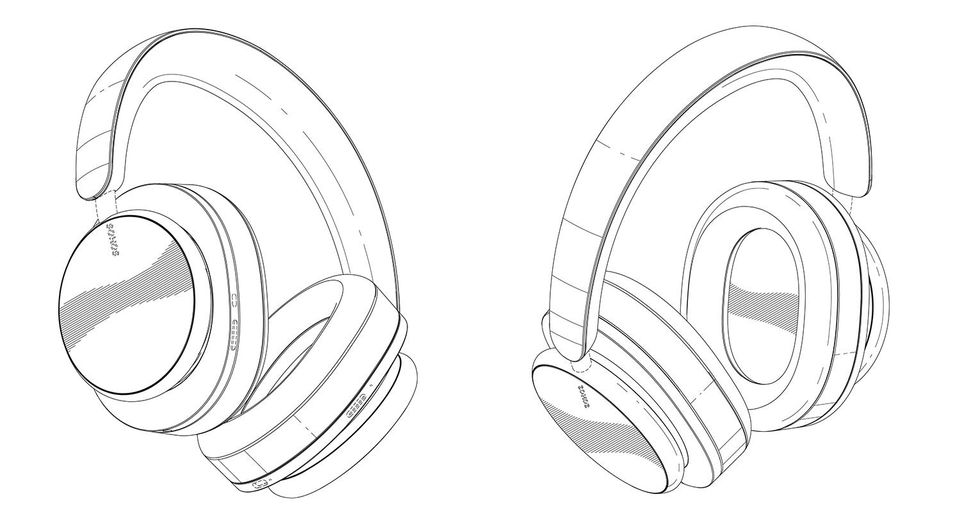 The headphones are the first to come from SonosSonos
Sonos has already said that a new product is due to arrive in March, and separately that it plans to launch two products annually. It is likely that the March product will be a so-called 'Move Mini', a smaller version of the company's Move speaker. The Move acts as a regular smart speaker when sat on its dock, but has a battery so can be taken outside or away from the home and used as a Bluetooth speaker too.

We then expect to see the unnamed Sonos headphones arrive later in 2021. They are rumored to offer a seamless hand-off experience, where music played on a Sonos speaker system can automatically switch to the headphones, and vice versa.
We hope these headphones have their own Wi-Fi connection. This would help them stand apart from the crowd and turn them into a standalone device, where music can be streamed to them directly from your Wi-Fi router instead of from your smartphone or other device via Bluetooth. This could mean higher quality streaming and none of the connection and range issues Bluetooth can suffer from.
Of course we would expect the headphones to also offer Bluetooth like other headphones, and premium sound quality will be a primary factor. We also hope to see the headphones give access to both Amazon Alexa and Google Assistant, as some Sonos speakers and sound bars already do.

There is no word on price yet, but we would expect the Sonos headphones to cost around $400 to $450, matching most of its rivals but comfortably undercutting the pricer Apple AirPods Max.
From Your Site Articles
Related Articles Around the Web
Like GearBrain on Facebook