Like GearBrain on Facebook
Petnet, the smart pet feeding company whose bowls and smart feeders stopped working, finally reached out to customers late Friday — to survey them if they would pay a fee to maintain the service. But the problem remains that the devices still do not work, even as Petnet's co-founder and CEO Carlos Herrera is trying to build a work around and get the feeders running again.
Herrera, who spoke with GearBrain from Los Angeles, California, notes that there are 13 separate elements that make up the system that allow the feeders to connect to the app and then back. One of these paths is handled through a third-party vendor which is having difficulties, and causing communication to the devices to stop.
"My personal goal is to get the system back and running so that the users who have been utilizing the feeder for years can get back online," Herrera told GearBrain. "That's really my only priority. And then once that's achieved, then we need to solve the other priority, how do we fund the operational costs?"
Those operational costs are what Petnet surveyed customers about in an email on April 24, 2020.
"We are collecting feedback about how our users would feel about the option of implementing a subscription model," reads the email. "This model would fund the monthly operating cost to run the Petnet infrastructure and customer support."

The email, titled, "The Petnet community needs your help," describes the financial concerns that the company has faced since the coronavirus pandemic arose, and mentions that its venture capital has either shrunk or been pulled.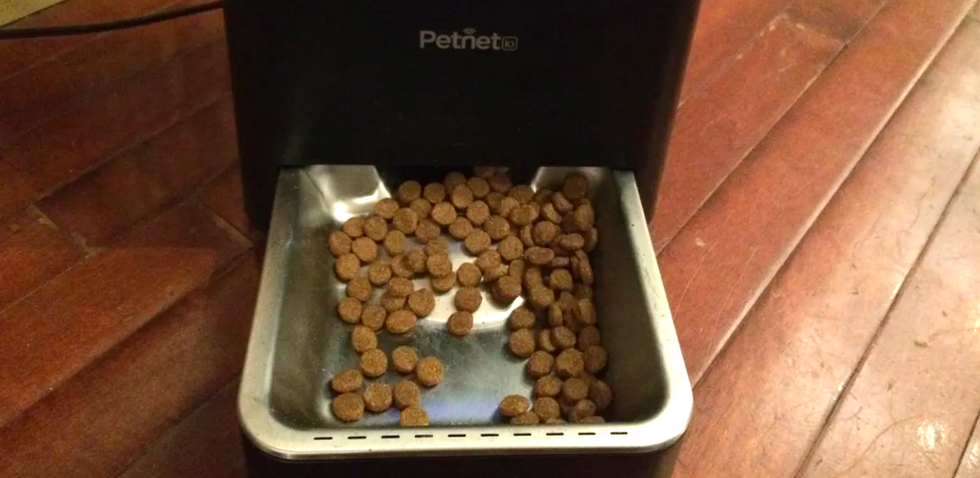 Petnet's feeders and bowls have been offline since mid-AprilGearBrain
Petnet had emailed customers on April 14, telling them that everything that makes their feeders and bowls — from Gen 1 devices, including the Petnet SmartFeeder, to the most recent — is gone. The app cannot connect to the Petnet products, which means they can't be scheduled to drop food at times that owners want. Additionally, the light may appear to be on the device – and therefore working — when it's not, the company told users.

That email followed news two months prior, in February, that customers were already reporting malfunctioning pet devices, that bowls were not working properly, and pets were not getting fed.
Herrera has been hearing back personally from customers, and in some cases, he said, has even received threats. Then there are users who are just very "hurt," he said, and want him to know how they feel.
"We have a unique situation with Petnet," he said. "We're helping to feed live animals, and these animals are part of your family. This isn't [that] part of your light bulb wouldn't turn on and you wouldn't notice. You notice your feeder goes out. There is an emotional side to that."
PetSafe Wireless Dog and Cat Containment System – from the Parent Company of Invisible Fence Brand – Above Ground Electric Pet Fence
In its latest email on Friday, the company detailed the steps they've taken on their own since the economic shutdown, which includes laying off 100 percent of their staff, ending their office lease and working from remote locations, applying for CARES stimulus funding, and stopping all work on product development — including any bug fixes. However, Herrara told GearBrain that he is working on building a work around for the current issue.

That was echoed in the recent email, with Petnet noting that while it was "confident," they said, that the issue preventing its smart bowls and feeders from getting online will eventually be fixed, they acknowledge that the problem has not been stabilized yet.
Petnet's SmartFeeder is still available online, through a link on the company's web site that pushes out to Amazon. Those devices are from inventory that Herrara said was sold in 2019 — not devices being sold by the company now.
Petnet received its first round of funding in 2013, said Herrara, and put the first Petnet product on sale in 2015. The company initially sold both the Petnet SmartFeeder and a smart bowl, but discontinued sales of the latter, eventually releasing a second generation of the Petnet SmartFeeder in 2019. The device, which works via an app, does not require a monthly fee to operate, like many other smart products from robotic vacuums to smart lights. Customers pay just once for a service that is meant to last as long as they operate the feeder.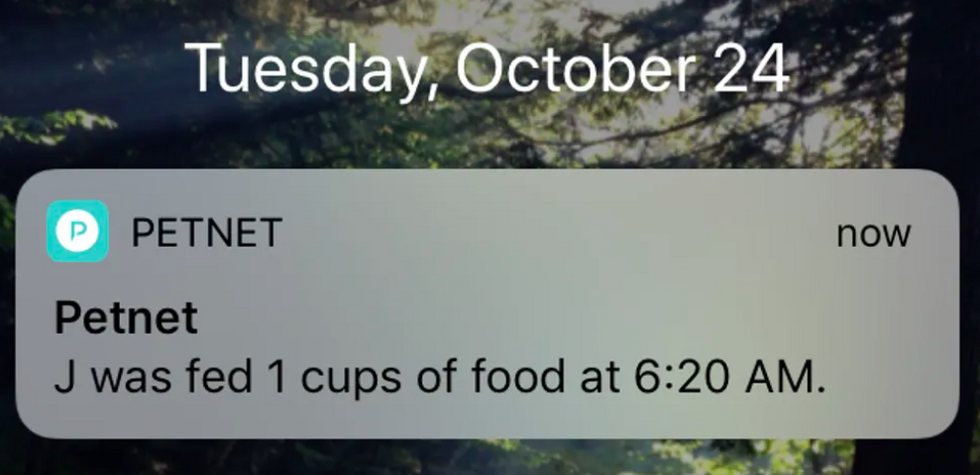 Petnet alerted customers in April that the light may remain on their device — but it still may not be dispensing foodGearBrain
But companies that build products that link over the internet, and then through an app, have in some cases, asked customers to pay additional fees for premium services. These include smart video doorbell and camera makers, which may allow customers to store videos for a day, for example, but then charge then a fee if they want to hold on to those videos for longer. Those extra fees do more than pay for storage, they also provide a continuous income stream for companies, something Petnet is looking to add.
Petnet's survey on whether customers would pay that fee is embedded in the email through a link, which takes you to a Typeform page, where you're prompted to enter your email — and then answer just one question: whether you'd choose the $4 a month or $37.50 annual charge. You can't leave a comment on the survey, nor can you reply to the email that was initially sent.
Herrera told GearBrain that 25 percent of those who received the email responded that they would be open to paying a fee, and 95 percent of those people said they'd prefer to pay the annual amount. What that means, though, for Petnet's future is still unknown, although Herrera said he will speak to his board and let them know about the survey results, which include thousands of responses. One step, though, that some users have suggested to him is not likely right now, he said, which is releasing Petnet's code and making it available for anyone to use and amend. Herrera said his investors at this point own a majority share of the company, which also means that releasing Petnet's code is not something that's he can decide to do unilaterally.
But without additional funding — whether from investors or customers paying fees — Petnet implies its future is likely not very strong, in its email.

"As a result of the pandemic and financial crisis, our investments have receded and in some cases have completely dissipated in a manner that impacts our ability to serve our customers and unfortunately leaves us on the brink of ceasing operations," the company wrote.
In the meantime, Herrera wants customers to know he is trying to get their pet feeders working. He's also given out a few Amazon gift cards that he's paying for himself, he said, to some people who have reached out to him directly. And GearBrain did hear from one Petnet user directly who emailed to say he received one of these gift cards.
"I thanked them for their support," said Herrera, about the emails he's gotten. "I certainly don't want people to be disappointed for too long."
Furbo Dog Camera: Treat Tossing, Full HD Wifi Pet Camera and 2-Way Audio, Designed for Dogs, Compatible with Alexa (As Seen On Ellen), white (001-01WHTOA-1)
From Your Site Articles
Related Articles Around the Web
Like GearBrain on Facebook