Like GearBrain on Facebook
The Gradient Lighstrip is the latest member of the new Play family of Philips Hue smart lighting products. It is designed to fit to the back of your television, then emit lighting to match what is on the screen.
The company's Play light bars also do this, but where they stand in front of the TV and project towards the wall, the Gradient Lightstrip offers a more seamless lighting system, projecting a pool of reactive light from behind your TV.
Read More:
The light strip is offered in three different sizes for fitting to televisions ranging from 55 inches to 75 inches. Each comes with a mounting kit and power adapter, but requires a Hue Bridge and the Hue Play HDMI Sync Box. We have been using the light strip on our 65-inch TV for the past week, and here's how we got on with the setup.
Philips Hue Play Gradient Lightstrip: Design and setup
First, this light strip is significantly more durable than the other light strips sold by Signify, the company that owns the Philips Hue brand. It cannot be cut to size, like others, but is thicker and seemingly more durable than other Hue light strips. Where those strips can be fitted almost anywhere in the home, this is designed specifically for one purpose, to stick to the back of your TV.
To help this, the light strip comes with a set of plastic mounts. These have 3M adhesive strips on the back for sticking to your TV, and are shaped to neatly hold the light strip in place along the top of your TV and down either side. The light doesn't go across the bottom edge of the television.
A power cable is fitted to the end of the light strip, ready to be plugged into a nearby wall outlet. As with the Hue Play light bars, the light strip can connect to the same plug as the Sync Box.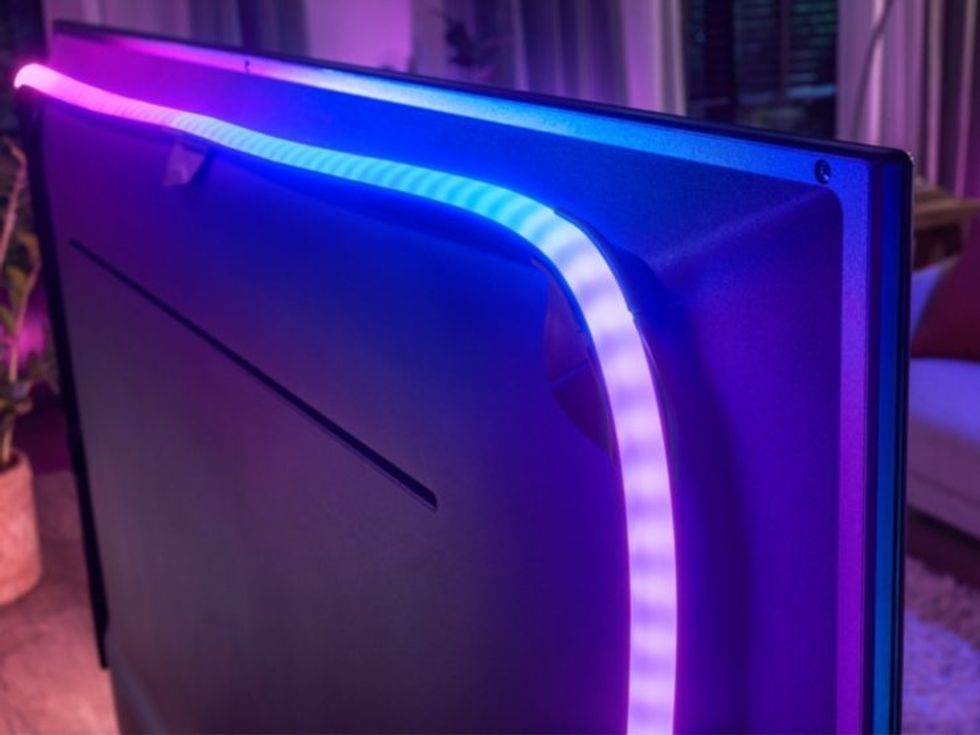 The light strip comes with adhesive mountsSignify
Using 3M adhesive means this is a more permanent installation than some smart lighting products. The mounts could be removed from your TV using a form of alcohol-based solvent, but sticking them into place feels like something you will only do once, and leave in place for the lifetime of the TV.

Setting up the light strip is the same as any other Hue Play products. This means connecting it to your Hue network, but also to the Hue Play HDMI Sync Box, which connects to your TV, plus devices like games consoles, media streamers and a cable TV box. This box processes the video feed coming from these HDMI-connected devices, then turns that into a light pattern used by any connected Play lights.
In theory this is all quite straightforward. Just plug everything into the Sync Box, then plug that using a single HDMI cable into your TV (and preferably into its ARC HDMI socket). But if you have a sound bar or amplifier, things could get complicated. We can't explain every possible setup here, but you may have to experiment before the sound, picture and light of your entertainment system synchronize together.
For me, plugging an Xbox and satellite TV box into the Sync Box, then the box into the TV, works just fine with everything switching on and off correctly. It is worth noting that the lighting doesn't work with apps installed on your television, as the picture has to come from a device connected to the Sync Box.
Philips Hue Play Gradient Lightstrip: Software
As with other Hue Play lights, you need two smartphone apps to set up and control the Gradient Lightstrip. The regular Hue app is needed to create an entertainment area (if you don't already have one). This effectively tells your Hue system that a Gradient Lightstrip is attached to your TV (and/or a pair of Play light bars are in other positions in the same room).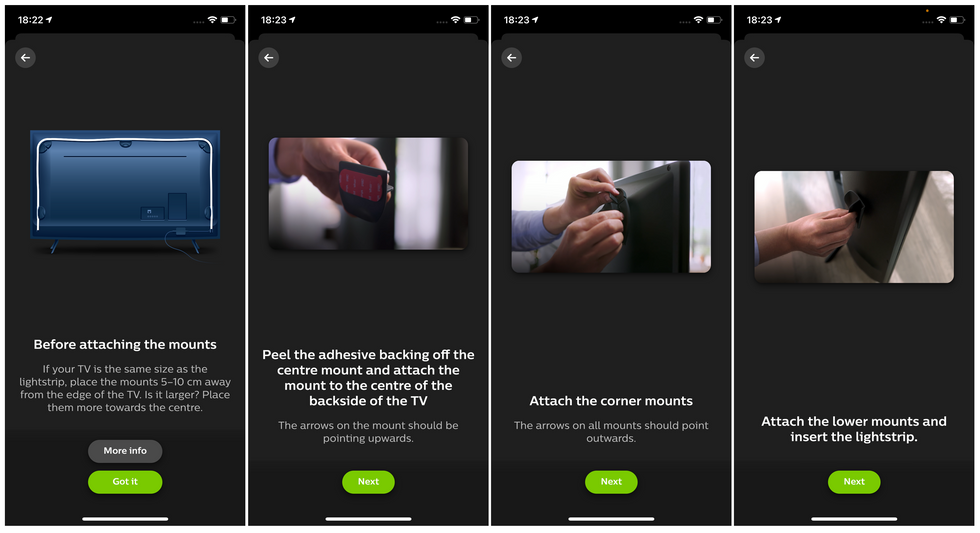 The Hue app talks you through fitting the light strip to your TVGearBrain
Next you'll need to install the Hue Sync app, which is used to switch the light strip on and off, and adjust its settings. You can change the brightness on a sliding scale, pick from four different levels of intensity, and three default settings for video, music and games, depending on what you are using your TV for at that moment. This is all the same as with other Hue Play lighting, and changes made here are applied to every Hue light assigned to the entertainment area.

We were disappointed to find you cannot set a different brightness for each light in the entertainment area, as we felt the pair of Play light bars pointed at the wall were brighter than the Gradient Light strip. In the end we removed the light bars from our setup and stuck solely to the light strip.
You will likely spend a good while adjusting each setting until you find what works best for your tastes and your own TV setup. It is tempting to crank up the brightness and intensity, but this can quickly become distracting. We found it's best to turn everything down, letting the light strip subtly add to your TV viewing experience, instead of trying to dominate it.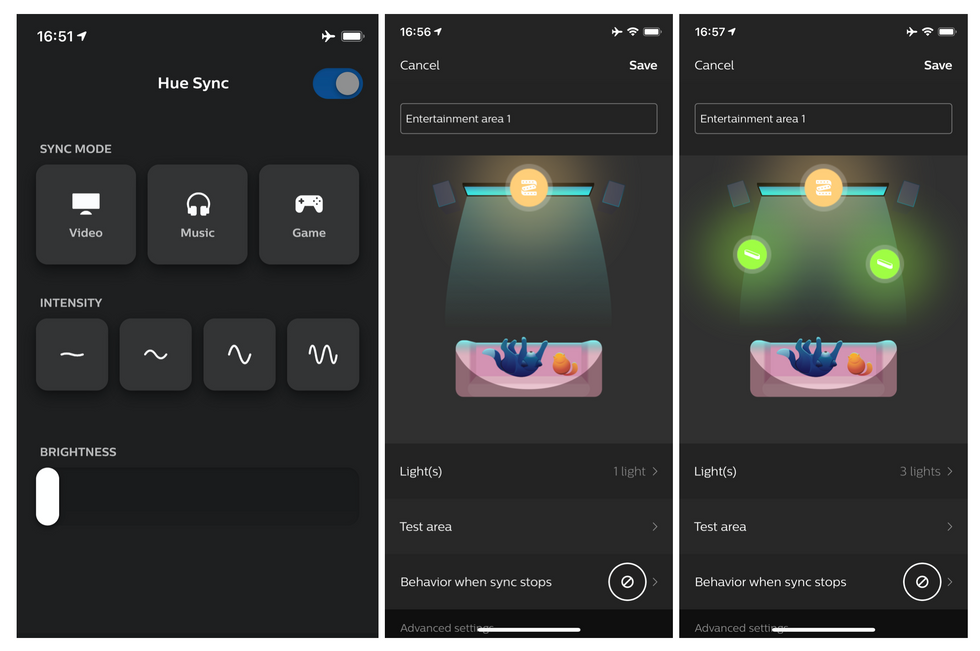 Setting up the light strip with the Hue and Hue Sync appsGearBrain
Philips Hue Play Gradient Lightstrip: Lighting effect

I have always liked putting a simple light behind the television, and admired how the Philips Ambilight technology has matured over the years. So, naturally, I like the Gradient Light strip.
What really sets this apart is how the light can show different colors at once, making the experience far more immersive than fitting a plain white or yellow light strip to the back of the TV. The light strip responds quickly and I found it less jarring than when using the Play light bars. The lighting can feel a bit over-the-top when the entire TV screen is a single color; for example, when opening the blue menu system of my satellite box (from Sky in the UK), the entire room is turned bright blue by the light strip, which feels unnecessarily dramatic.
In other situations, such as when playing Xbox, the lighting feels complimentary instead of overwhelming. When concentrating intently on a game the lighting neatly fills your peripheral vision, and really adds to the experience. But when casually watching TV the illumination of your surroundings can feel overly dramatic, and even distracting at times. It takes time to know when to use the system, and when to leave it switched off. Use it for gaming, sports or movie nights, but leave it off when watching the news or a documentary.
As a quick aside, I should explain that the current, temporary location of my TV is not ideal for back-lighting, as it isn't sat flush against a wall. Therefore, the light strip illuminates far more of the kitchen behind than is ideal. Turning the brightness down addressed this, but made the lighting difficult to photograph, so it is turned up high in the images below, in a bid to show more clearly how the light works.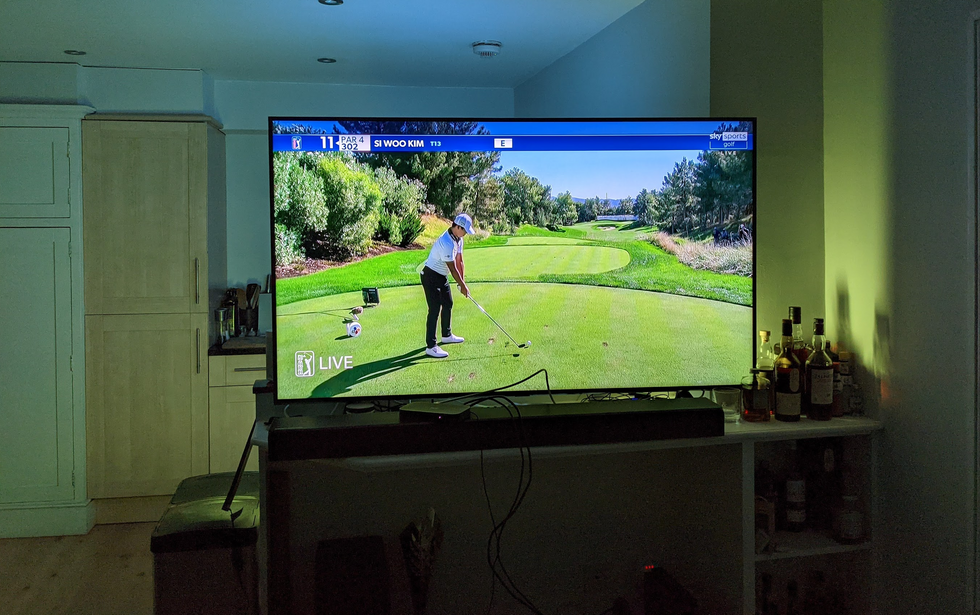 Blue and green are the prominent colors of this sceneGearBrain
Some scenes work better than others. I liked how, when watching golf, the blue sky and green grass were neatly recreated by the light and projected into my room. But a scene in a video game with three characters in a dark room, but where one was wearing a bright red shirt, caused a disproportionate amount of the light strip (and therefore my room) to turn red.
Given they were all in a dark room, it didn't feel right that half of my room was red due to one item of clothing in the scene. This is why turning the brightness and intensity down helps to improve the experience.

The light strip works much better in darkness than with sunlight streaming through the windows. In fact, it's not really able to overcome natural light during the day, so is really best leaving off until it's time for movie night, or if you have a good set of black-out blinds.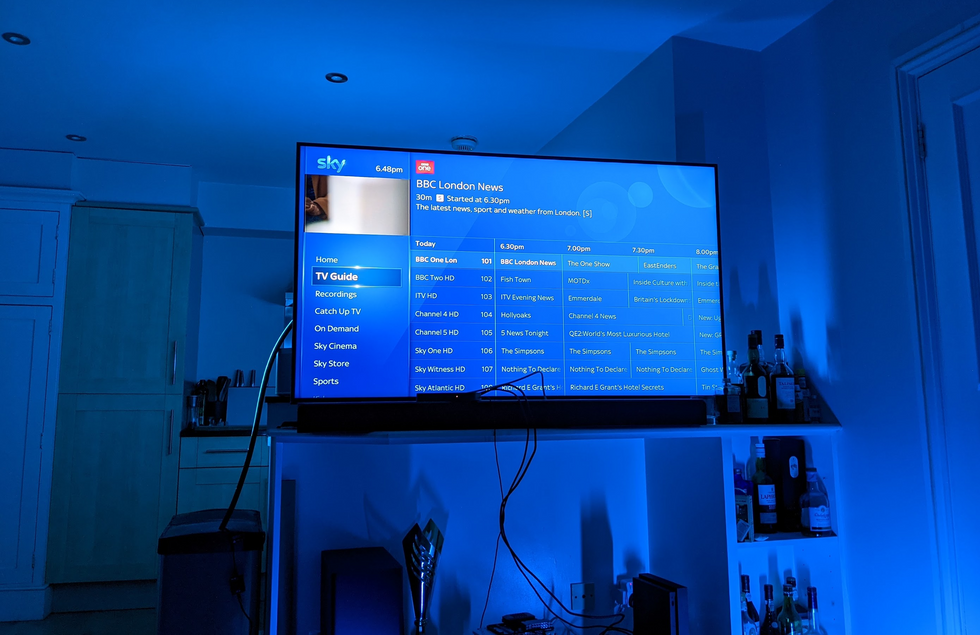 Single-color menus can be somewhat overwhelmingGearBrain
As with the Sync Box and Hue Play light bars I reviewed recently, lighting like this splits opinion like nothing else. I personally like the added immersion the system brings, but my housemate whose TV I used to test the light strip simply doesn't see the point. He'd rather have no lighting at all.

You might well find that some members of your household like it, while others can't stand it — and the latter are unlikely to get along with the price.
Philips Hue Play Gradient Lightstrip: Price
The light strip is priced from $199 for the 55-inch model, up to $239 for the 75-inch. You also then need the Sync Box, which costs $230, and if you are new to Philips Hue you'll need the $60 Bridge to connect everything to your router.
So that's at least $330 if you already have a Hue system, or potentially $500 if you are new to Hue and want the largest light strip. That's a huge amount of money for a light feature you are unlikely to use all of the time, and which those who share your TV might not like.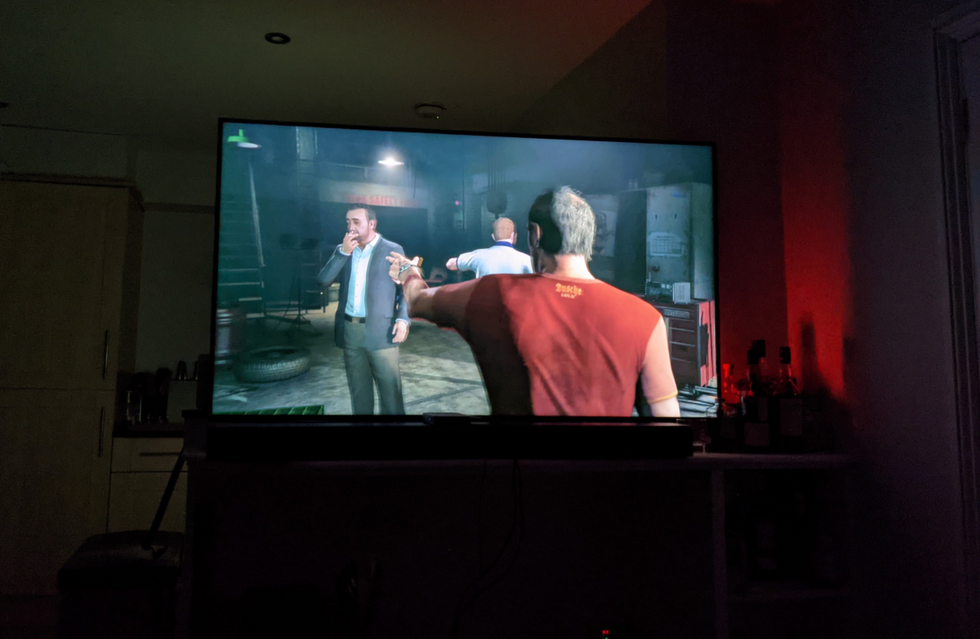 A little too much attention is paid to the character's red shirtGearBrain
If you are all-in on Hue lighting, already have a house full of it, and are in the market for the $199 light strip for a 55-inch TV, then the price won't seem quite so bad, and it's far more capable than sticking a simple, single-color and non-synchronized light strip to your TV. But you still need to be a big smart lighting fan to make such an investment.

Philips Hue Play Gradient Lightstrip: Verdict
The Hue Play Gradient Lightstrip does what it is designed to do very well. It is solidly built, cleverly fits neatly to any television from 55 to 75 inches, and integrates smartly with the rest of the Hue ecosystem. Once you have set everything up just so, the lighting it produces is impressively immersive and a significant upgrade over any single-color lighting you might have used in the past.
It's also a better option than Signify's own Play light bars, which seem somewhat superfluous now the light strip exists. Those with a particularly large lounge could point a couple of light bars against the wall to make an even greater light show, especially as the light strip doesn't cover the bottom of the TV, but given how bright the strip can go, I don't think this is necessary for most users.
But the Gradient Lightstrip is only worth buying if you really want the effect it produces. Ambient lighting isn't for everyone, and because the light strip is only designed to perform one task (instead of being used as part of a broader smart home lighting system), you will have to be absolutely sure you want what it offers before buying.
Also, those with more complex home entertainment systems will have to think carefully about how the light strip and Sync Box can be integrated. It should work fine in most situations, but there are so many combinations of TV/sound bar/amplifier/accessories, it's impossible to say with absolute certainty that it will work perfectly and without any lag. Those with simpler setups won't have that issue.
If you already have a top-notch TV and surround sound system, then smart lighting like this is the final step to complete your setup. It won't be necessary for everyone, but acts as a dramatic final flourish for those who do.
Pros:
Good build quality
Easy and flexible setup
Adds a new dimension to your TV
Cons:
Expensive
Not intended for more complex A/V setups
Isn't to everyone's taste
Check out The GearBrain, our smart home compatibility checker to see the other compatible products that work with Philips Hue smart lights.
GearBrain shows Alexa and Google Assistant controlling the Philips Hue Go www.youtube.com
From Your Site Articles
Related Articles Around the Web
Like GearBrain on Facebook