Like GearBrain on Facebook
At its simplest, the $230 Philips Hue Play HDMI Sync Box – we'll go ahead and shorten that to Hue Sync Box – is a device that controls your smart lighting to match whatever is on your television.
It can be controlled by speaking to Alexa, Siri or Google Assistant, and works with anything plugged into your TV using an HDMI cable. That means video game consoles, streaming sticks, satellite boxes, Blu-ray players, and anything else you consume video from. However, it does not work with any apps installed on your TV – the content has to come through an HDMI cable.
Read More:
Although named to fit into the rest of the Play range, the Hue Sync Box works with any color Hue lights, including all shapes of bulb and LED light strips. It requires the Hue Bridge (if you don't have one already), which connects to your router and acts as a control unit for all Hue lighting in your home.
Installation and setup
The Hue Sync Box has four HDMI inputs and one output. Plug all of your devices, like your game console, streaming stick and satellite box, into the former, then connect the box to your TV with the latter, using the included HDMI cable.
If you have a sound bar or AV receiver, setting things up gets more complicated, but not impossible. You can plug everything into your sound bar or receiver, then plug that on its own into the Hue Sync Box, or connect everything to the box and plug the sound bar into your TV's ARC-compatible HDMI socket.
We can't provide a comprehensive guide on which option is best, as that will depend on your TV, sound bar and what devices you have. But because the Hue Sync Box can handle Dolby Atmos, HDR 10+ and Dolby Vision, these formats all remain intact when they reach your screen and speakers.
Compatibility for HDR 10+ and Dolby Vision (plus voice control through Alexa, Siri and Google Assistant) was added via a software update in May 2020.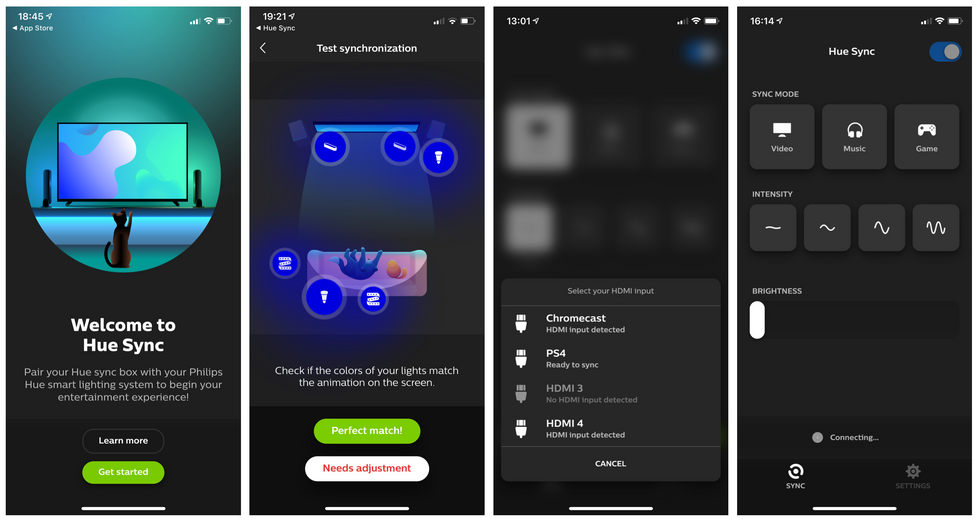 Philips Hue and Hue Sync appsGearBrain
Once you have everything connected the way you want, it's time to open the Hue smartphone app, add the box as an accessory, and follow the instructions to create an entertainment zone. This lets you pick which Hue lights you want to be controlled by the Sync Box, and tell the app exactly where they are positioned in relation to the TV and your sofa.

You can also tell the app if each light is on the floor, at TV height, or in the ceiling. Knowing this will help the system decide exactly how to adjust each light.
In our setup we have a pair of Hue Play light bars pointing at the wall behind the TV. You can add as many Hue lights as you like, and so could in theory have an LED strip or two on the back of the TV, or the new Gradient Light Strips, and various lamps throughout the room.
When the box is switched on, it overrides all other control of those Hue lights. In other words, if you have a Hue switch configured to turn off every light in your home, pressing it won't work on the lights being controlled by the box. But when the box is switched off, your Hue lights return to however they were beforehand.
The box itself is compact but reasonably weighty, giving it a premium and well-made feel. Signify has smartly painted it matte black, so light doesn't reflect off it and cause a distraction. A smart design detail is how the box can use the same wall plug as the Play light bars, as the plug has three sockets for a pair of light bars and the box.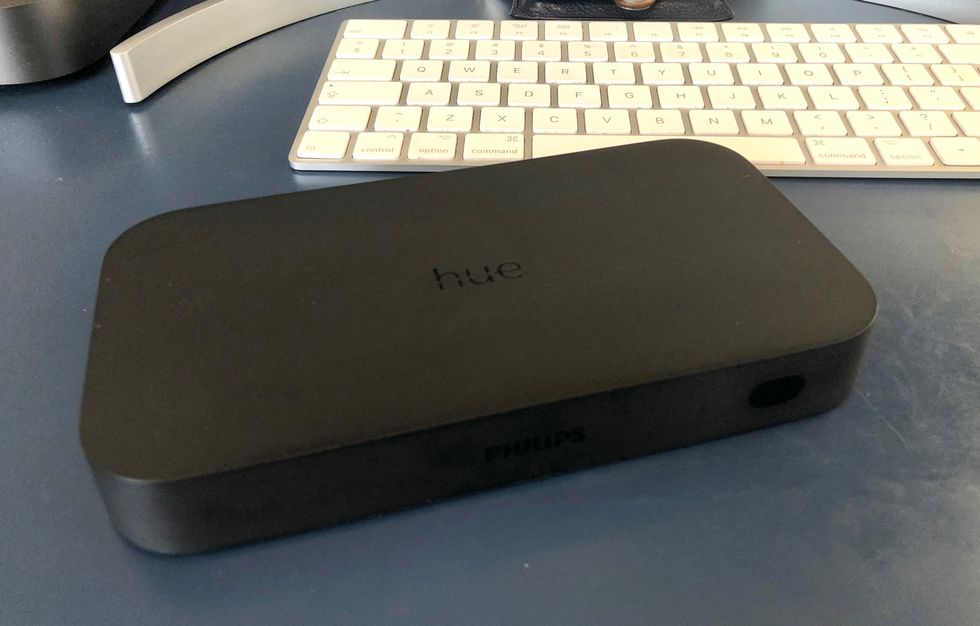 The Hue Play Sync BoxGearBrain
Performance and personal preferences

More so than most smart home devices, personal preference plays a major part in how you configure the Hue Sync Box. You can adjust the brightness, pick from three modes (video, music and game), and select one of four intensity levels ranging from subtle to extreme.
We found it takes time to work out what's best, as it's easy to become distracted by the lighting instead of allowing it to subtly improve your viewing experience.
When watching TV, we preferred the lowest intensity setting and brightness at around 25 percent. For watching a movie we upped the brightness slightly and used either the moderate or high intensity settings.
While the box can be used to control a single Hue light, like a bulb or LED strip placed behind your TV, that light can only be one color at once (new Gradient Light Strip notwithstanding). Adding more lights means more colors at the same time, which really helps to improve the dynamic lighting effect.
It can then be tempting to add lights all around the room. But we found it's best to just illuminate the TV's surroundings, while leaving the rest of the room in darkness, as lights changing color in your peripheral vision quickly become distracting. It's all about finding a balance, and that will likely mean changing the brightness and intensity for each type of media you consume.
Once you finally have everything the way you want it, the results can be hugely impressive. The trick is to get over the novelty of TV-matched lighting as quickly as possible, return your concentration to the screen, and enjoy the extra atmosphere the lighting creates. It's an addition to movie night and gaming sessions, not the main event.
The system works best when shifting slowly and subtly from one color to another. Fast-paced action scenes are less impressive, with the lights flashing abruptly between colors a fraction of a second behind what's happening on-screen. We found it works best when gaming, where the colors of the virtual environment generally change slowly as you move through it, instead of the jarring result of a TV show flicking rapidly between different camera positions.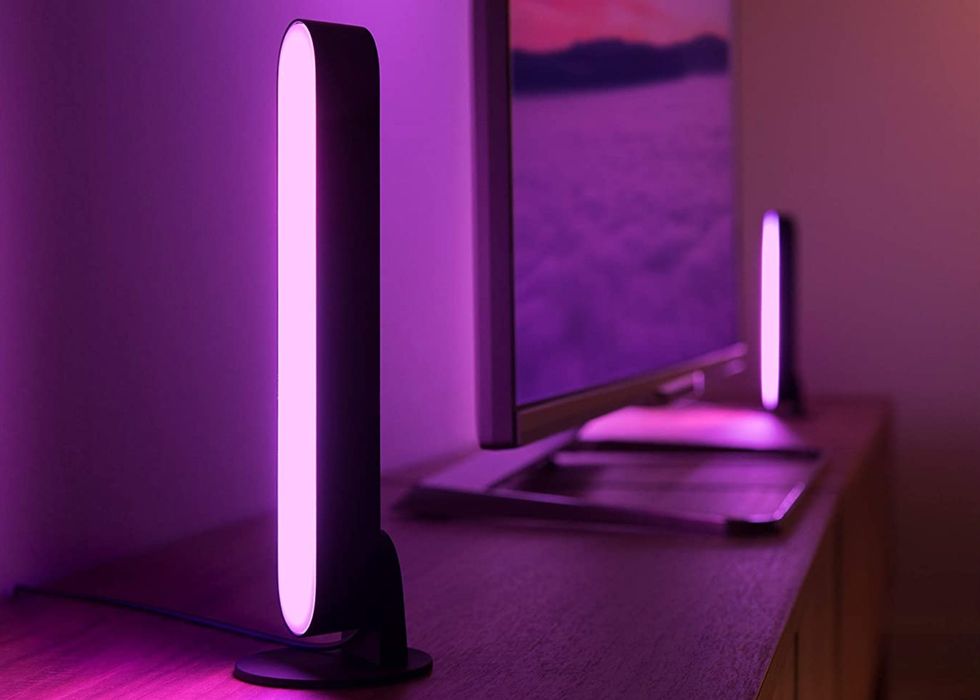 The box works best with a pair of Hue Play light barsSignify
Voice control

There are several ways to control the Hue Sync Box. The simplest is by pressing a button on its front which cycles through the four HDMI inputs. Or, if leaving the sofa feels like too much effort, the Hue Sync app (free for iOS and Android) lets you switch the box on and off, and select an input with a couple of taps.
You can also configure your TV's infrared remote to work with the Hue box, so that pressing the power button switches on your television and the sync box at the same time. Buttons of your TV remote can be configured to switch between inputs too, and adjust the intensity and brightness.
Then there is voice control, which is a beta for now but works well enough. Siri, Alexa and Google Assistant are all supported and they are set up using the Hue Sync app. Once you've done that, you can ask your assistant of choice to switch on the box, switch between inputs, and adjust the intensity and brightness.
Price
The Philips Hue Play HDMI Sync Box is priced at $230.
Verdict
At $230, plus the cost of lights (and a Bridge if you're completely new to Hue), the Sync Box is a very expensive luxury. Realistically, you're looking at a $360 investment for the box and a pair of Play light bars, assuming you already have a Bridge.
That's a lot of money whichever way you cut it, especially for a product you are unlikely to use all of the time. Chances are, you'll only fire up the Hue Sync Box for movie night or when gaming.
When you do, you'll be treated to what is, more often than not, a fun and impressive addition to your smart home. Changing regular light bulbs to different colors doesn't appeal to everyone ("why would I ever want to turn the kitchen blue?" they ask), but the Sync Box gives a practical and compelling reason for the technology to exist.
The setup process takes a little while, and you'll spend a great deal longer working out exactly how the box and lights should be configured to suit your TV, room, and personal preferences. But the numerous options and deep customization show Signify has put real thought into this, in a bid to make it appeal to as many people as possible.
Negatives include how two apps are required to use the Sync Box (called Hue and Hue Sync), and because it only works with HDMI devices, it can't be used with the media apps installed on your TV. To make it work with Netflix, YouTube and others you'll have to run those apps on a device like a streaming stick, Apple TV, or a game console.
The Hue Sync Box is undeniably a niche product with a high price, but one that can bring a lot of fun to your gaming sessions and movie nights.
Pros:
Impressive once configured correctly
High build quality and easy to use
Comprehensive voice control
Cons:
Expensive
Isn't for everyone
Doesn't work with your TV's own apps
Philips Hue Play HDMI Sync Box, HDMI 4K Splitter, 4 HDMI in 1 Out, Philips Hue Smart Hub and Philips Hue Colored Smart Lights Required
Introduction of The GearBrain, The First Compatibility Find Engine for Smart Devices www.youtube.com
From Your Site Articles
Related Articles Around the Web
Like GearBrain on Facebook